Hi everybody! So the countdown to 2012 has begun--and what good would a new year's celebration be without a festive cake?
The design that I'm sharing today belongs on your party table--- it's all about clock cake toppers...and lots of shimmer!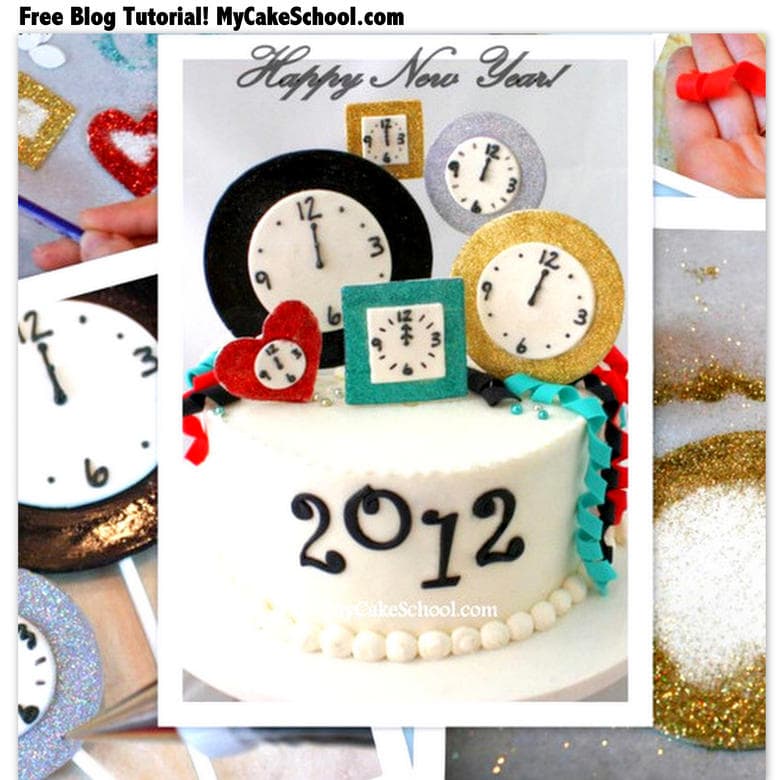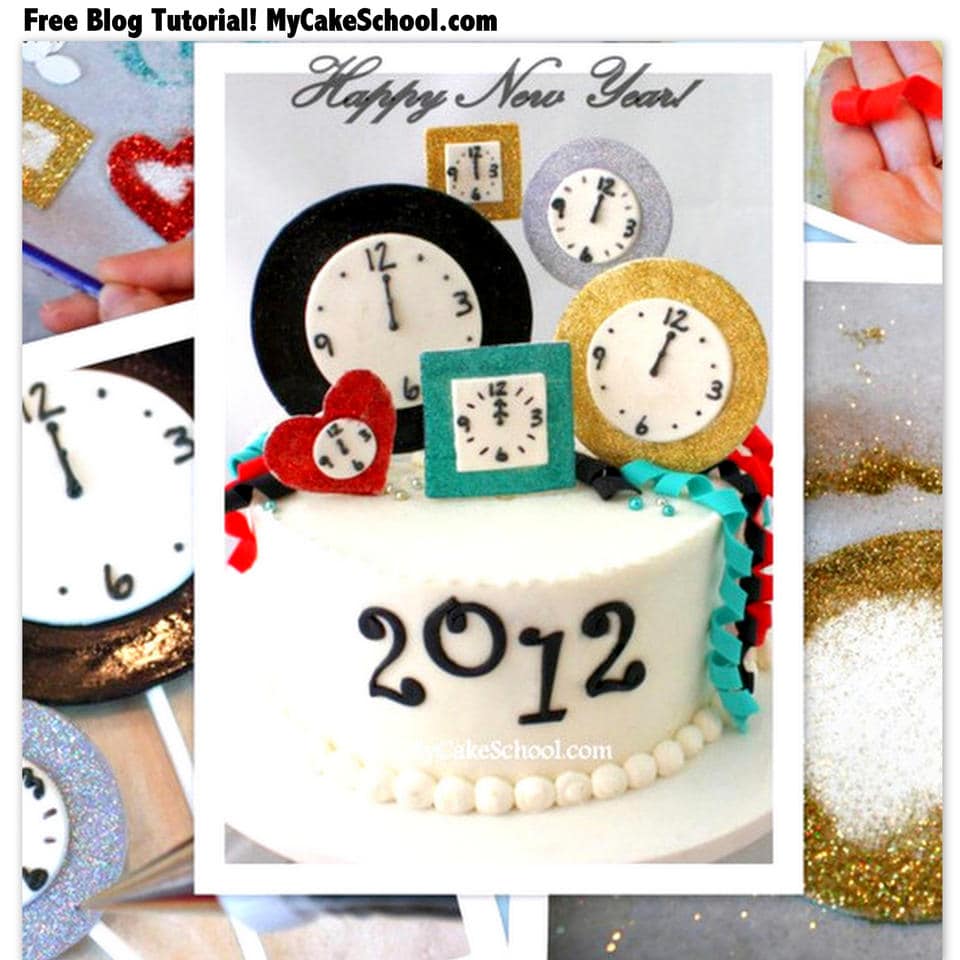 How to Make Clock Cake Toppers
This New Year's Eve cake design involves making several cute clocks from gum paste--which means you'll want to start this project at least 1-2 days in advance.
We rolled out our gum paste (or fondant with tylose or CMC kneaded in would work also) to about ⅛"-¼" thickness & cut out miscellaneous heart, square, and round shapes & sizes. We dried them on a cornstarch-dusted tray overnight.
The next day (today), we embellished the edges of our cut-outs. There's no need to decorate the center--that will be covered with the clock faces later.
I wanted to add lots of sparkle, so I broke out my trusty disco/twinkle dust. Specifically gold and silver hologram twinkle dust and red, jade, and white disco dust. Use whatever you'd like.
Below, I'm preparing to glitter up my circle by first brushing with a little vodka.
You can tell from my palette that I mixed up a little paint with Super Gold petal dust and vodka--I painted one of the clocks with this before deciding to go with the disco dust instead. It makes a nice base coat for the gold twinkle dust...but is not an essential step.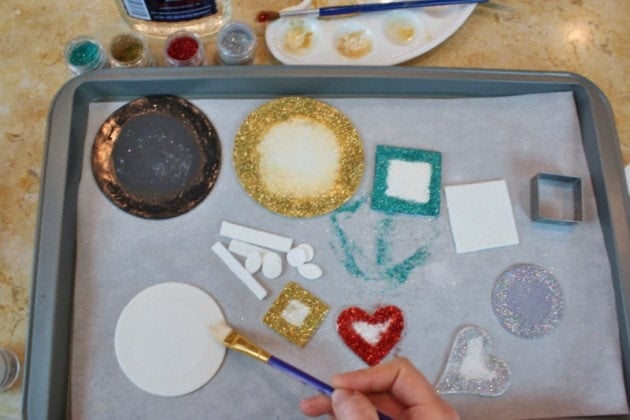 After brushing the edge of my circle below with vodka, I dusted on my gold twinkle dust and then tapped away the excess.
I repeated this step with all of my shapes--with one exception. For my black circle, I added shine instead. I did this by brushing piping gel around the edges, and then went back and rubbed vodka over it. Not my usual method or recipe for shine, but it worked just fine and dried quickly ;0)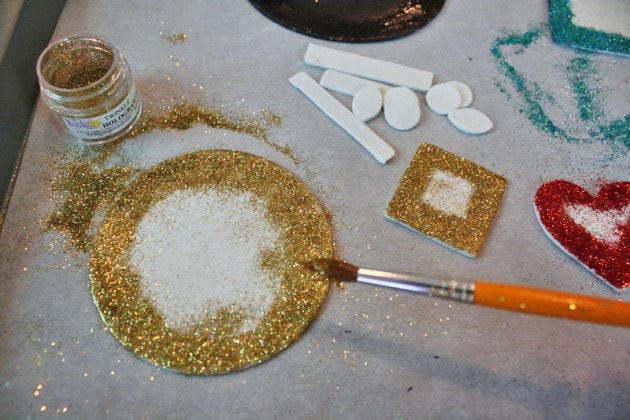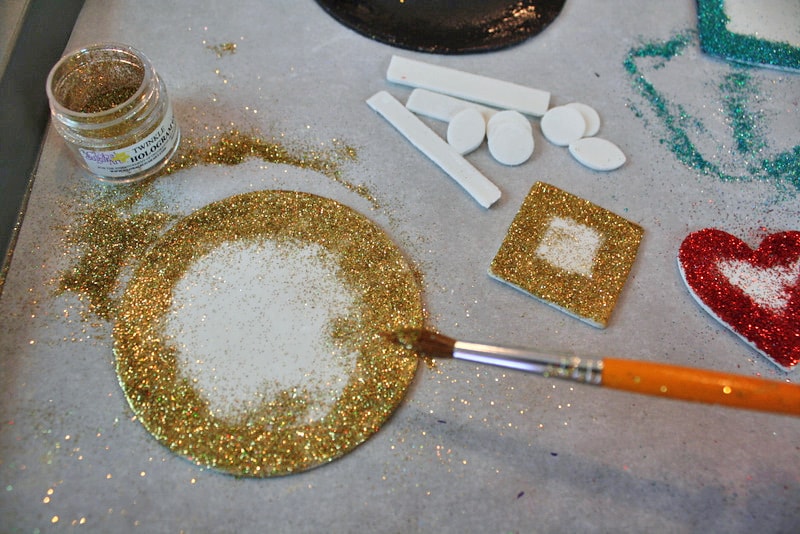 Since I wanted our clocks to stand upright, we needed an anchor. I attached lollipop sticks to the back of my shapes with a little rectangle of dampened soft fondant (or gum paste). Let them sit for a good 15 minutes or until the seem secure.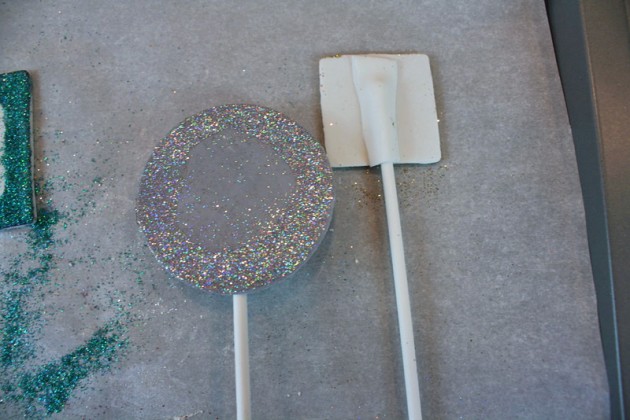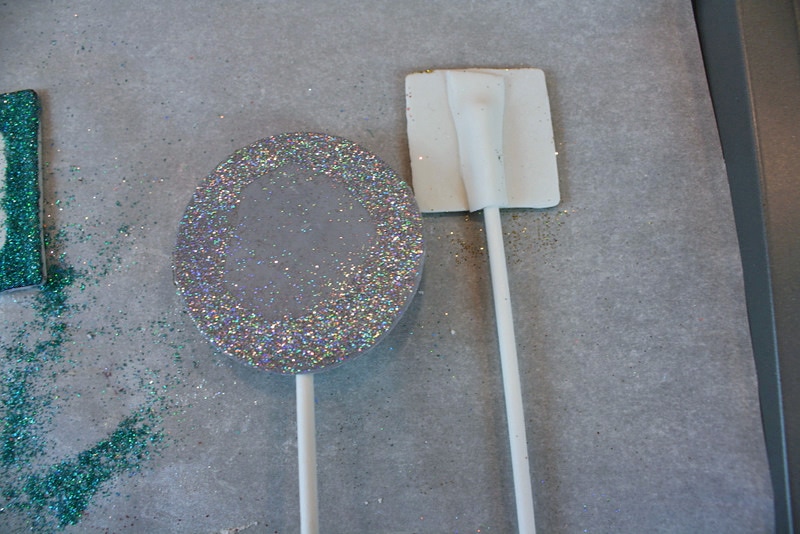 Next, I layered on my clock faces. You can do the faces in advance, but I just adhered the gum paste (or fondant) faces while still soft. I used a little water to glue my clock faces on.
Just to give you an idea of my sizes...my largest circle in the photo below is 4 ½" diameter (the black circle). My smallest circle is the face of the heart shaped clock--and it was cut with my 2D tip (1" diameter). Not a lot of planning went into the sizes that I chose--just go with what you have in your tool box ;0).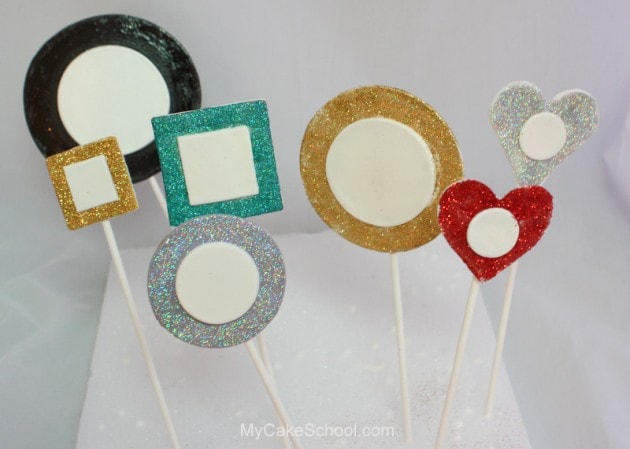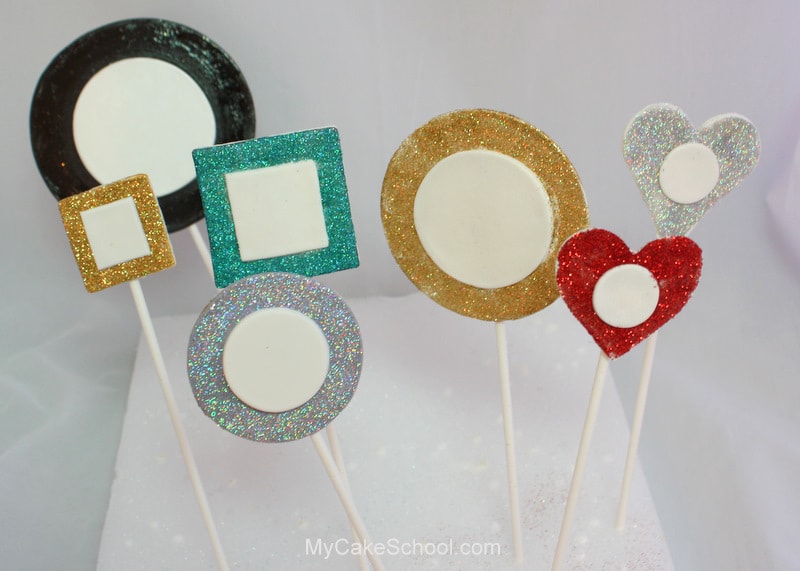 Now, let's make these clocks look like clocks. I piped on my clock features with black royal icing with a Wilton tip 1. Some of the small little markings on the very small clocks were made with my Americolor coloring pen. You could use a coloring pen for all of the clock numbers, etc. if you'd like.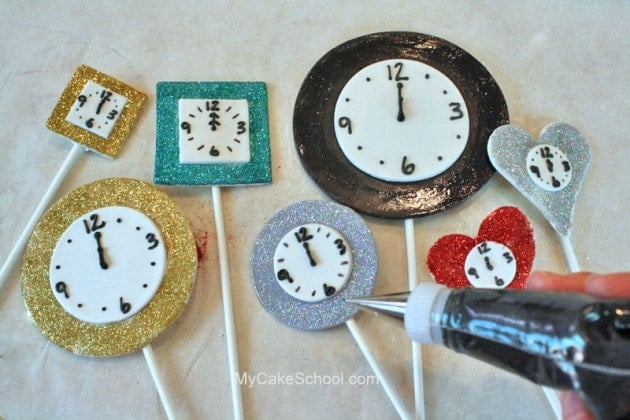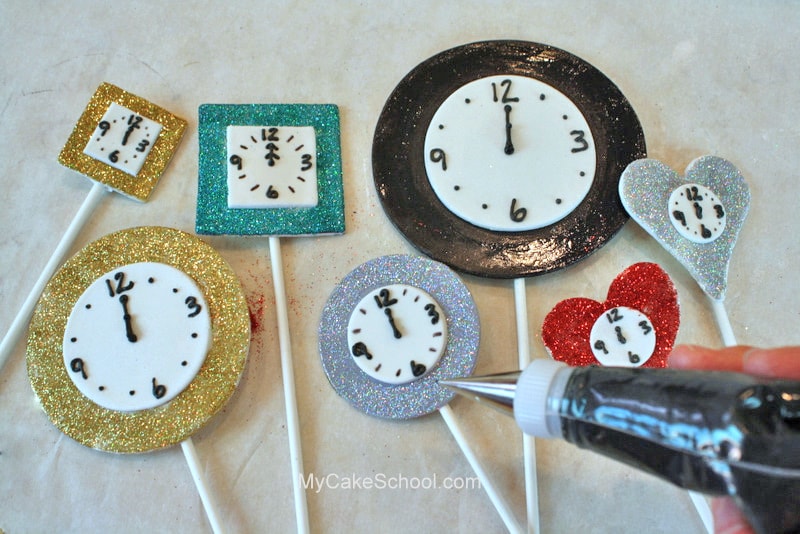 Hooray! The main part of our cake is finished. I decided to make a few cascading fondant spirals for the sides of the cake. You can easily do this by cutting strips of fondant (I like to knead in a little tylose), and then wind them around a straw or dowel and slide right back off again and apply to the cake.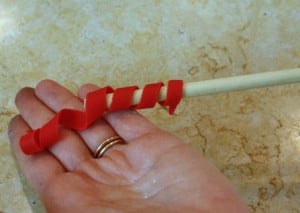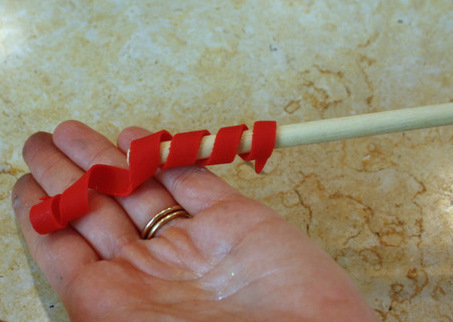 I frosted my 8" cake with vanilla buttercream, piped ball and bead borders with a tip 12 & tip 3, and used my FMM Funky Alphabet cutters for the black fondant 2012. Then, the best part of the day--I finally got to arrange my clocks! ;0)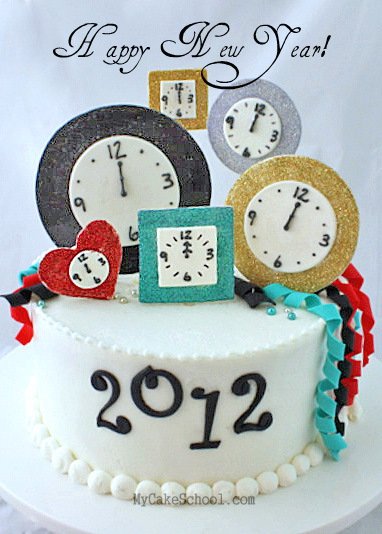 Thanks for stopping by today! I hope that you enjoyed it---best wishes for a happy 2012! ;0)