Champagne Cake Topper Tutorial
Today we're sharing a festive champagne-themed cake video tutorial for New Year's Eve! This beautiful design would be a fabulous addition to any New Year's Eve dessert menu.
We love this cake's unique combination of chocolate "champagne" swirls and sugar pearl bubbles for a look that is whimsical yet still has a dressed-up feel. The idea could easily be used on a cakes of all sizes, including sheet cakes!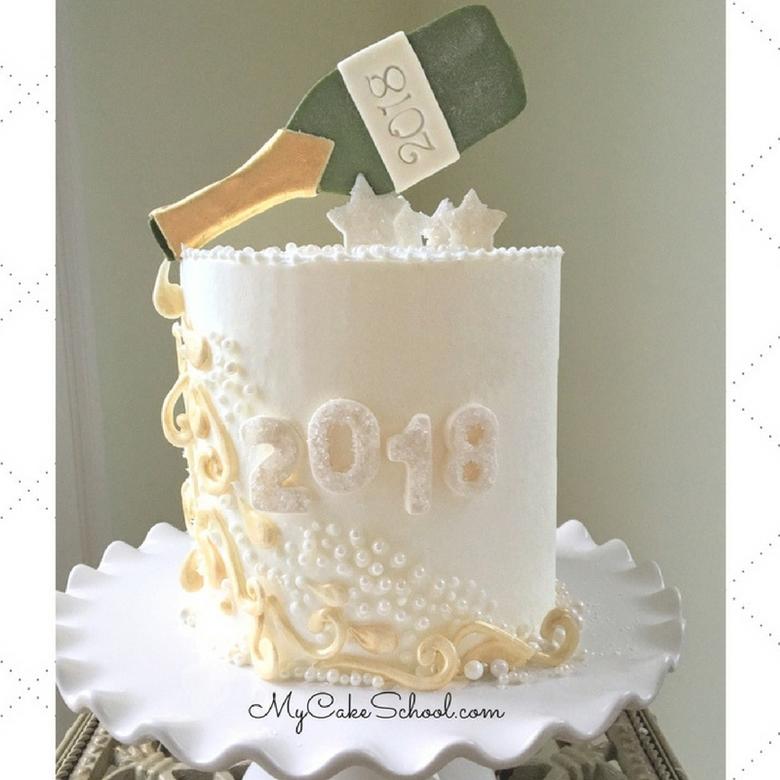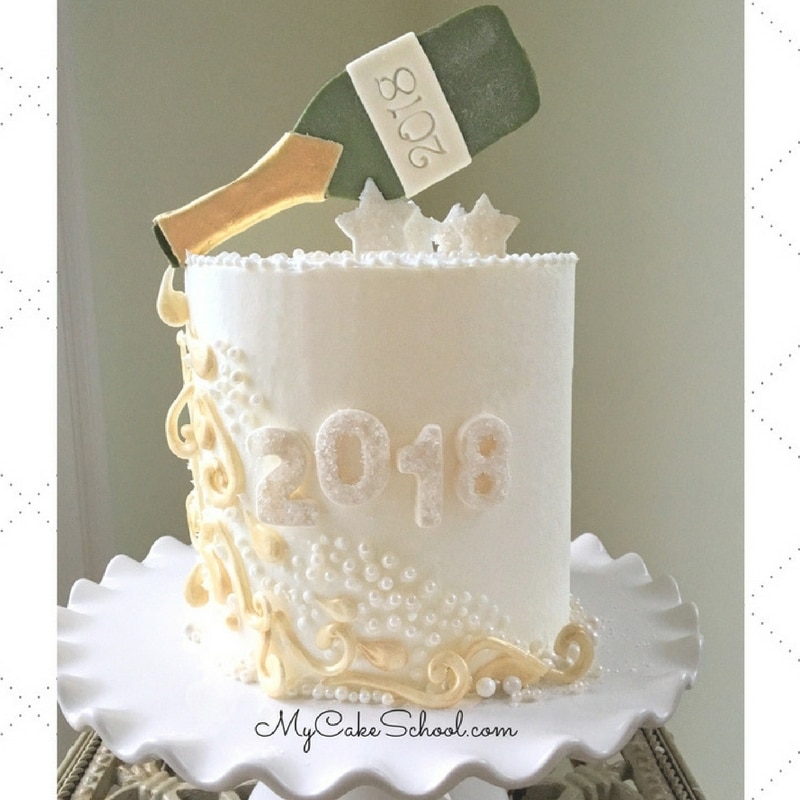 Materials for Champagne Cake Topper
(This design would work for any cake, but we used a double barrel (4 layer) 6 inch cake with our fluffy buttercream frosting and filling. As usual, for our double barrel, we used a cake cardboard on the bottom of the cake, and another halfway up with 4 bubble tea straw supports beneath.)
Vanilla Buttercream Frosting
Template for 2018 and Champagne Bottle
Gum Paste (or fondant with tylose kneaded into it) for the topper
White Chocolate Candy Melts/Almond Bark
Number Cutters (Optional. You could also pipe 2018 or form numbers from snakes of fondant)
Lollipop Stick or Skewer to anchor the bottle
Coloring Gels: We used Americolor Avocado Green
Gold Dust/Spray (edible) for the chocolate pieces (see note below)
Pearl Dust- Optional- we used for dusting over label
Twinkle Dust- Optional- we used on bottle.
Vodka or Lemon Extract for combining with gold dust to create paint for bottle
Sparkling Sugar (optional- used on 2018)
Piping Tip 3 for border
Stepping Stone Stamp Embossers- For 2018 label. Optional.
Miscellaneous: Small paint brushes, Piping gel
Notes:
Whenever creating a flat cake topper that will stand upright, I always make two in case one should break. Make two bottle cut-outs just to be on the safe side.
Dry times will vary. Allow 24 hours for your gum paste bottle to dry, to be on the safe side.
As I mentioned in the video, sugar pearls are fairly firm...especially the larger ones. If you find that your sugar pearls are harder than you like, just use them sparingly and use dots of buttercream instead to suit your personal preference. Either way, the cake will be beautiful.
** In the video I refer to Rolkem Gold Dust as edible...but I need to update the post to say that it is still awaiting FDA approval in the US, although it is labeled non-toxic. (It has food-approval in Europe, Canada, and Australia). You can find gold dusts advertised as edible online, and Wilton has an edible gold spray also. ;0)
Enjoy the Video!
We hope that you enjoy this champagne cake topper tutorial! I just love the swirls of champagne and bubbles spilling out! ;0) -- If you give this cake a try, please leave a comment and photo below!
Although I'm still in denial about Christmas being over (I'm not ready to say goodbye to the Christmas tree just yet), I'm always excited about a fresh new year!
Thanks to all of you who follow our cake tutorials, and we wish you a bright and happy new year!!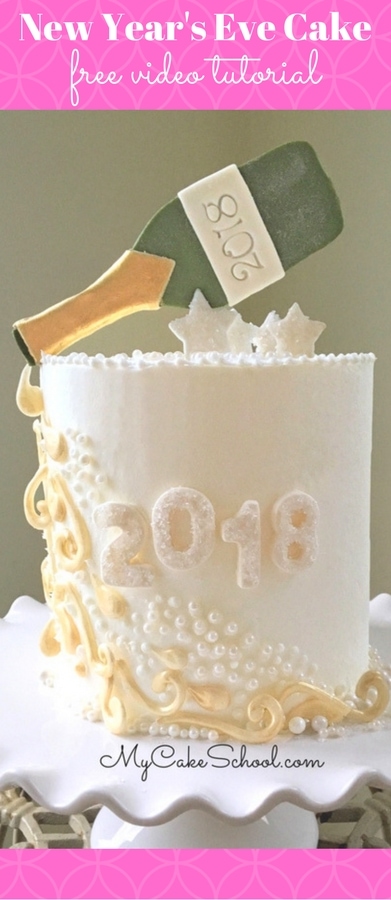 More Champagne Cakes
If you love champagne, make sure to check out our DELICIOUS Pink Champagne Cake recipes!
We have a really popular homemade version... Pink Champagne Cake from Scratch.
This moist cake has just the right amount of pink champagne flavor. We love it with Pink Champagne Buttercream! SO good.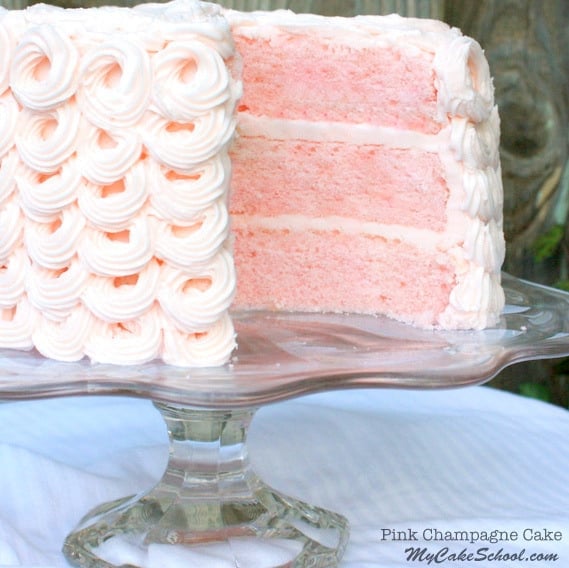 If you like to work with doctored cake mixes, you MUST try our Pink Champagne Doctored Cake Mix recipe!
Just like our homemade version, this flavorful recipe is sure to make any occasion feel more special. You can find it here: Pink Champagne Doctored Cake Mix Recipe.
We also have a Champagne Pound Cake and Champagne and Strawberries Cake!