Today, we are going to be fancy! Ruffles, whether fondant or buttercream, continue to be in high demand for cakes of all occasions.
We have made a beautiful (yet simple!) ruffled buttercream video in the past, and so I am happy to add a ruffled fondant cake tutorial to our collection.
I have to say, although rolling & ruffling strips of fondant is time consuming, applying them to the cake comes very easily and was actually fun for me. The final look is simple elegance, I hope that you enjoy the tutorial!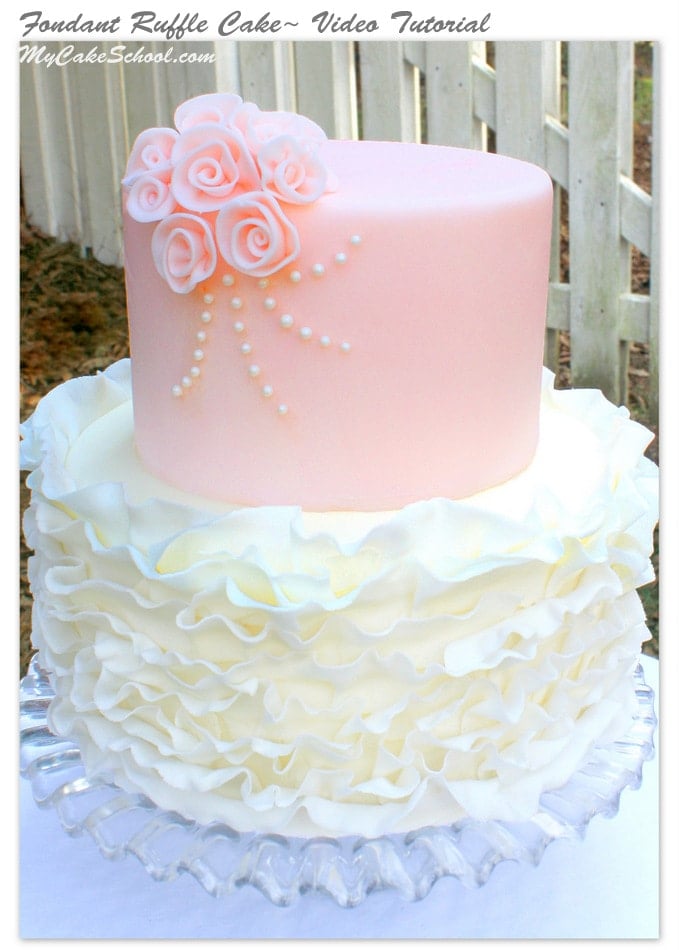 Materials:
I used Liz Marek's fondant recipe for today's tutorial. It seems to be my first choice these days, but is especially wonderful for ruffles as it can be rolled extremely thin. Other brands would be fine too, but I would advise against Fondarific/Duff's (unless you do a practice run), as it is very soft & may be more difficult to work with.
Buttercream (The cake tiers were frosted before covering with fondant.)
6" tier - 18 oz. fondant (tinted with a touch of Americolor Deep Pink)
8" tier - 24 oz. fondant, + 2 lbs. for the ruffles!
Gel Colors: Americolor Deep Pink
Wilton Sugar Pears (for details on top tier)
FMM Multi Ribbon Cutter (Optional, you can cut your fondant strips by hand)
Cel Pad
Ball Tool -Helpful for frilling. (Other options: cel stick, toothpick)
Supports: I used 4 bubble tea straws cut to the height of the bottom tier to support the 6" top tier.
Cake Boards- I used cardboard cake circles beneath each tier.
Cake Base/Pedestal of choice
Glues of Choice- Sugar Glue (¼ tsp. tylose combined with 2 tablespoons warm water), Melted white candy melts for adhering ribbon roses. (I also used piping gel to attach my sugar pearls.)
More Elegant Ruffled Cakes
In addition to today's cake, you may also enjoy some of these other elegant styles! There are endless options when it comes to these beautiful cake decorating techniques!
Beautiful Floral Fondant Appliques
Elegant Vintage Buttercream Piping