Elegant Fondant Petal Cake~A Cake Decorating Video Tutorial
Today I'm going to show you how to make an elegant fondant petal cake which would be perfect for all sorts of celebrations.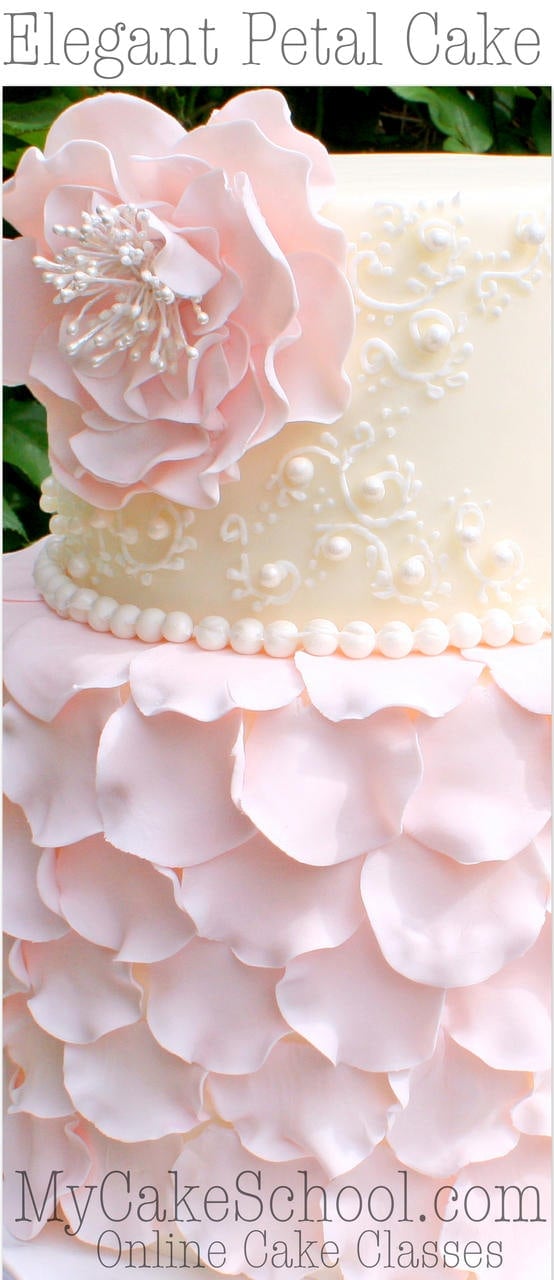 In this video tutorial, you will learn to make a beautiful cake adorned with fondant petals, a matching gum paste flower, and scrollwork.
This elegant fondant petal cake design is perfect for weddings or any occasion that calls for a beautiful centerpiece. Petal cakes are very much in style right now, and the look is surprisingly simple to achieve!
**For a similar look in buttercream, you may enjoy our Shabby Chic Buttercream Rose Cake or our Buttercream Petal Cake video tutorials.

Materials
*Tiers in any size would work well for this cake. My bottom tier is an 8" double barrel cake which is a total of 4 layers (6 inches) high, with a cardboard cake circle and dowels beneath. We have a video tutorial on a double barrel cake if you are curious! -- My top tier is a 6" round and stands approximately 4 inches tall. Both tiers are covered in fondant.
Satin Ice (white) was used to cover both 8" and 6" tiers before decorating
Satin Ice fondant tinted with a very small amount of Americolor Deep Pink
Gum Paste fondant tinted with a very small amount of Americolor Deep Pink (for our flower)
Cel Pad/Foam - I used this to cushion my petals as I softened the edges. If you don't have one, experiment with a Viva paper towel or smooth napkin on top of a folded dish cloth or stack of napkins.
Ball Tool - I find the metal ball tools easiest to work with.
"Sugar Glue" or Piping Gel for attaching petals. You may even find that water works well for you.
Petal Cutters- I used a 5 petal blossom cutter (110 mm "JEM Easy Rose Cutter"), but as you saw in the video, you can achieve great results with simple circle cutters or piping tips.
Bead Maker- Optional--Used for pearl border. Mine is an 8mm, and is similar to this one.
Sugar Pearls- I used India Tree pearl dragees, but Wilton and other brands make them too.
Optional: I brushed a little dry Super Pearl Dust onto my finished pearl border.
Plastic/Vinyl- I kept my fondant and gum paste petals under plastic before I softened/frilled them so that they wouldn't become too dry.
Tylose: Optional - Tylose can be kneaded into fondant to make it dry more quickly and to make it firmer. If you don't have gum paste and would like to speed up the dry time of your flower, you can knead in some tylose to create a gum paste-like product.
Cocktail Straw- I used as a barrier for the floral wire and as an anchor for the center of the flower
Stamen- I used misc. white stamens that we had on hand for my center. You can find these at Michael's and at many places where cake decorating supplies are sold.
26 gauge floral wire - Any gauge is fine as long as you can easily bend & manipulate it. Used for binding the stamen and also for anchoring the flower.
Small Round Piping Tip-- I used a Wilton 2 but any small round is fine (for scrollwork)
Crusting Vanilla Buttercream or Royal Icing - For scrollwork
Miscellaneous: Substantial (½" thick or more) Cake base or pedestal, supports for doweling the tiered cake as well as within the bottom tier if yours is a double barrel cake like mine. Cardboard or foam core cake circles to support each tier.
Notes
This cake is much less difficult than it looks, and much less difficult than my long list of supplies suggests!!
Remember that you can improvise and tweak certain aspects of the design and still come out with a cake very similar to mine. Maybe your petals will be only from round cutters, or from the same size cutter...or maybe your petals will overlap more than mine.
You may want to experiment with the gum paste flower also--although I did find this "build-as-you-go" flower design a very easy but elegant choice! ;0) --
As I mentioned in the tutorial, I have not attached petals to a cake that was frosted with a non-crusting buttercream. It is possible that the moisture from the buttercream could cause the petals to soften and flatten. So, I would suggest a practice run (even if just frosting a plate and placing petals onto it).
I haven't had any issues with attaching petals to cakes that are frosted with a crusting buttercream (like our classic vanilla buttercream or fluffy vanilla buttercream).
Just apply the lightweight petals with a dot of fresh buttercream. However, as I often say, conditions in my area may be different than yours, so it is always a good idea to do a trial run (place petals on frosted plate or glass) before taking on a large order.
Thanks so much for stopping by!