Fondant Ruffled Rose Cake- Free Tutorial
Our love for all things ruffled continues in this highly requested, elegant fondant cake design!
We are so excited to offer this tutorial, as cakes dressed in ruffled roses continue to be in high demand year after year.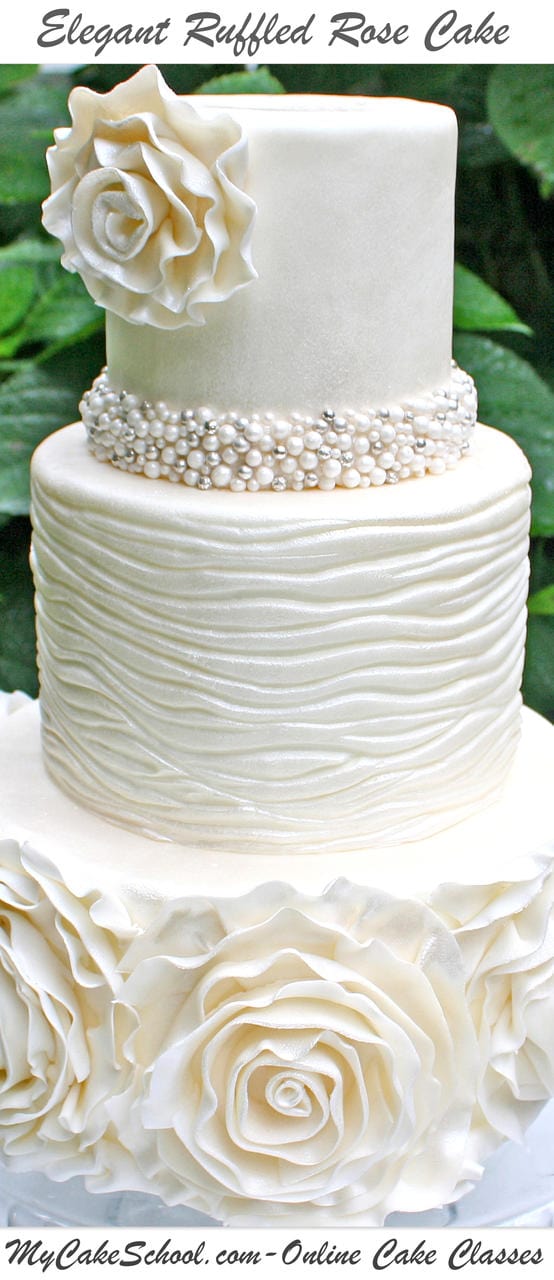 While creating ruffle roses is consuming, it is not a difficult technique to master. In this video, we are going to demonstrate a couple of ways to create an elegant ruffled rose.
As an added bonus, you will learn to add a ridged texture to your fondant as well as a beautiful pearl and dragee accent border.
Enjoy the video!
Materials
(We started with 9 inch/6 inch/ 4 inch tiers covered with Liz Marek fondant. As usual, each tier is on it's own cardboard cake circle cut down to size.)
Fondant (we used Liz Marek's recipe)
Tylose Powder- We kneaded a small amount into our fondant to make it easier to handle. Optional step. If you prefer not to use tylose, you may need to dry your strips a few minutes longer before they are ready to handle. Also needed for "tylose glue".
Tylose Glue- (¼ tsp. tylose dissolved into 2 tablespoons warm water). Piping gel is another option.
FMM Multi Ribbon Cutter for cutting our fondant strips.
Cel Pad-This makes frilling the edges much easier. You can try using a roll of paper towels or even your palm as your padded surface if you are in a pinch.
Ball Toll (I prefer a metal ball over plastic)- necessary if you'd like a frilled/ruffled look to your edges.
Clear vinyl/mat or plastic wrap to help keep the strips from drying too much after they've been out for several minutes
Circle cutter in the size that you would like for your rose centers to be (needed for one of our two ruffled rose methods)
Sugar pearls and dragees, pixie/shimmer dust is optional
Pearl Dust/Pearl Spray -Optional for pearlizing our tiers
Small paint brushes- helpful for brushing on adhesive. Handles are useful too. I also used a large Wilton brush to apply my pearl dust.
Gum paste tool/paint brush with a thin handle- for the middle tier design. I will link to the tool that I use...I believe that mine is for clay but they have very similar options for use with gum paste. Mine are from Michael's craft store.
Toothpicks-Helpful for holding roses/ruffles in places as they set. Just don't forget to remove them! ;0)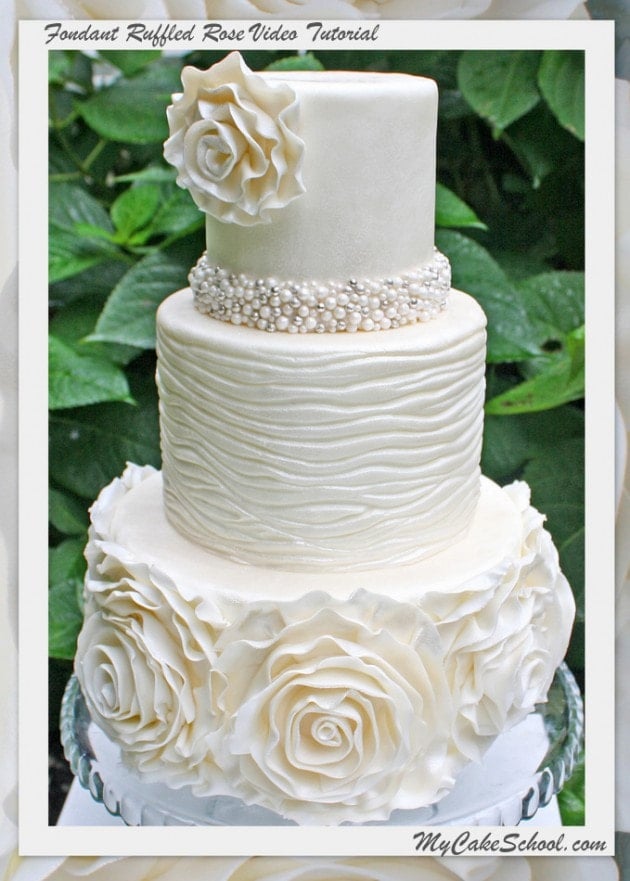 Notes:
**In this video, I demonstrate two ruffled rose techniques. I want to thank my friend Stephanie of Delicious Deliveries for sharing one of those methods with me, which involves building the rose onto fondant discs. Before that, I only had built roses directly onto the cake. Being able to prepare them in advance is a wonderful option. If you are not familiar with Stephanie's work, check her site out here...or her Facebook page out here! She is an amazing cake artist!
-In our video, I laid out our thinly rolled fondant strips to set up on the countertop. After about 10 minutes or so, I flipped them so that both sides would have a turn at being exposed to the air. For me, a total of 20-30 minutes on the counter worked well...but that amount of time will vary depending on several factors (humidity in your kitchen, brand or recipe of fondant, whether or not you used tylose,etc.)
-I kneaded a very small amount of tylose into my fondant so that the consistency was not quite as soft as straight fondant...but not as stiff as gum paste. You may find that straight fondant works well for you.
-Don't allow your fondant strips to become too dry while sitting out. I used my clear vinyl to keep them useable as I started the process of creating the roses. You could also use layers of plastic wrap or slide them into large ziplock bags.
-We made our centers for our roses the night before, and so they were still pliable the next day. However, if you are working further in advance, or if you want to prevent them from becoming firm, you can slide them into a large ziplock bag.
Let us know if you have any questions! I hope that you enjoy the tutorial!