How to Make a Turkey Cake Topper
In this tutorial, I'm going to show you how to make an adorable Turkey Cake Topper.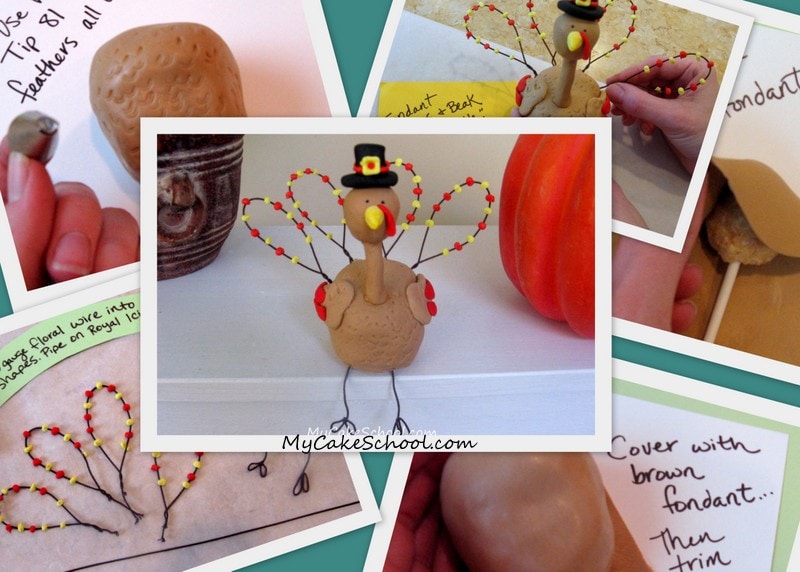 If you need something cute to put on top of your Thanksgiving cake, or even as a cute centerpiece for a cupcake platter, keep reading. (Even if you have no intentions of making a cute turkey topper...keep reading, it will be fun!..)
How to Make a Turkey Cake Topper
Let's get started!
First, Grab a box of Rice Krispies Treats (or any version of Rice Cereal Treat you can find). My turkey is kind of big. Modify amounts if you want a tiny turkey instead.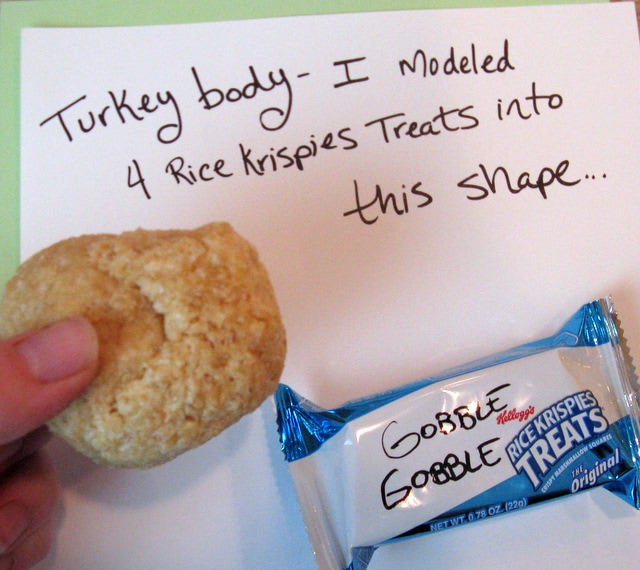 Next, roll out a fairly thin square of brown fondant (about ⅛ inch.)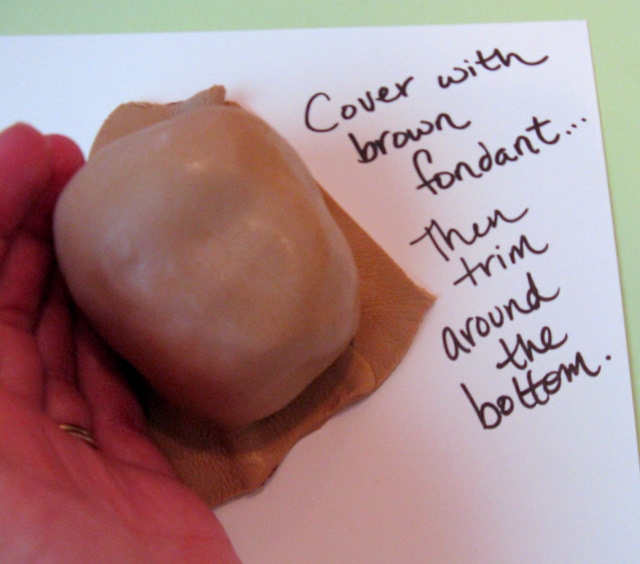 I coat my rice cereal body with a little shortening before applying fondant. You can use another layer of fondant if the bumps from the cereal treat are still showing through.
Next, it is time to add texture to the fondant. Use whatever you like- we used a tip 81 to make "feathers".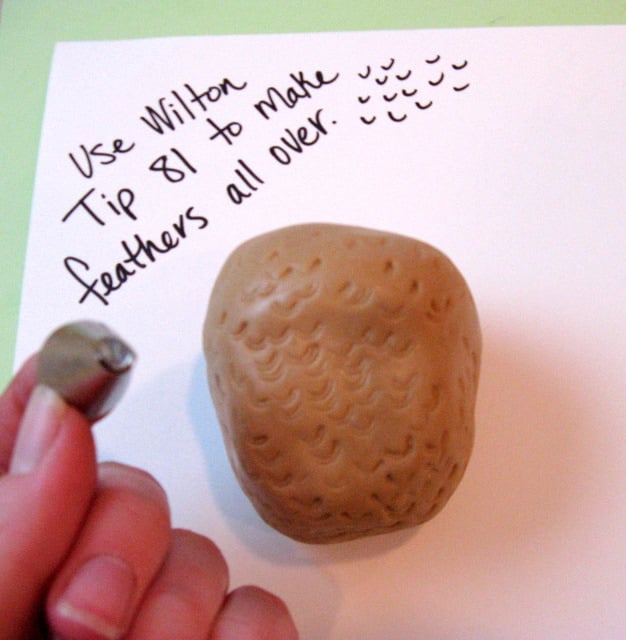 Now for the head and neck.... I added a piece of rice cereal treat that I tightly pressed into a round ball, onto the end of a lollipop stick. Coat with a light coating of shortening, and then cover with a thinly rolled piece of fondant.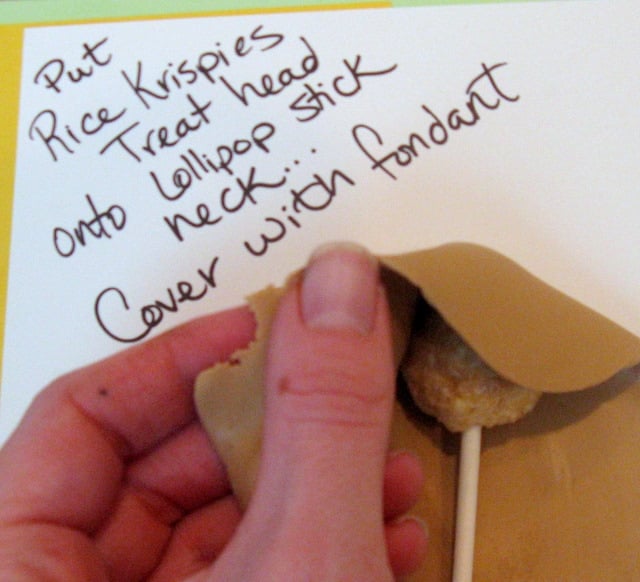 Next, it is time to piece everything together. We used a lollipop stick to push a hole into the body (not all the way through).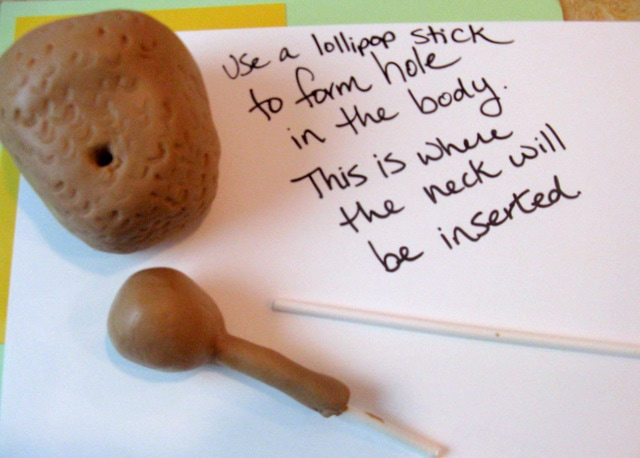 Now for other feathers. We created feathers with 20 gauge floral wire, which we then decorated with red and yellow dots of royal icing.
There are many variations that you could do for this if you prefer to skip the royal icing! One would be to brush the floral wire with piping gel and dip the feathers into confetti sprinkles.
We also used the floral wire to form our turkey's legs and feet.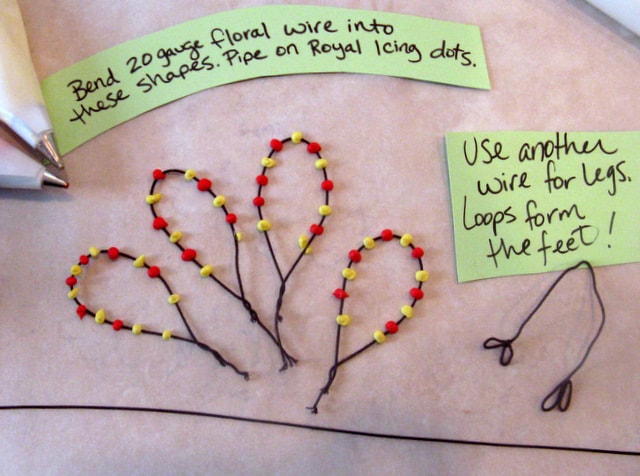 My favorite part! (You can use any number of materials for feathers. Gum paste feathers, royal icing feathers, and chocolate feathers are all other possibilites). This method is just the fastest!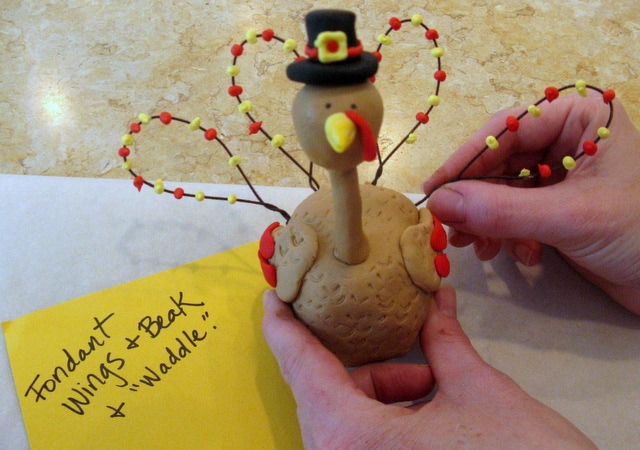 Push the feathers into the Rice Krispie Treats body. They slide right in and stay in position. (Whoever thought of using Rice Krispies Treats under fondant is my hero!)
Now for the grand reveal!! (I know, he should be on a cake....but I didn't have one ready. Plus, this little bench seemed perfect.)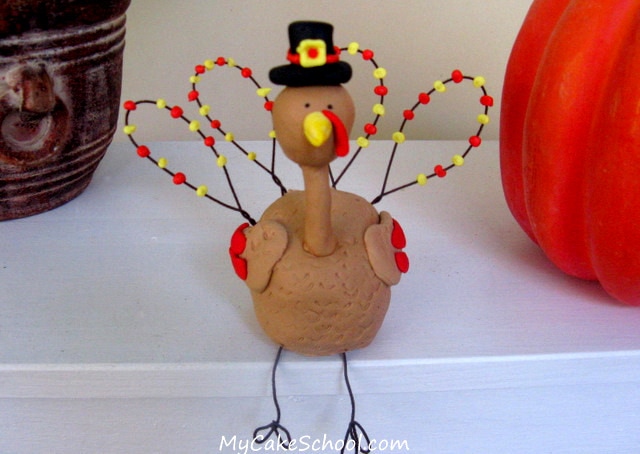 I hope you enjoyed this little tutorial! Using the Rice Krispies, lollipop stick support for the neck and floral wire really sped things along.
I made him (and he was ready to pose for pictures) within 30 minutes. (And that was including all of the photos that I snapped along the way) -- :0) --
Update!: We also have another Funny Turkey Cake Topper tutorial for you if you would like another option!
Thanksgiving Cake Recipes
Now that you have a cute turkey cake topper, you need a great Thanksgiving cake recipe! We have lots to share with you. Some of our most popular are our Pumpkin Spice Cake, homemade Spice Cake, Caramel Cake, and Gingerbread Cake.
He would look so cute sitting on top of a pound cake or bundt cake as well (like our Apple Bundt Cake or Italian Cream Bundt Cake)
More Thanksgiving Cake Designs
We have more fall cake designs that would be perfect for Thanksgiving! Some of our favorites are our Easy Turkey Cake, Fall Wreath Cake, and Turkey Cupcakes.