Today I'm going to show you how to make an adorable, easy Turkey Cake with colorful chocolate feathers!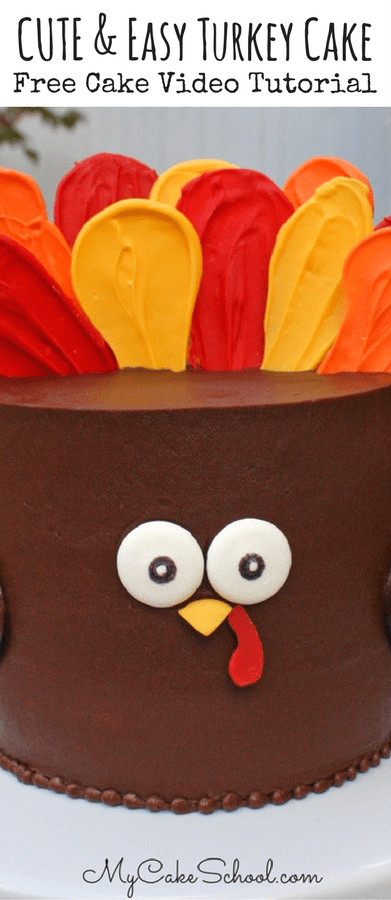 The Perfect Turkey Cake for Thanksgiving!
This design is great for all skill levels of cake decorating, and would be the perfect addition to any Thanksgiving dessert table! Kids are sure to love this funny, colorful turkey design.
With brushstroke chocolate shards being so popular in cake decorating, I wanted to incorporate some chocolate turkey feathers into my design for a little added height and color!
I was also inspired by The First Year's Turkey Cake that popped up in my Pinterest feed. We created our chocolate feathers differently, but her technique of incorporating shards of chocolate is a great one also (and doesn't require piping).
How to Make an Easy Turkey Cake
Create eyes using candy coating disks. (You can also make google eyes from fondant if you'd like.)
Create other details of the face with candy coating. We use pre-colored candy melts.
Create wings by piping melted candy coating with the help of our template (linked below if you don't want to freehand).
Create feathers by piping melted tinted candy melts or candy coating onto a parchment lined cookie sheet. Pipe thick dots of the chocolate and spread with a spatula to achieve the feather shape. Don't spread too thin!
Chill the candy coating accents just before adding to the cake. Push the feathers into the cake, and attach other details using buttercream as your glue.
Template for Turkey Wings- Place beneath parchment or waxed paper when piping. (Or you can just freehand it!)
Easy Turkey Cake- Free Video Tutorial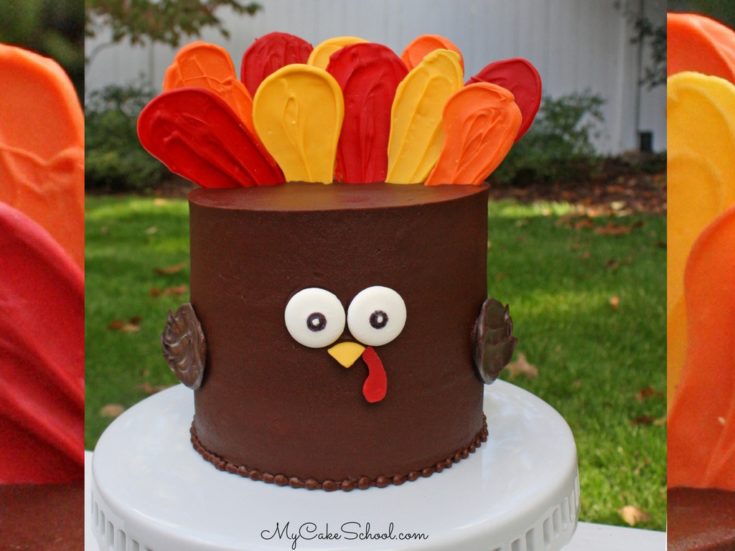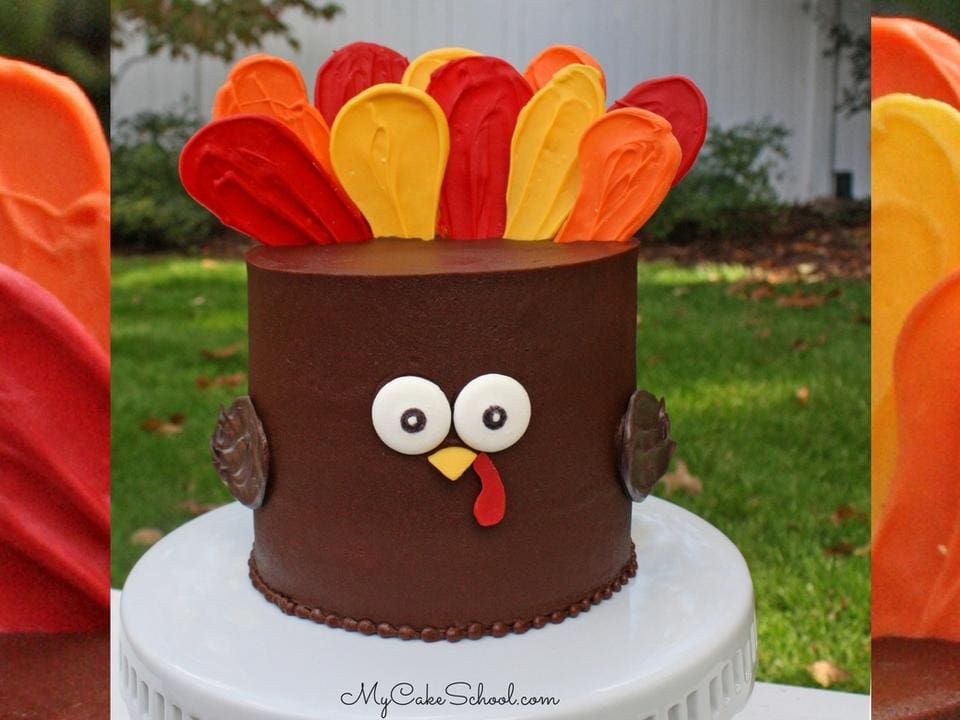 Learn how to make this cute and easy Turkey Cake! Perfect for Thanksgiving celebrations!
Materials
In our video, we used three cake layers filled and frosted with our classic chocolate buttercream. (We have 3 frozen 6 inch cake layers that were leftover from other projects-- (two chocolate chip cake layers and one chocolate) - but choose whatever you like! This cake would also work for larger cakes.)
Candy Melts- We used Wilton Orange, Red, Yellow, and Brown candy melts, as well as White for the eyes. (If you want to tint white chocolate bark/melts instead, you'll want to use candy coloring gel.)
Candy Coloring Black Pen- Or your food writer pen of choice, or substitute with black fondant, black candy/chocolate chips, or buttercream.
Spatula for frosting
Bench Scraper (optional but helpful for even frosting)
Turntable (optional but helpful for applying frosting to any cake)
Miscellaneous: Cardboard cake circle (our cake is resting on one), Parchment or waxed paper for lining cookie sheet, piping bags (ours are disposable)
Piping tip: I used a Wilton 3 tip for the bead border around the base.
Template for Turkey Wings- Place beneath parchment or waxed paper when piping. (Or you can just freehand it!)
Instructions
Fill and frost your cake layers with chocolate buttercream.
Use two candy coating disks/candy melts for eyes. Use a candy coloring pen for best results (or you can pipe on buttercream eyes)
Make the other details from tinted or pre-colored candy coating. Feathers are made by piping thick dots of buttercream onto a parchment lined cookie sheet and spread with a spatula for the feather shape.
Chill candy coating feathers as well as wings (wings can be piped over a template if you need it).
Gently push feathers into cake, and add wings to each side, securing with buttercream.
Notes
Make your chocolate feathers fairly thick so that they will not be as fragile. The feathers will soften slightly when inserted into the cake and so a slightly thicker feather will hold up best.
Chill the feathers in the freezer for 5-10 minutes just before handling & inserting into the cake.
Make a few extra feathers and a wing or two extra to be on the safe side.
We used the "hot knife method" for smoothing our buttercream which involved chilling the freshly frosted cake for about 10-15 minutes or until frosting is firm before going over it with a heated spatula/bench scraper. Use your smoothing method of choice, or you can texture the buttercream with your spatula. Anything goes!
If you'd rather not make chocolate wings, use a leaf tip (366) or similar tip to create chocolate buttercream feathers/wings on each side.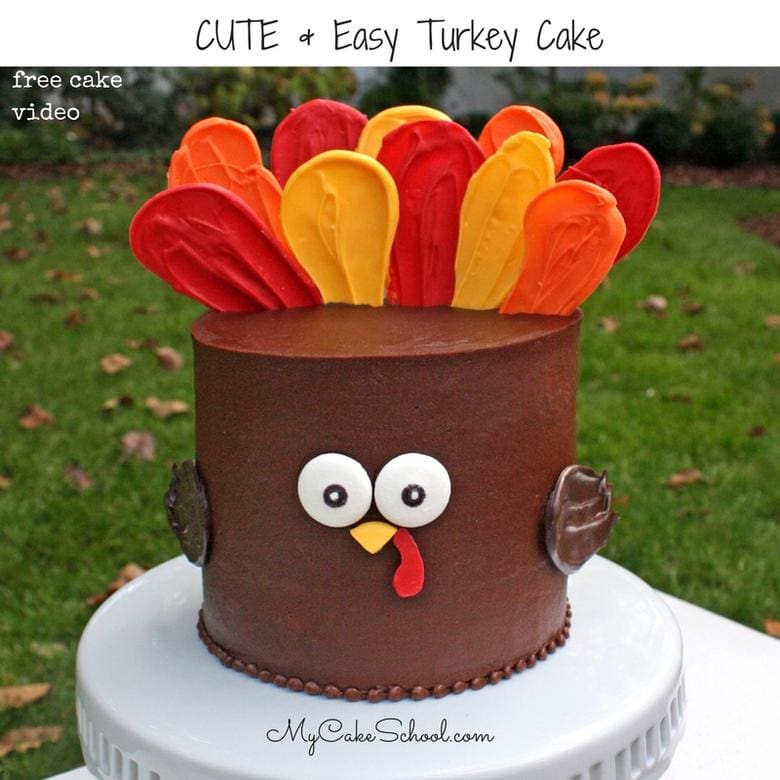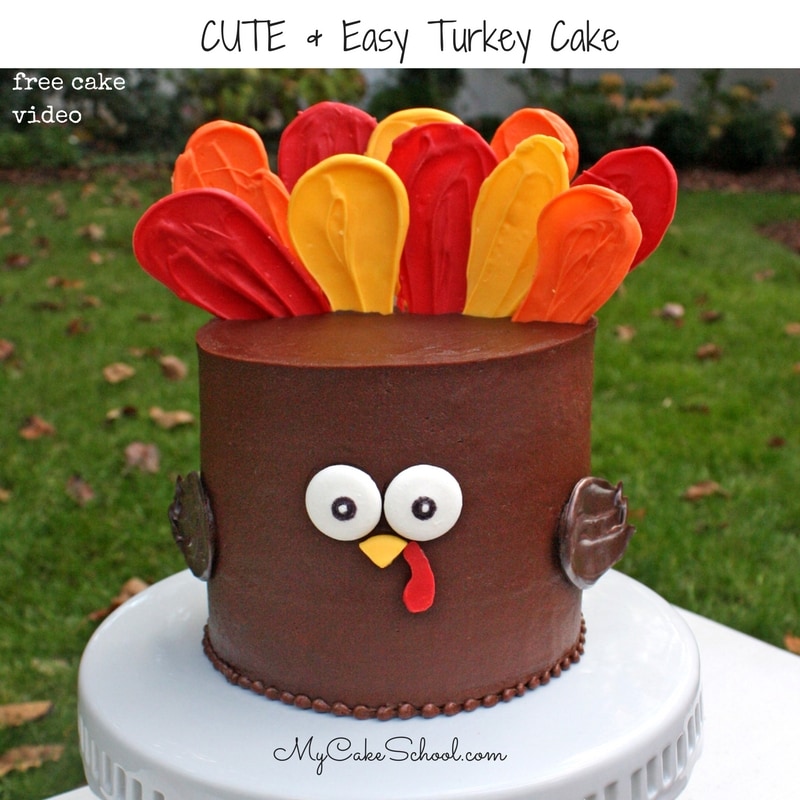 Looking for more Thanksgiving cake tutorials, recipes, and ideas? Make sure to check out our roundup of favorite Thanksgiving cake designs! You can find it here: Roundup of the BEST Thanksgiving Cake Recipes, Tutorials, and Ideas!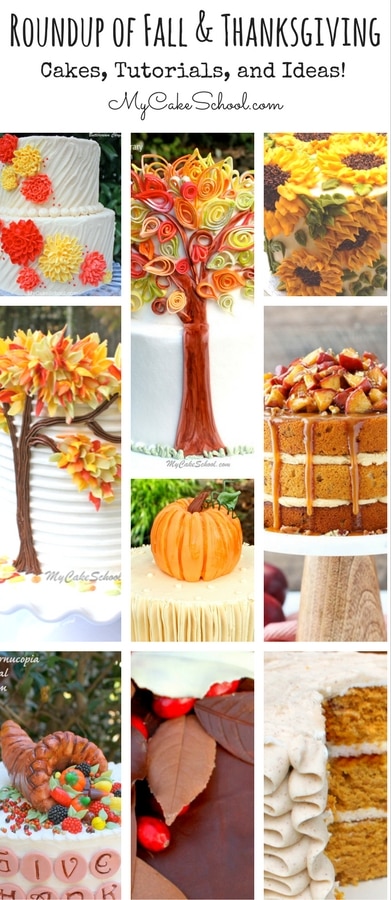 Thanks for stopping by! If you'd like to see more free cake tutorials, don't miss our Free Cake Tutorials section. Also, our tried and true cake and frosting recipes can be found in our Recipes Section.