Cute Turkey Cake Topper Tutorial- Free Cake Video
Thanksgiving is almost here, and we have an easy & CUTE Turkey Cake Topper tutorial to share with you! This sweet turkey cake is so much fun to make, and is sure to bring smiles to your Thanksgiving celebrations!
nbsp;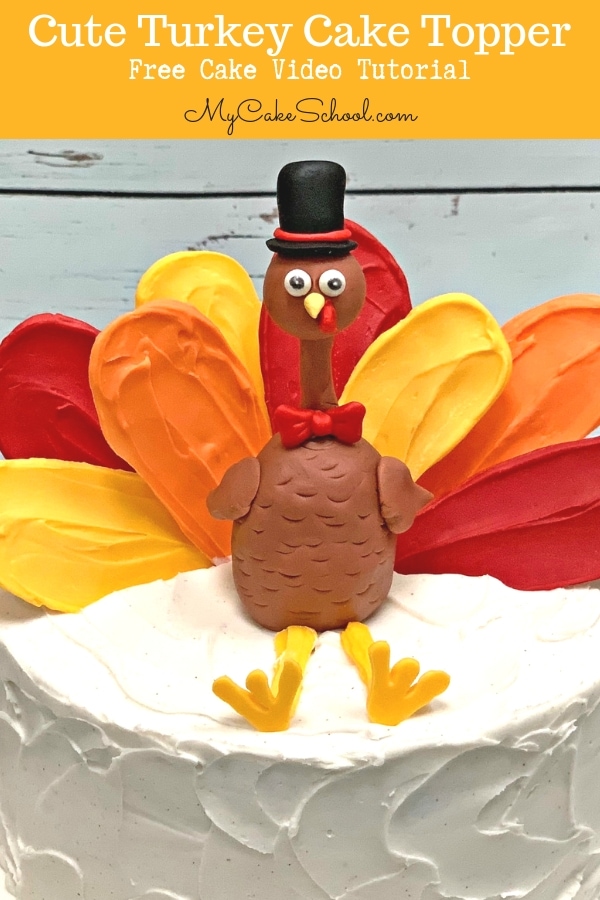 How to Make a Turkey Cake Topper
In this turkey cake tutorial, we'll show you how to model a simple & funny turkey cake topper using rice cereal treats, gum paste, and a few additional accents.
Once the bird is placed onto the cake, it's time for feathers! I love the feathers for the height, color, and texture that they add to this design.
You could easily create gum paste feathers (with anchors attached) to insert behind the turkey, but we decided to use candy coating!
I love candy coating cake decorations because they can be made so quickly! There's no need to add anchors to these chocolate feathers, you'll just need to make them a little longer, keeping in mind that part of each feather will be pushed into the cake.
We have made many turkey themed cakes and sweets over the years, so make sure to also check out some of our favorites!:
Turkey Cake Topper
Turkey Cake with Candy Feathers
Turkey & Cornucopia Cupcakes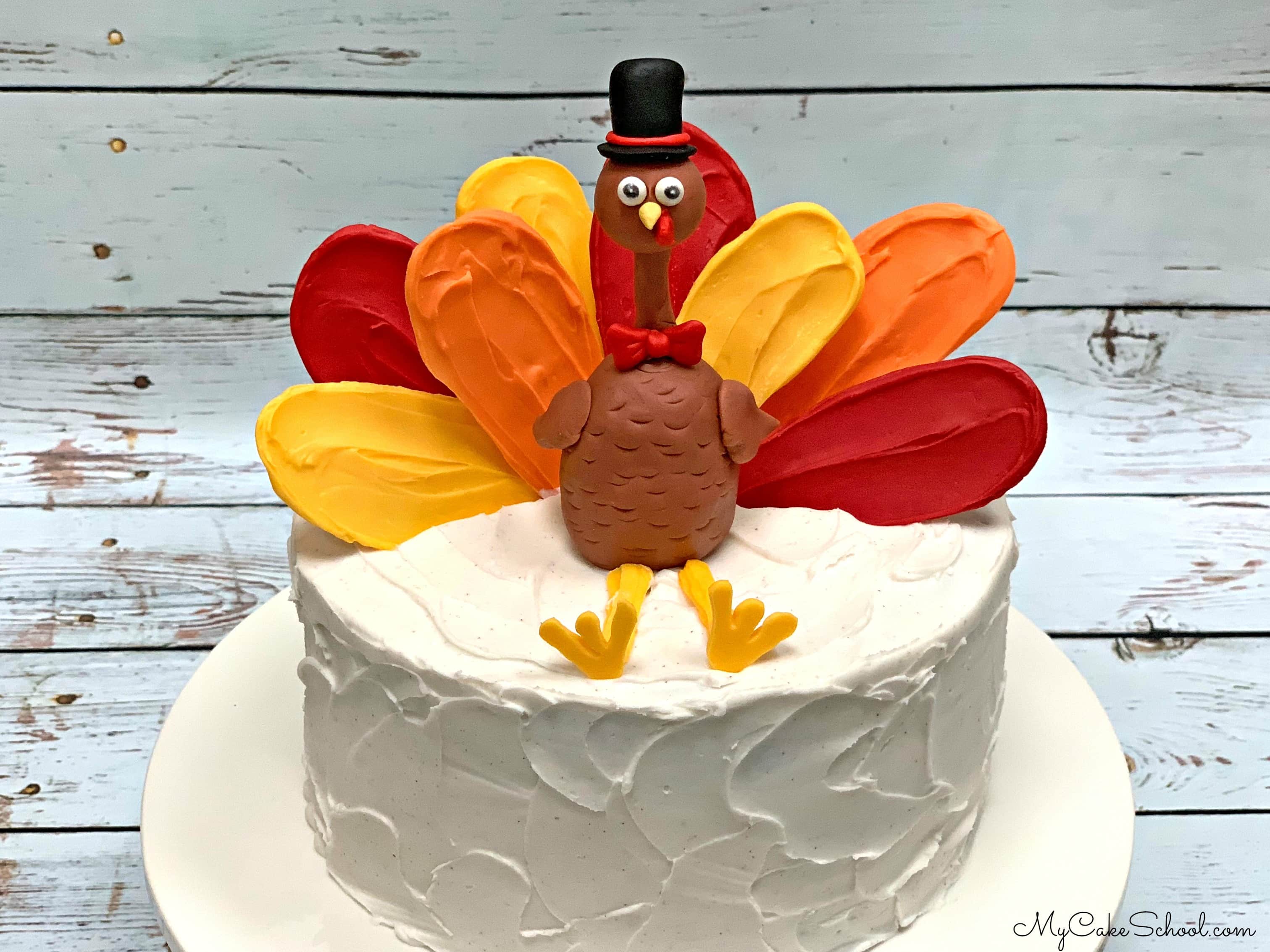 Don't miss our collection of FAVORITE Thanksgiving cakes, tutorials, and inspiration in our Thanksgiving and Fall Roundup!
Also, if you are interested in learning even more about cake decorating, don't miss our full collection of hundreds of free cake decorating video tutorials and recipes in our Recipes & Tutorials Section!
Cute Turkey Cake Topper Tutorial- Free Cake Video
Learn how to make an adorable turkey decoration for your Thanksgiving cakes!
Materials
1 22g. Rice Cereal Treat bar
2 sugar pearls (eyes)
fondant or gum paste (*if using fondant, I like to knead in a little tylose powder to firm it up.)
Coloring Gel: Americolor Chocolate Brown, Red Red, Lemon Yellow, Black
Candy Coating in Red, Yellow, & Orange OR White Candy Coating with oil based colors for tinting.
Food Coloring Pen (for eyes)
Parchment or Waxed Paper
Lollipop Stick (we used a long size)
Piping Gel or edible adhesive of choice
Miscellaneous: Parchment or Waxed Paper lined cookie sheet, disposable piping bags, turntable (optional but helpful), bench scraper/spatula for frosting, small paintbrushes
Cake (we decorated an 8 inch, buttercream frosted cake)
Instructions
Mold rice cereal treat (22g) into egg shape, coat with a thin coating of vegetable shortening, and cover in brown gum paste.
Drive long lollipop stick through the cereal treat. Roll ball of gum paste for head, create hole in the bottom with lollipop stick, and allow to set as you work on the rest of the turkey.
Wrap brown gum paste around the top of the lollipop stick to create a neck. Allow space for the head. Add the head, and attach eyes, etc. with piping gel.
Add top hat made from black gum paste or fondant.
Melt candy melts or candy coating (red, yellow, and orange), and create chocolate feathers. Also, pipe turkey feet & legs using yellow candy coating.
Frost your cake. (We used a three layer 8 inch gingerbread cake, frosted with cinnamon buttercream (we added cinnamon to our classic vanilla buttercream recipe).
Insert turkey body into the frosted cake. Push in *chilled* candy coating feathers.