Easy Turkey Cake Tutorial
Today I'm going to show you how to make an adorable, Easy Turkey Cake with colorful chocolate feathers!
This is our favorite Turkey Cake because it is so cute and simple! Kids will love to help with this one also! Keep this design in mine for your Thanksgiving dessert table!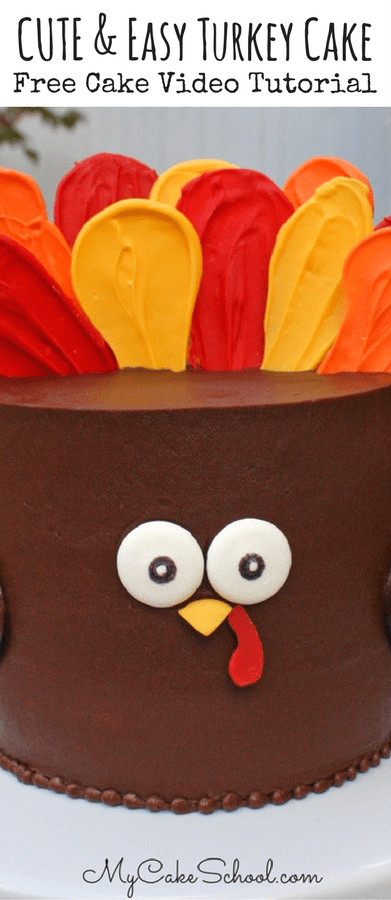 The Perfect Turkey Cake for Thanksgiving!
This design is great for all skill levels of cake decorating, and would be the perfect addition to any Thanksgiving dessert table! Kids are sure to love this funny, colorful turkey design.
With brushstroke chocolate shards being so popular in cake decorating, I wanted to incorporate some chocolate turkey feathers into my design for a little added height and color!
I was also inspired by The First Year's Turkey Cake that popped up in my Pinterest feed. We created our chocolate feathers differently, but her technique of incorporating shards of chocolate is a great one also (and doesn't require piping).
How to Make an Easy Turkey Cake
Create eyes using candy coating disks. (You can also make google eyes from fondant if you'd like.)
Create other details of the face with candy coating. We use pre-colored candy melts.
Create wings by piping melted candy coating with the help of our template (linked below if you don't want to freehand).
Create feathers by piping melted tinted candy melts or candy coating onto a parchment lined cookie sheet. Pipe thick dots of the chocolate and spread with a spatula to achieve the feather shape. Don't spread too thin!
Chill the candy coating accents just before adding to the cake. Push the feathers into the cake, and attach other details using buttercream as your glue.
Template for Turkey Wings- Place beneath parchment or waxed paper when piping. (Or you can just freehand it!)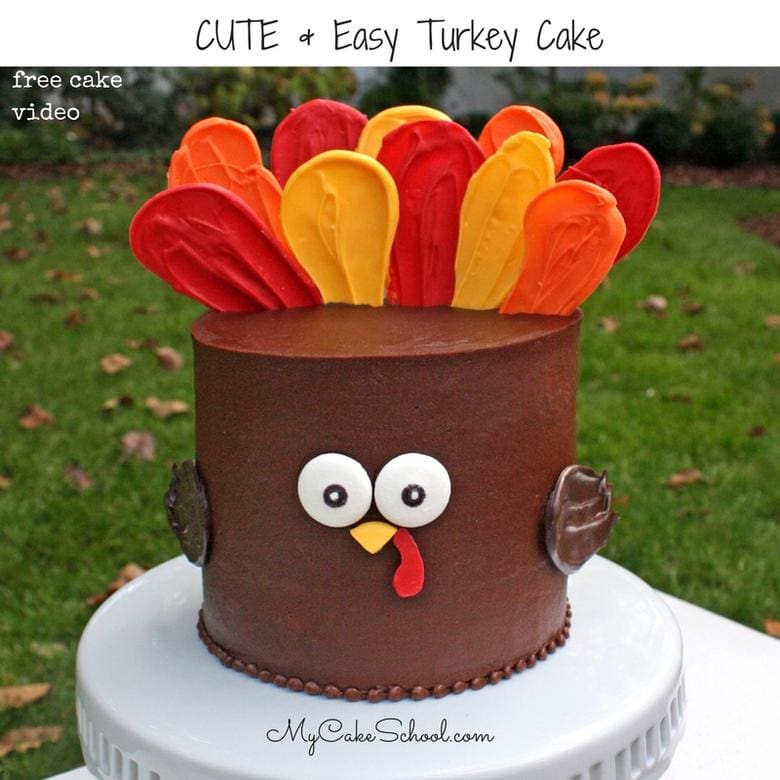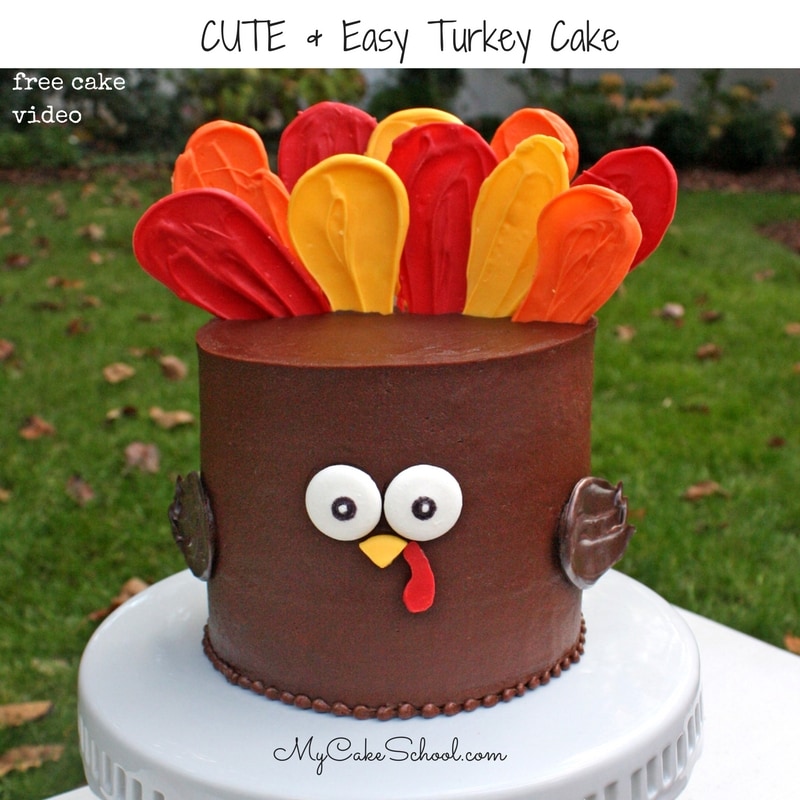 More Fall Cakes
Looking for more Thanksgiving cake tutorials, recipes, and ideas? Make sure to check out our roundup of favorite Thanksgiving cake designs! You can find it here: Roundup of the BEST Thanksgiving Cake Recipes, Tutorials, and Ideas!
Cake Recipes
There are so many cake recipes that would be perfect for this cake design. Chocolate frosting is especially great with chocolate cake, marble cake, and yellow cake!
Enjoy the Video
Thanks for stopping by! If you'd like to see more free cake tutorials, don't miss our Free Cake Decorating Tutorials section. Also, our tried and true cake and frosting recipes can be found in our Cake Recipes Section!