Caramel Mousse Filling for Cakes & Cupcakes
If you like caramel, you are going to fall in love with this easy and flavorful Caramel Mousse Filling for your cakes and cupcakes!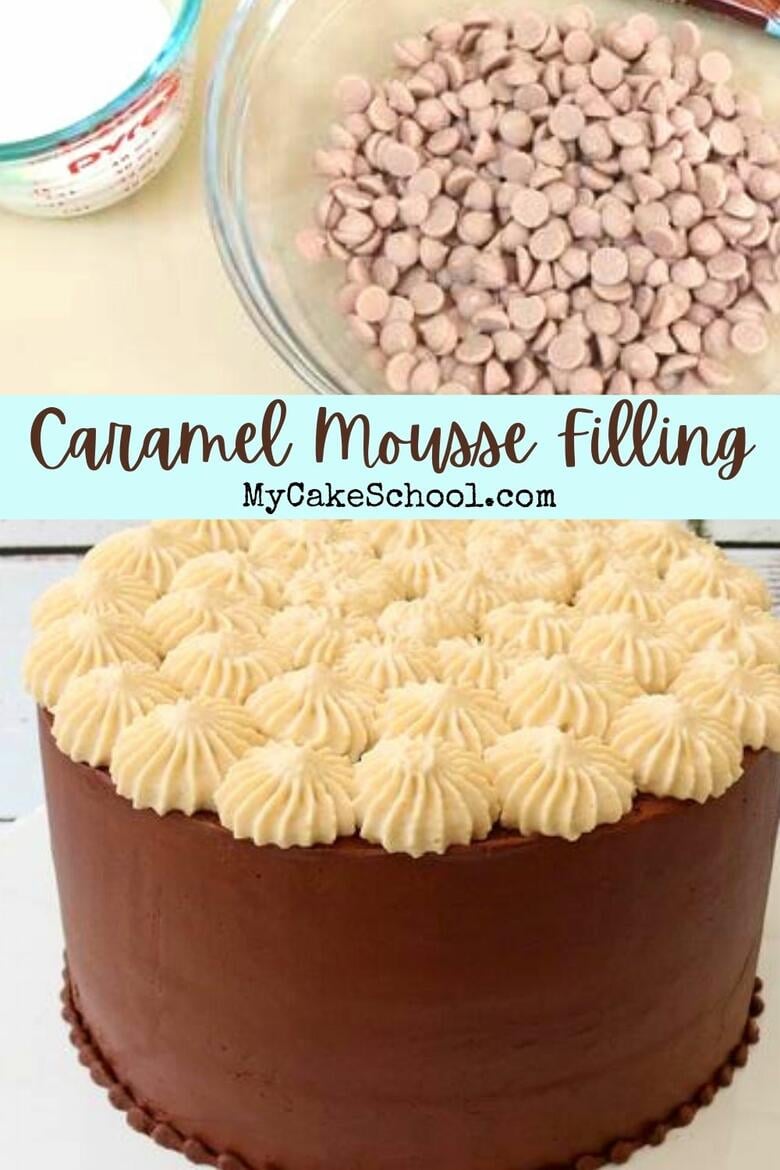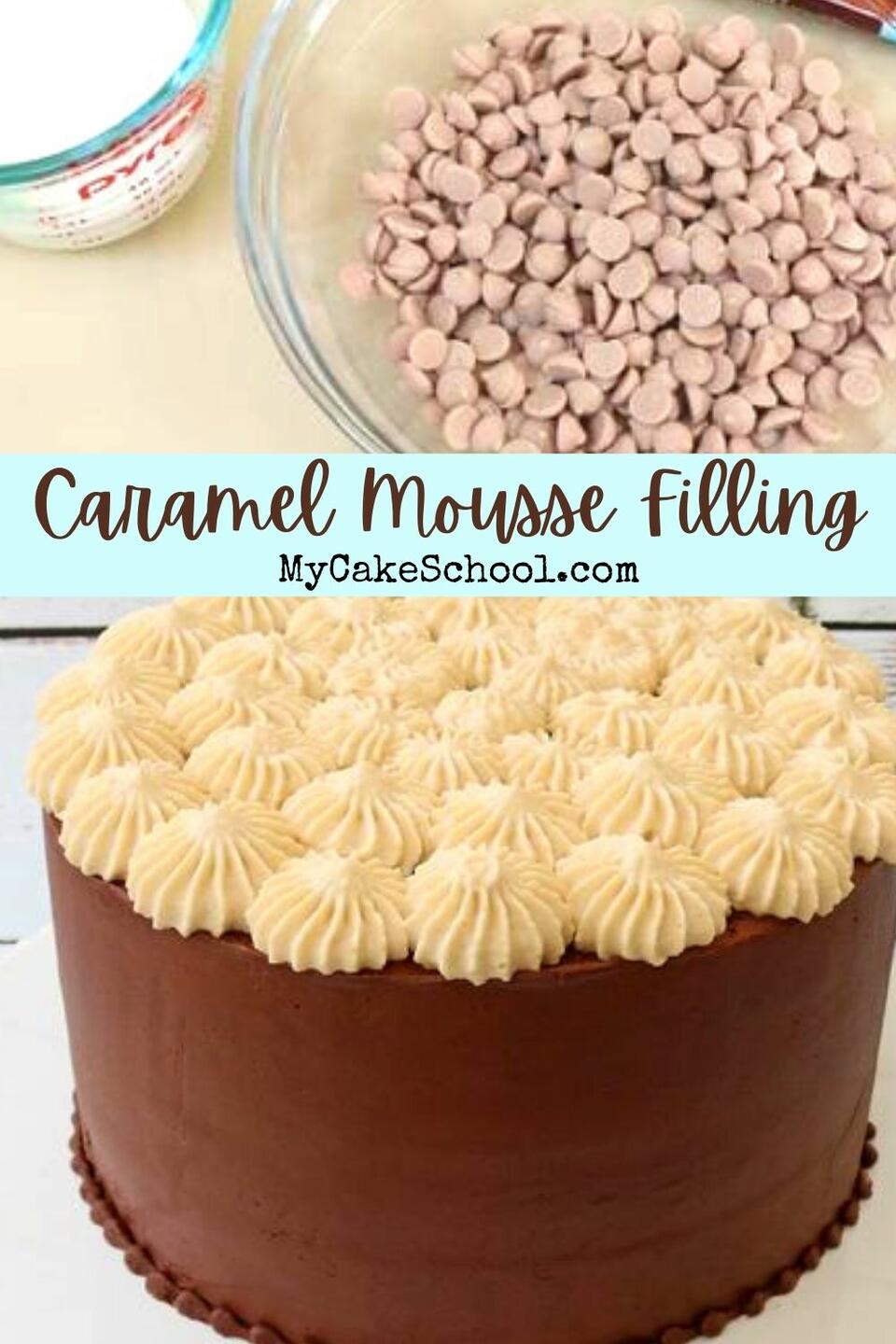 The caramel flavor and consistency is so light and luscious, and we recently used it as a filling and topping for our homemade Chocolate Cake with fantastic results! It is a new favorite filling option for sure, and one that was long overdue.
How do You Make Caramel Mousse Filling?
This delicious filling is easier than you think! We started off by whipping up some cream!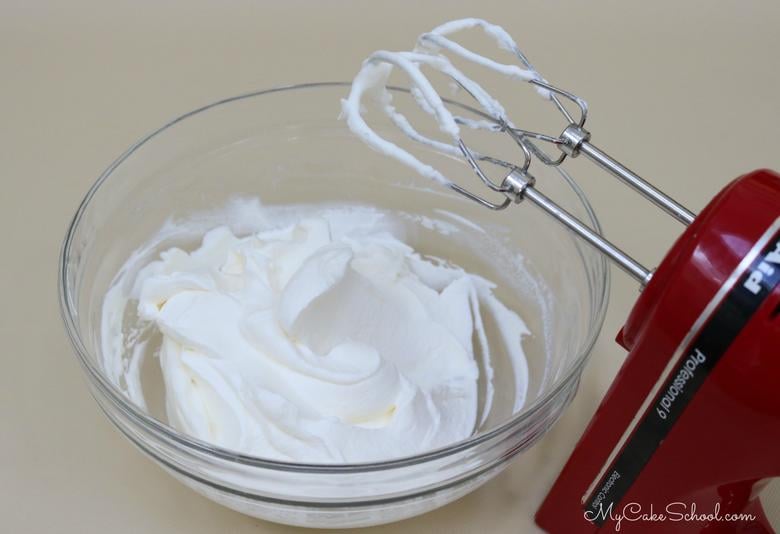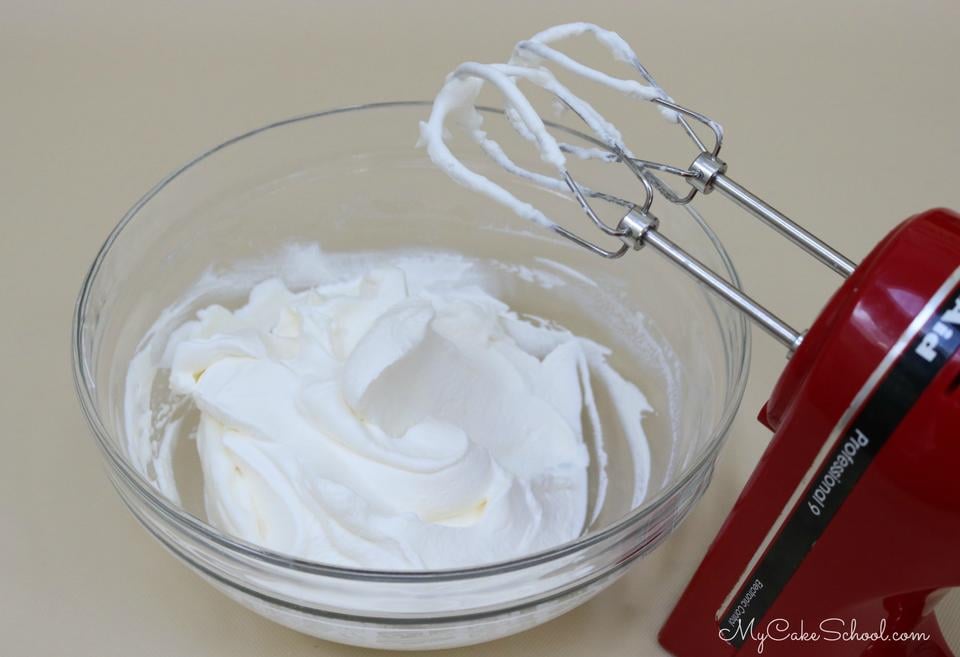 Now that the whipped cream is ready, we're on to the delicious caramel. Heavy cream and caramel chips are the key players! In this case, we actually used salted caramel chips (SO good), but plain caramel chips would work well also.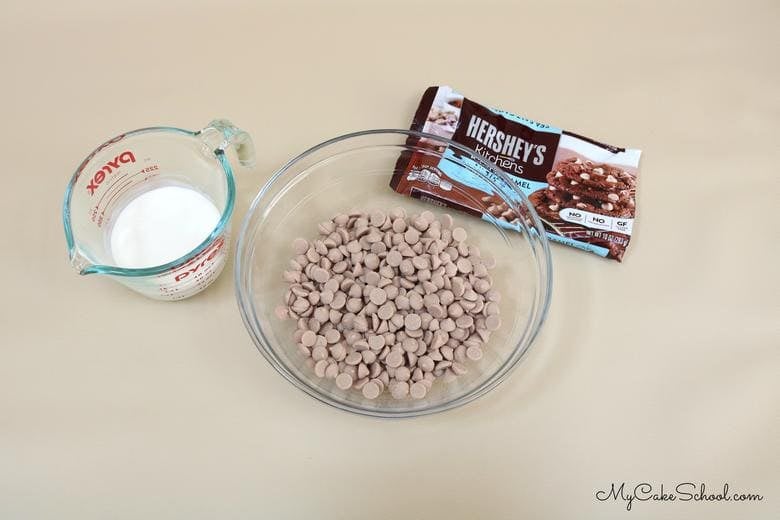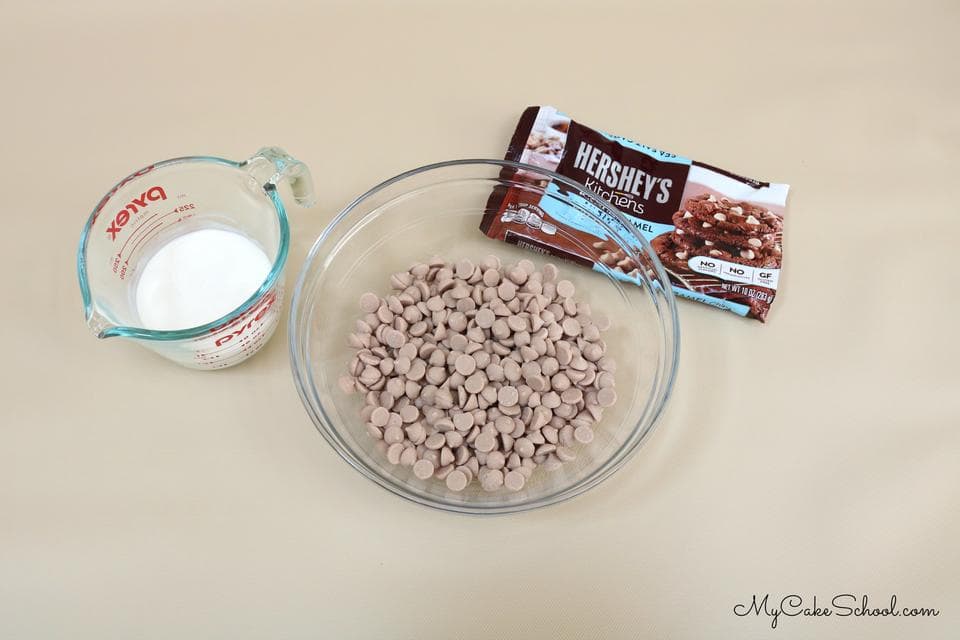 Next, we combined the caramel chips and cream in a microwave-safe bowl, and heated in the microwave in small increments until melted.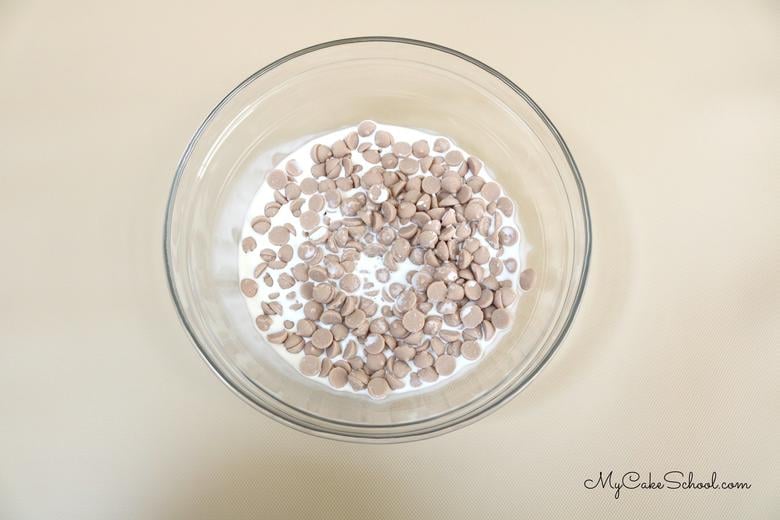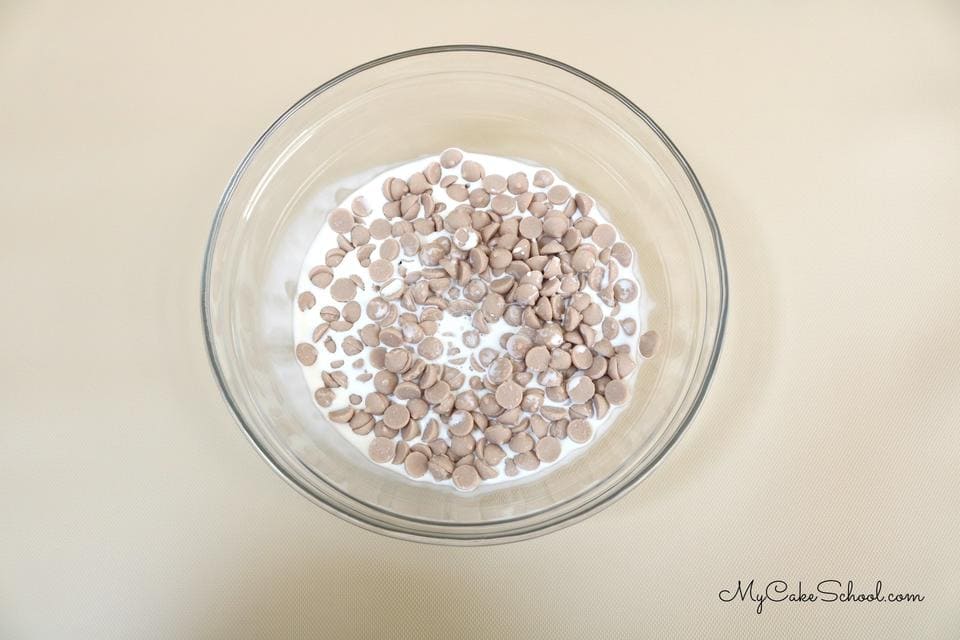 Deliciousness! Here is our freshly melted caramel...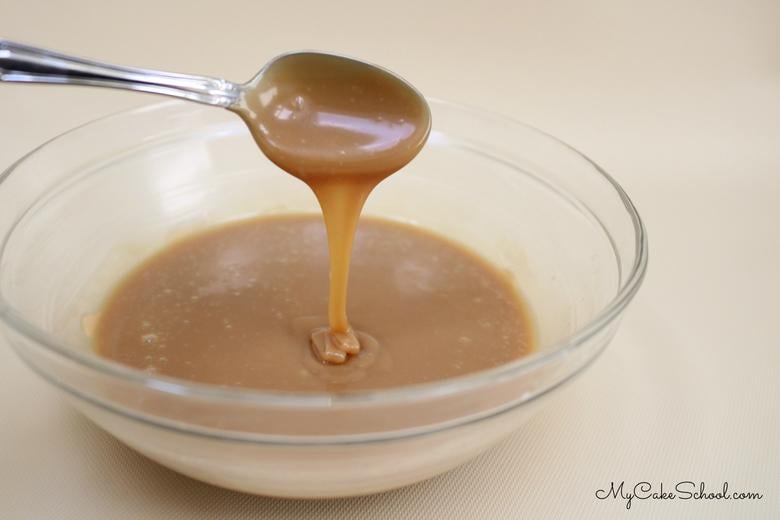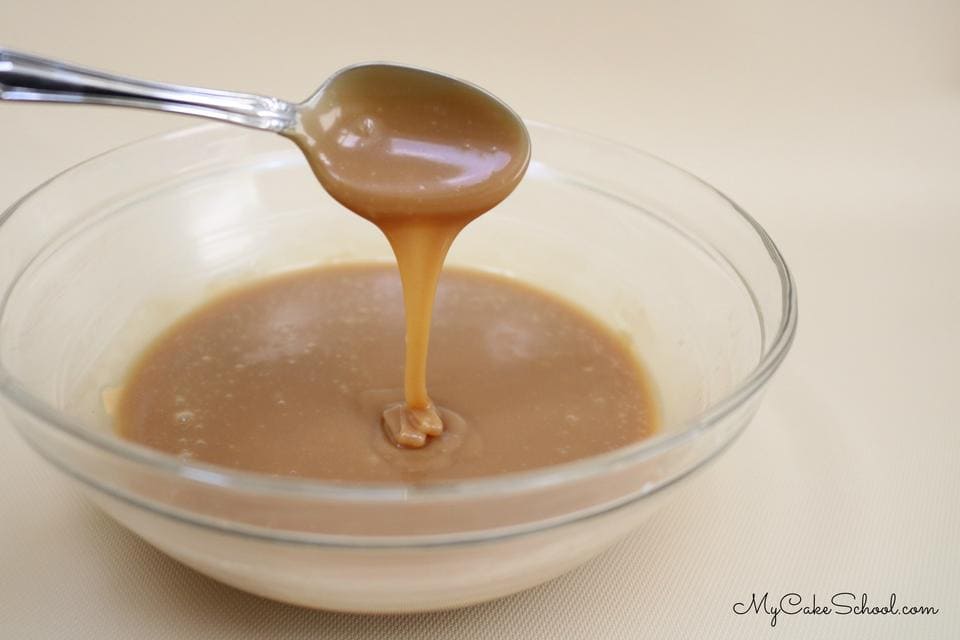 Next, I wanted to cool the mixture. You want it to cool to a consistency that is still soft enough to be incorporated into our whipped cream, but not so hot that it melts it.
A good option is to just place the bowl of caramel into a bowl of ice. However, you could also refrigerate it-- just keep an eye on it so it doesn't become too cold! ;0)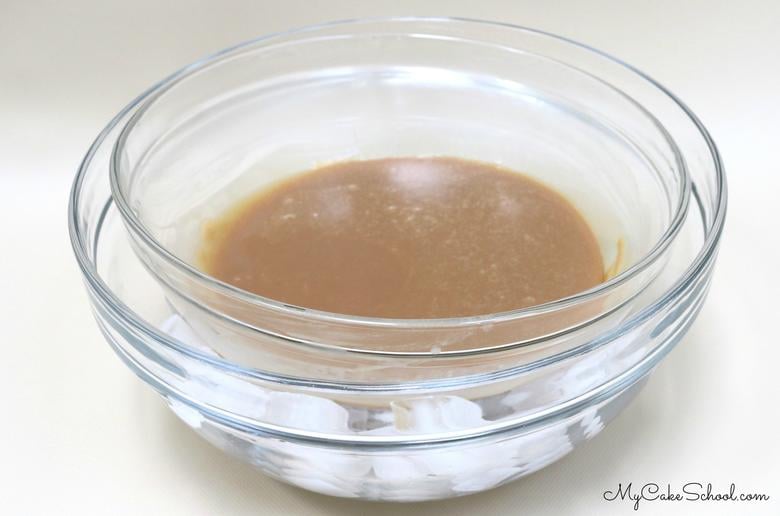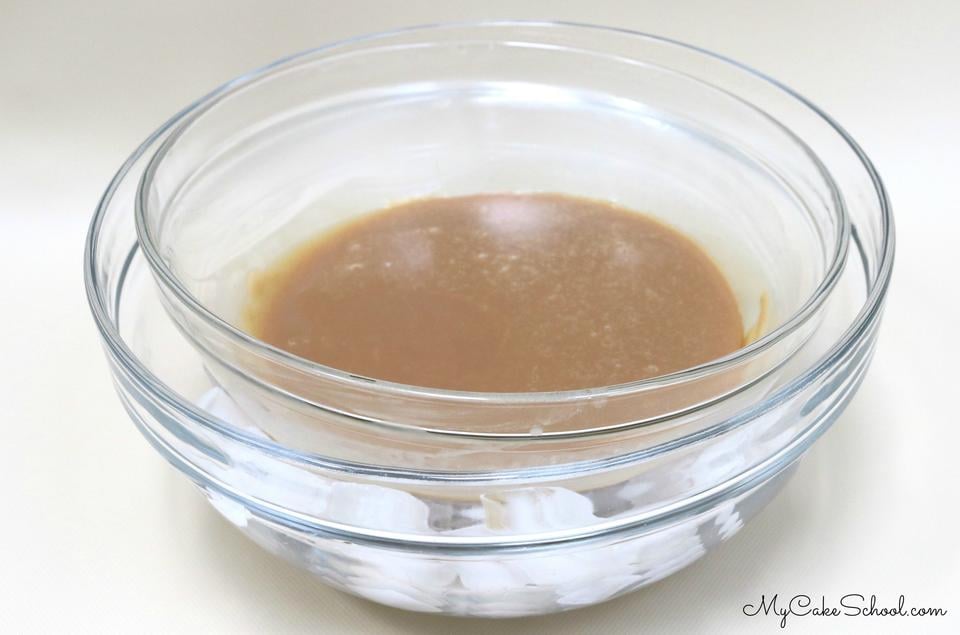 Ready!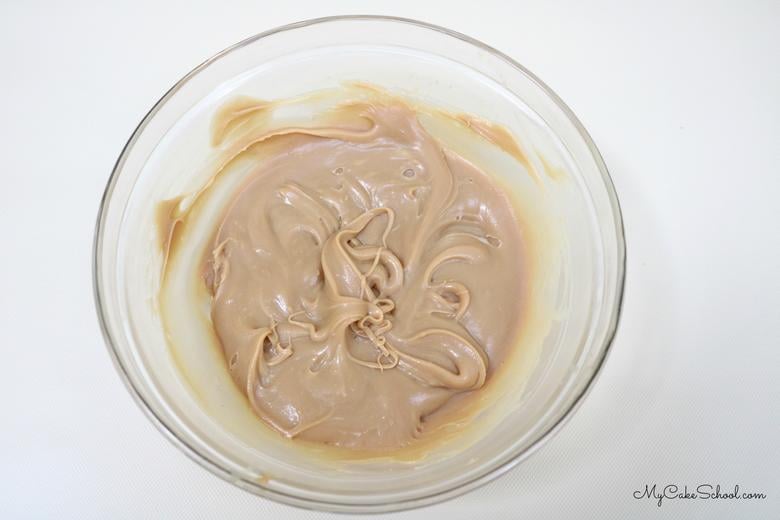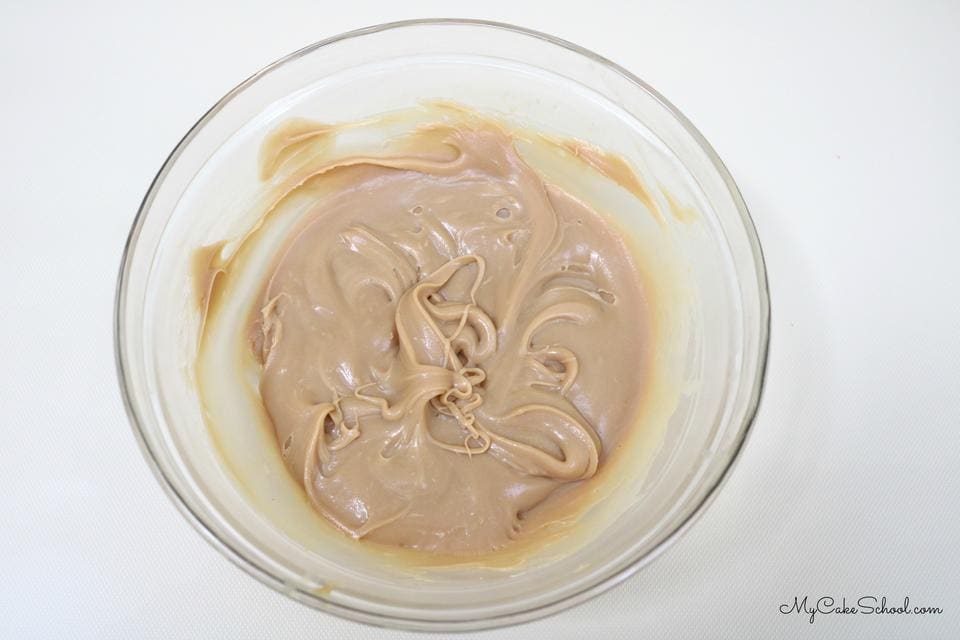 We gently folded the melted caramel into the whipped cream until light, luscious, and well combined!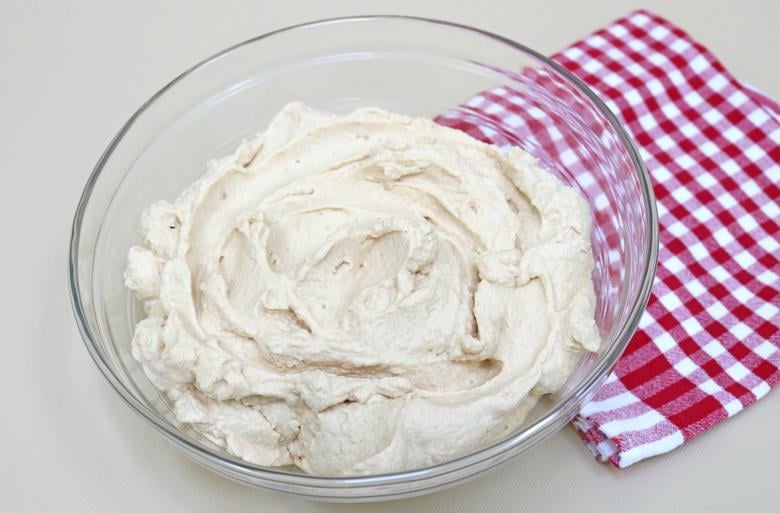 What Cakes Taste Great with Caramel Mousse Filling?
That's all there is to it! Spread this delicious caramel mousse between layers of your favorite chocolate sour cream cake or caramel cake... and even spice cakes and pumpkin cakes too! There are so many cake recipes that would taste amazing with caramel mousse filling.
For this post, we chose our decadent classic chocolate cake from scratch, and frosted with ganache frosting- So good! The combination or caramel and chocolate is the best.
Decorating the cake with Ganache and Caramel Mousse
After frosting the cake with chocolate ganache (a 2:1 ratio of semi-sweet chocolate to cream), we topped it off with piped stars of caramel mousse.
While it holds up to piping perfectly, it's probably a bit too soft for spreading over the entire cake. That'll be an experiment for another time ;0) -- Although, it would work well on cupcakes!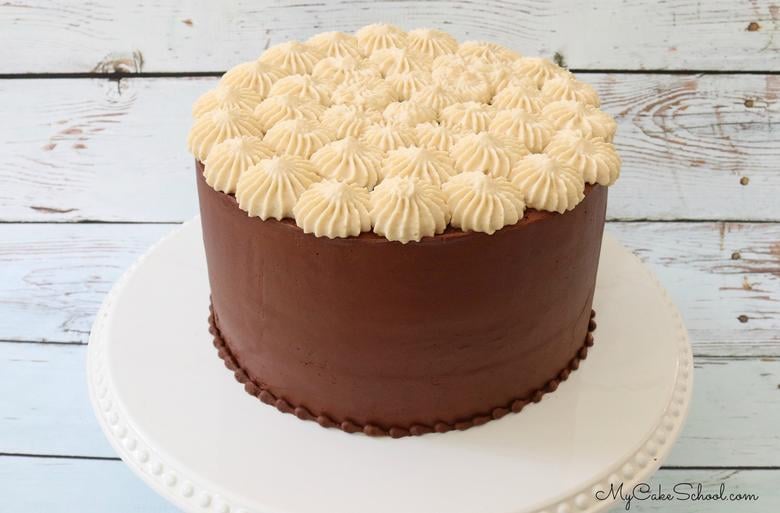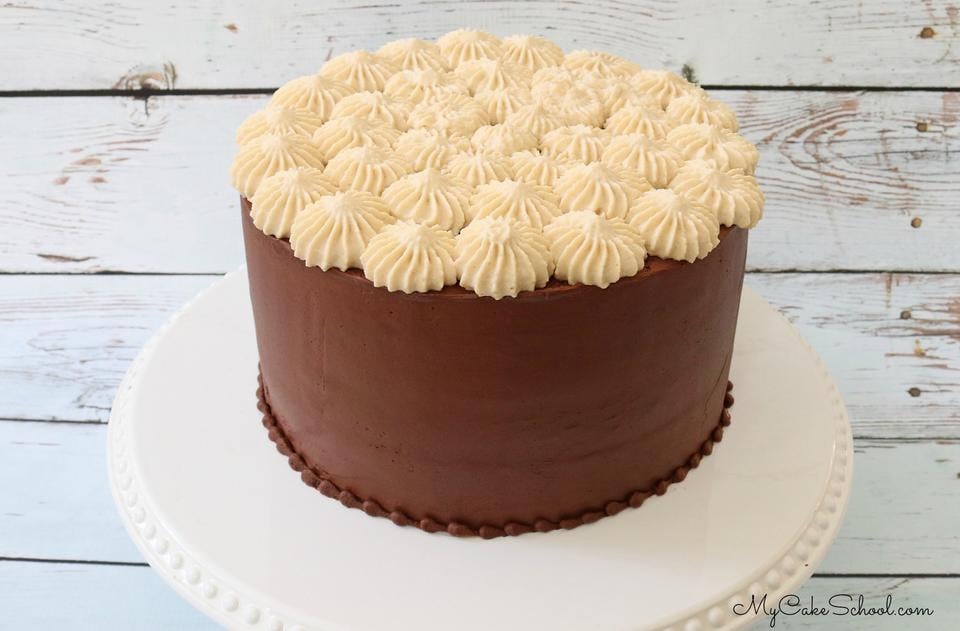 We hope that you try this amazing caramel filling! It's definitely a new favorite of ours!
How to Make Ganache Frosting
For the 8 inch cake pictured above, we created ganache frosting using a 2:1 ratio of chocolate to cream. In this case, we used 20 oz Ghirardelli Semi-Sweet Mini Chips, to 10 oz heavy cream.
To make the ganache, we placed the chocolate and cream in a microwave-safe bowl, heated for one minute, stirred, heated for 30 more seconds, stirred until it came together with no unmelted pieces. (Repeat heating in small increments and stirring if needed until it's ready). The ganache thickens as it cools.
Then, we simply frosted and smoothed with a bench scraper. If you'd like to further smooth the ganache, you can chill it just until firm, and glide over it with a heated metal bench scraper (or spatula).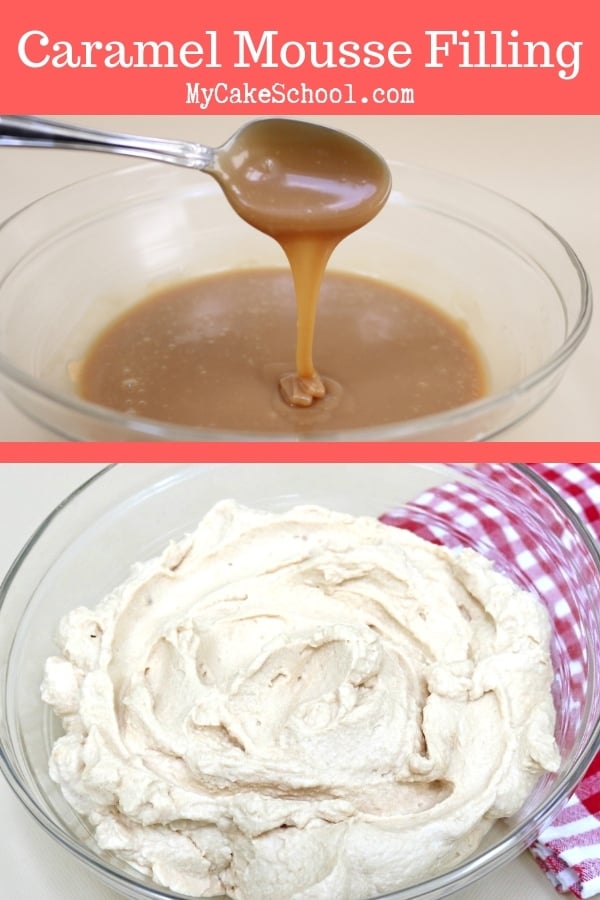 Love Caramel Recipes? Here are a few other Caramel Cakes for you to Try!
If you love caramel desserts, don't miss these favorite caramel cake and frosting recipes!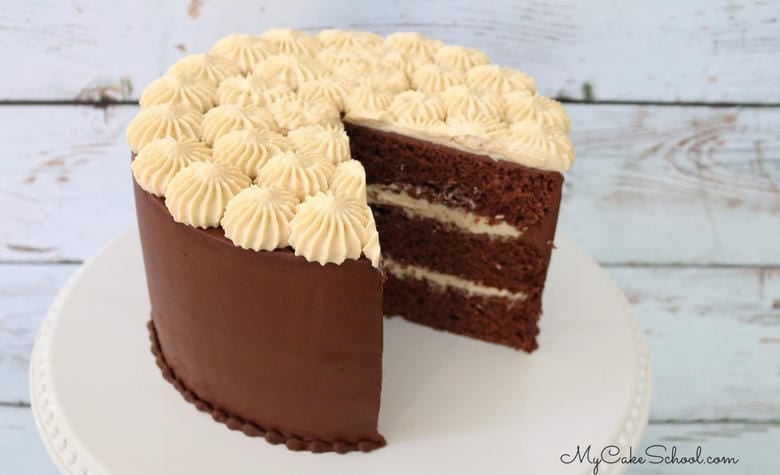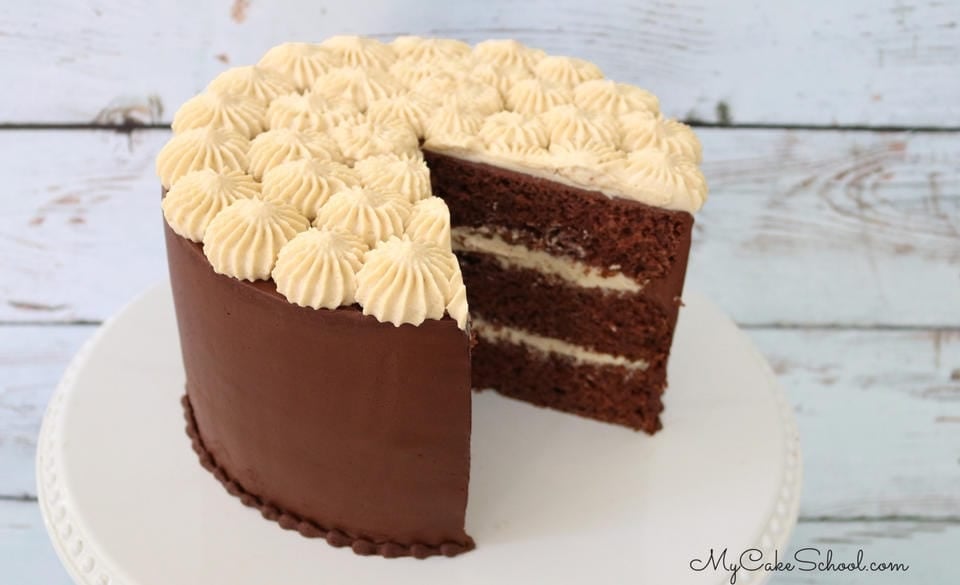 Other Favorite Cake Fillings
Here are a few more favorite cake fillings for you to keep in mind for your cakes and cupcakes!
If you give this Caramel Mousse Filling recipe a try, we would love for you to leave a comment or photo below! Thanks for stopping by!
Caramel Mousse Filling for Cakes & Cupcakes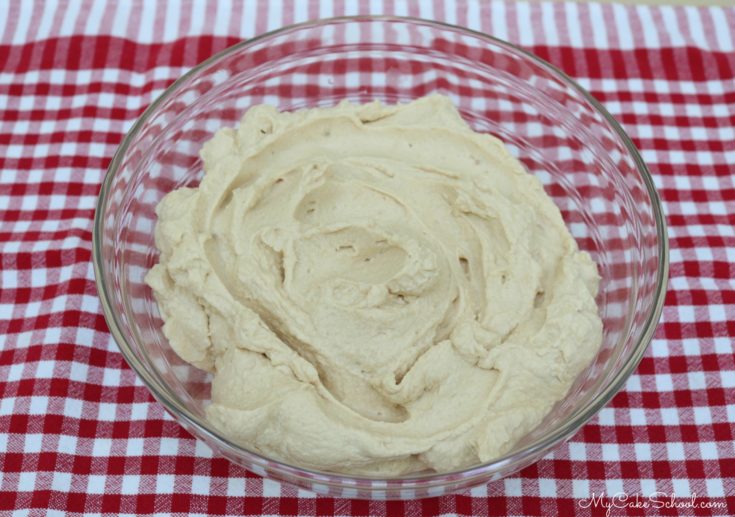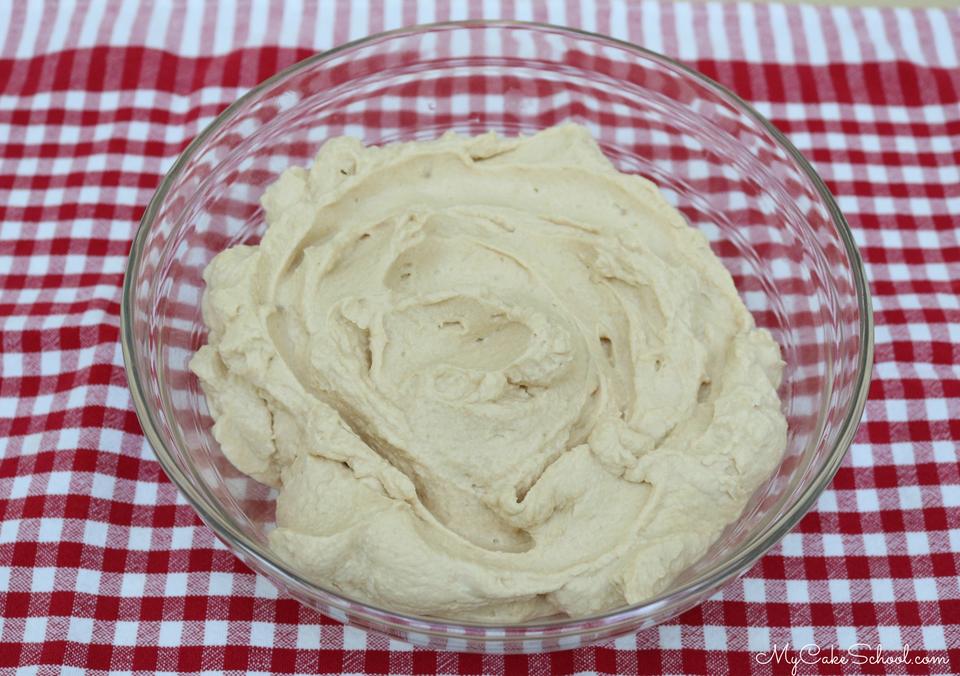 This light and delicious Caramel Mousse Filling is amazing for your cakes and cupcakes! We love it with chocolate cakes as well as caramel! Enjoy!
Ingredients
1 ¼ cups (282g) heavy cream - whipped to stiff peak stage
1 10 oz (283g) bag Hershey's Salted Caramel chips (or your caramel chips of choice)
½ cup (115g) heavy cream - for melting the caramel chips
Instructions
Chill the bowl and beaters in the freezer at least 15 minutes before whipping the heavy cream. Whip 1 ¼ cups heavy cream to the stiff peak stage (when you pull the beaters out of the bowl the peaks will hold firm and not curl over). Cover the bowl and refrigerate the whipped cream while preparing the caramel.
To a microwave safe bowl add the bag of Hershey's Salted Caramel Chips (or your caramel chips of choice) and ½ cup heavy cream.
Microwave 20 seconds and stir, another 20 seconds, stir and a final 10 seconds and stir until the chips are completely melted. Be careful not to over microwave the chips.
The caramel needs to cool down completely before folding into the whipped cream. If it is added while still warm the whipped cream will deflate. To speed up the cooling process, place the bowl with the caramel into a larger bowl containing ice. This should cool it down in about 10 minutes.
Stir the caramel frequently while it is cooling. Fold the caramel into the whipped cream and it is ready to use.