Today's "I Love You a Latte" coffee mug cake design is so cute and fun, and would be perfect for Valentine's Day and anniversaries!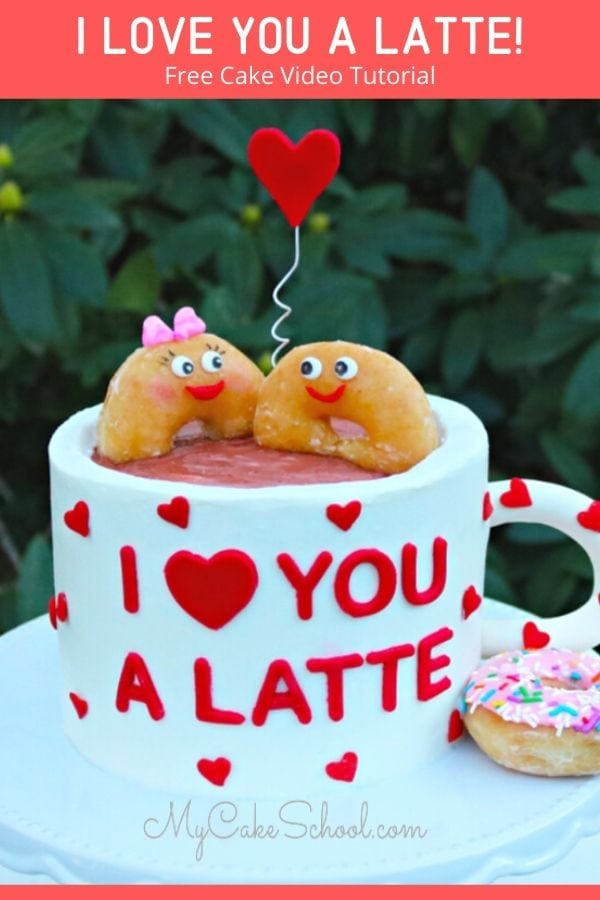 Coffee mug cakes are fabulous for the coffee-loving people in your life no matter what the occasion– so you'll definitely want to add it to your cake-decorating bag of tricks ;0)
You can easily change up the message and design on the mug to fit the occasion–(in fact, we made a Father's Day version years ago in our blog which you can find here).
We hope that you enjoy this quick tutorial, and as an added bonus, you'll have an excuse to run out and buy a few donuts too! Hooray! ;0)
Looking for even more Valentine's Day Cake Ideas?
If you're looking for more fun, cute, and lovey-dovey cake and cupcake ideas, make sure to check out our roundup of favorites! We've made lots over the past ten years- check them out here!: Roundup of Favorite Valentine's Day Ideas!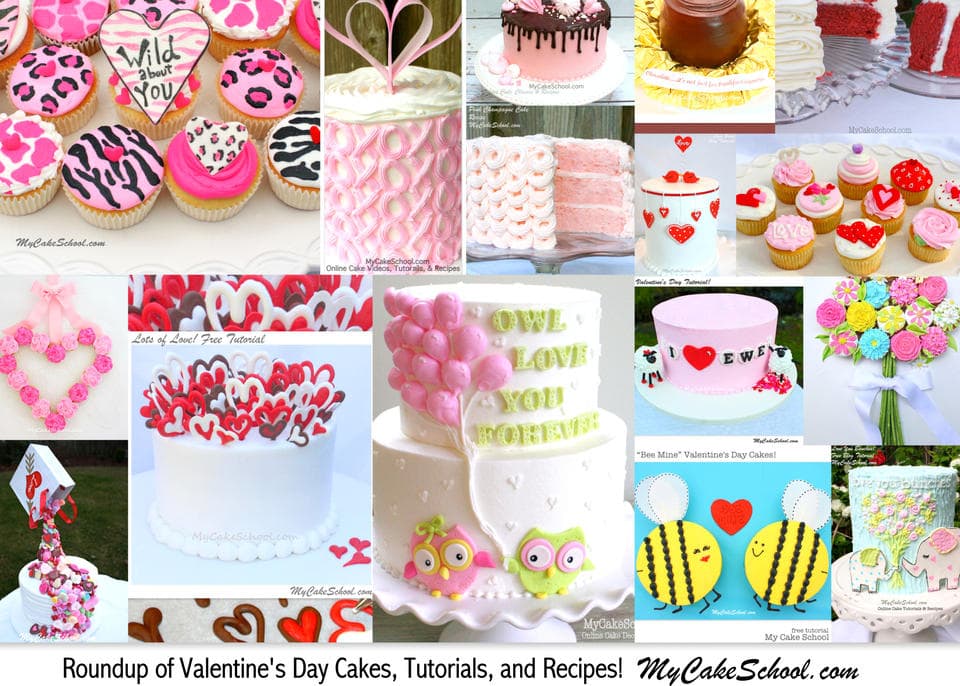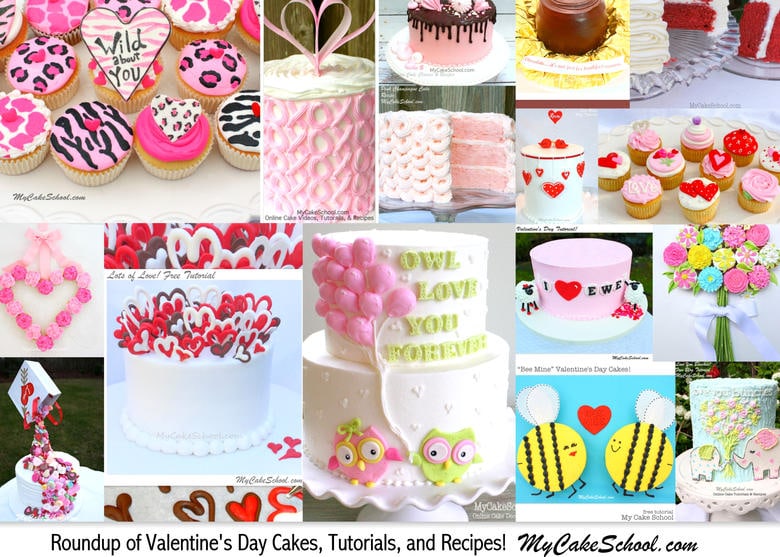 Coffee-Themed Cake Flavors and Recipes
If you'd like for your coffee mug cake to consist of coffee flavored cake layers and fillings, we have you covered! Don't miss these delicious recipes!:
I Love You a Latte- A Free Cake Video Tutorial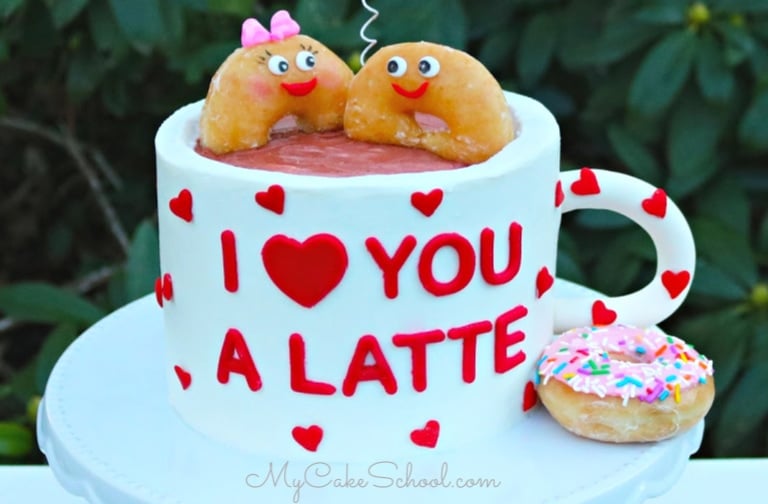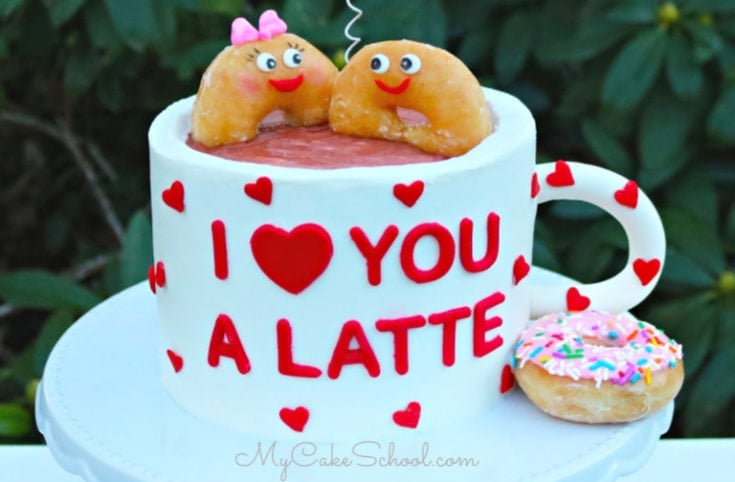 This cute "I Love You a Latte" coffee mug cake design is perfect for Valentine's Day and anniversaries!
Materials
*For this cake design, we used a three layer 6 inch cake, frosted in our Fluffy Vanilla Buttercream Recipe. The cake was approximately 4.5 inches tall.
Buttercream of choice (We used our Fluffy Vanilla recipe. Our Classic Vanilla is a good choice also)
Donuts! We used 3 mini donuts from Krispy Kreme -2 were glazed and then a sprinkle one for the pedestal.
Letter Cutters or Molds for the message. We used a Wilton Letter Cutter Set
Gum Paste (or fondant with tylose) for handle
Red fondant + tylose for letters, white fondant for eyes
Two Lollipop Sticks
Coloring Gel: Chocolate Brown
Sprinkles of choice- We used red heart sprinkles for our mug
Heart Cutter for message on mug as well as to attach to the coiled floral wire
Floral Wire (approx 22 gauge, or a gauge that can support weight of heart).
Small straw for providing barrier for floral wire
Piping gel or edible glue of choice (warm water + tylose powder makes glue also)
Miscellaneous: disposable piping bags, turntable (optional), fondant rolled, vegetable shortening for preparing countertop before rolling out fondant, parchment or waxed paper for drying handle, spatula, bench scraper
Instructions
Roll a snake of gum paste (or fondant with tylose powder kneaded into it) for the coffee mug handle-- the length was 6 inches- adjust to your liking. Insert a piece of lollipop stick into each end and curve to desired shape. Allow to dry on parchment-lined cookie sheet for 2 days. (It may be dry sooner depending on humidity, etc)
Fill the cake layers with buttercream and wrap the tier with plastic wrap, putting a book on top to settle for a few hours. ( I do this with every cake to prevent settling-related bulges in the frosting). My cake was on it's own cake cardboard cut to the size of the cake.
Apply the crumb coat/thin layer of buttercream to the tier and freeze for 15 minutes or until firm. Then apply second coat of frosting and smooth with a hot bench scraper. Apply fresh frosting as needed, and repeat smoothing steps as needed. (*** If you'd rather have a textured "pottery-style" mug, hold a small offset spatula against the freshly frosted cake while spinning it on a turntable, starting at the bottom and moving higher with each rotation for a ridged finish.)
Chill the cake in the freeze for about 15-20 minutes before moving to the pedestal or final cake base (attach with a smear of fresh buttercream).
Roll your red fondant (with a little tylose kneaded into it) onto countertop (prepared with a light coating of vegetable shortening). Roll to about 1/8 inch. Allow to set up a few minutes before cutting your letters. I also used a heart cutter for the heart.
Once the letters have set up a bit and can be easily picked up without distorting, apply to the cake. I like to do this step on a freshly chilled cake so that the frosting is firm and letter positions can be easily adjusted.
Add the handle
Add faces to the donuts, attaching eyes and mouth, etc. with a little piping gel. Trim the bottom half or so. I also added a little pink petal dust applied with a dry brush to the girl donut for rosy cheeks ;0)
Notes
*It's always a good idea to make two handles in case of breakage. In a pinch, you could also make the handle from candy melts/candy coating, piping a thick, elongated "c" shape onto parchment. Chill until firm and then push into the side of the cake.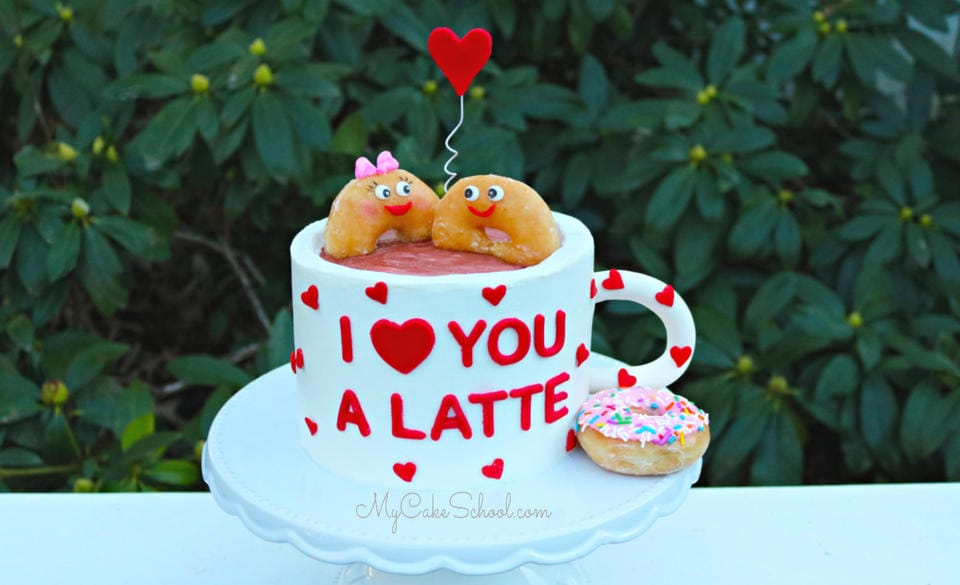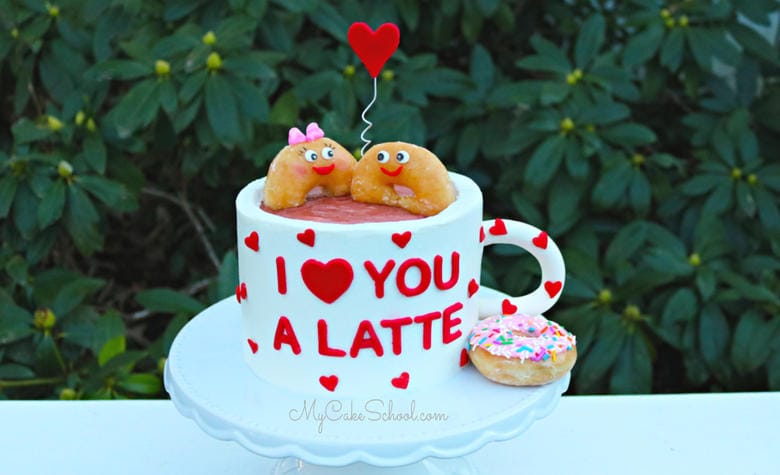 FAVORITE CAKE RECIPES!
Make sure to check out our collection of FAVORITE cake and frosting recipes in our recipes section! We add new cake and frosting recipes all the time. You are sure to love these tried and true favorites! My Cake School Recipes Section
Learn Cake Decorating with My Cake School
Thanks so much for stopping by! Don't miss our full collection of free cake video tutorials in our Free Cake Video Tutorials Section! You'll find other free step by step cake tutorials in our Free Tutorials section also!
If you would like to learn even more about cake decorating, we would LOVE to have you as a member!
Members of our site have full online access to every tutorial that we've made over the years for as long as the membership is active. Find all of the details here: Membership Information for My Cake School!