Today I'm going to show you how to make adorable beach cupcakes, featuring brightly colored Lollipop Fish Cupcake Toppers and funny Buttercream Crabs!
I love how quick and easy these colorful designs are. These cupcakes would be perfect for pool parties and beach themed parties, or just because!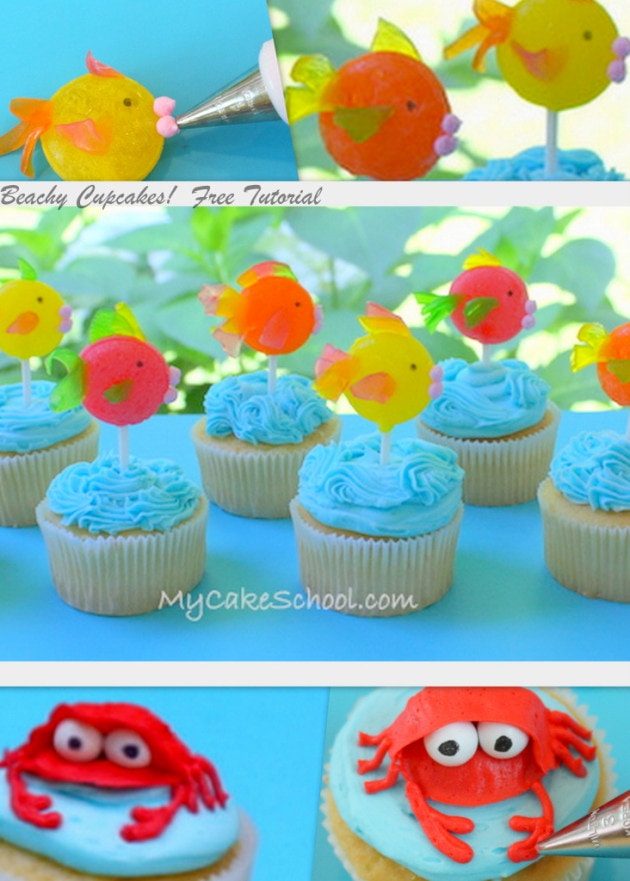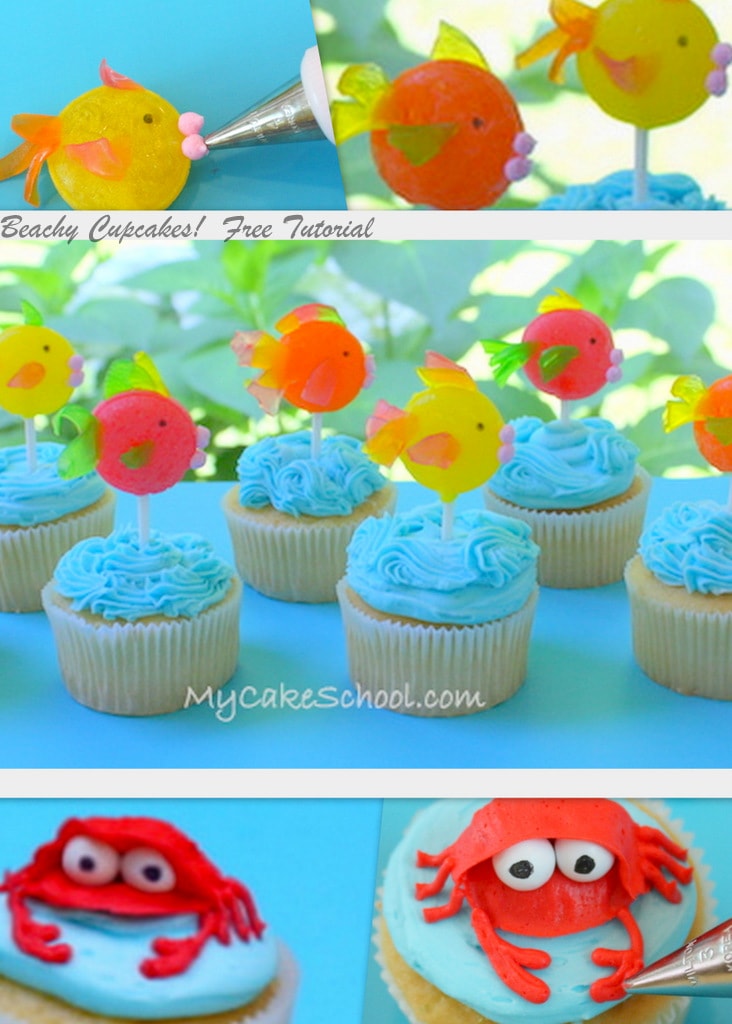 Let the fun begin!
How to Make Crab Cupcakes
First, let's make some buttercream crabs. I used our Classic Vanilla Buttercream Frosting Recipe for this project.
My blue buttercream frosting is piped on with a simple round tip 12.
For the crab's body, I used a Wilton petal tip 104. You may be able to see in the photo that the small end of the teardrop shaped opening is facing me.
The opening of the piping tip should be parallel to the surface of the cake.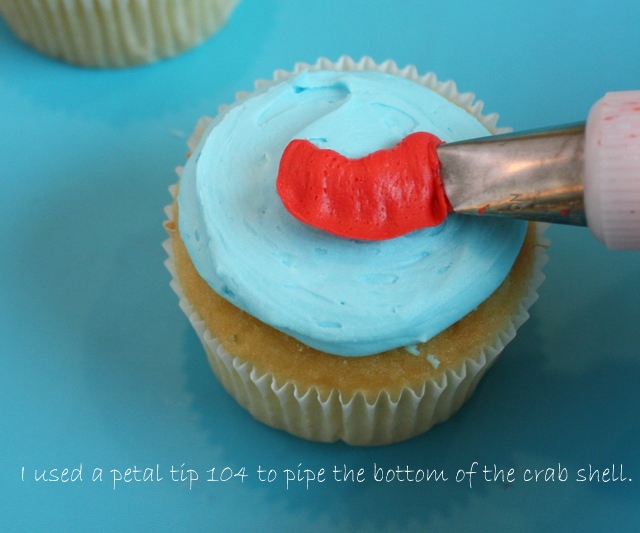 Now...for the eyes! I used Sixlets candy, which I bought at Party City...but any white candy will do. (White fondant would work too...or even dots of stiffened white icing!)
I drew little black dots onto the white candies with a black food coloring pen to give a funny google eyed effect, and then piped a little ridge of red buttercream with a small Wilton tip 3 to help them stay in place.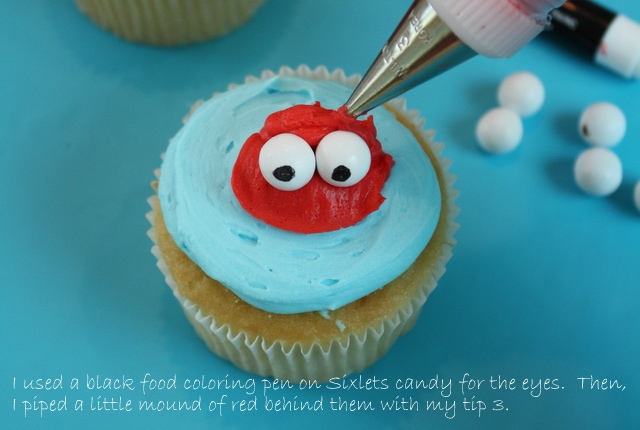 Now, for the top of the crab shell, pipe a ribbon of buttercream across the eyes using a Wilton tip 104 as demonstrated in the photo. (Again, the small side of the 104 tip will be facing you so that you have a nice thin ribbon of frosting.)
Next our crabby needs some little crab legs and claws. Pipe these on with a small round tip (Wilton tip 3 or similar). That's all there is to it!
I much prefer this cute frosting crab to the little crabbies I see running around at the beach.
He looks like a little muppet ;0)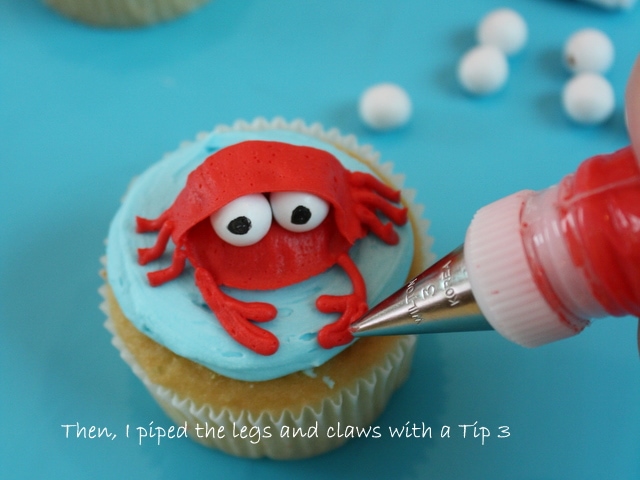 And here's the whole crabby cupcake crew.... aren't they funny? I like how each one looks a little different- who knew that google eyes could be so expressive?!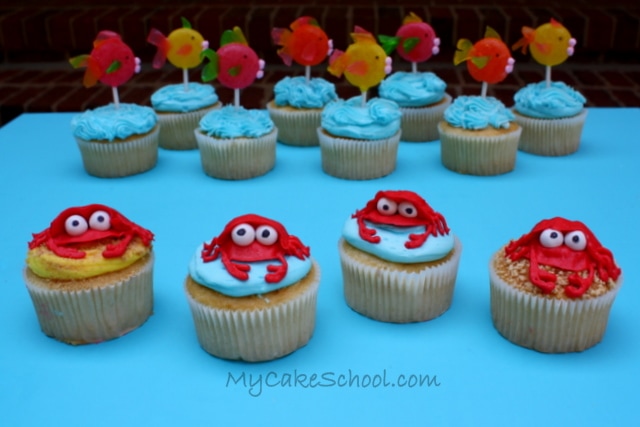 How to Make Fish Cupcakes
Next, we're onto the school of fish----a very special variety of lollipop fish for our cupcakes! I used flat round lollipops and Dots candy for this project.
Any lollipop would actually work for these cute cupcake toppers--but I really had my mind set on the flat round ones.
We tracked down a bag at a party supply store (Party City) after looking with no luck at grocery stores (how dare they not carry these lollipops!) So be warned...you may have to go with a different variety of lollipop fish.
As you've seen in other posts, I like Dots candy because it rolls very easily into thin, colorful pieces. You can use your candy of choice..or even fruit roll ups...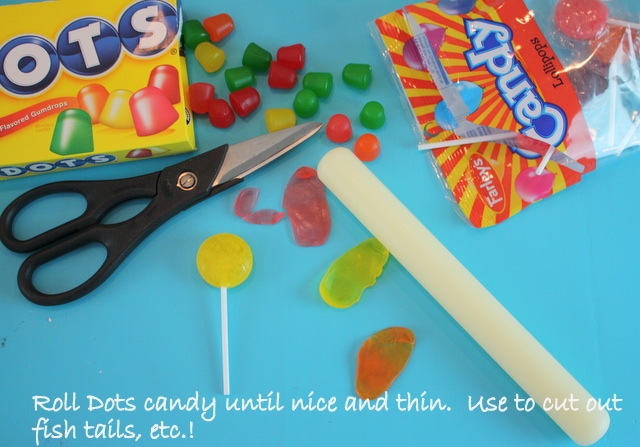 Next, cut out your thinly rolled fish tails and fins and press directly onto their lollipop bodies. They are just tacky enough that they stay in place with no piping gel or light corn syrup "glue" required. We drew on little eyes with our food coloring pen.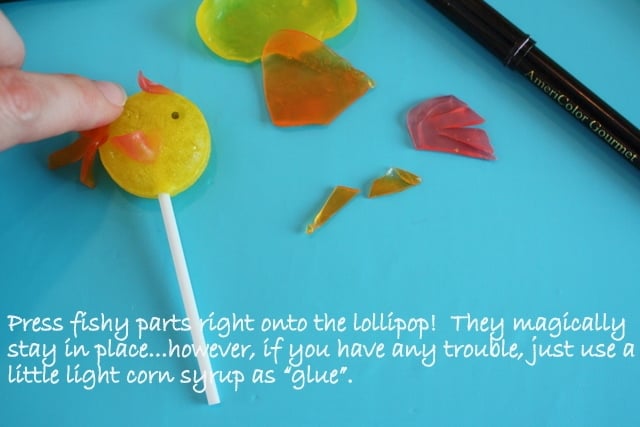 Next, pipe little buttercream fish lips on with a small round piping tip (we used a Wilton 4).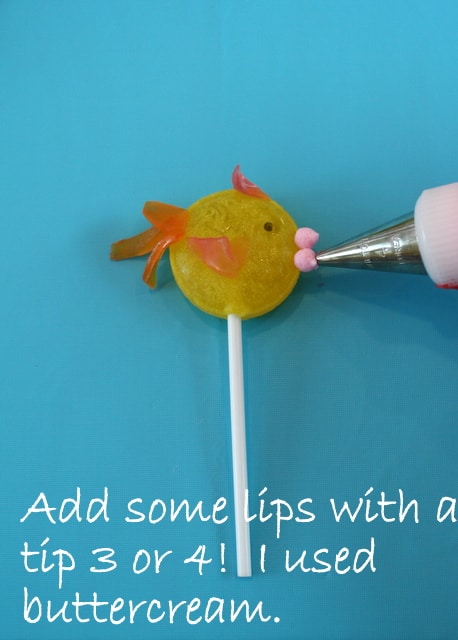 And here they are! I think these lollipop fish cupcake toppers came out so cute, and the more colorful the combinations, the better! I pushed these right into our cupcakes which have been frosted with buttercream shells and swirls.
A note about refrigeration
*If your cupcakes require refrigeration, you should wait to add the lollipop fish close to the time of the event. (Moisture levels vary so much from refrigerator to refrigerator that it's best to do a test run to be on the safe side if you want to refrigerate the fish toppers!)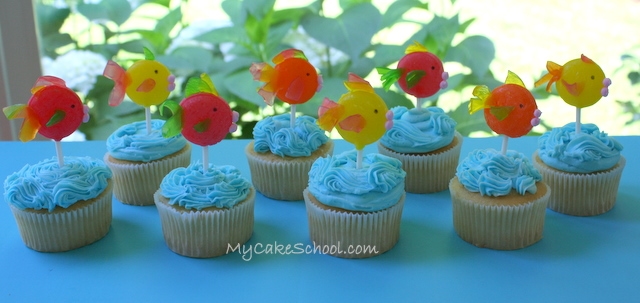 We hope that you enjoyed this fun tutorial for beach cupcakes! If you give it a try, we'd love to hear all about it!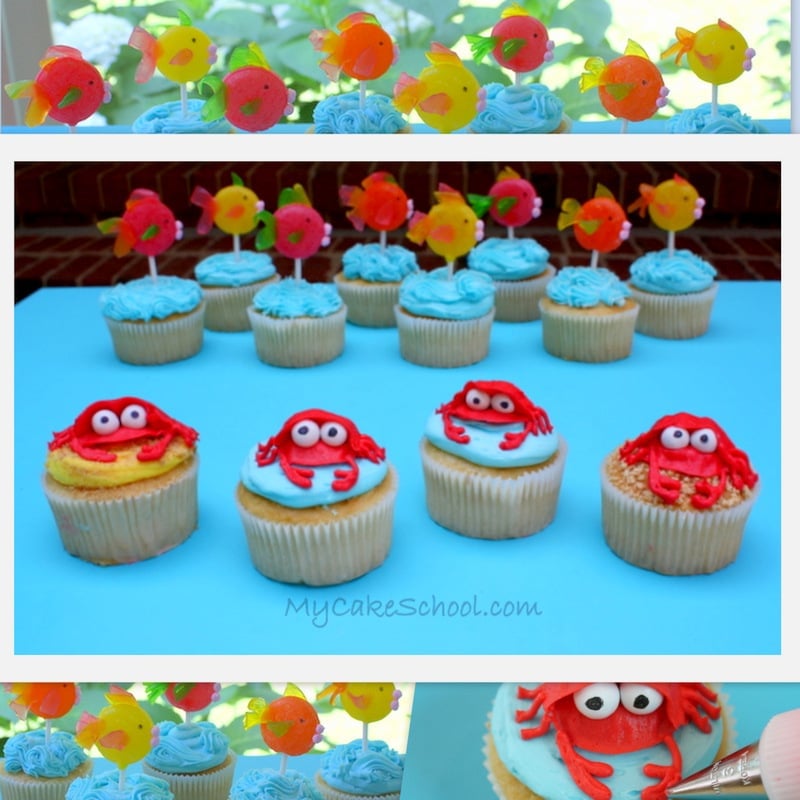 More Beach Cakes and Cupcakes!
Thanks so much for stopping by! We hope that you enjoyed these beach cupcakes. If you give them a try, we would love for you to leave a comment and photo below!
We have a few more beach themed cakes to share with you:
Beach Cake (with Flip Flop Cake Topper!)
Beach Couple Cake (Figure Modeling)
Flamingo Cake & Flamingo Ruffle Cake!
Swimsuit Cake and Beachy Cupcakes