Beach Couple- A Cake Decorating Video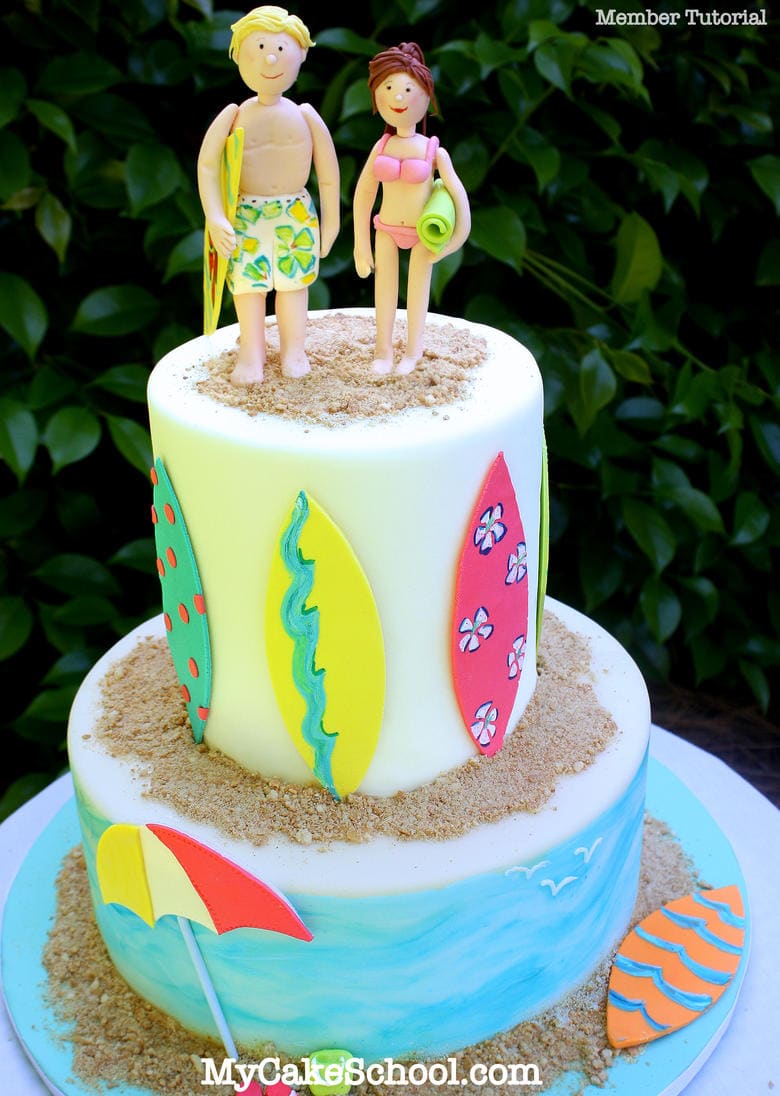 Hi everyone! I'm excited about today's video--it's been a while since we've modeled people! Figure modeling and custom cake toppers are my favorite way to make a cake feel special and personal.
As the days are getting hotter, and school is letting out for the summer, I thought it would be a great time to make a "beach couple". I think that you'll also find our cake design to be really simple but so festive and fun! -
In Part One of our Video, you will learn how to make all of the body parts for our beach guy and girl. I will also begin assembling the girl by the end of the video.
In Part Two of our Video, I complete assembling the girl and guy, and also show how to give your cake the beachy effect that mine has with the help of some cookie sand, a fondant umbrella, surf boards, & a little "painting" with coloring gel/vodka.
Enjoy the tutorial!
Materials--This is a comprehensive list for both Part 1 & 2
Since the focus of this tutorial is not on the cake itself, but instead the people and fondant decorations, we went with styrofoam cake dummies. I covered my dummies with Elizabeth Marek's Fondant (liked it!)--the dummies are 10"/6" tiers, with the 6" being 6" tall.
Templates for Surf Boards & Umbrella, and approx size guide for our figures
Gum paste-- I used Satin Ice. If you don't have gp, you can also knead tylose into fondant (approx one rounded tablespoon per pound as a starting off point.) -
Coloring Gels- I used Americolor brand. -- Copper (for skin), Lemon Yellow, Chocolate Brown, Electric Green, Turquoise, Sky Blue, Holiday Red, Orange, Deep pink
Paper Covered Floral Wire: I used 20 gauge to connect body parts. You have some flexibility here (some use wooden skewers, lollipop sticks,etc.)
Vanilla Wafer cookies- For Sand. You could use a variety of crushed cookies or even cereal to get realistic looking sand.
Vodka or Lemon Extract- To mix with coloring gels for painting. I used vodka.
Lollipop Stick -Umbrella handle
Food Coloring Pens-- I used what I had on hand--Americolor black pen, and misc. Food Writers
Piping Gel and Sugar Glue --or your "glues" of choice. (Sugar glue is made by combining 2 tablespoons warm water with ¼ teaspoon of tylose powder.
Styrofoam- Optional, but I like to use styrofoam to anchor my figures while working.
Piping Tips- Optional -- Wilton 12 for polka dots on surf board, small round for piping "seagulls" over the water.
Miscellaneous- Your usual supports of choice for tiered cakes, cake boards, cake base, etc. -
Small paint brushes, sharp knife or xacto, toothpicks, cocktail straws (barrier for floral wire)