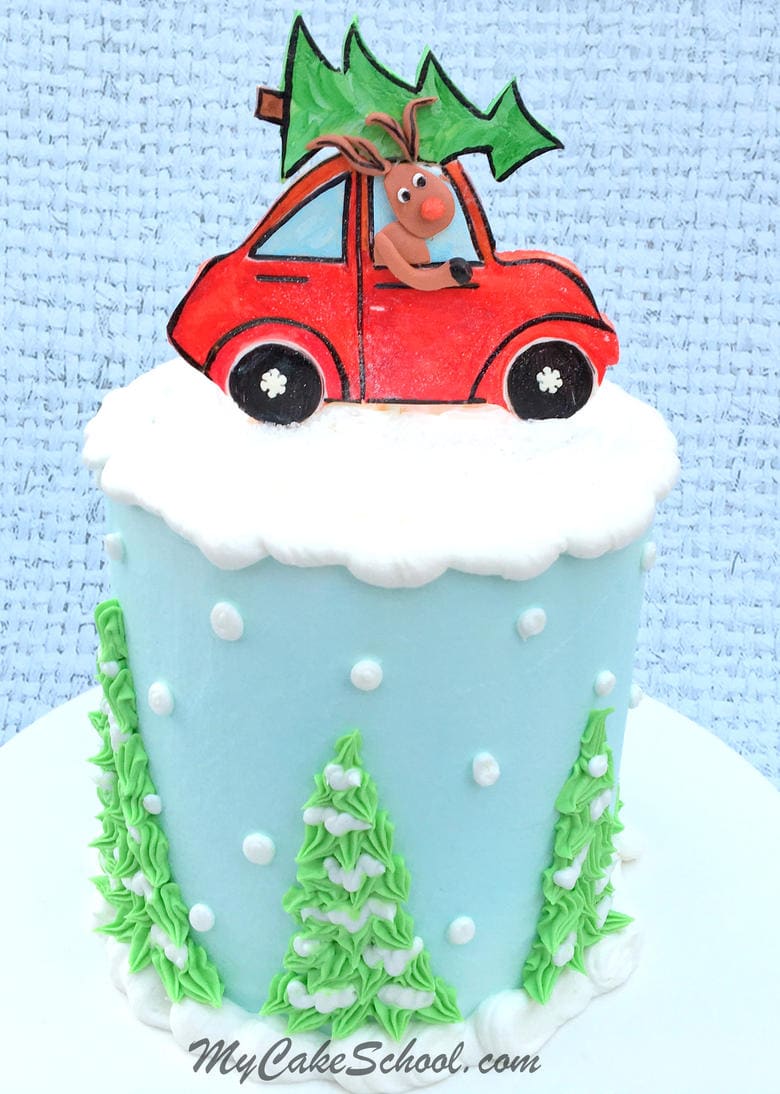 Sometimes the right cake topper is all that you need to transform a cake from ordinary to adorable. Today, I'm going to show you how to create a CUTE topper of Rudolph driving his little red car home with a Christmas Tree on top. (He was too tired to fly home.) ;0)
You will also learn a few simple piping techniques for a sweet winter scene around the sides of the cake. You can a materials list, notes, and the template below. Enjoy!!
Materials:
For this cake, we used a double barrel (tall) 6 inch tier, filled and frosted with our Fluffy Vanilla Buttercream recipe from the Recipes section. (We have a video tutorial on double barrel cakes in our Videos if you are interested!)
Buttercream
Viva Paper Towels (Optional. I use them to smooth my crusting buttercream)
Gum Paste (or fondant with tylose kneaded into it to create a gum paste consistency.)
Xacto or other sharp knife
Toothpick/scriber needle, etc.
Coloring Gels: Use whatever shades you like. We used Americolor Chocolate Brown, Red Red, Mint Green, Bright White
Palette or plate for mixing your colors
Vodka (You can substitute Lemon Extract which also contains alcohol if you'd rather.)
Americolor Edible Ink Pen (black). If you do not have one, you can use a small paintbrush with a touch of vodka.
Lollipop Stick or skewer for anchor
Piping Gel
Piping Tips: We used a small star tip Wilton 16 & Wilton 2 round tip, Wilton 12 for snow.
Notes:
We rolled our gum paste to approximately ⅛ inch before using our template to cut out the topper.
It's a really good idea to make 2 cut-outs to be on the safe side.
If you'd rather not paint your topper, you can also just layer on thinly rolled fondant details using the template as a guide.
Cut out your gum paste topper at least 2-3 days in advance (especially if you are new to working with gum paste and are unsure how long it takes to dry. Brands of gum paste and the humidity in the air can effect dry times.) We use Sating Ice pre-made Gum Paste.
If you do not have gum paste, you can knead tylose into your fondant. A general rule of thumb is 1 rounded tablespoon of tylose per pound of fondant. You will not need a pound of fondant but this will give you an idea.