Today, I'm sharing several cute spring cupcake designs! These include cupcakes with buttercream ruffles, simple flowers, and a few Easter cupcakes as well.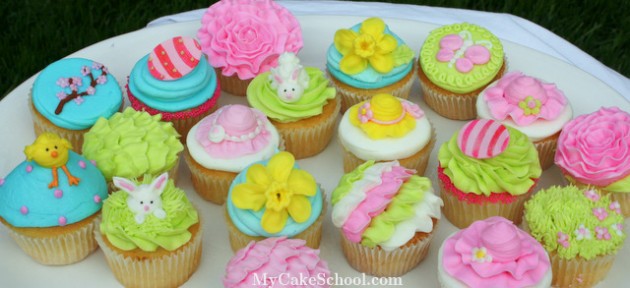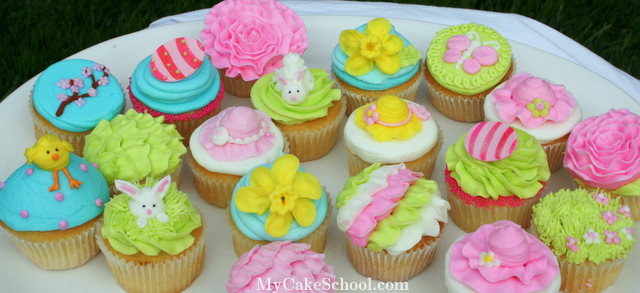 I hope that you will at least find one or two spring cupcake designs that you would like to try out!
In the video tutorial, I discuss the tips used, but I'm also listing them below as well.
Bunny: Stiff buttercream, Wilton Tip 12 for head and body, Tip 3 for feet, tail and nose, Marshmallow snippets for ears, toothpick dipped in black gel for eyes. (The same tips are used for the bunny head popping out of the cupcake, only I also used a 233 grass tip)
Ruffled Cupcakes- Tip 104
Rose- Tip 104 (I also piped a dot in the center as my first step using a Tip 12)
Chick- Stiffened yellow buttercream for body and Tip 12, accents with a Tip 3
Daffodil- Medium-Stiff consistency buttercream. Tip 104 for petals. Tip 3 or 4 for trumpet.
Butterfly- Body-Tip 3, Wings- Tip 12
Easter Hats- Tip 104 for brim, Tip 12 for center of hat, and Tip 2,3,or 4 for accents!
Easter Egg Topper- Fondant egg cut-out painted with coloring gel mixed with lemon extract (or vodka)
Enjoy the video!
Thanks so much for stopping by! If you give any of these spring cupcakes a try, we would love for you to leave a comment and photo below!
We also have a really cute tutorial on Buttercream Chick Cupcakes! These would be great for Easter as well!
**This cupcake tutorial is over 10 years old and is need of a re-do! I do still love these designs though and the information is still good, so we will keep it up for now! Hope you enjoy it! ;0)