Cinderella Carriage Cake- Video Tutorial
In this free cake video tutorial, you will learn how to make a gorgeous Cinderella Carriage Cake!
This cake was so much fun to make, and would be the perfect birthday cake for princesses of all ages!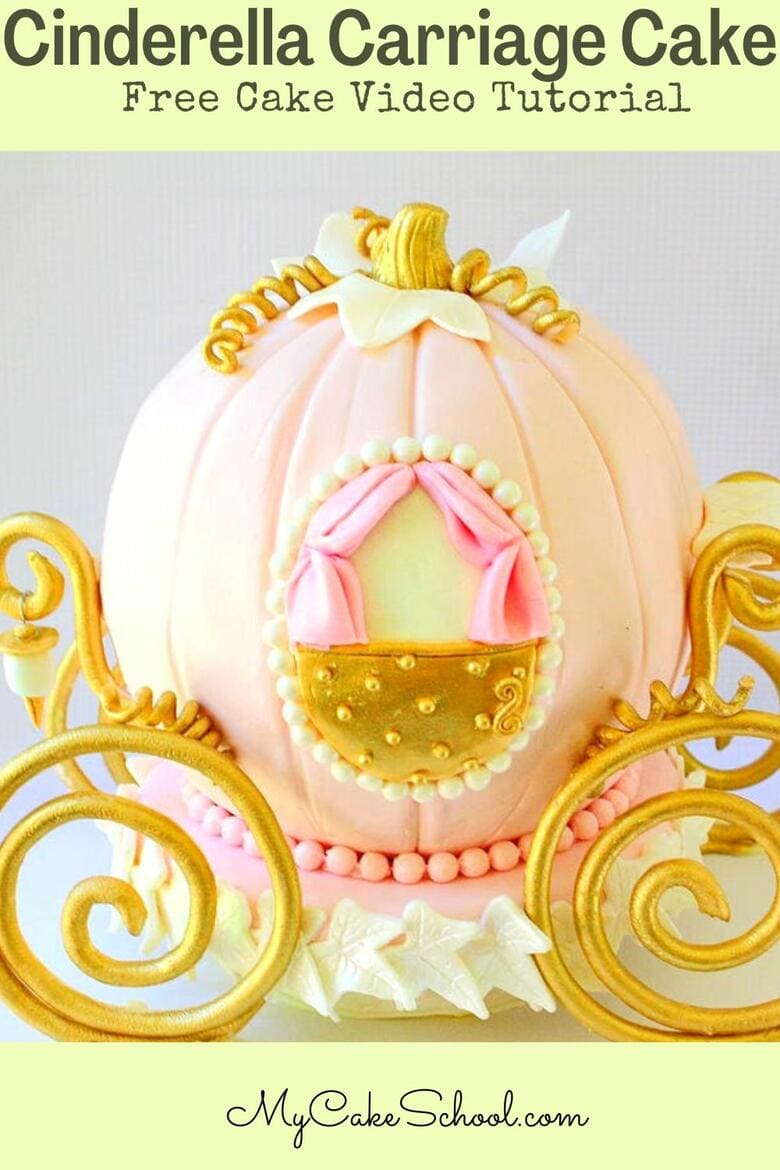 We have fallen in love with this sweet carriage cake design! We will walk you through all of the steps from start to finish in our cake video tutorial.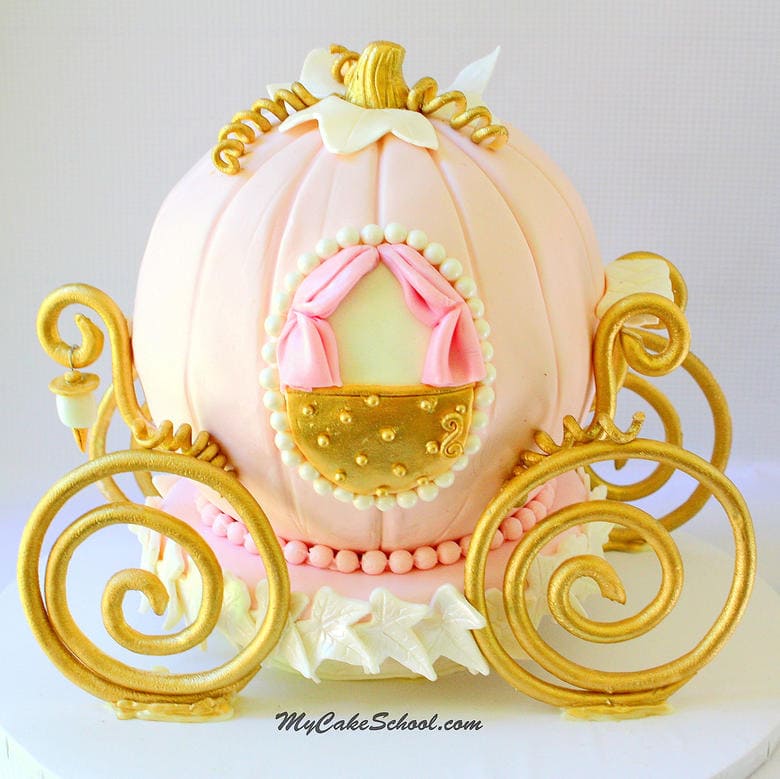 Materials for Carriage Cake:
For this cake, we used a Wilton Sports Ball Pan (aff.) and our scratch White Almond Sour Cream Cake Recipe. We frosted the cake in white chocolate ganache (3:1 ratio of chocolate to cream), and covered in fondant. Wheels and freestanding accents should be created in gum paste (or fondant with a good amount of tylose kneaded into it.) and dried at least 2-3 days in advance.
White Chocolate Ganache- 3:1 ratio of chocolate to cream. (We used 624g chocolate, 208 g heavy cream) *For more info on making the ganache, see Notes section below.
Cardboard Cake Circles- We used three 6 inch cake circles for the small pink base that cake sat on. We also used 2 additional 6 inch cardboard cake circles cut down to size to go beneath the cake as well as halfway up. used four 12 inch cake cardboards for large base.
Styrofoam circle - used to elevate the cake. You could substitute cardboards or foam core. (approx 4 ¼ inches diameter.)
Templates for Leaves, Window/Door, Wheels, Curls, etc.
Fondant (we used Liz Marek's fondant recipe)
Coloring Gels: Americolor Deep Pink, Ivory
Luster Dust: We used Rolkem Super Gold, Super Pearl (optional for dusting over white leaves)
Vodka or Lemon Extract- (We use vodka). Mixed a tiny bit with the gold dust to create gold paint for accents.
Sugar Pearls: We used large sugar pears around window/door, and smaller ones on door (painted over with gold paint.)
Extruder- Optional. We used our Makin's Ultimate Clay Extruder to create ropes of gum paste for the wheels and curled accents.
Silicone Bead Former- Optional. (We used for creating pink pearl border. You could also use sugar pearls or piping.
Bubble Tea Straw (cut to size and placed in bottom half of cake to support upper half)
Wooden Dowel- approx ¼ inch width, sharpened to a dull point (a sharp point may break off into cake).
Cake Base- We recommend 4 cardboard cake circles (we wrapped in a white plastic tablecloth). Needs to be thick so that the sharpened wooden central dowel can be securely hammered & anchored into base.
Piping Gel
Floral wire- I used a small piece for the lantern.. (any pliable gauge that can hold the weight of the lantern.) Ours was 22 gauge.
Melted Candy Melts ("glue" for wheels, attaching cake to base, etc.)
Miscellaneous: Small paint brushes, vegetable shortening for prepping counter..etc,. sharp knife or exact, parchment paper, spatula for ganache, turntable is helpful, fondant rolling pin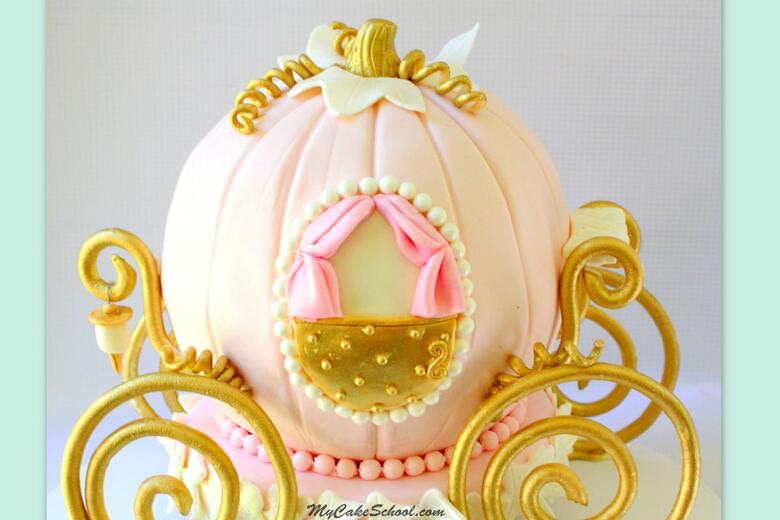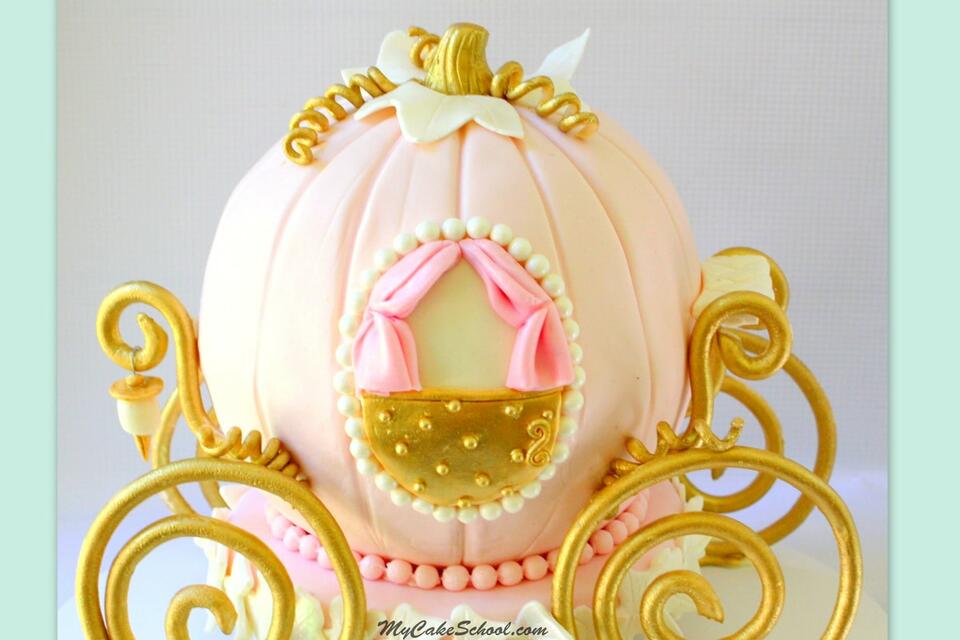 Additional Notes for Making a Carriage Cake
You may want to consider an oblong or rectangular chassis/cake base for your cake. Since I used a 6 inch round cake base rather than rectangular, the wheels didn't have as much surface area to be glued to. Just something to think about!
Carriage Cake Wheels
Although I love the look of the gum paste spiral wheels, they are rather fragile. You'll want to make an extra or two to be on the safe side. *A great alternative would be solid gum paste circles for wheels that could be decorated with thin extruded spirals for a similar look which would be stronger.
Make sure to dry your gum paste wheels and decorative curls in advance--at least 2-3 days to be on the safe side. (Dry times can vary depending on brand of gum paste, humidity in the air, etc.)
Making the Gold Paint
Gold Paint: In order to paint the wheels, etc, I put a little Rolkem Super Gold luster dust onto a palette, and put a little vodka into one of the wells. Then bit by bit I dipped my brush into the vodka & combined a little vodka into the dust until it became a thick, smooth consistency for painting. (Mom is allergic to the gold dust in the air & so I do this step outside.)
Making the Ganache
For the White Chocolate Ganache: You'll want a 3:1 ratio of chocolate to cream. We used 3 packages of Ghirardelli white chocolate chips (624 g) and 208 grams heavy cream (which is just under one cup).
Combine the chocolate and cream in a bowl and microwave for 1 min at full power. Let sit 2 minutes. Microwave 20 seconds full power.
Stir (try not to incorporate air). Then if needed, 30 more seconds at half power. Stir to melt any remaining chocolate pieces. Let set at room temperature. (If it becomes too firm, microwave in small intervals until it returns to frosting consistency.)
A note about Elevating the Carriage Cake
We decided to elevate our carriage cake slightly on a small piece of styrofoam (covered with fondant), but this is a completely optional step.
If you are new to cake decorating, or simply don't want to put the time into this step, the carriage would adorable whether elevated or not!
We hope that you enjoy the tutorial! *Make sure to check out our notes and helpful hints also!
How to Make a Castle Cake
While we're on the topic of princess themed cakes, did you know that we also have a Free Castle Cake Video Tutorial? It is a fun option also for the princess in your life ;0)

Enjoy the Video!
Thanks so much for stopping by, we hope that you enjoy the Carriage Cake video! If you give it a try, we would love for you to leave a comment or photo below!