I just love fall themed cakes, and in today's video tutorial, I'm going to show you how to make a beautiful yet simple cake that would be perfect for your Thanksgiving dessert table as well as any fall special occasion!
Wreath cakes can be created for any season–I love floral wreath cakes, and we've also created an ornament wreath cake for Christmas! I love the addition of this fall wreath to our video tutorial section, with it's pumpkins, acorns, and wildflowers. We hope that you enjoy it!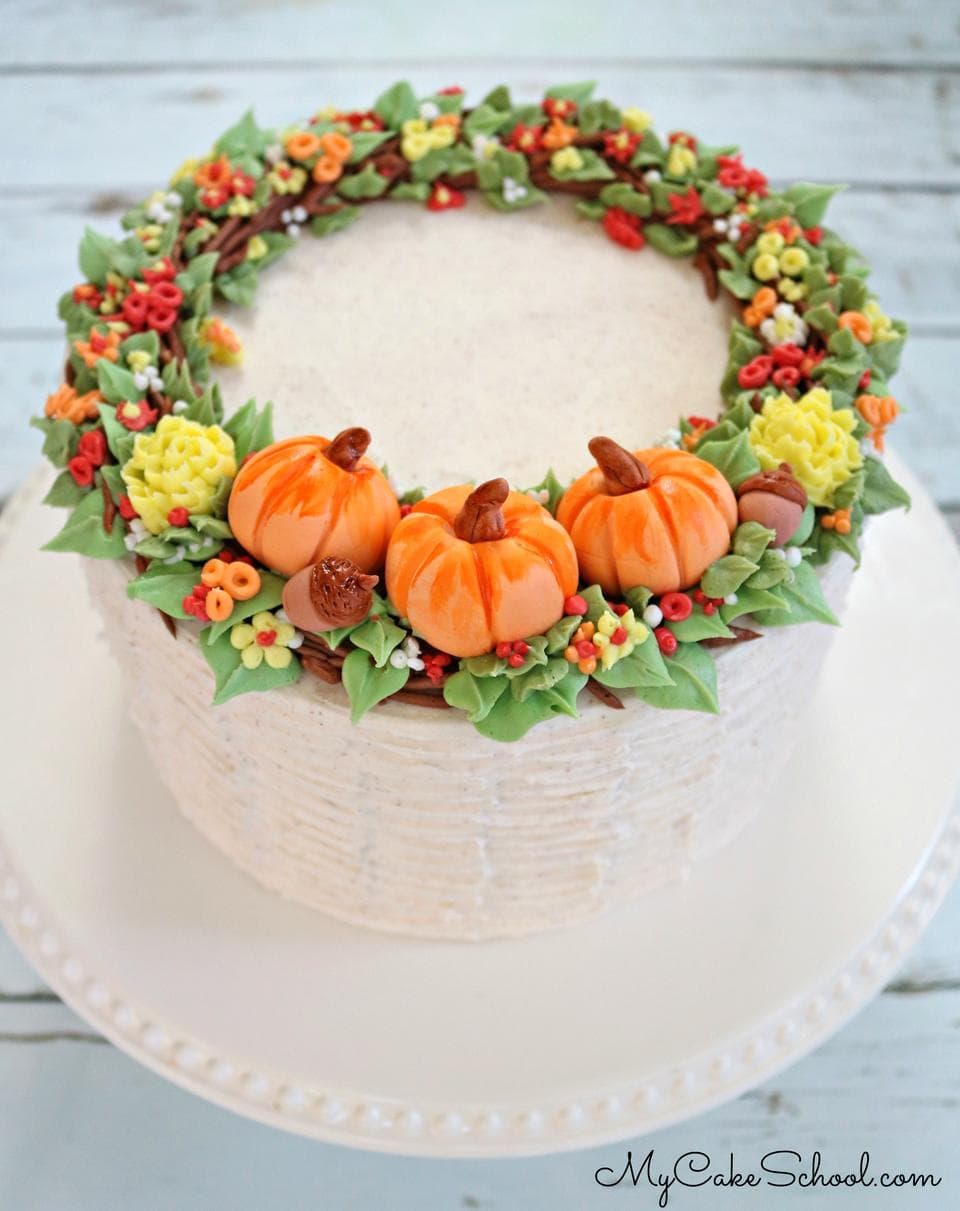 [fvplayer src="https://vimeo.com/296276952″ splash="https://i.vimeocdn.com/video/733654697_1280x720.jpg?r=pad" caption="Fall Wreath Cake"]
Materials:
*This is a three layer 8 inch cake, frosted in cinnamon buttercream (this is classic vanilla buttercream frosting with about 1 1/2 teaspoons cinnamon added.)
Vanilla Buttercream for accents
Coloring Gels: Americolor Avocado Green + Leaf Green, Lemon yellow, Orange, Chocolate Brown
Piping Tips: Tip 2, 4, 80 (chrysanthemums), Wilton leaf tips 366, 352,
Fondant (we kneaded in a little tylose powder to speed up the setting time).
Small tapered spatula for texture around the sides of the cake
Piping gel (adhesive for pumpkin stems)
vegetable shortening (helpful in reducing stickiness when working with fondant)
everclear, vodka, or lemon extract (used to combine with orange coloring gel for painting our pumpkins)
Miscellaneous: Bench scraper and turntable (helpful for frosting the cake), disposable piping bags, toothpick or tool of choice for adding texture to acorn, small paint brushes, artist palette or small plate, cake cardboard cut to the size of the tier & your base/pedestal of choice
Alternative Video Format:
nbsp;