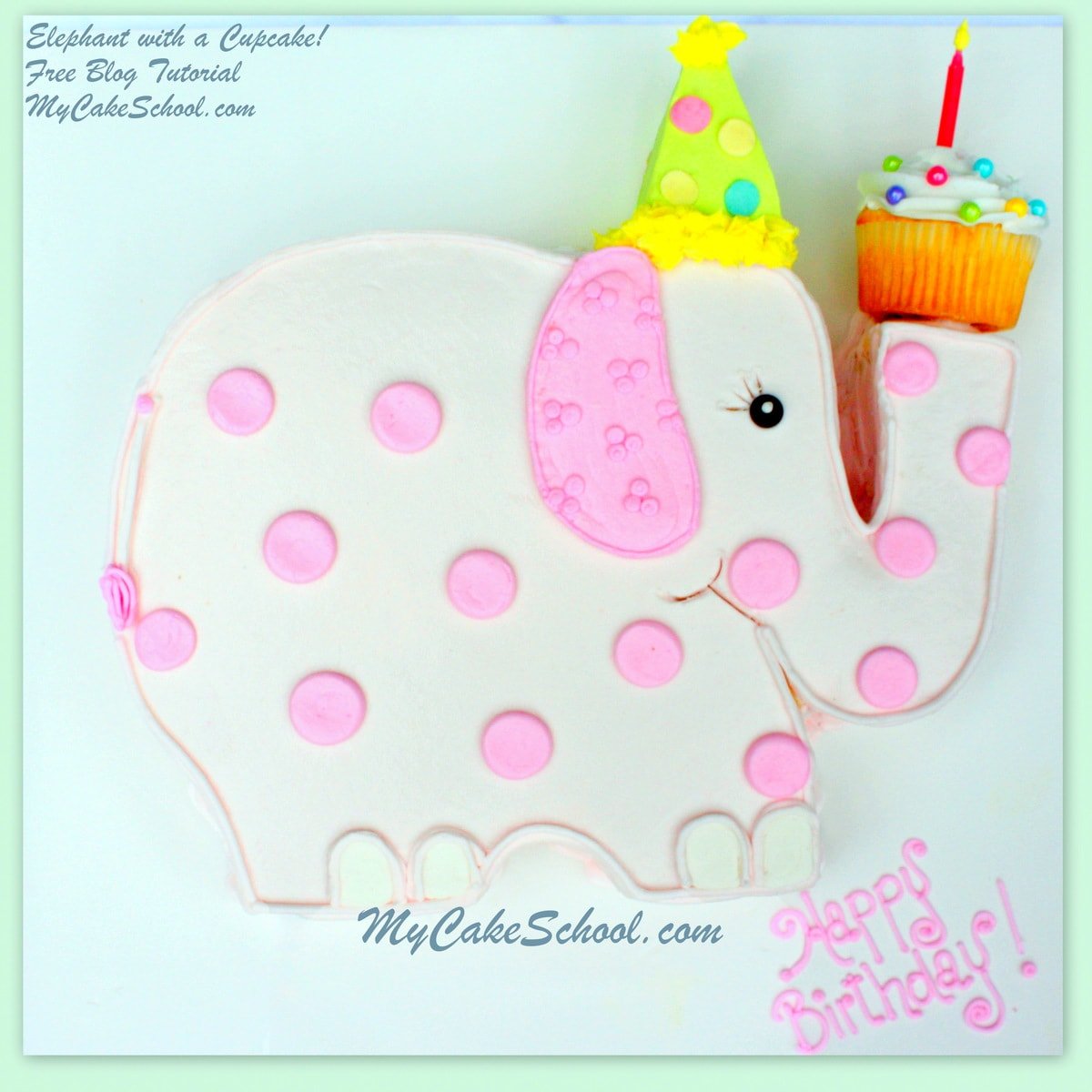 Hello everyone! Today I am sharing an adorable "Elephant with a Cupcake" Design!
This cake tutorial is short and sweet…but I hope it brings a smile to your face! We wanted to create an animal of some sort…and after a bit of consideration, a pink polka dotted elephant won out over the rest!
Let's get started!
First, we made a 9×13 sheet cake and reserved enough batter to make a cupcake too. Our elephant loves cupcakes!After baking the sheet cake, I drew out a template, which you can print out and use if you would like~ Click HERE to see!
Since I was working with a fairly dense cake, I had no trouble carving out my elephant shape while the cake was at room temperature. If you are working with a fragile cake, you can carve it while the cake is partially frozen.
Here we go! ~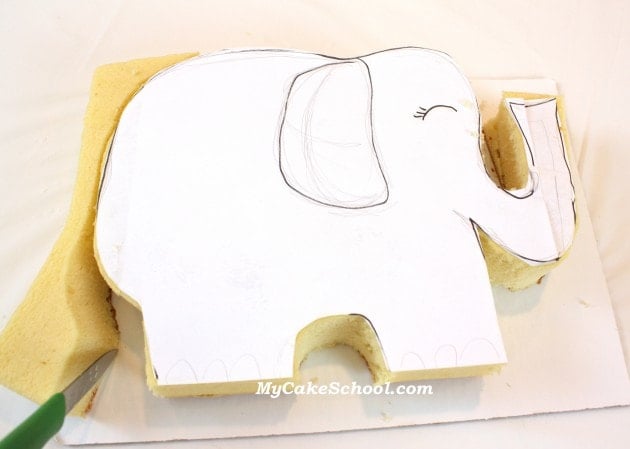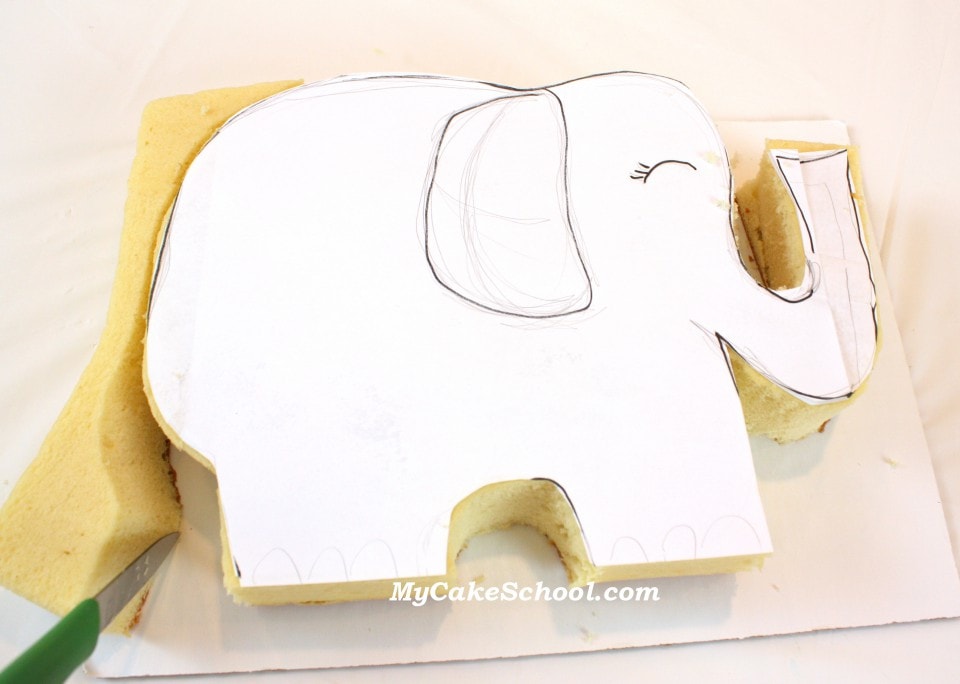 You'll have a few scraps leftover~  don't throw them away!  You'll want at least one of the scraps for a party hat ;0)
After carving, I frosted my cake with a Crusting Vanilla Buttercream.  This has been tinted with a little Americolor Deep Pink coloring gel. We have a few crusting Vanilla Buttercream recipes in our Recipes section, here is one of them!: Classic Vanilla Buttercream.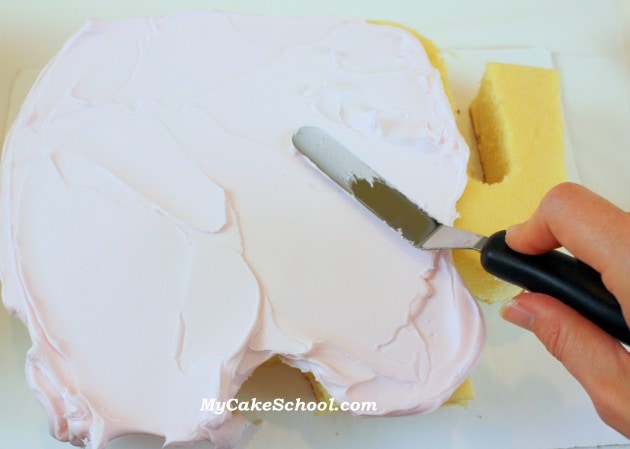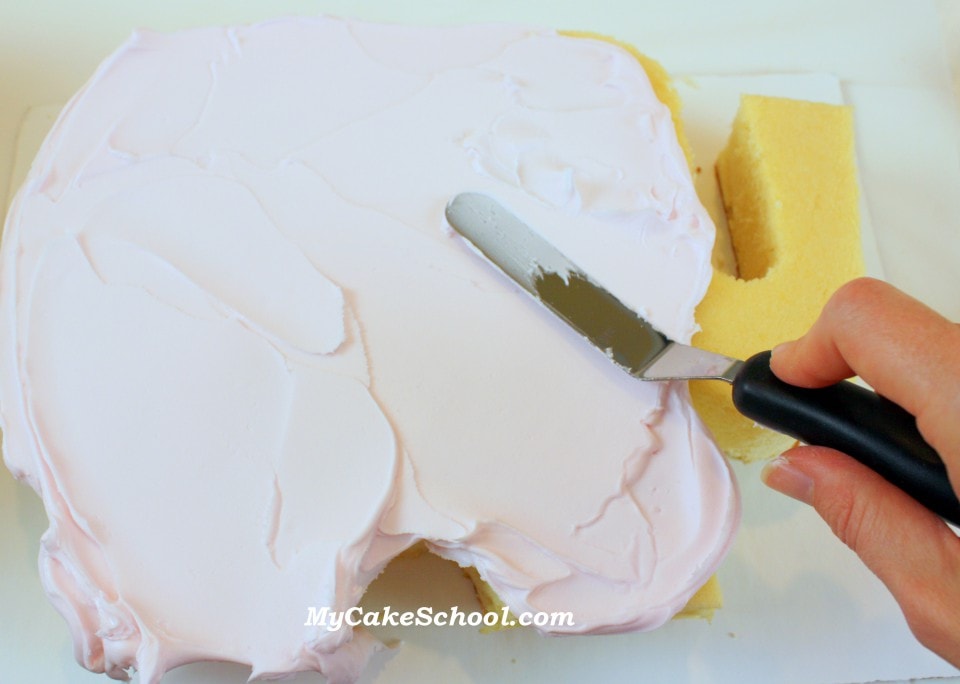 Once my buttercream had had a chance to crust (5-10 minutes assuming that your cake wasn't frosted while cold),  I smoothed it with a Viva brand paper towel.  There are other methods for smoothing, or you could comb the cake with a decorating comb.  Anything goes! ;0)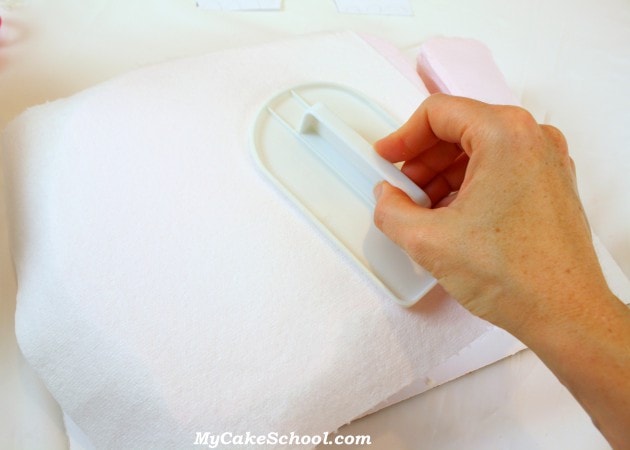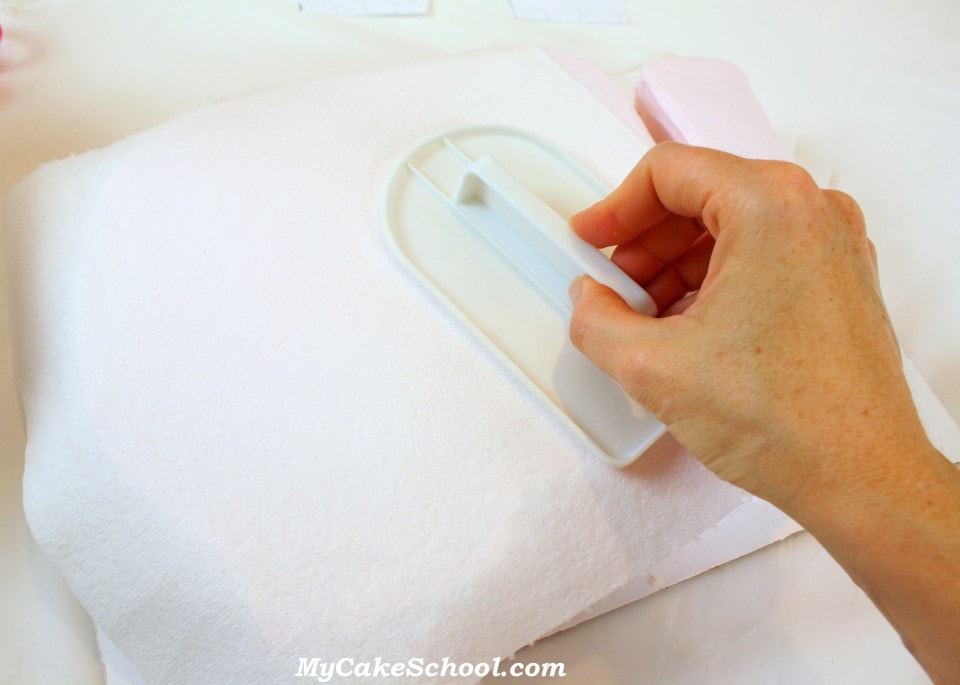 After smoothing the frosting, I used an xacto knife to cut away the excess cake cardboard.  All of my cakes rest on a cardboard, which makes it easier to transfer it to it's final base later.  (If you'd rather do this "cut away step" before frosting the cake, that works too!)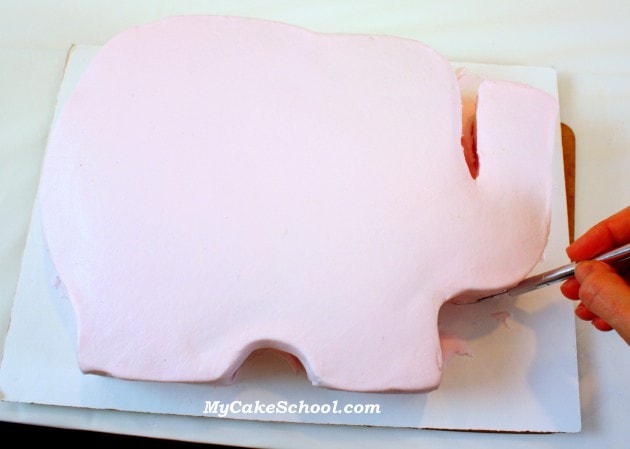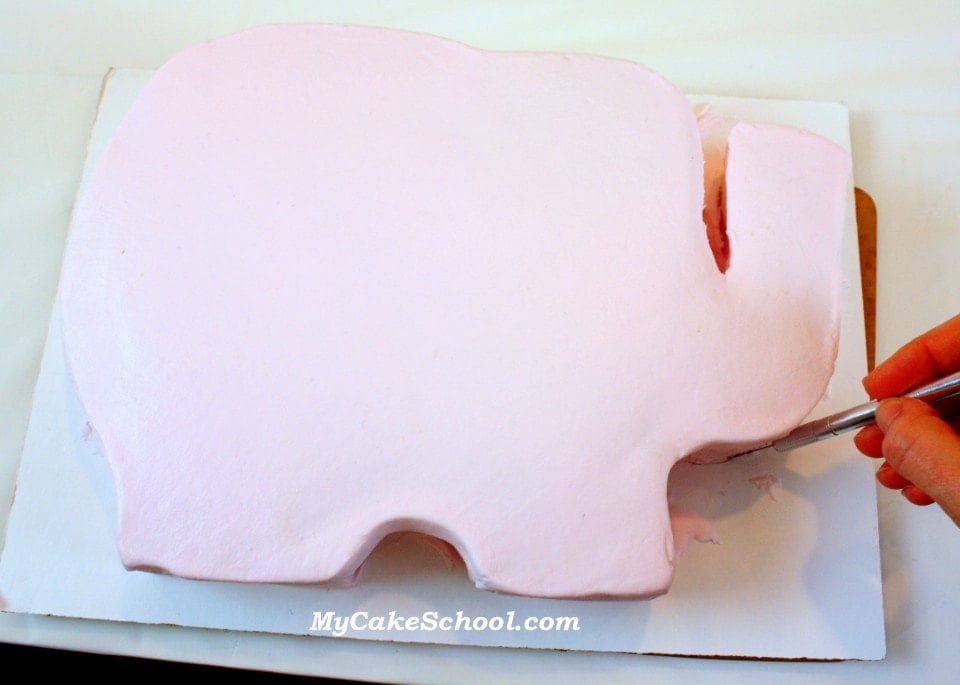 Now, to give our elephant a sweet face & some personality!  This is the time for you to have fun with your design–but feel free to copy mine if you'd like!
I piped on some polka dots with a Wilton (medium round) tip 12.  My buttercream dots are also tinted with Americolor Deep Pink coloring gel.
I piped on and filled in my elephant's ear using my Wilton tip 12 also, and then smoothed it with a Viva paper towel after it crusted.  The small dots and outlines on my elephant were piped with a Wilton tip 3 (smallish round tip).
The elephant's eye is a chocolate chip (with a small buttercream dot in the center).  The eyelashes & mouth were drawn with a toothpick!
You'll see the full photo soon…but here's a sneak peek!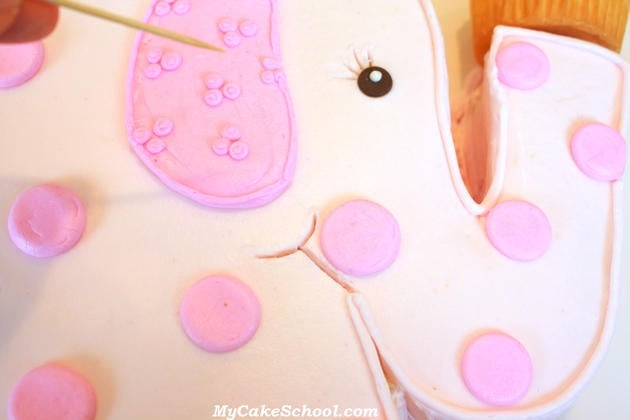 Our elephant could have been done at this point, but we wanted to give her a party hat & cupcake.  It is a birthday party, after all!
We cut a small wedge of scrap cake into a triangle and frosted it with some buttercream tinted with Americolor Electric Green.  I found it easiest to pipe on my frosting with a Wilton tip 12 and then smooth it. You could also just use a star tip to get a different effect.
I frosted the party hat cake while it rested on a paper plate.  After smoothing it, I chilled it in the freezer for 10 minutes to firm things up,  so that I could then pick it up and place it on our cake board, right where it belonged.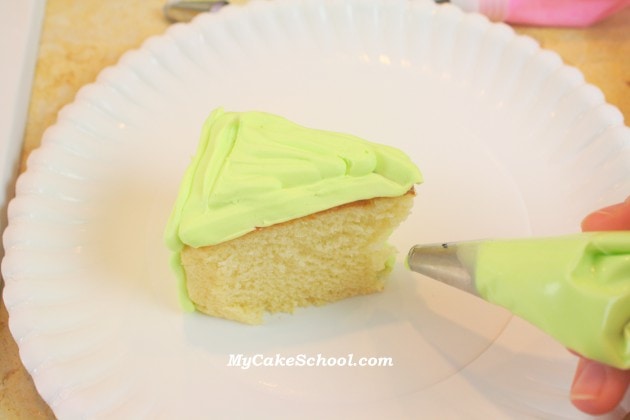 We decorated the party hat with Wilton Jumbo confetti sprinkles, and added fringe with a Wilton star tip 12.  Our cupcake was "glued" to the board and elephant trunk with some dots of icing.  Then, I used my 2D large star piping tip to pipe on a little frosting.
Don't go too heavy on the cupcake frosting, or it may tip over!  I added a few sprinkles..and a candle with a buttercream flame piped onto the wick!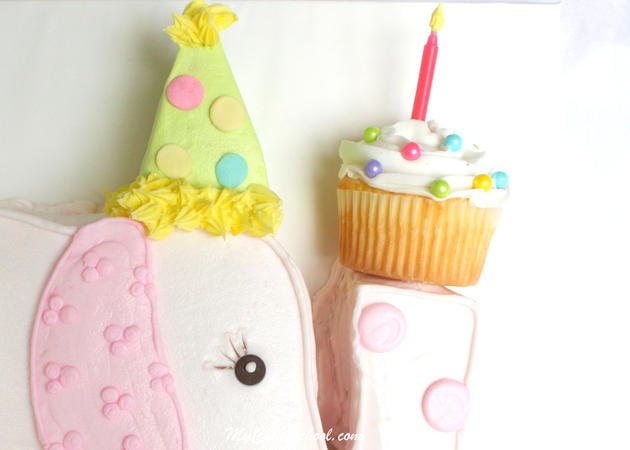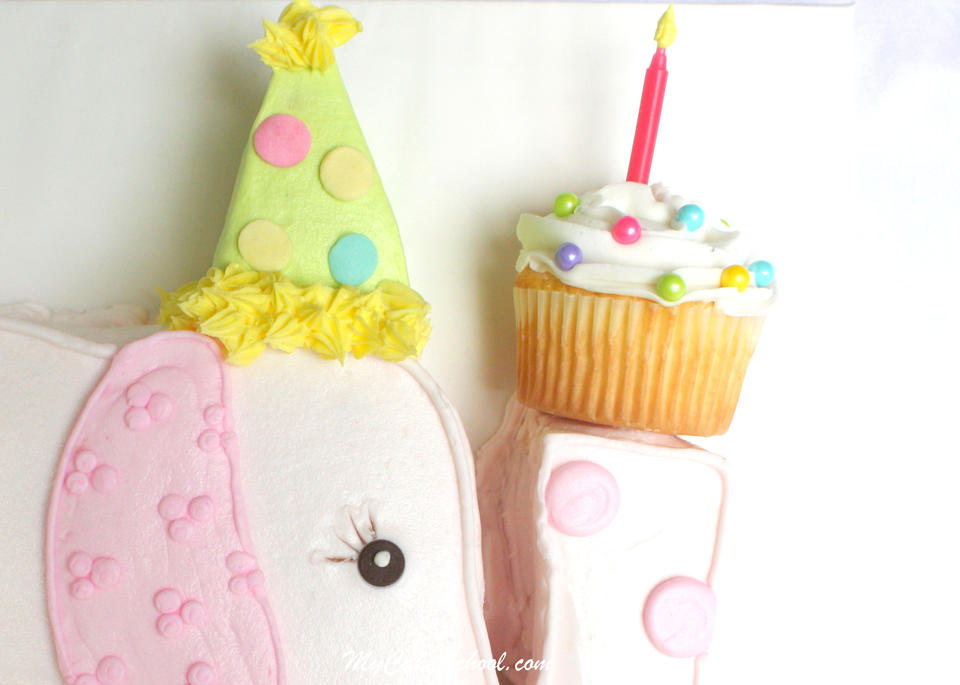 That's all there is to it!  I think that this sweet elephant would be the perfect guest for any little one's birthday party.  I hope that you agree!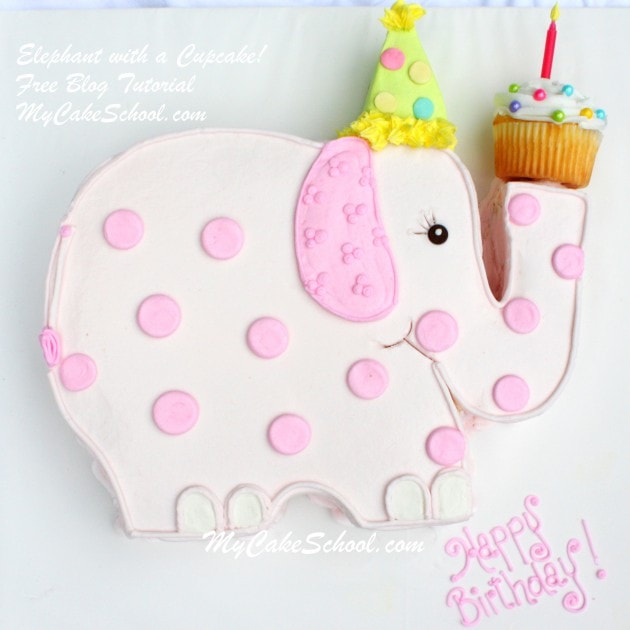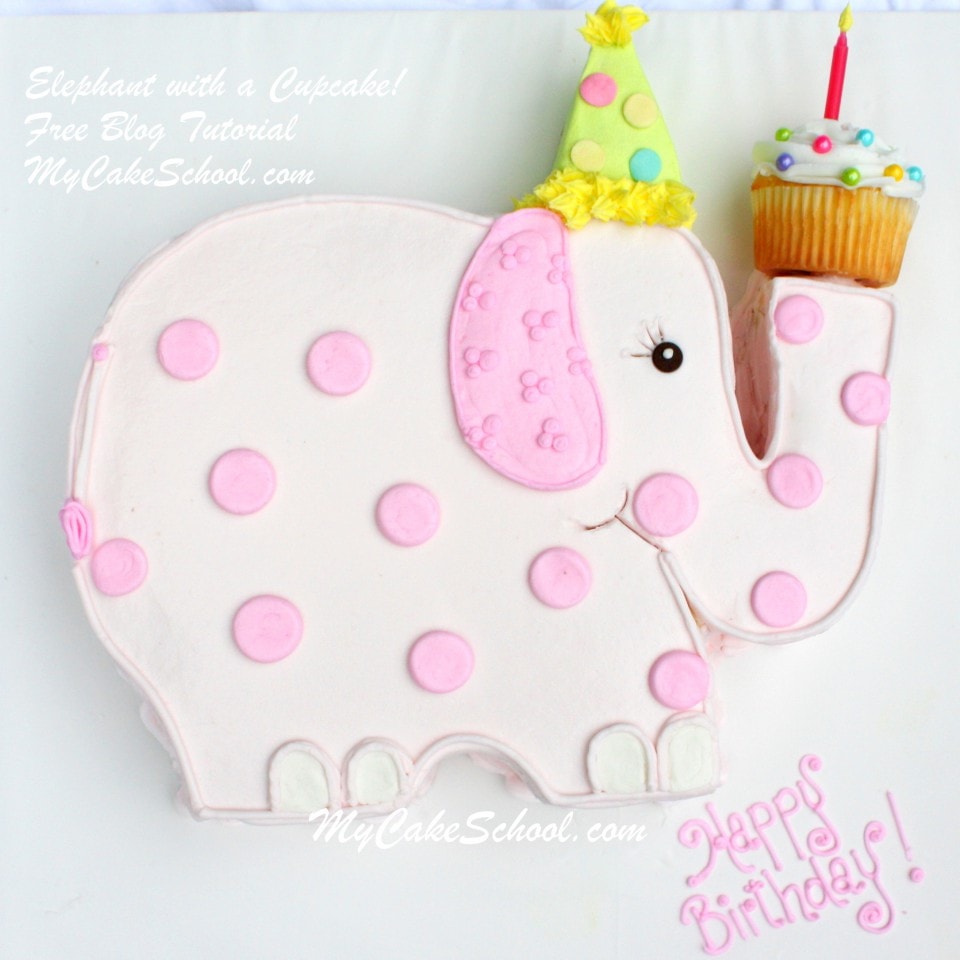 Thanks for stopping by, and if you make a sweet elephant cake of your own, we would love to see! Feel free to leave a photo in the comments!