Today I'm going to share a CUTE and easy Dump Truck cake tutorial that would be perfect for young birthdays, and great for all skill levels of cake decorating!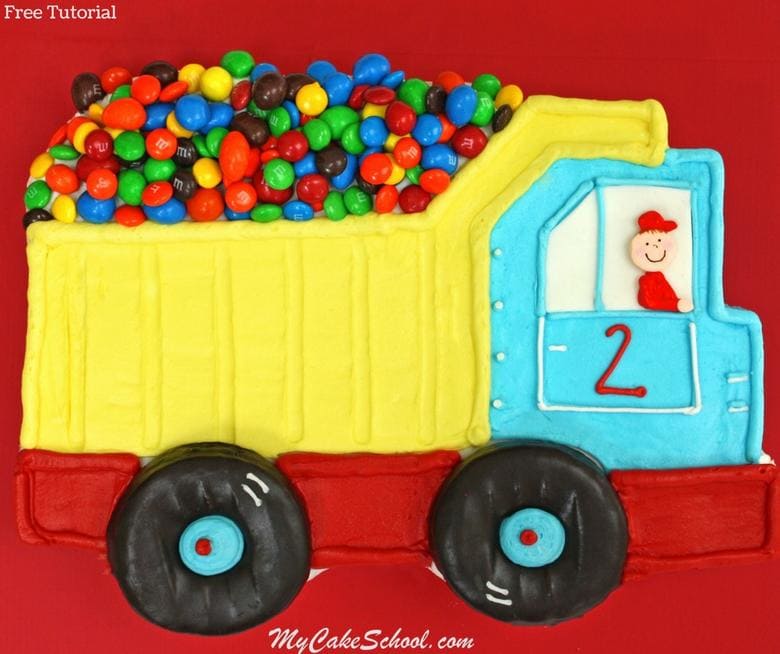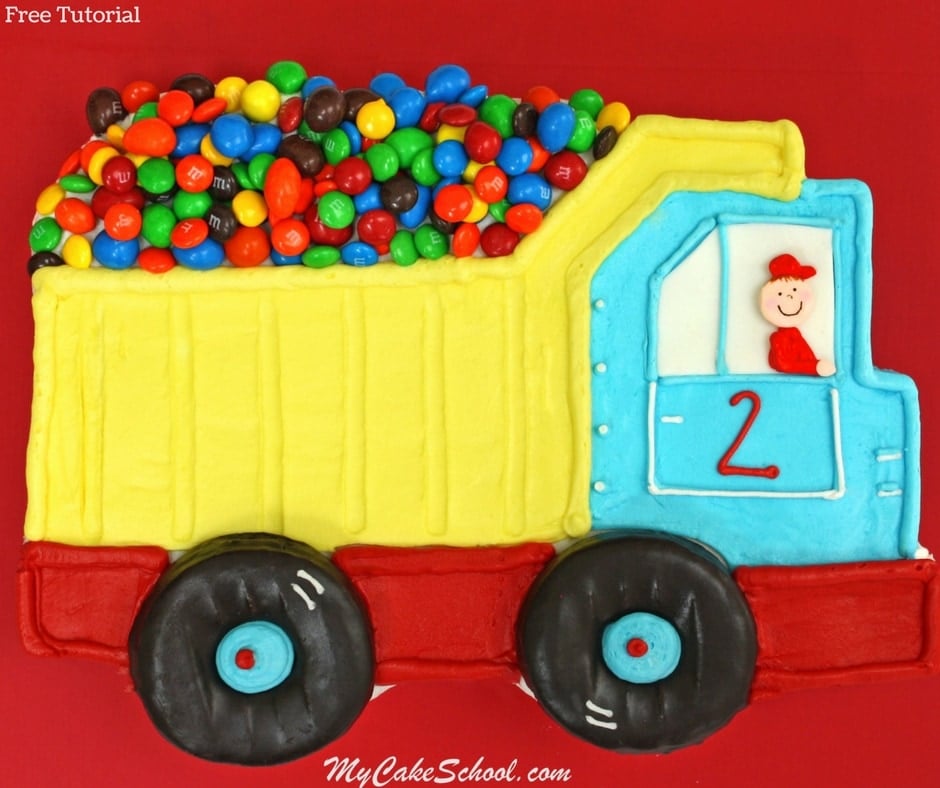 Sheet cakes are always a popular choice for children's birthday parties, but the broad rectangular shape can be limiting when it comes to creative cake design ideas.
With a few simple slices here and there, we'll show you how to transform an ordinary sheet cake into an adorable dump truck cake that is as fun to look at as it is to eat (well...almost)!
Children are fascinated by trucks of all kinds, and so I'm happy to share this cake idea for truck-themed birthday parties!
Whether you'd like to create this exact dump truck cake design, or make a few tweaks of your own to create a different style of truck, I think that you'll find this tutorial helpful (and simple)!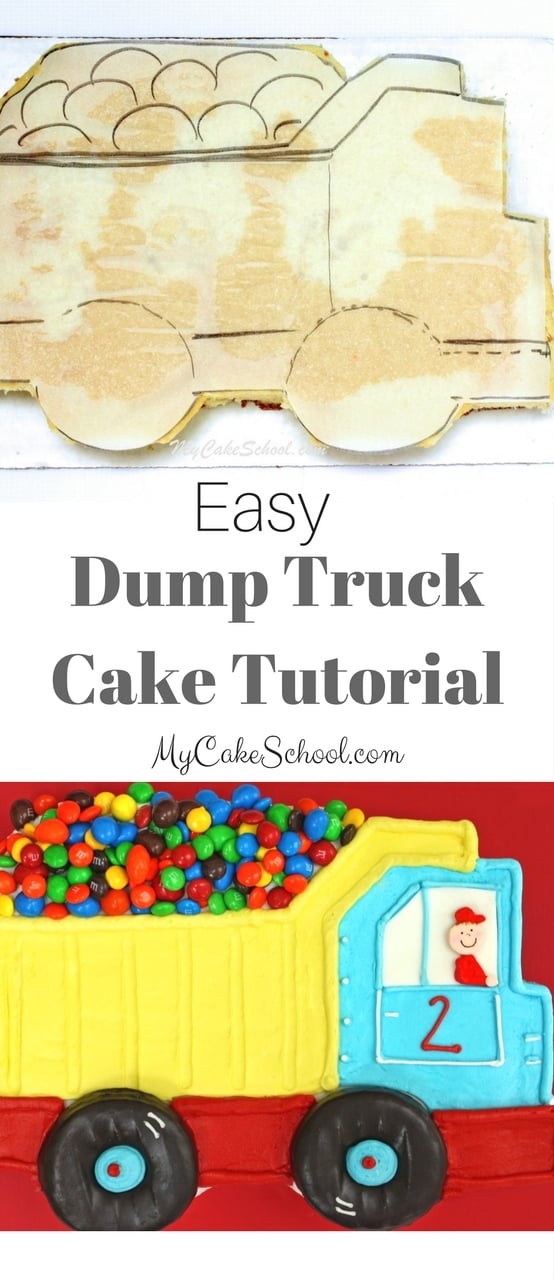 Let's get started!
For today's tutorial, I'm working with a single layer 9x13 inch sheet cake. Any size of sheet cake will do, although our template is sized for a 9x13 inch sheet cake.
As you can see in the photo below, I started by drawing a rough template onto parchment paper and laid it onto my partially frozen cake layer.
(I prefer to work with partially frozen cakes whenever carving is necessary for the design. It's much easier to get a nice, clean cut when the cakes are a bit firm!)
If you'd like to use our templates, we have two pages of templates for you. Since the cake is larger than a sheet of printer paper, we divided the truck into parts which can then be printed, cut out, and placed onto the cake . Find them here!: Dump Truck Cake Template (page 1 of 2) , Dump Truck Cake Templates (Page 2 of 2)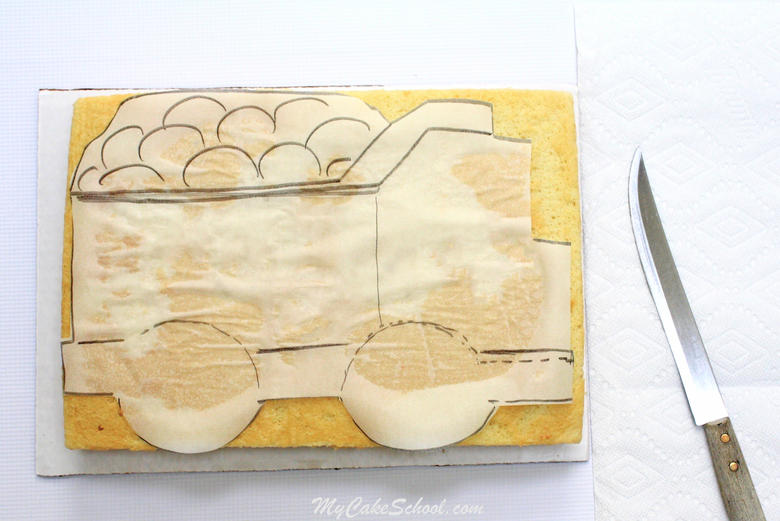 Moving right along...here is our freshly trimmed cake!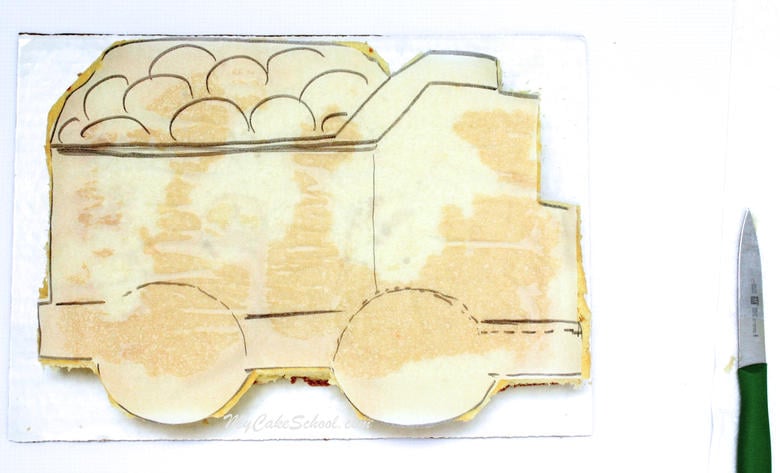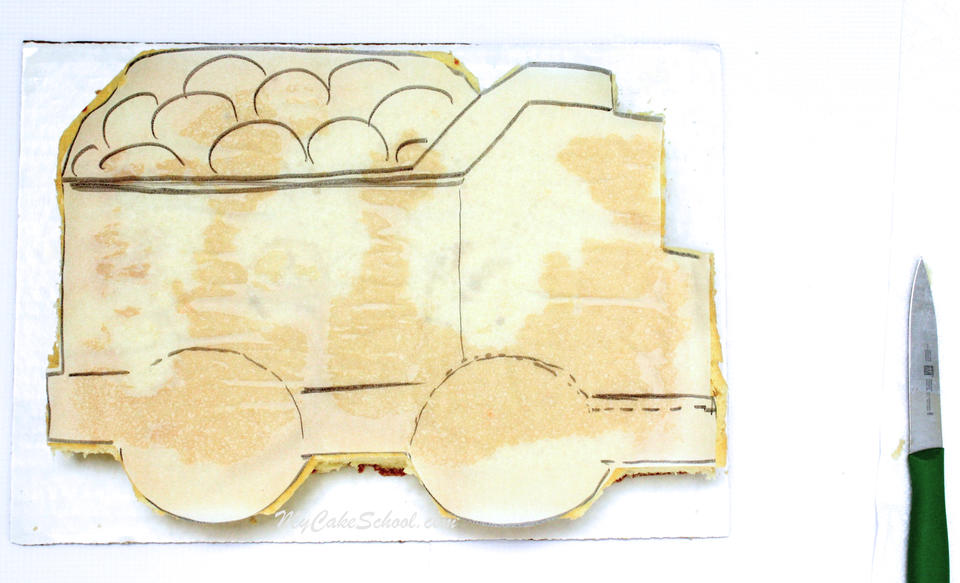 Next, I crumb coated the cake with a thin layer of Classic Crusting Vanilla Buttercream Frosting.
I chilled the frosted cake in the freezer for about 10 minutes until the buttercream was firm, and then used pieces of the template to mark off sections of the truck.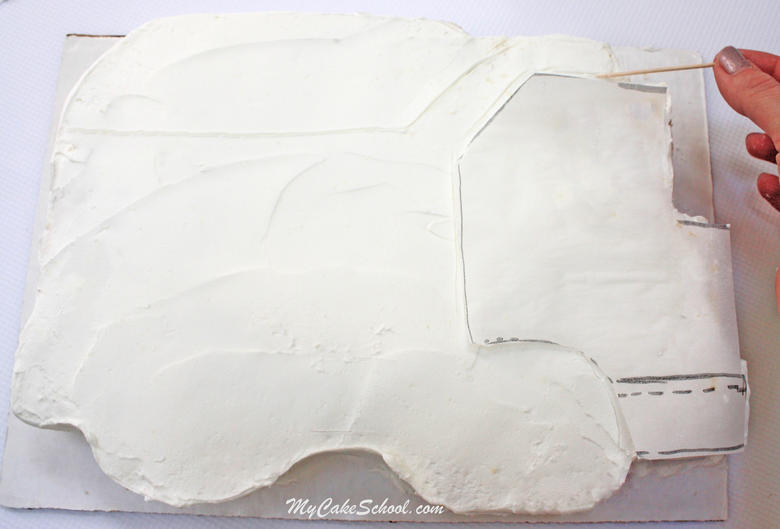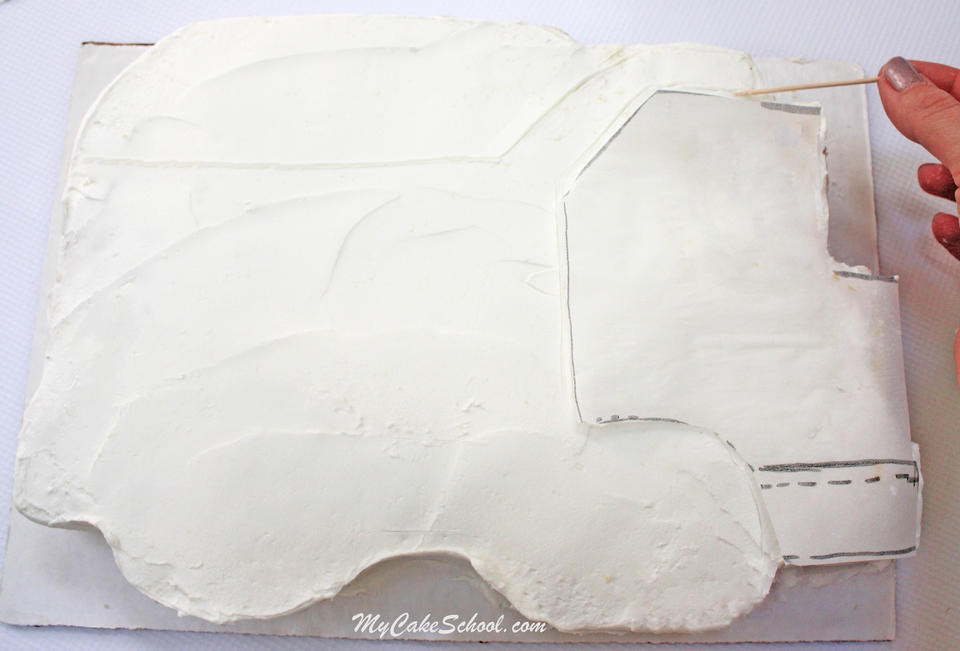 Next, I used an xacto knife to trim the excess cake board away from the cake and then "glued" the cake to the final cake base with a smear of buttercream.
Use whatever cake base you like.  Our cake base is three cardboard sheet cake boards taped together and wrapped tightly with a red plastic tablecloth. (We stapled it beneath so that the tablecloth covering was secure and the staples did not come into contact with the cake.)
Time to start filling in the details with our colored buttercream!
Using the lines that I drew as a guide, I began to outline and fill in the cake with tinted buttercream. For the front of the truck, I used a disposable piping bag fitted with a piping tip 10 to outline and fill in with buttercream tinted with Americolor Sky Blue.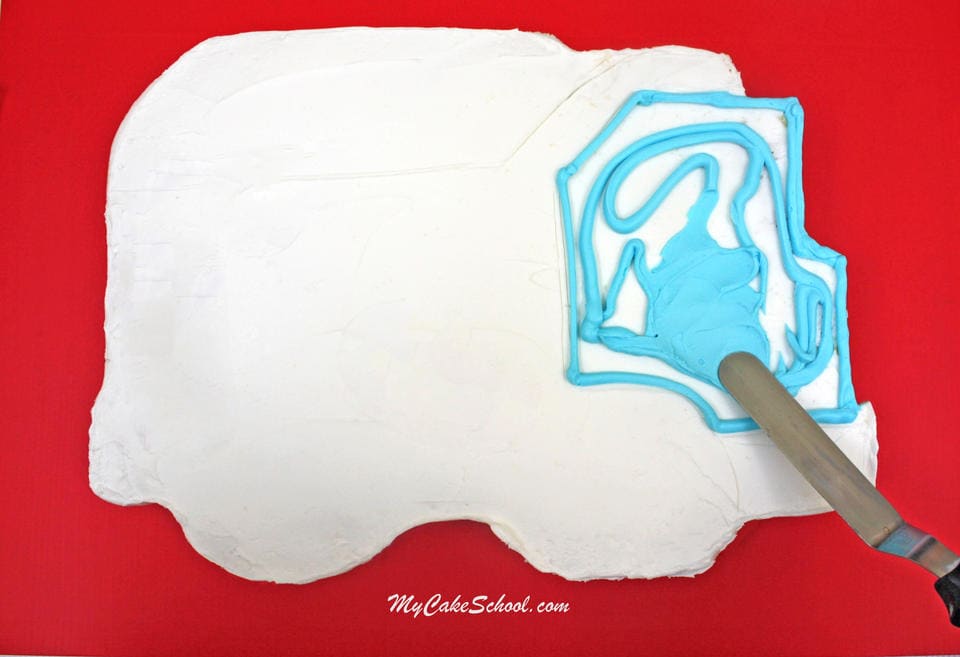 I continued to add color to the truck by tracing and filling in the yellow section with buttercream (tinted with Americolor Lemon Yellow).
There are a couple of methods that you can use for extra-smooth frosting. Since I was working with a Crusting Vanilla Buttercream frosting, I was able to use a Viva brand paper towel (which has no quilting or impressions) to create a smooth finish after the frosting had set up for a few minutes.
Another popular choice is the "hot knife method" of smoothing which involves smoothing over chilled frosting with a heated spatula.
Next, I created simple vertical impressions using a tapered spatula.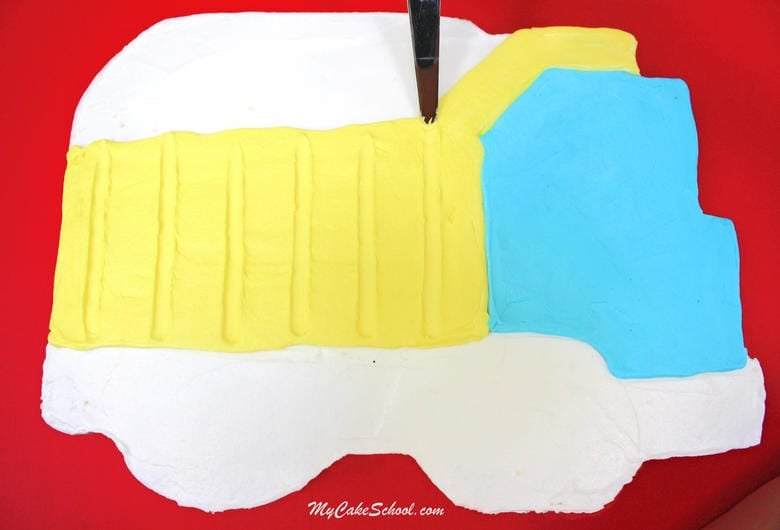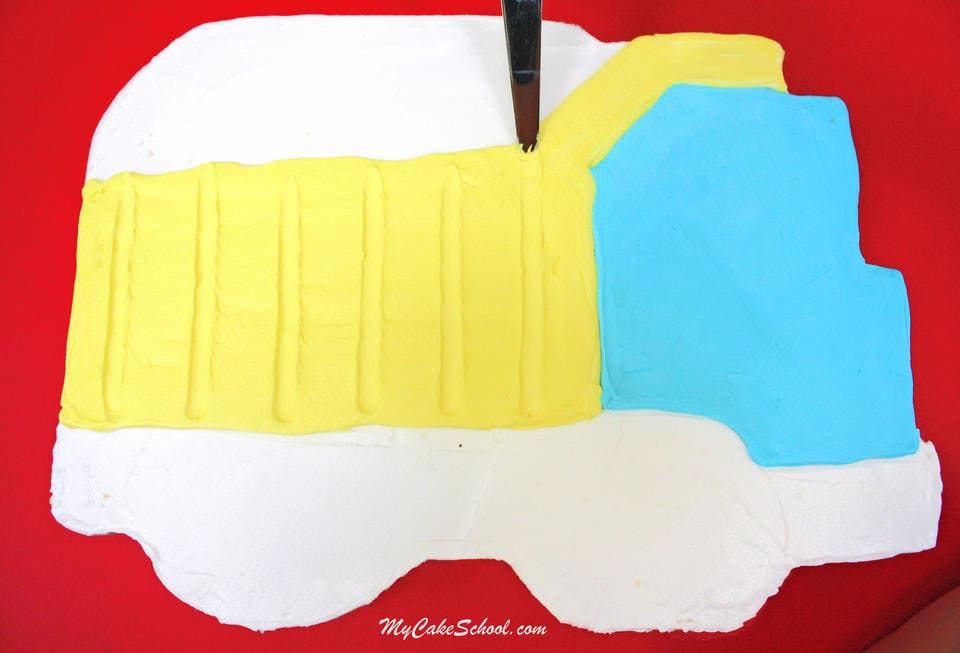 For the tires, I added chocolate donuts! I like the added depth that they give to the cake, but you could also use fondant or buttercream for the tires.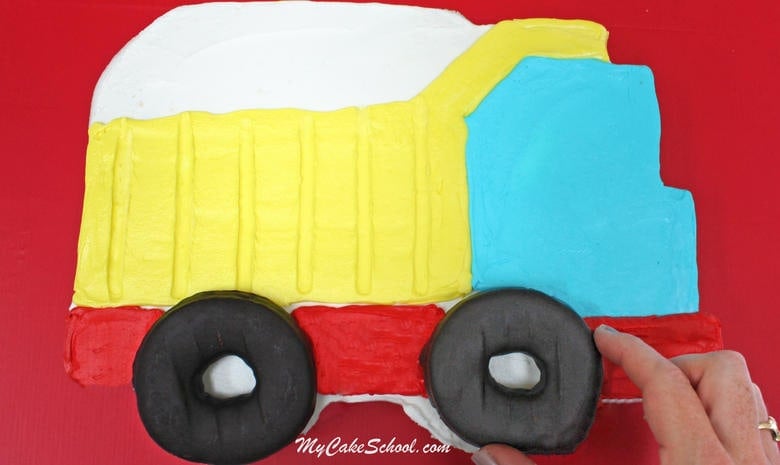 Now for the fun part! I filled the truck with plain & peanut M&Ms. For this step, the options are endless. Crushed chocolate cookies would have worked well also!
You can spread a little fresh buttercream onto the cake before pressing on the candy or cookies so that they will stay in place.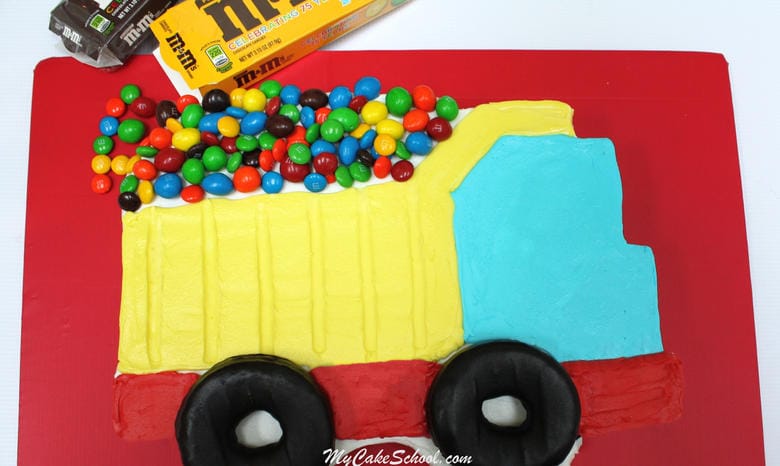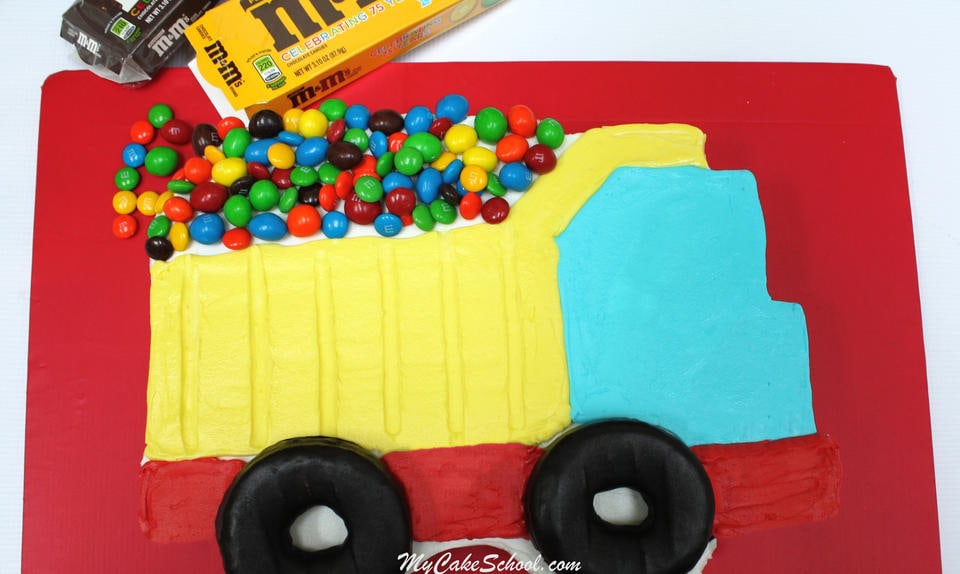 I had some excess cake that was showing around the donut tires and so I trimmed it away with a sharp knife. I overestimated the size of my donut tires when creating the template!
Our sweet little driver's face is made from fondant (tinted with the tiniest bit of Americolor copper coloring). You can form the circle by hand, or use a large piping tip to cut out a circle of rolled fondant.
I drew on his face and hair with food coloring pens once the fondant had set up for several minutes. I dusted on a little pink petal dust for rosy cheeks. I just can't help myself when it comes to rosy cheeks!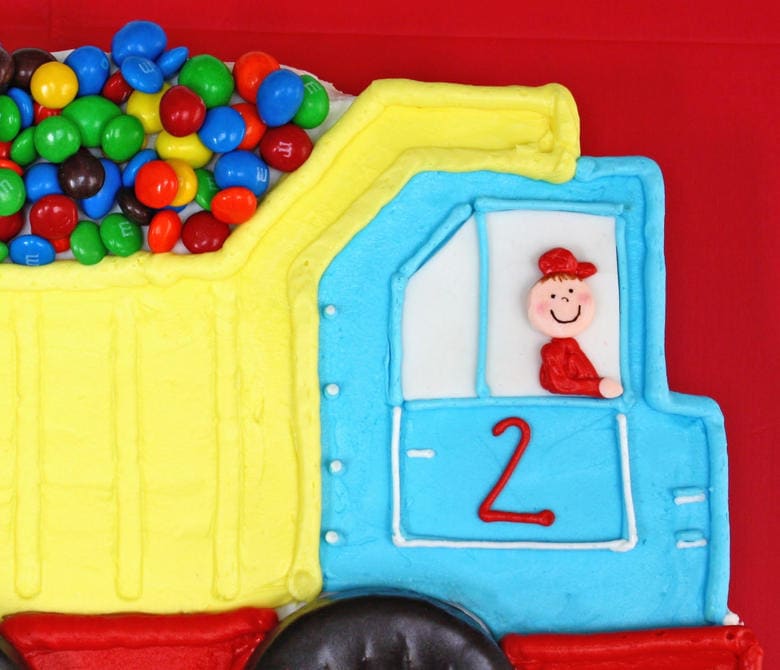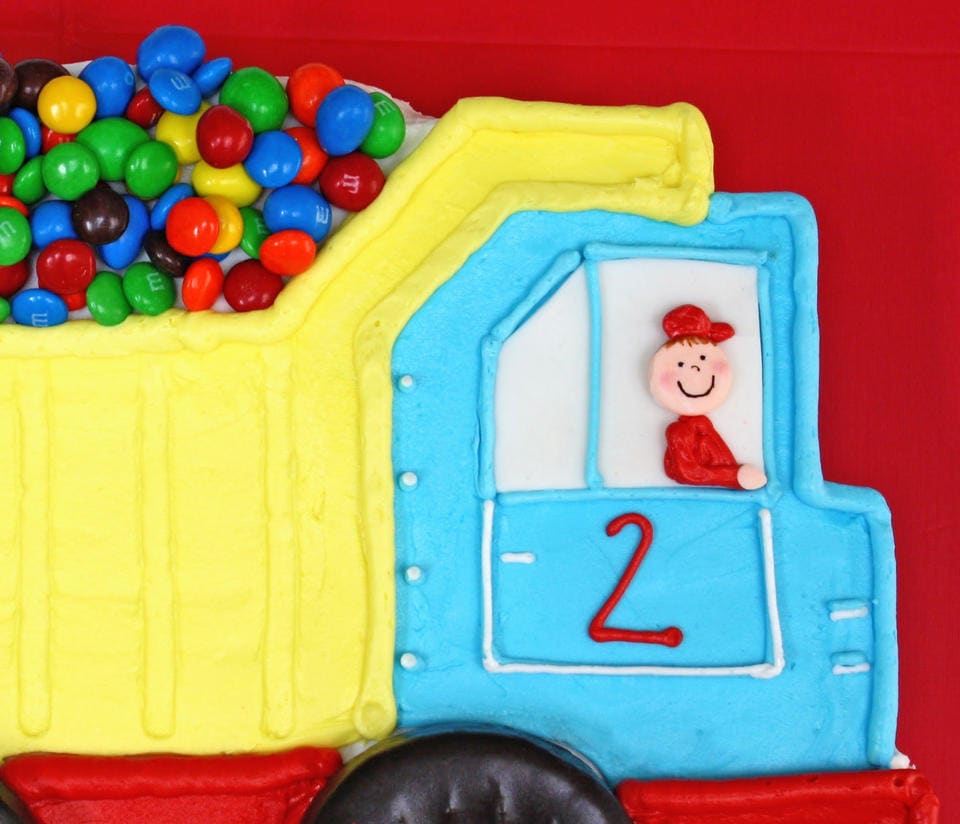 I added some extra piped details using a small round (tip 3) piping tip to outline the window, door, and add small details here and there.
Also, using a piping tip 10, I outlined the larger sections of the truck. (You could skip the piping tip and just snip the piping bag if you prefer!)
Hooray! Our cake is finished!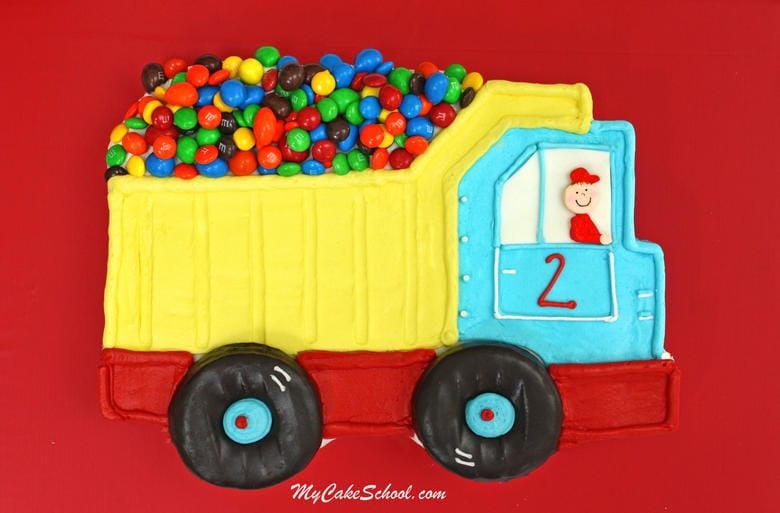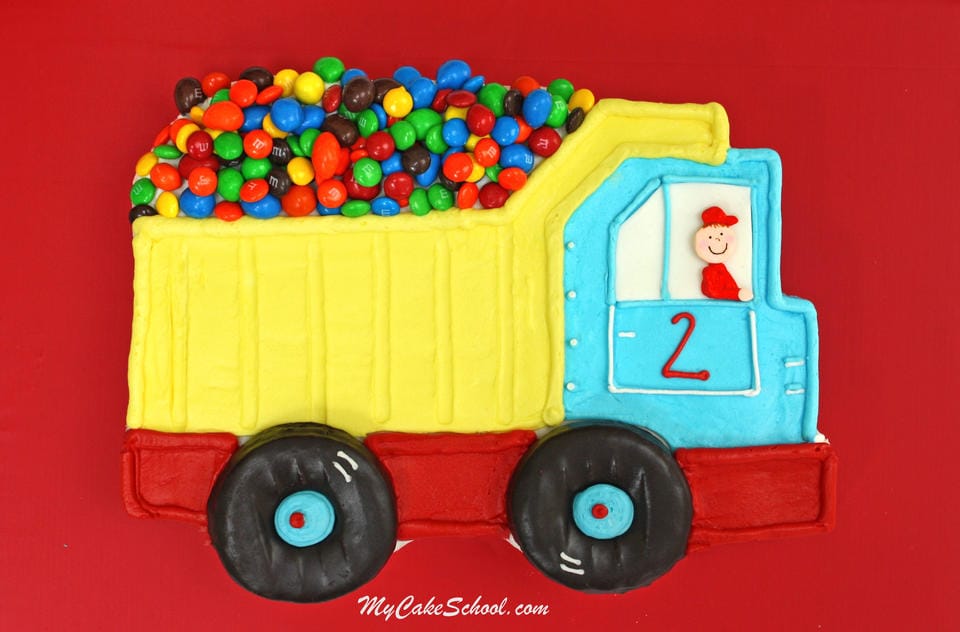 We hope that your little ones will love this sweet dump truck cake! No matter what your cake decorating skill level, I think you will find this design to be very forgiving and fun!
Who wouldn't love a dump truck filled with M&Ms on their birthday?!  xoxo  Enjoy!
*For the BEST cake and frosting recipes, don't miss our collection of favorites in our Recipes Section! You can also find a full listing of our free step by step cake videos and tutorials here: Free Cake Tutorials.
Interested in becoming a member of our site for even more creative cake video tutorials and more? Visit our Join Page! We'd love to have you!