Crusting Vanilla Buttercream
Hi everyone~ In my blog tutorials, I often demonstrate designs that call for a crusting vanilla buttercream. There are so many good variations of crusting buttercreams out there, but I thought I'd share with you a couple that I use most often.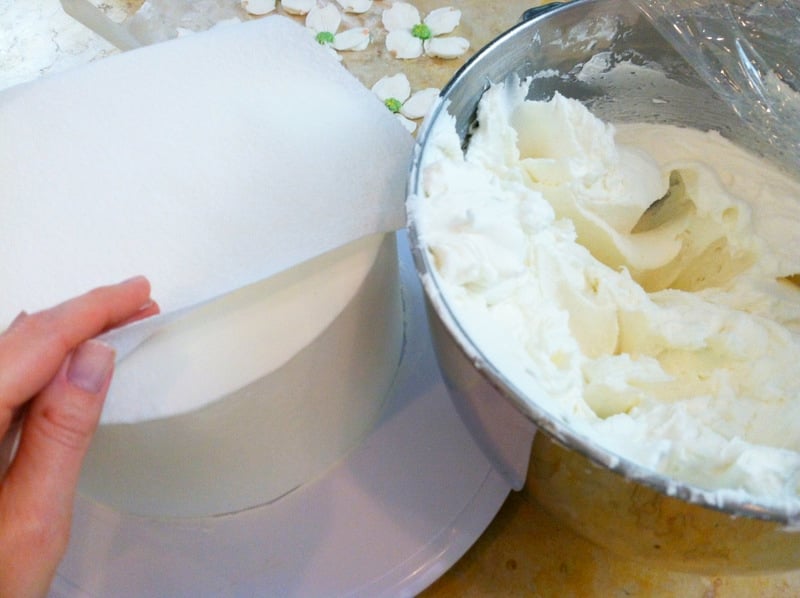 As the name suggests, crusting buttercreams develop a slight "crust" after about 5-10 minutes. This crusting allows decorators to use the "Viva Method" of smoothing, which I often refer to in our tutorials. If you are using this smoothing method, you never want to frost your final coat of frosting when the cake is cold. Warm to room temperature first. Otherwise, condensation will result, which prevents the frosting from crusting properly.
CLASSIC AMERICAN BUTTERCREAM~ This recipe contains no shortening, only butter. This makes it a little less heat resistant than shortening-based frostings.
2 sticks unsalted butter – 226 grams
8 cups ( 2 lb.) ( 920 grams) powdered sugar
2 tsp. vanilla (8 grams), use clear imitation vanilla if you like a whiter frosting
⅓ c. milk -86 grams
pinch of salt if you'd like to cut the sweetness
Cream the softened butter until smooth. Blend in the vanilla. Add half of the powdered sugar and most of the milk. Beat at medium speed until the powdered sugar is incorporated. Add remaining powdered sugar and milk and mix at medium speed another 3 to 4 minutes scraping the sides of the bowl occasionally. I slow down the mixer to very slow. (#2 on the Kitchenaid) for 1 to 2 minutes. This will help eliminate air pockets in the buttercream. The texture will become very smooth.
This recipe can be doubled or halved.
Can be frozen in air tight container for at least three months . Thaw on countertop.
This is a crusting recipe, which works well with the Roller and Viva Paper towel smoothing methods. However, humidity may make it less likely to crust, in which case you can use the hot knife method for smoothing.
Yields approximately 6 – 6 ½ cups of frosting.
Next, is my "Fluffy Vanilla Buttercream" which calls for both butter and shortening. The added shortening makes a frosting that is slightly more white in comparison to an all butter recipe (though not as white as an all-shortening recipe.) You lose a little of the flavor when you swap out shortening for butter, but the advantage to shortening-based frostings is that they can withstand higher temperatures.
FLUFFY VANILLA BUTTERCREAM (a crusting recipe)
2 lbs. confectioners' sugar 910 g
½ cup (1 stick) (113 g ) unsalted butter softened (soften on countertop rather than microwave for best results)
1 ½ cups solid vegetable shortening (such as Crisco or Trex) 286 g. or 10 oz. by weightif using hi ratio shortening, see below)
2 Tablespoons clear vanilla extract 24 g
¼ teaspoons lemon or almond extract 1 g
¼ cup milk ( 57 g) any milk is fine but I like milk with higher fat content. You could substitute water too (See below)
Add a pinch of salt to cut the sweetness….we use popcorn salt because of its fine grain…..you should dissolve your salt (if using table salt) in the liquid before adding
Cream butter, shortening and extracts until creamy and smooth. Add powdered sugar and milk. Mix thoroughly on medium speed for approximately 8 minutes. For the last two minutes decrease the mixing speed to VERY SLOW ( number 2 speed on a KitchenAid) until creamy and smooth. Scrape the sides of the bowl occasionally during the mixing process.
***If I use Sweetex (a high ratio shortening) I decrease the shortening amount to 1 ¼ cups (236 g.) and increase the milk to ¼ cup plus 2 to 3 Tablespoons milk or enough to make it the consistency you like.
***I used to always use water for this recipe, but I switched to milk for flavor & also because when you use a higher fat milk for your liquid, the buttercream still has a nice crust to it, but it doesn't crust quite so quickly or so hard as if you use water.
**Makes about 6 cups of frosting– you can half it, or freeze the leftovers if you don't need this much! (One cup of frosting frosts about 12 cupcakes.)