In this quick cake video tutorial, we're going to demonstrate a beautiful piping technique that incorporates buttercream ruffles and shells.
I love the look of cakes covered in buttercream piping. Today's design has an elegant look, but the pink and green color scheme also gives it more of a casual, fun look. Keep this design in mind for birthday cakes, shower cakes, and even wedding cakes (in white or ivory)!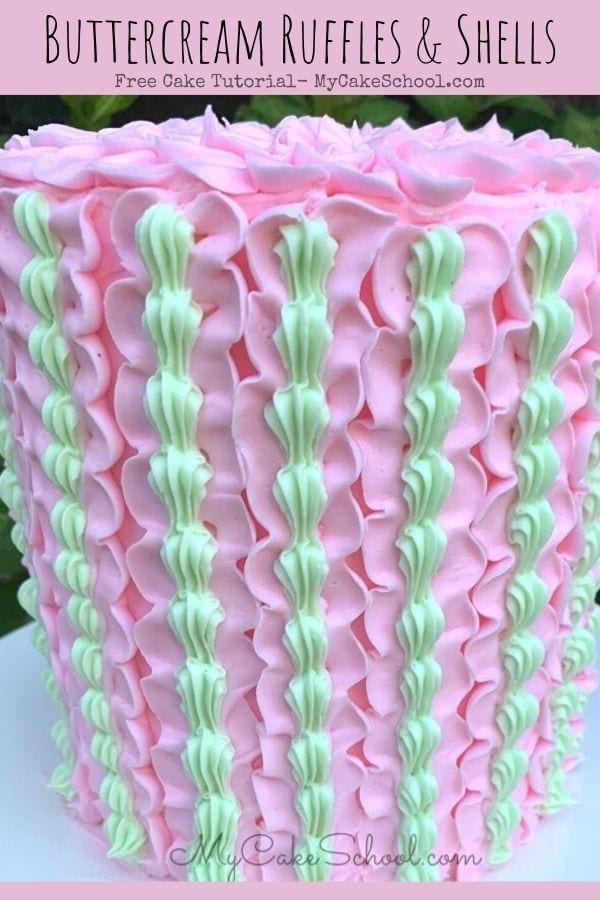 How to create the Buttercream Ruffles and Shells Cake Design
For today's cake design, we're using a petal tip 104 and star tip 21.
This design would be beautiful on cakes of any size (including sheet cakes), but we decorated a 6 inch double barrel cake. A double barrel cake is an extra tall cake which has supports within it.
Our cake was four layers high, with a cake cardboard halfway up and four bubble tea straw supports beneath. It is also resting on it's own cake cardboard cut down to the size of the cake. We frosted it with our Fluffy Vanilla Buttercream (but our Classic Vanilla Buttercream is a great choice also).
After crumb coating the cake, I began the design by piping a vertical row of ruffles. I started at the bottom of the cake and worked my way up. The small end of the piping tip was facing to the left as I used a back and forth motion to create the ruffles.
Next, I piped another row of ruffles right next to the first. This time, I worked from the top of the cake to the bottom, and the small end of my 104 piping tip was facing to the right.
Finally, I piped a shell border using my tip 21 down the center of the two ruffles. I repeated the ruffle and shell design all the way around the cake.
Enjoy the video!
My Cake School- Cake Decorating Recipes & Tutorials
For more on cake decorating, make sure to click over to our Free Tutorials Section. Or, if you are interested in accessing our entire collection of hundreds of cake decorating tutorials, you should consider becoming a member of My Cake School!
If you love to bake or finding new cake recipes to try, don't miss our full collection of tried and true cake and frosting recipes from our Recipes Section!
Our memberships are $30/year and will give you online access to every cake decorating video we've made for as long as you are a member. You can find the joining details here: Joining Information for My Cake School. We would love to have you!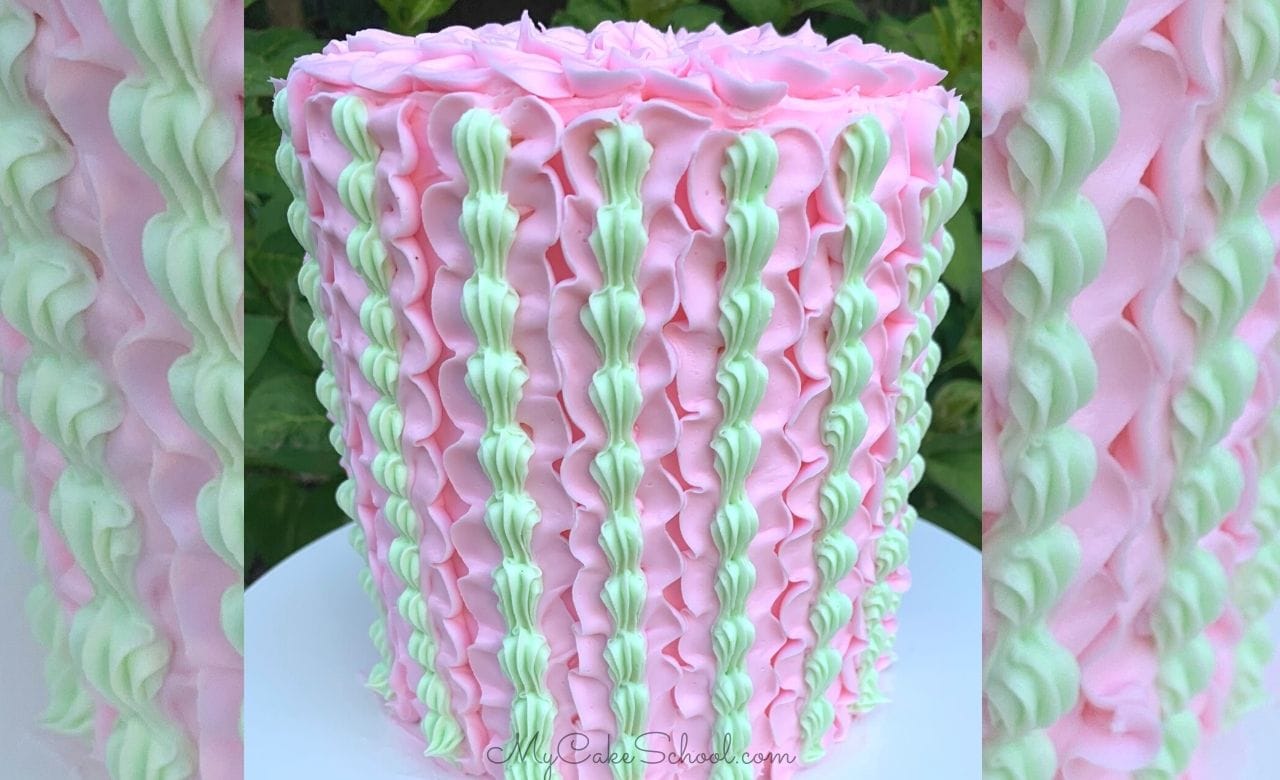 Alternate Video Format: