Today I'm going to share an easy, luscious Vanilla Latte Buttercream Frosting recipe with you!
This recipe is not only delightfully flavorful, it is a cinch to make, can be used as a filling or frosting, and is perfectly pipeable!
As someone who is a huge fan of coffee and coffee flavored desserts, I could eat this entire batch of frosting with a spoon! It has a wonderful richness from the butter and cream, and has the perfect balance of espresso and vanilla.
What Cakes go Perfectly with Vanilla Latte Buttercream?
If you love lattes or espresso like I do, the pairing options are endless! My favorite cake for this recipe is our scratch Caramel Vanilla Latte Cake, but it would also make a fantastic filling or frosting for chocolate, yellow, vanilla bean, and caramel cakes!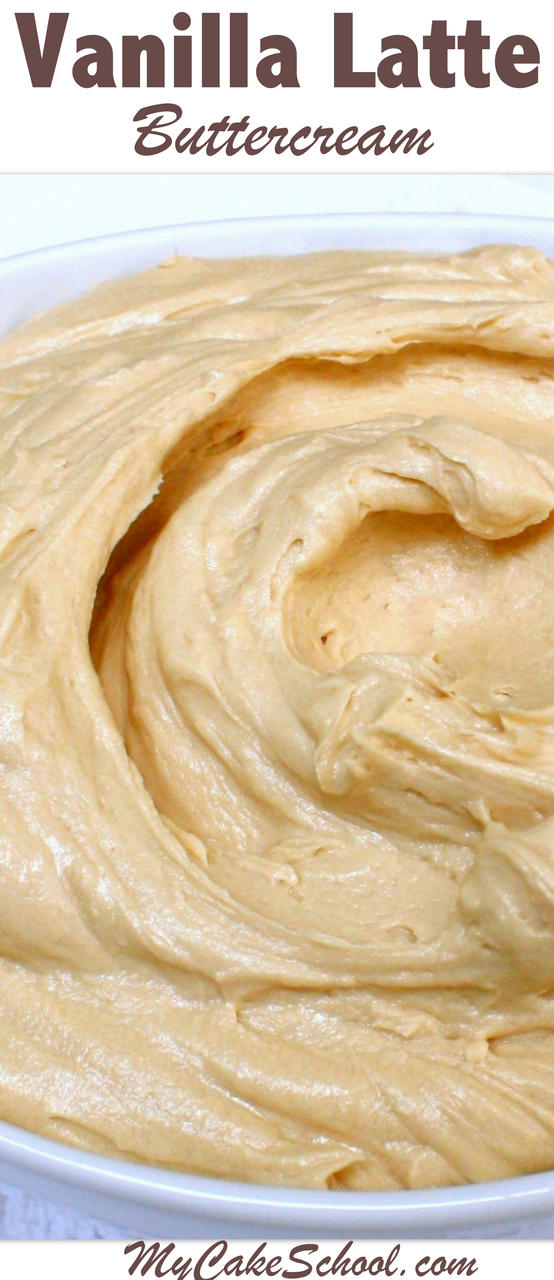 How to Make Vanilla Latte Buttercream
*Full, printable recipe is below
As with most American buttercream recipes, this frosting can be whipped up in no time. Although it contains a good amount of confectioner's sugar, this recipe is not overly sweet.
First, in the bowl of your mixer, combine the softened butter until smooth. Gradually add the powdered sugar along with the cream, vanilla, salt, and coffee.
Mix on medium speed for three minutes, and then mix three minutes more on low speed until the buttercream is smooth and creamy. (You can add additional liquid as needed to reach your desired consistency, but be careful to just add a very small amount at a time.)
That's all there is to it! Super easy and oh so delicious.
Unlike some of our other American Buttercream recipes, the crust is lighter than usual...so light that I would not rely on the Viva Paper Towel Method of smoothing for this recipe.
Hot Knife Method of Smoothing...
Whenever I frost a cake with this vanilla latte buttercream, and assuming that I need a smooth finish rather than textured or piped, I use the hot knife method of smoothing.
This smoothing method involves chilling the frosted cake for approximately 15 minutes until the frosting is firm, and then going back over it with a hot spatula or bench scraper to smooth.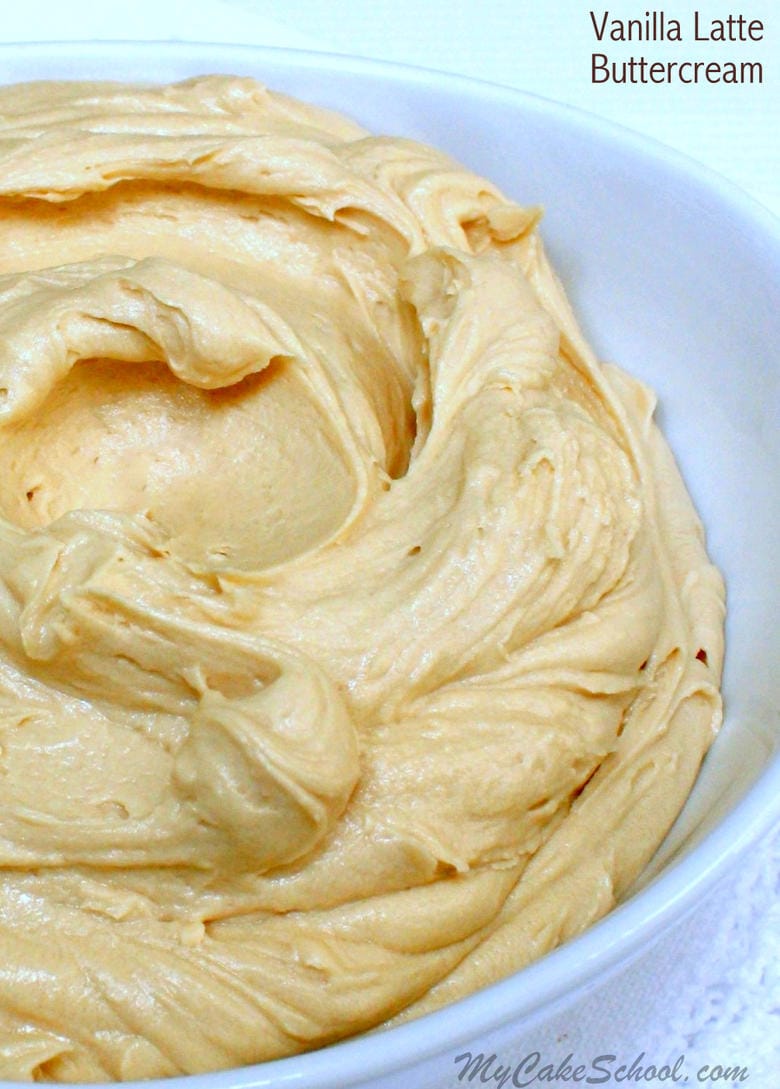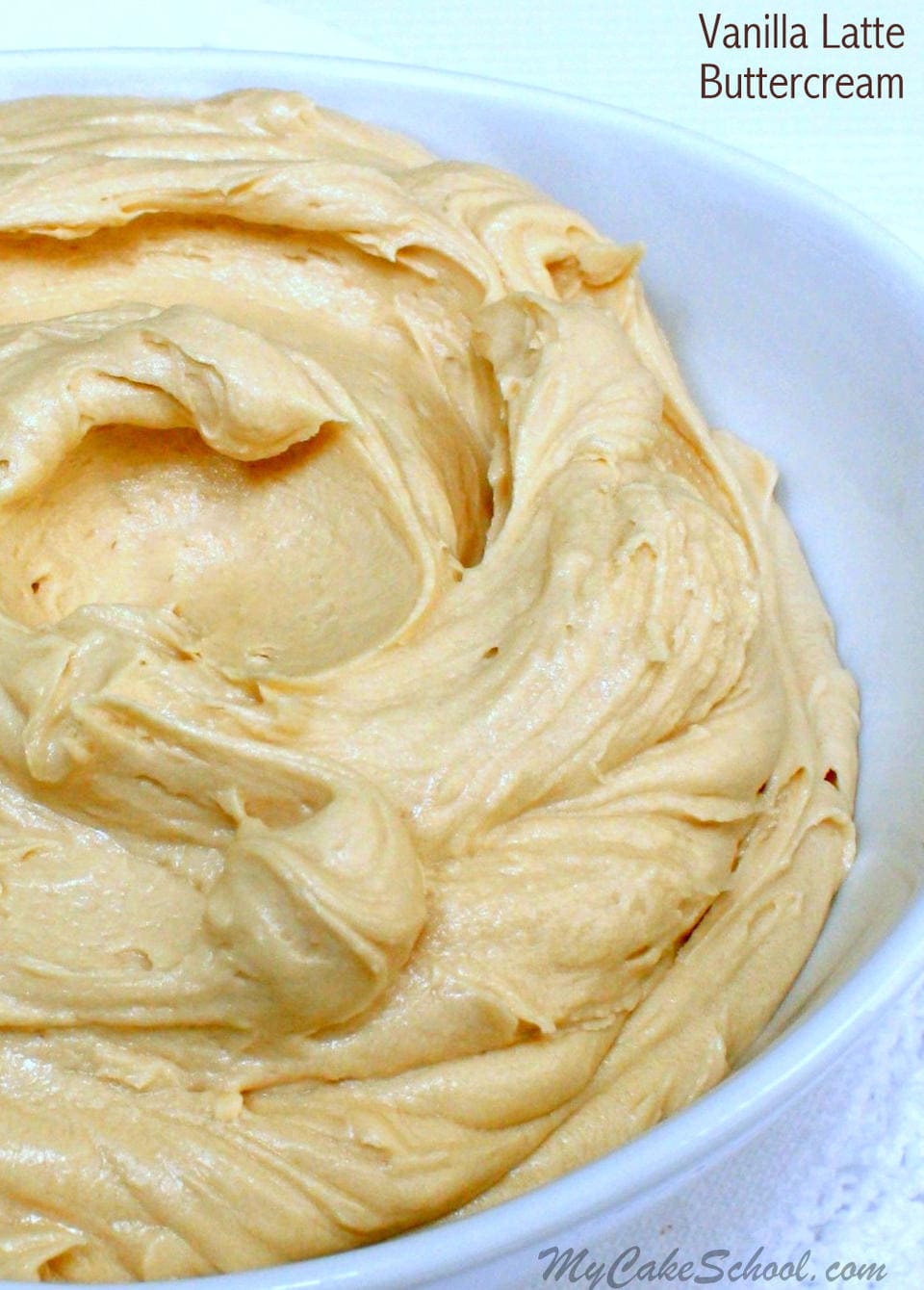 We find that this recipe gives a nice medium consistency of frosting that works perfectly for frosting. However, as with any American Buttercream recipe, if the frosting is too thick, simply add a bit more cream/milk. If the buttercream consistency is too thin, you can mix in a bit more powdered sugar. It's that simple!
No Grainy Buttercream!
Just a quick note about our buttercream frosting recipes...
We have found that the brand of confectioner's sugar can make a bit difference in the texture of the frosting. We've had great results with Dominos confectioner's sugar.
Some brands of confectioner's sugar don't work as well with buttercream frosting recipes..at least, American buttercream frostings which are not heated.
If a package doesn't say pure cane sugar, it contains beet sugar which is more likely to give you a grainy outcome. In addition to that, we've noticed that even some brands that say "Pure Cane Sugar" will give a grainy consistency. So frustrating!
One example is Dixie Crystals (although it used to work great for us a few years ago.) Something has changed…it's a mystery. Anyway, our buttercream frosting recipes should not be grainy, and so if you have any issues with graininess, experiment with a different brand of confectioner's sugar.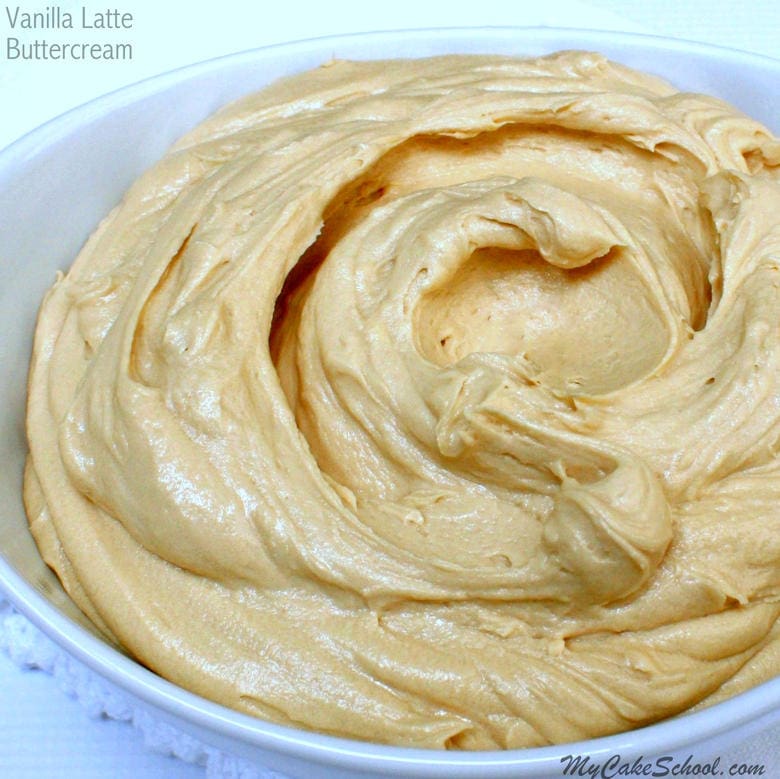 Caramel Vanilla Latte Cake Deliciousness
Here is a photo of this delicious Vanilla Latte Buttercream Frosting in action! Yummmm....This is our delicious scratch Caramel Vanilla Latte Cake recipe. If you haven't tried it yet, you MUST put it on your list of cakes to try! We've fallen in love with this amazing flavor combination of vanilla, espresso, and caramel!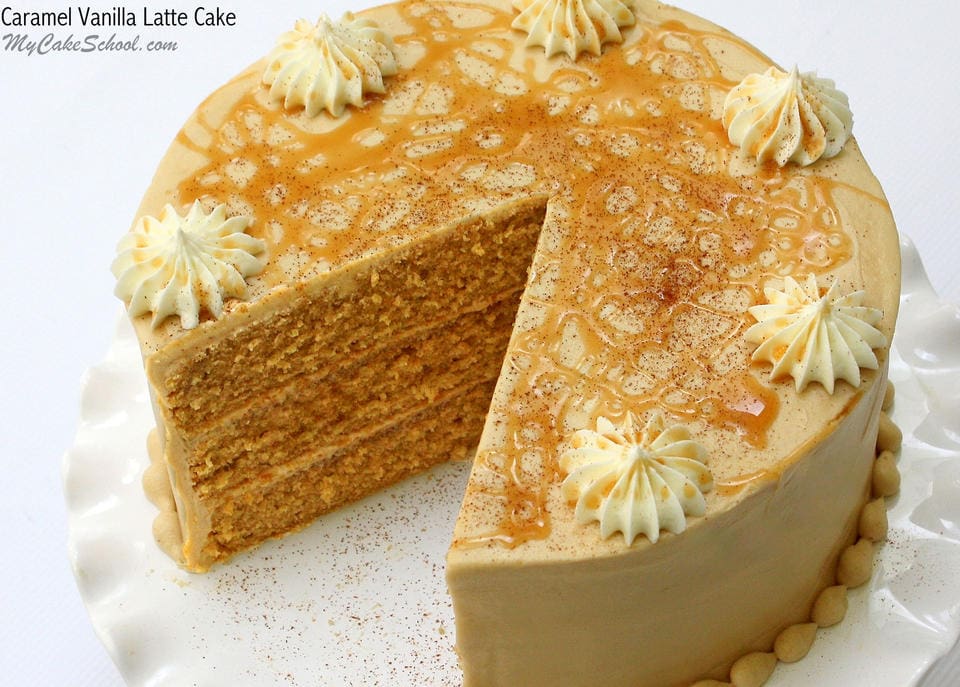 Vanilla Latte Buttercream Frosting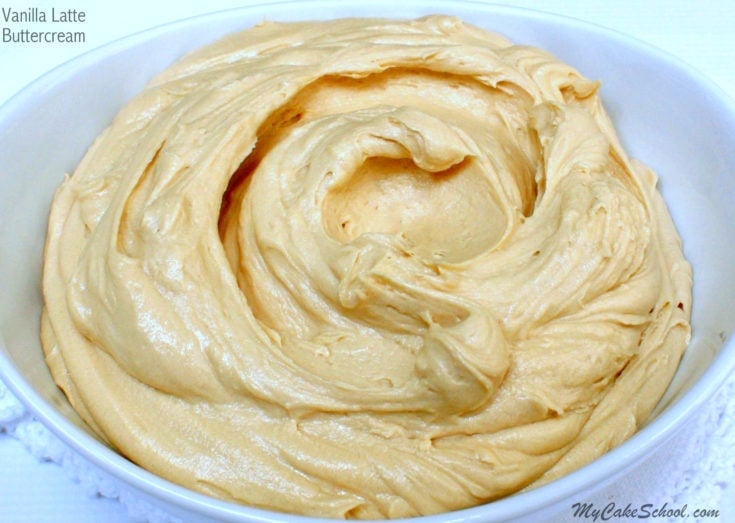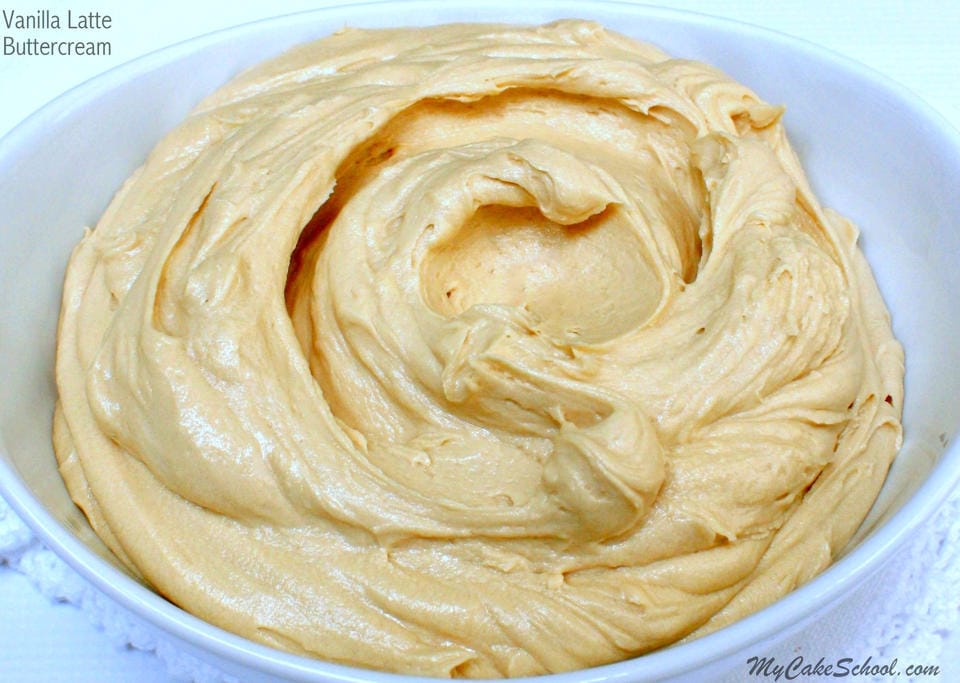 Easy, delicious Vanilla Buttercream Frosting! This frosting has the perfect balance of espresso and vanilla, and tastes amazing in our Caramel Vanilla Latte Cake!
Ingredients
2 sticks (226g) unsalted butter, slightly softened
6 cups (690g) powdered sugar, more if needed for the consistency you like *see our note beneath the recipe
2 teaspoons ( 4g ) instant espresso powder or instant coffee granules dissolved in 2 teaspoons hot water
2 teaspoons (8g) vanilla extract
¼ cup + 2 tablespoons (80g) heavy cream, more if needed to reach desired spreading consistency
½ teaspoon (3g) salt to cut sweetness (optional) popcorn salt will dissolve more easily because of its fine grain
Instructions
In the bowl of your mixer, mix the softened butter until smooth.
Slowly add the powdered sugar along with the cream, vanilla, salt and coffee. Mix on medium speed for 3 minutes (longer if using a hand mixer) adding more liquid if needed to reach desired spreading consistency.
Reduce speed of mixer to low and mix 3 minutes or more until the buttercream is creamy and smooth.
Cake Recipes & Tutorials!
Thanks for stopping by! We hope that you give this Vanilla Latte Buttercream a whirl. I predict you'll come back to it again and again!
*Don't miss our full collection of favorite cake, frosting, and filling recipes in our Recipes Section! Or, learn to beautifully decorate your cakes with our growing collection of Free Cake Tutorials!