We are so excited to share an adorable buttercream unicorn cake tutorial with you! Unicorn themed cakes and sweets are a huge trend right now, and so we thought that we'd join in on the fun!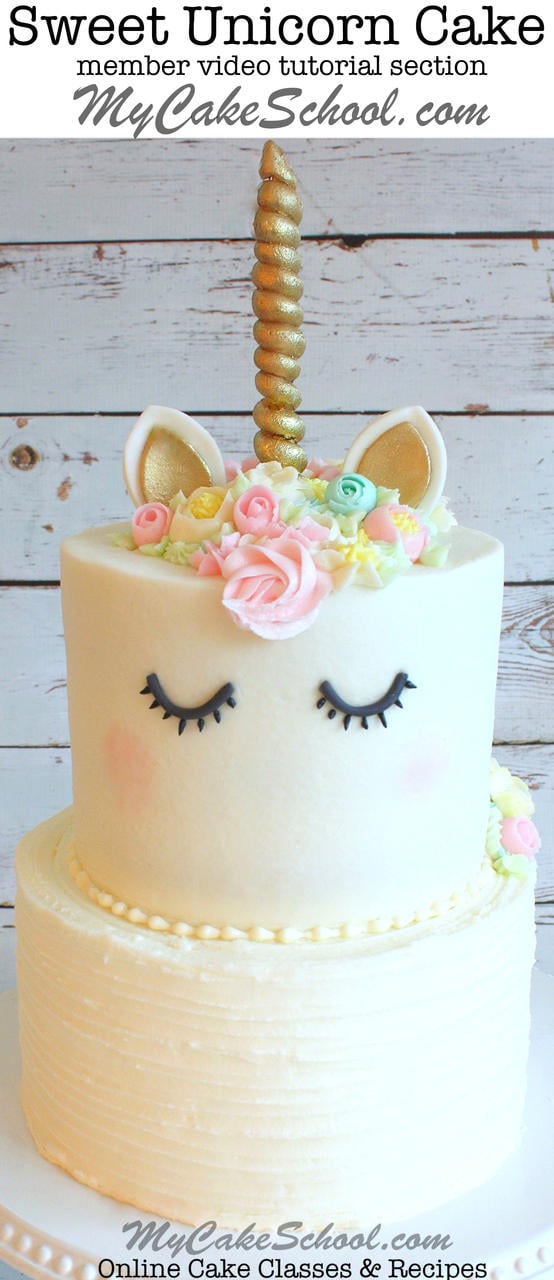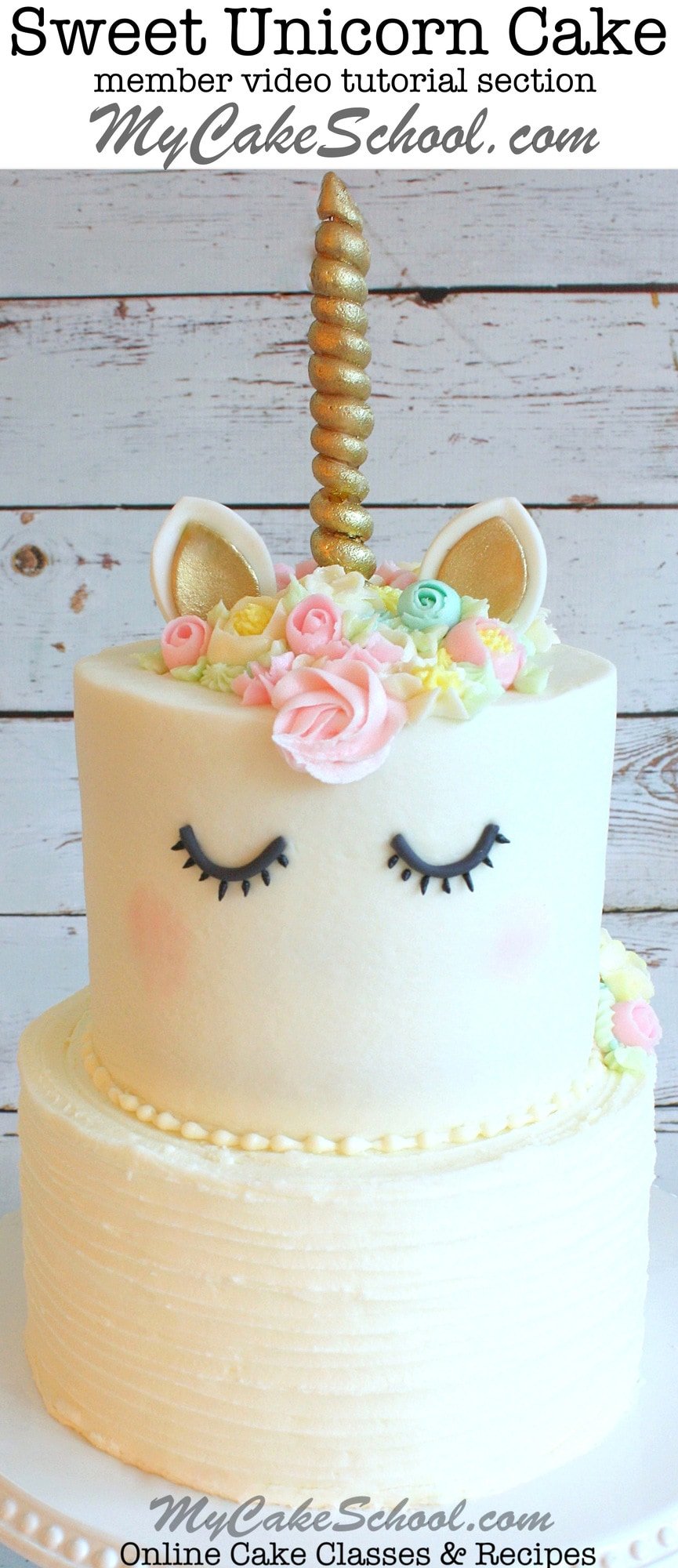 Our sweet unicorn cake is a sweet and simple tiered buttercream cake design but it could easily be created in fondant also. It could also be make as just a single tier. I was inspired by the many, many CUTE unicorn cakes that have popped up all of Pinterest, and among them is JennaRaeCakes.com who many credit as the first (or at least among the first) to popularize this sweet design!
We hope that you enjoy the tutorial!
Materials for Buttercream Unicorn Cake:
We used one 8" tier and one 6" tier, each on their own cardboard cake circle. The top tier was supported by 4 bubble tea straws that were inserted into the bottom tier beneath it.
Buttercream Frosting recipe of choice. (We used our crusting Fluffy Vanilla Buttercream with high ratio frosting, however our Classic Vanilla Buttercream is a great option also!
Coloring Gels: Americolor Super Black, Deep Pink, Lemon Yellow, Ivory, Wilton Leaf Green
Piping Tips: Any variety of large and small star tips is fine. We used 2D, 1M, 21, and a Tip 3 for the bead border & lashes, 104 tip for petals, 133 grass tip, 352 leaf tip
Fondant: Small amount of black fondant for the eyes, then ivory fondant for the horn. White fondant (with tylose kneaded into it) for the ears. You could use gum paste for the ears if you'd rather.
Food safe Gold luster dust (We used Rolkem Gold)
Vodka (or lemon extract) to mix with luster to create paint
Pink petal dust + powdered sugar for "blush" (optional)
Pipiping gel or your "glue" of choice
Wooden Skewer for "horn"- ours was approx 10 inches
lollipop sticks (or skewers) for anchors for ears
Rose Nail and Waxed Paper Squares if piping flowers
Miscellaneous: Small paintbrushes, Small offset spatula (ridged buttercream), turntable is helpful, bench scraper is helpful for applying the frosting, Viva paper towel (if using the viva method of smoothing your crusting buttercream)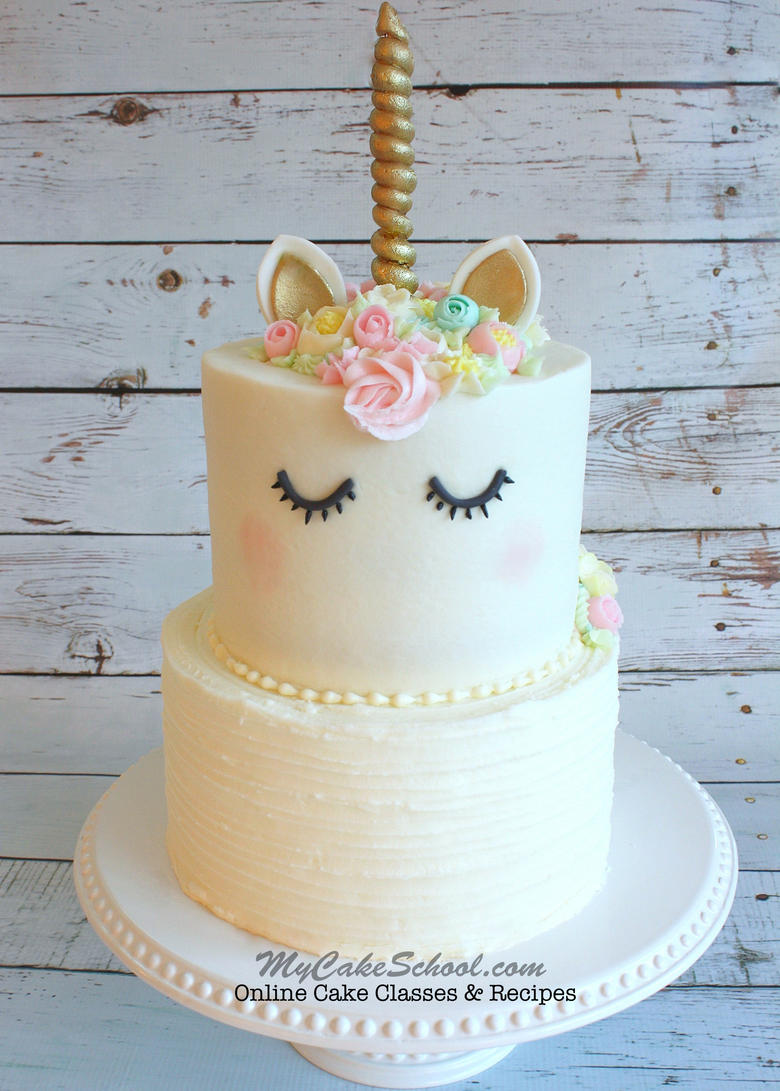 Helpful Hints:
I always like to chill my tiers until firm before stacking, especially when working with buttercream frosted cakes.
The eyes could be piped in buttercream also but we chose to make them fondant as a more forgiving choice. As long as the buttercream tier is chilled, you can move around the fondant eyes a bit if needed.
We made stars and rosettes for the mane but any variety of piping or flowers would look nice!
Enjoy the Video!
Thanks so much for stopping by! We hope that you will give this sweet buttercream unicorn cake a try. If you do, make sure to leave a comment and photo below. We would love to see!
We also have a fun unicorn cake topper tutorial here: Easy Unicorn Cake Topper