Thanksgiving Cornucopia Cake Tutorial
Today I'm going to demonstrate how to make a beautiful Thanksgiving Cornucopia cake topper!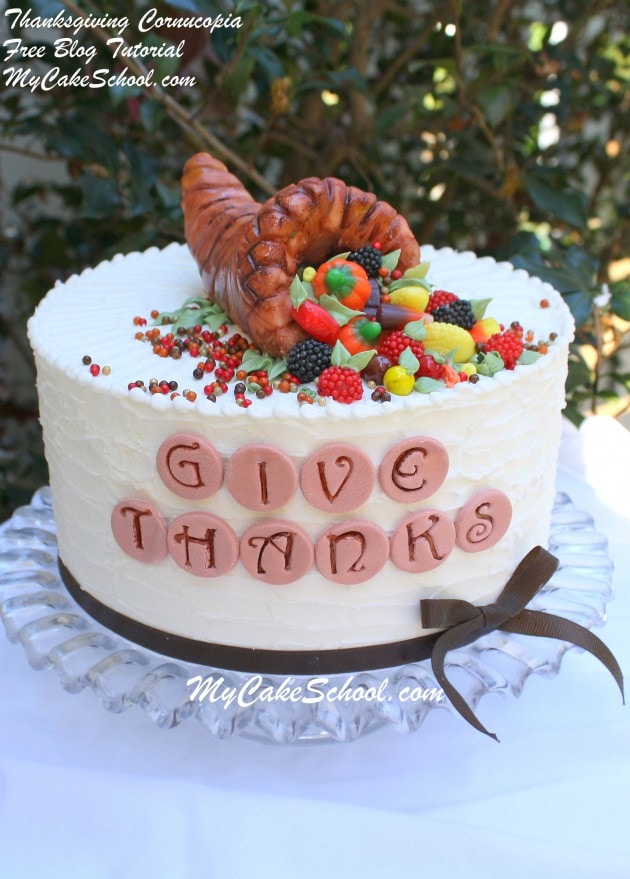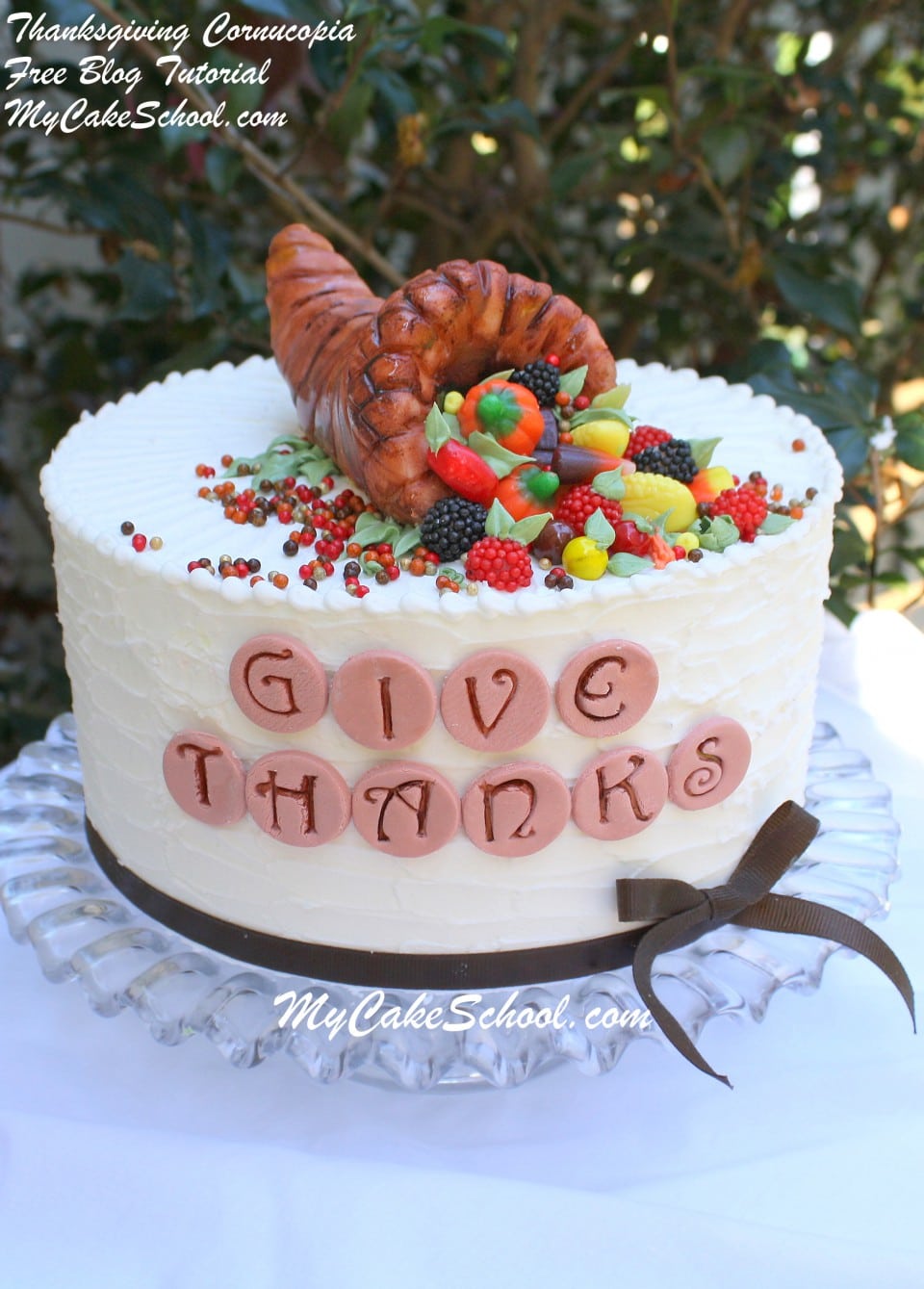 Today was my first try at creating a cornucopia cake topper, but it came together surprisingly quickly! With rice cereal treats on our side, anything is possible!
This will not only make a great cake topper, but for all of the cookie or cupcake fans out there, it would also make a great centerpiece for the middle of your dessert platter.
Let's get started...
How to Make a Thanksgiving Cornucopia Cake Topper
First, I mashed and shaped four Rice Krispies Treats (22g) together into the shape of a cornucopia.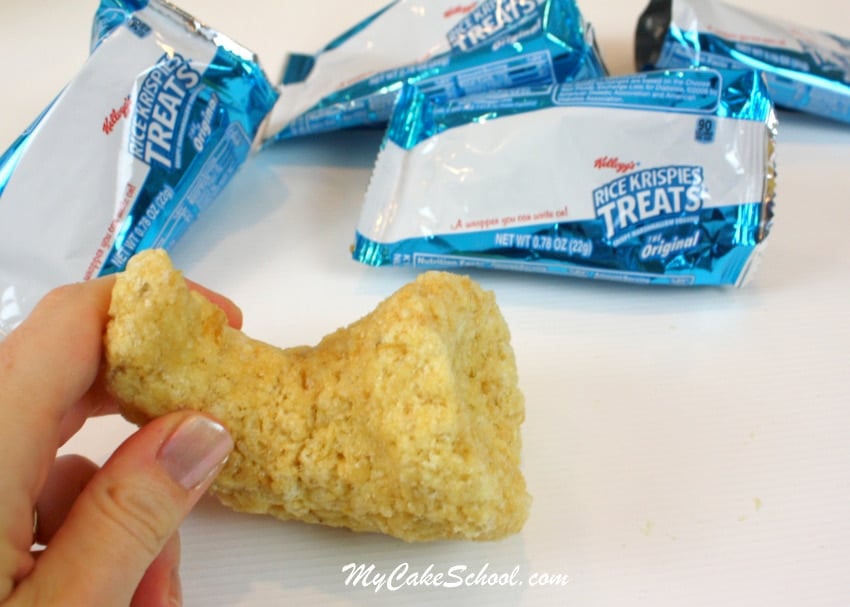 You can see in this photo how I made a depression where the opening of the cornucopia would be, to give it a little depth. I also rolled out some white fondant. (Gum paste would be fine too if you would rather!)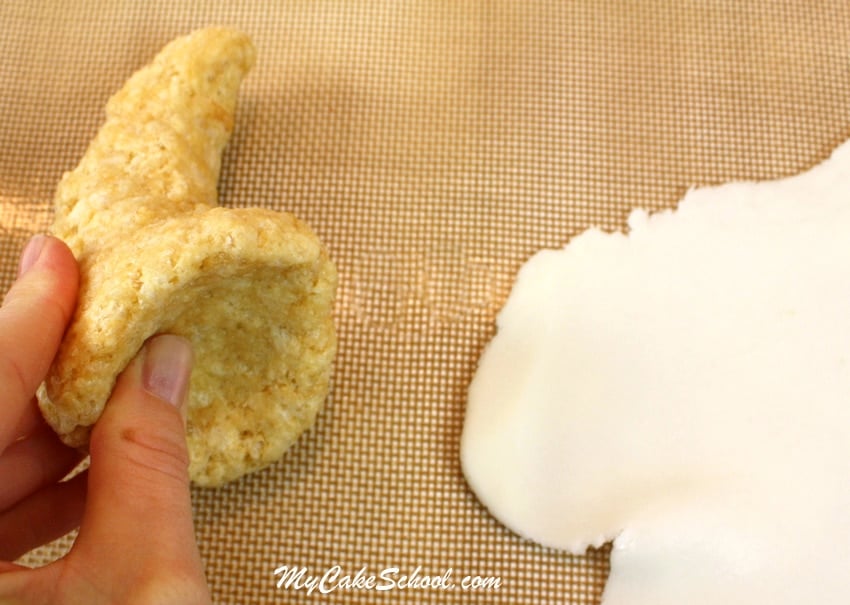 Next, I rubbed a light coating of vegetable shortening onto my cereal treat cornucopia before covering it with a layer of fondant. I trimmed away the excess with a pizza wheel.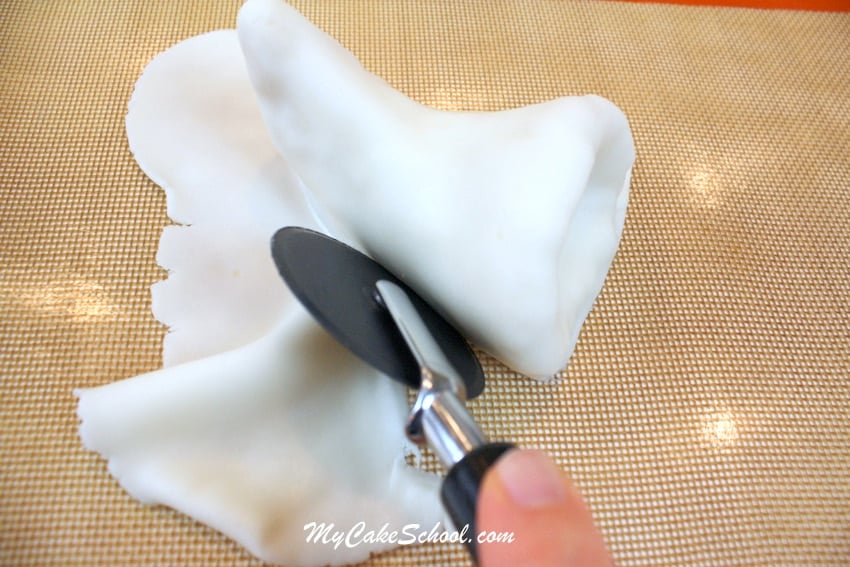 Next, I used a toothpick to create impressions. (Use whatever you'd like...the dull side of a knife, paintbrush handle, scriber needle, etc.)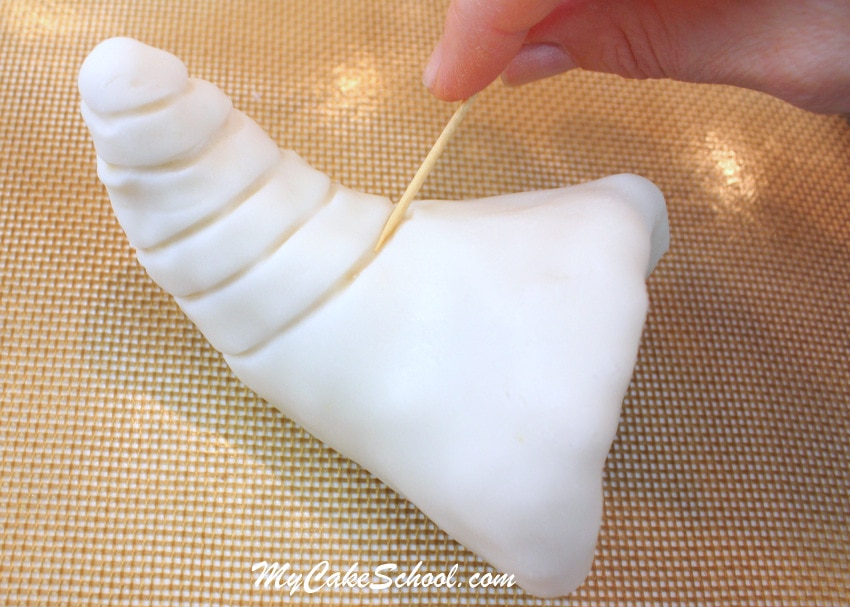 Next, it was time to paint! I painted the cornucopia with Americolor Chocolate Brown, which was diluted a bit with vodka. Mixing vodka (or even lemon extract) with coloring gel is really helpful when painting because the alcohol greatly speeds up the dry time. If you'd prefer not to paint, you can tint your fondant brown with coloring gel from the beginning.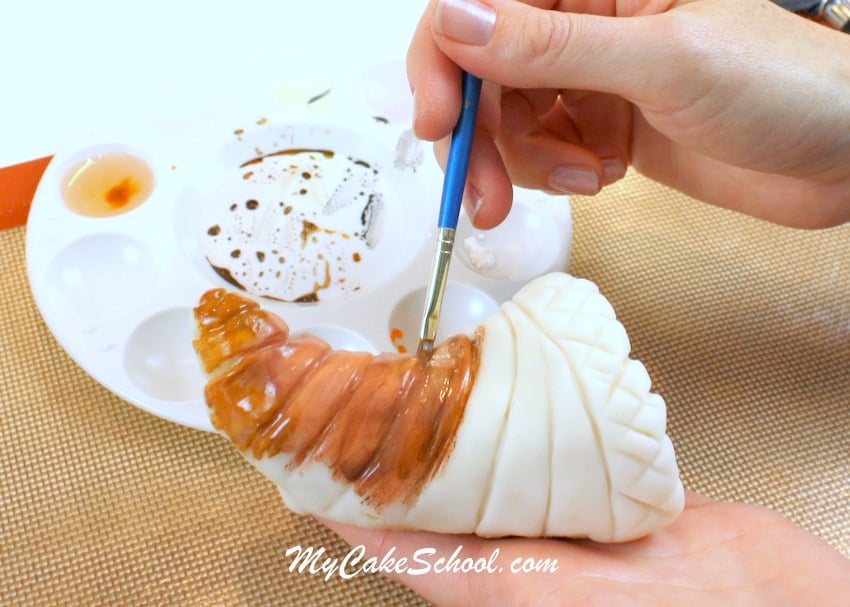 Here's our cake of honor, an 8" cake which is frosted with our Classic Vanilla Buttercream Recipe. I used my small offset spatula to give it a little texture.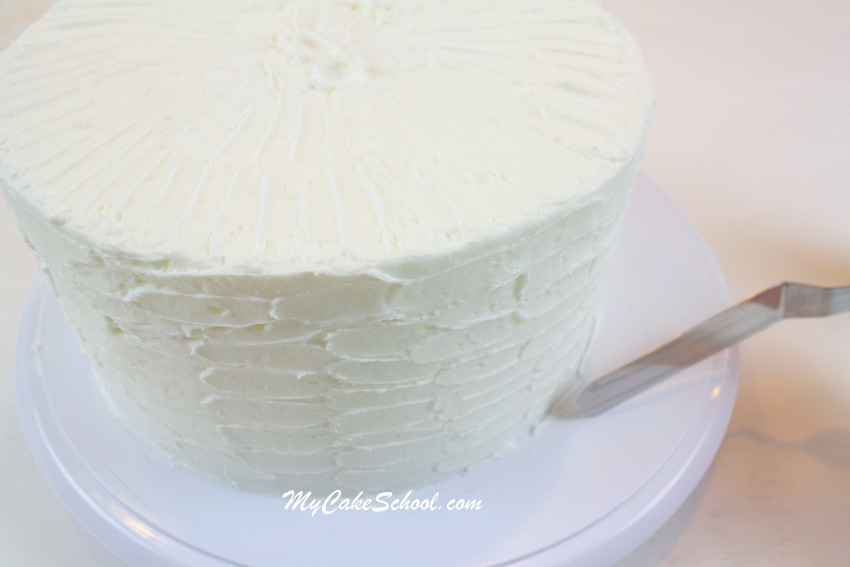 Here you can see that I pushed a bubble tea straw (cut to the height of the cake) into the center. This is an optional step, but it's not a bad idea to add a support beneath your cake toppers to prevent any chance of sinking.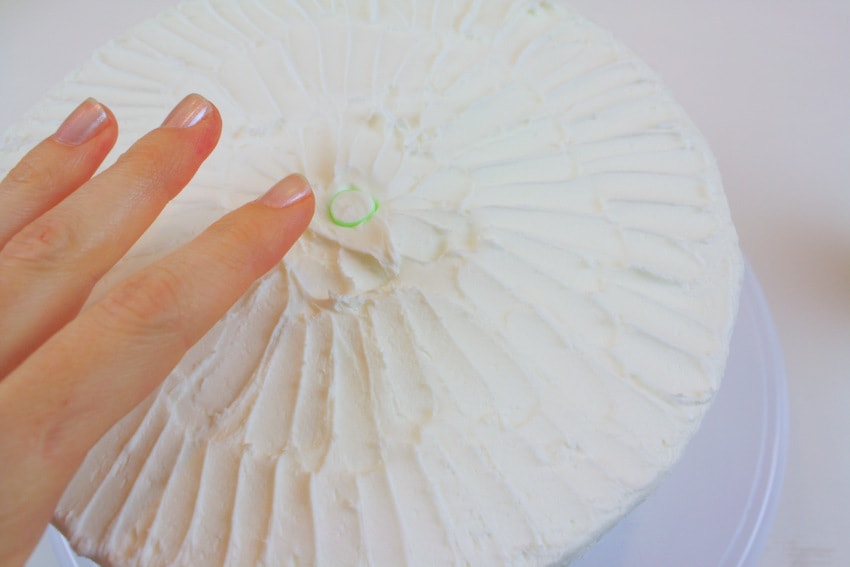 Next, I rolled out a bit of fondant (tinted Americolor Chocolate Brown), and used my 2D piping tip to cut out circles.
Using a Stone Stamp Set (aff.), which can be found online and often at craft stores (like Michael's, etc.).
I embossed the fondant circles to spell our Thanksgiving message. I used a little of my vodka/coloring gel paint to darken the letters so that they would pop out a little more, but that is optional!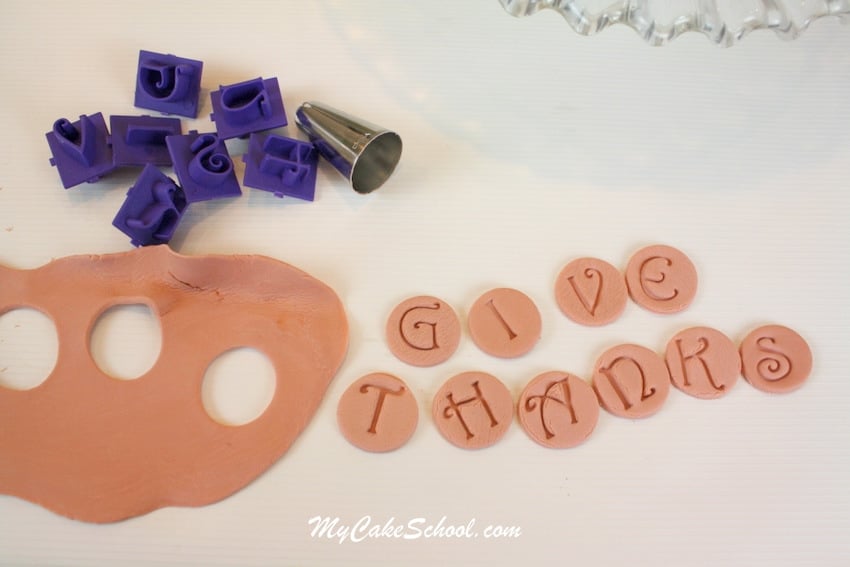 I placed the cornucopia onto our cake and filled it with assorted colorful fall candies--you have some flexibility with this step.
Use whatever candy or piped designs you'd like. I went to our local candy store and bought a little bit of everything...(gummi raspberries, Sixlets, Indian Corn, and candy pumpkins).
I filled in with fall colored sprinkles and buttercream leaves (tinted Americolor Avacado Green and piped with a leaf tip 352).
I glued our fondant letters onto the cake with a little bit of buttercream.
As a final touch, I piped a small bead border around the top edge with a Wilton tip 4, and used a brown ribbon to create my bottom border. (When I use ribbon on a cake, I lightly grease it with a little vegetable shortening to prevent splotchiness.) -
That's it! I love how this sweet cornucopia topper turned out! If you ever give this fall cake design a try, we would love to see your photos in the comments below!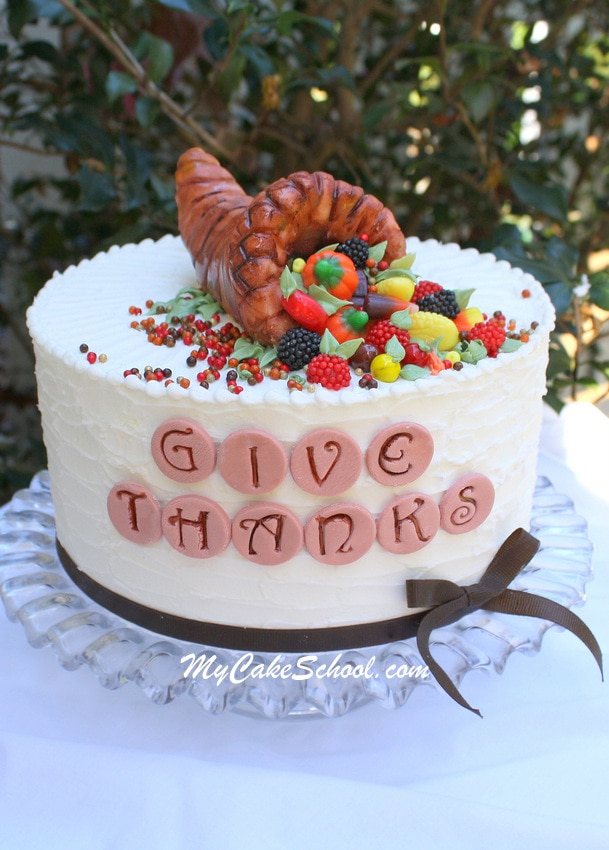 More Fall Recipes and Cake Decorating Ideas!
Interested in even more fall cake designs and favorite cake recipes? Don't miss our roundup! I'm listing just a few of them below, but if you click over to our roundup, you will find many more!
Fall & Thanksgiving Roundup of the BEST Cakes, Tutorials, and Ideas!