This Peanut Butter Buttercream Recipe is one of my all-time FAVORITE frosting recipes. We've made it for years, and I wouldn't change a thing about this flavorful buttercream.
Not only does it taste fantastic, but this buttercream recipe is incredibly easy to throw together. Really, you're just minutes away from this deliciousness!!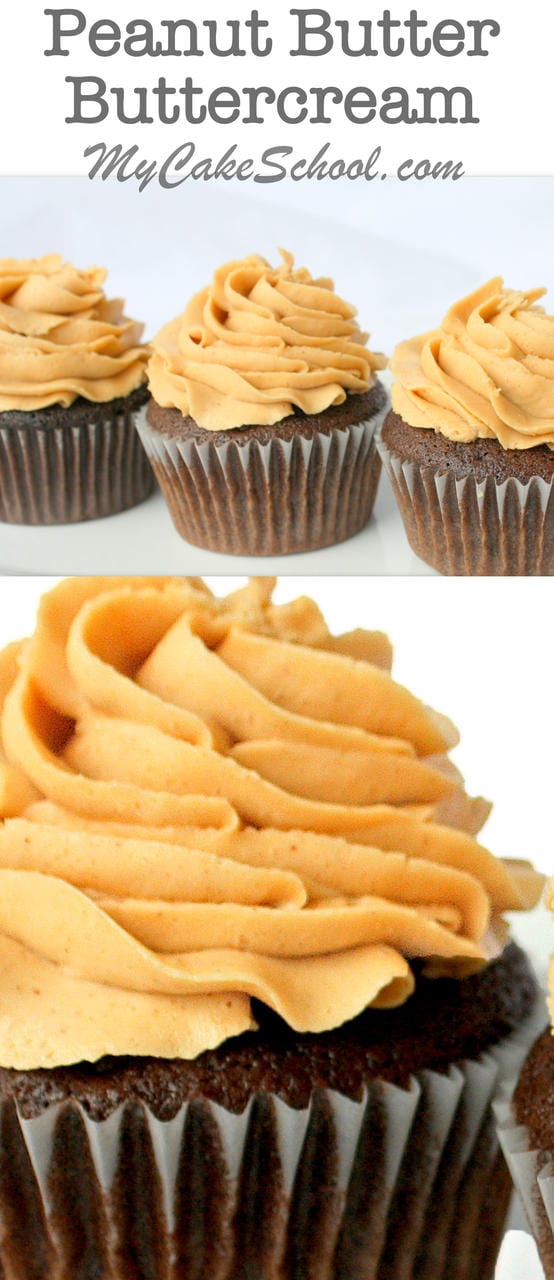 Chocolate cake pairs amazingly well with so many frostings, but this peanut butter buttercream is definitely in my top three. For me, it's a three-way tie between Chocolate & Peanut Butter, Chocolate & Mint, and Chocolate & Coconut. I could never pick a favorite, but I highly recommend making each combo as often as possible (for comparison & research purposes of course!)
Okay, let's get back to the star of our post. There are countless reasons to love this recipe. This peanut butter frosting is perfectly peanut buttery, pipes beautifully, and has a delightfully light and silky texture.
There's no better match for peanut butter frosting than a delicious chocolate cake, is there? You have the sweet and salty flavors from the peanut butter buttercream, and the rich decadence of the chocolate cake. Perfection!
I absolutely love peanut butter buttercream swirled high onto cupcakes, sandwiched in between layers of rich chocolate cake, or injected into the centers of chocolate cupcakes to make them even more irresistible.
(To inject into cupcakes as a filling, simply load a disposable piping bag with peanut butter frosting, snip away the tip, and insert right into the center of the unfrosted cupcake.)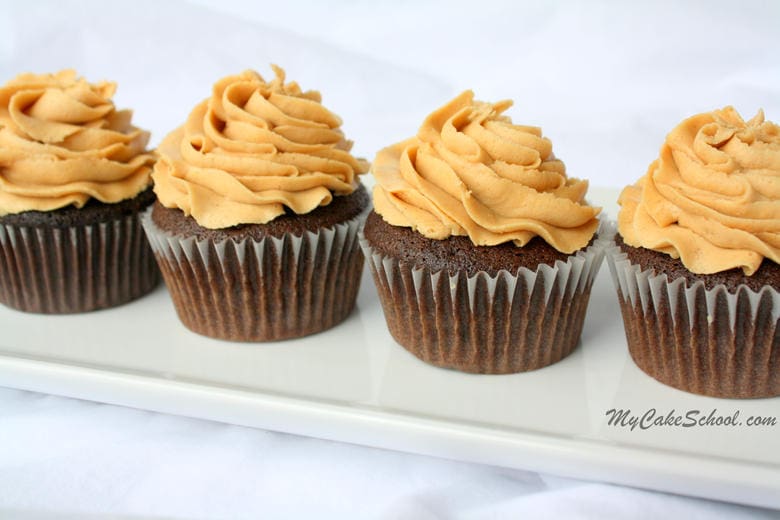 For a little variation (especially when using this as a filling for a chocolate layer cake) I love to stir in mini chocolate chips!
I will warn you that this frosting is extremely addictive…and you may have to hide the bowl immediately after mixing up a batch. The frosting is a lighter consistency than straight peanut butter, so you can easily get carried away with sampling. Haha! I know that I always do. Make it once and it'll be your go-to peanut butter buttercream frosting for life! YUM.
*One important thing to remember when choosing your Peanut Butter is that "natural" peanut butter does not work as well with this recipe. You can still use it if you must, but the consistency is not going to be as smooth and creamy. I recommend peanut butter brands like JIF, Peter Pan, etc.
Looking for the BEST chocolate cake or cupcake recipe? Make sure to save these tried and true favorites! We love our Scratch Classic Chocolate Cake recipe, our Scratch Chocolate Cupcake recipe, as well as our doctored cake mix recipes for Chocolate Sour Cream Cake and Chocolate (Doctored) Cake. 
Enjoy!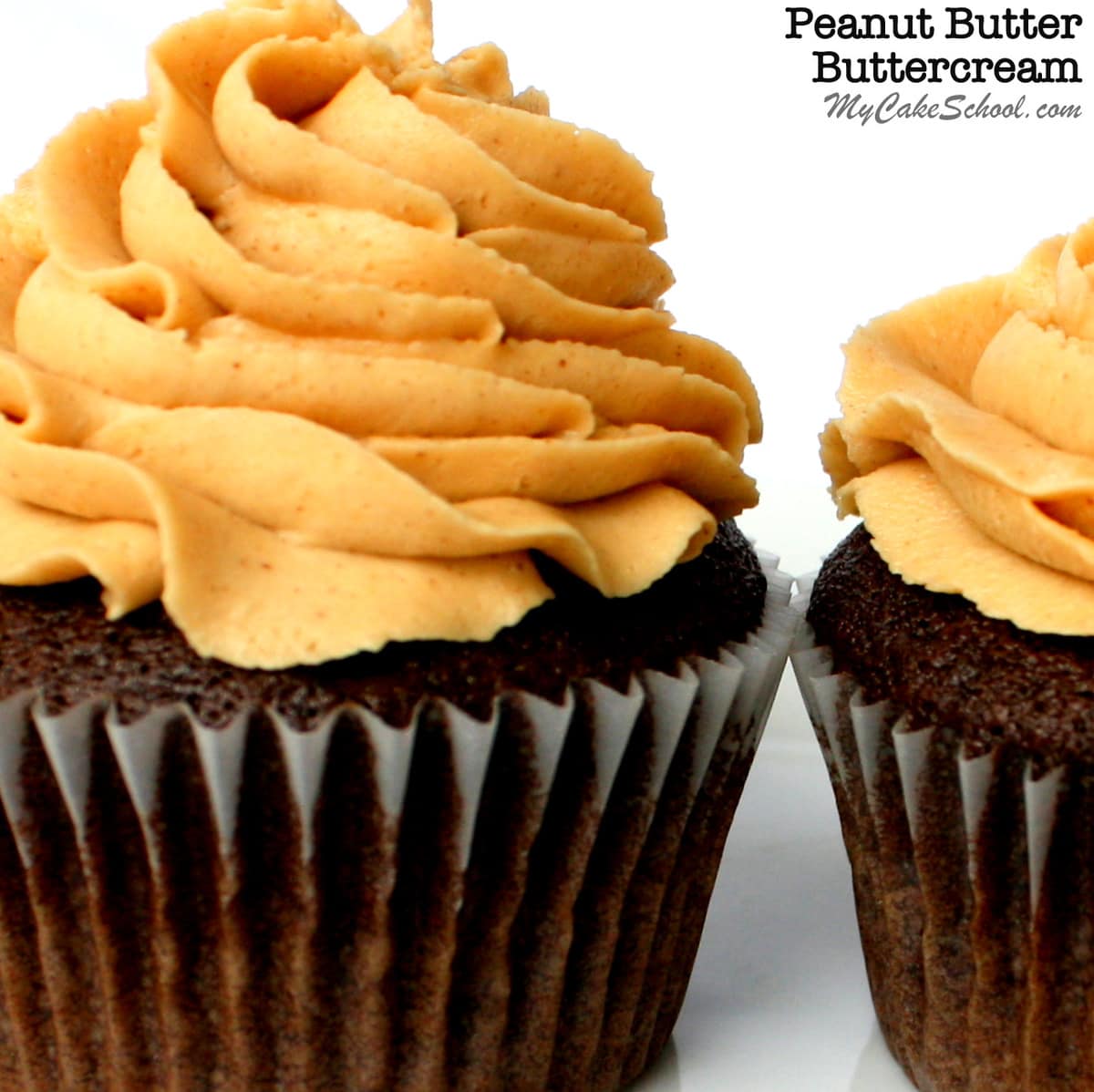 Peanut Butter Buttercream
Ingredients
1 cup ( 256 grams) peanut butter Do Not Use Natural or Reduced Fat. We have used Jif and Peter Pan Creamy brands.
1/2 cup (1 stick) (113 grams) unsalted butter at room temp
2 c. ( 230 grams) Confectioner's Sugar
3 Tablespoons ( 33 grams ) milk
2 teaspoons ( 8 grams ) vanilla extract
pinch of salt
Directions
Blend peanut butter and butter on low speed with electric mixer until fluffy.  Add sugar, milk, vanilla and salt.  Beat on low speed until fluffy again (2-3 minutes).  Yields approx. 3 cups of frosting. (OR- Add mini chocolate chips for a great filling in between cake layers!)
*I use this recipe most often for my Peanut Butter Chocolate Cakes.  Chocolate cake layers, peanut butter chocolate chip filling, and chocolate frosting.  Yum!
 ***Peanut butter brands labeled "Natural" that I have tried do not work as well with this recipe because the consistency isn't as smooth & creamy.  I've used Jif & Peter Pan (Creamy) with good results!
Here is the cake version of our peanut butter cupcakes pictured above!  Peanut Butter and Chocolate Cake  is ALWAYS a crowd pleaser!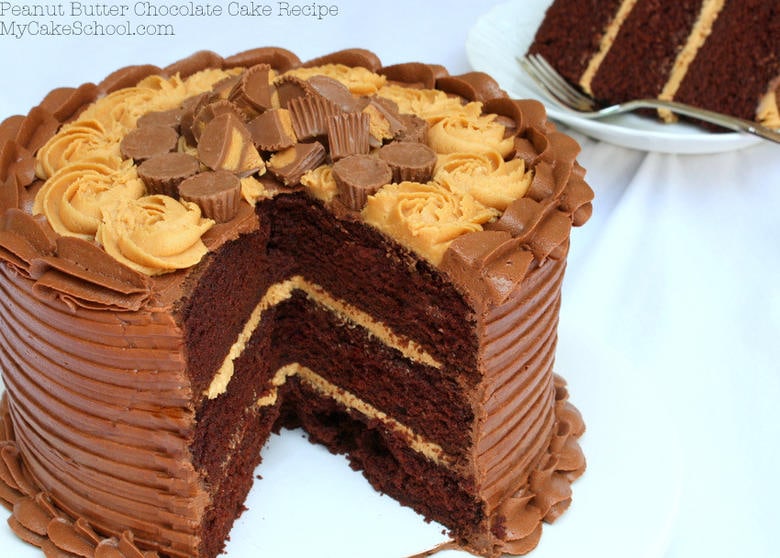 Don't miss our full roundup of our popular cake and frosting recipes in our Recipes Section! Also, if you love simple and creative cake decorating ideas, check out our Free Cake Tutorials Section!
Finally, if you are interested in learning even more cake decorating techniques, you should consider becoming a member of My Cake School! Members have full access to our entire collection of cake decorating video tutorials! For more information, check out our Join Page! We'd love to have you!