There are few flavor combinations that I love more that peanut butter and chocolate- to me, it is the ultimate combo. If you feel the same, you are going to LOVE this Peanut Butter and Chocolate Cake Recipe!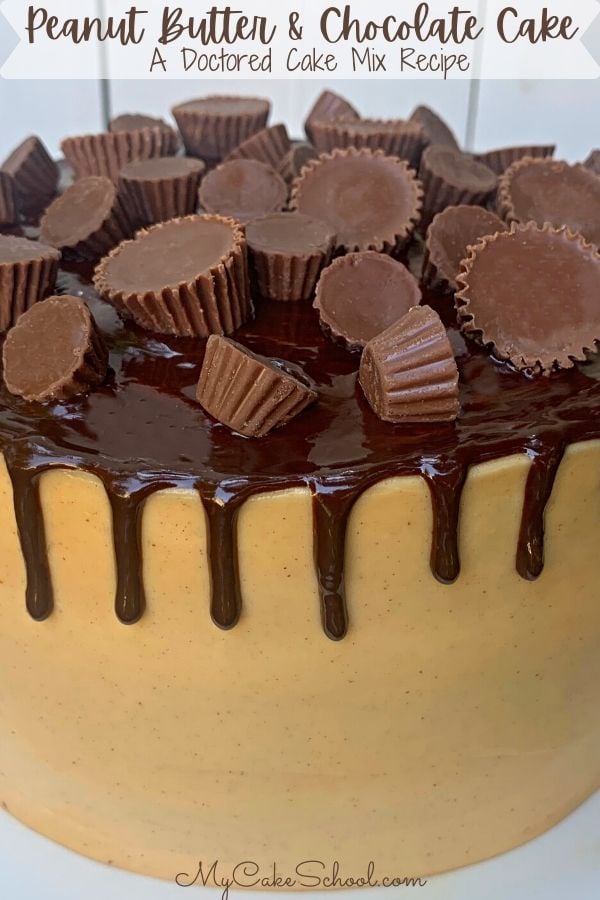 Reese's cups are my favorite candy, and there is nothing better than luscious peanut butter buttercream sandwiched between decadent chocolate cake, frosted in more peanut butter frosting, topped with a rich ganache drip, and loads of peanut butter cups!
For today's recipe, we are using our delicious doctored cake mix-Chocolate Sour Cream Cake recipe, but if you prefer to work with scratch cake recipes, substitute with our Chocolate Sour Cream Cake , Classic Chocolate Cake, or Chocolate Buttermilk Cake recipe ).
How to Make a Peanut Butter Chocolate Cake
*Find the full, printable recipe in the recipe card below.
After baking the three 8 inch chocolate cake layers, (or any cake recipe that I'm making) I like to wrap them individually while they are still warm, wrap in plastic wrap & foil, and then freeze for at least a few hours or until I need them (up to 3 months).
This freezing step is optional but it makes the cake layers even more moist if the cakes are wrapped while still warm.
When you are ready to assemble the cake, remove from the freezer and keep wrapped until condensation begins to form.
Place the first chocolate cake layer on your cake base or pedestal. Then, spread with a layer of peanut butter buttercream frosting. (I LOVE this peanut butter frosting recipe by the way--it is so quick and easy!)
Repeat for the next two cake layers.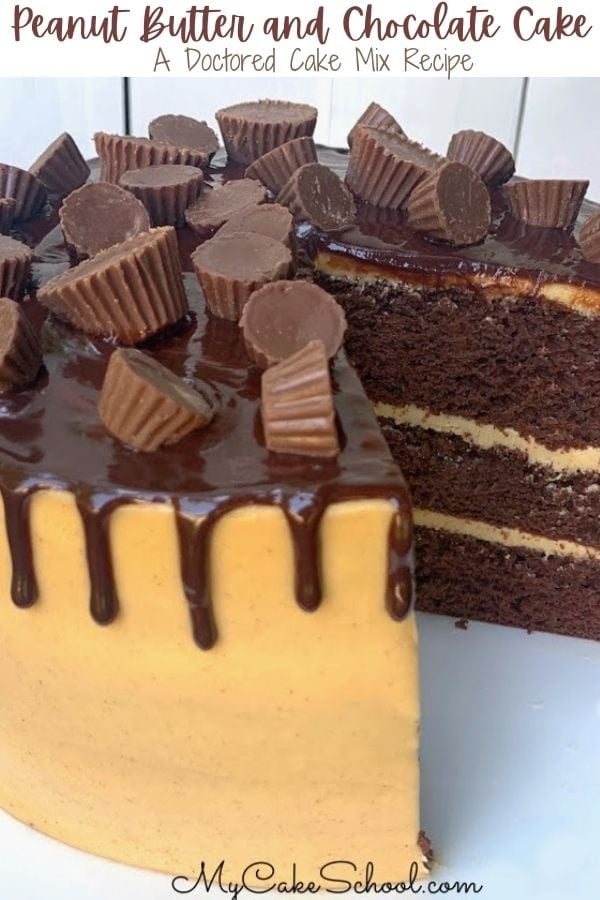 Settling the Cake: Optional Step. I often mention settling my cake tiers after filling them but before frosting. To do this, I wrap the filled, unfrosted tier in plastic wrap and place a weight of some sort on top.
This could be a medium sized book, a cake pan or two...something that will give a light, but not crushing pressure to the cake. While this is optional, all cakes will settle a little bit over time and so it's best to get the settling process out of the way BEFORE adding the final coat of frosting--otherwise, you may have bulges around the sides.
Frosting and Decorating the Cake
Frost the final coat of peanut butter frosting. I like to smooth over it with a bench scraper as I rotate it on a turntable. For extra smooth frosting, you can chill the frosted tier in the freezer for about 20 minutes and then go back over it with a very hot metal spatula or bench scraper.
Applying the Ganache Drip
Finally prepare the quick ganache glaze in the microwave and apply when it has cooled to a good dripping consistency.
I like to load into a disposable piping bag with the tip snipped away and apply the drip around the top edge of the (chilled) cake, and then spoon and spread additional ganache on top.
**You can find additional details (and video) on this process if you'd like more information in our Ganache Drip Post!
Finally, pile miniature Reese's Cups or chopped Reese's Cups on top!
Peanut Butter and Chocolate Cake- A Doctored Cake Mix Recipe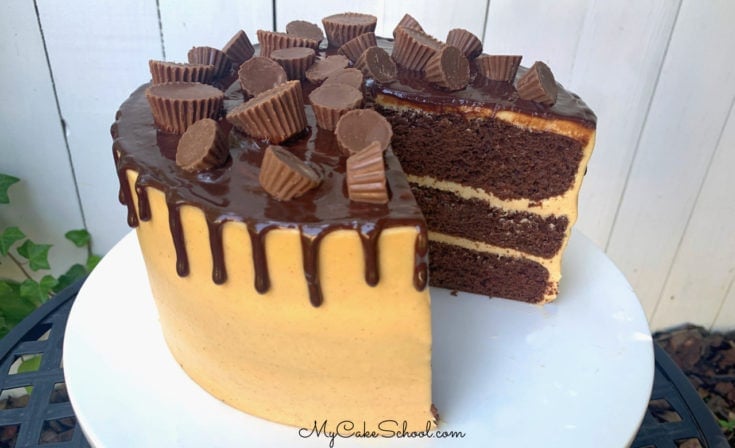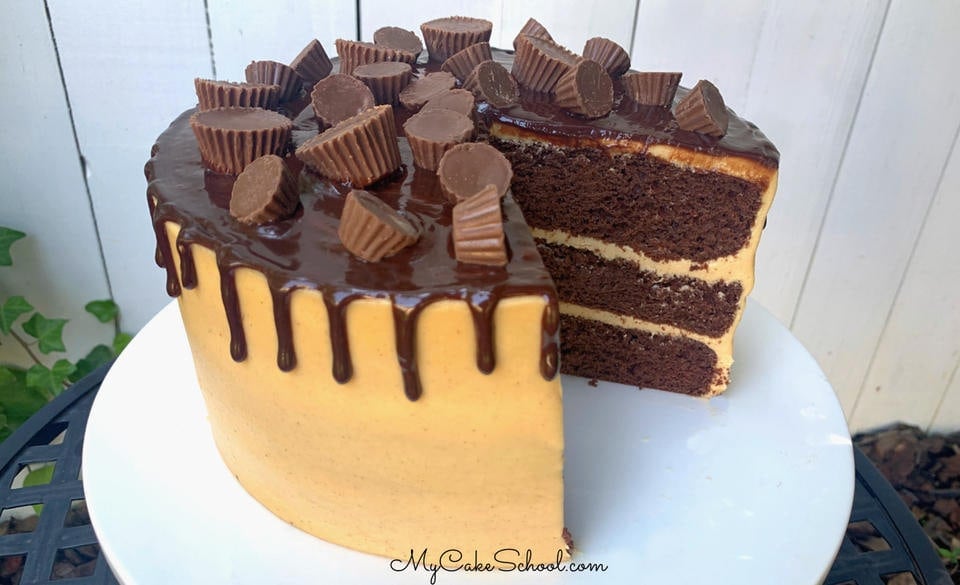 Peanut Butter and Chocolate are a match made in heaven in this delicious, decadent, and surprisingly simple layer cake!
Ingredients
For the Chocolate Cake Layers
** For a deeper chocolate taste you can add 1 tablespoon cocoa powder and replace the water with 1 cup hot strong brewed or instant coffee.
1 Devil's Food Cake Mix ( I sift the cake mix, but it is optional)
1 cup all purpose flour
1 cup granulated sugar
¼ teaspoon salt
1 cup sour cream
1 cup water (We usually replace the water with 1 cup of hot brewed or instant coffee, it enhances the chocolate flavor.)
3 whole eggs
2 ½ teaspoons vanilla
For the Peanut Butter Buttercream Frosting
1 cup ( 255 grams) Creamy Peanut Butter Do Not Use Natural or Reduced Fat. We have used Jif and Peter Pan Creamy brands.
2 sticks (226g) unsalted butter, slightly softened
4 c. (460g) powdered sugar
¼ cup (60g) milk plus 2 Tablespoon - use more if needed to reach the consistency you like
2 teaspoons ( 8 grams ) vanilla extract
pinch of salt
Ganache Drip (optional)
6 oz (171g) Chocolate (Semi-sweet or Dark) We used Ghirardelli
6 oz (171g) Heavy Cream
Decoration
We used small Reese's Peanut Butter Cups as the topping. If you'd like, you can crush additional pb cups to use in between the layers as well.
Instructions
For the Chocolate Cake Layers
In a separate bowl, combine the dry ingredients and stir or whisk to blend. In your mixing bowl, combine sour cream, water, eggs, & flavorings. Add about ½ of the dry ingredients and blend together, then add the rest of the dry ingredients & mix on medium speed for 2 minutes.
Pour into three 8 x 2 inch round pans that have been greased and floured. Bake at 325 degrees until the middle of cake springs back when touched or a toothpick inserted into the center comes out clean or with just a few crumbs attached.
*This also works well for cupcakes! Bake cupcakes at 350 degrees for 18 to 20 minutes. Remove cupcakes from the pan immediately and cool on a baking rack.
For the Peanut Butter Buttercream Frosting
In the bowl of your mixer add the butter and mix on medium speed until the butter is softened and smooth. Add the peanut butter and mix until blended.
Gradually add the powdered sugar alternately with the milk. Add vanilla. Mix on medium speed 4 to 5 minutes until smooth.
***Peanut butter brands labeled "Natural" that I have tried do not work as well with this recipe because the consistency isn't as smooth & creamy. I've used Jif & Peter Pan (Creamy) with good results!
For the Ganache Drip
Place your chocolate into a microwave safe bowl.
Pour heavy cream over the chocolate and place in the microwave for 1 minute. (Times may vary, see our note below).
Remove and stir. Microwave for 30 seconds more and when the chocolate has melted almost completely, allow it to sit for 1 minute more before stirring. Stir until you've reached a silky smooth consistency.
*Microwave times may vary. If you are making a smaller amount of ganache, you will reduce the microwave time. If your chocolate hasn't melted after the 1 ½ minutes recommended in the instructions, simply microwave in small 10-15 second increments until it has nearly completely melted. Let sit one minute, then stir until smooth.
JOIN US FOR THE BEST CAKE RECIPES AND CAKE DECORATING TUTORIALS!
We hope that you enjoy the recipe as much as we have! Don't miss our full collection of tried and true cake and frosting recipes from our Recipes Section!
You can also find fun cake projects in our Free Tutorials Section. Or, if you are interested in accessing our entire collection of hundreds of cake decorating tutorials, you should consider becoming a member of My Cake School! We would love to have you!
Memberships are $30/year and will give you access to every video we've made for as long as you are a member. You can find all of the details here: Joining Information for My Cake School.