'Tis the season for cozy mugs of eggnog and even better, it's the season for baking up delicious eggnog cakes!
One of our FAVORITE Christmas cakes is our homemade Eggnog Cake. We just love the blend of nutmeg and cinnamon, and our eggnog buttercream frosting is a perfect match.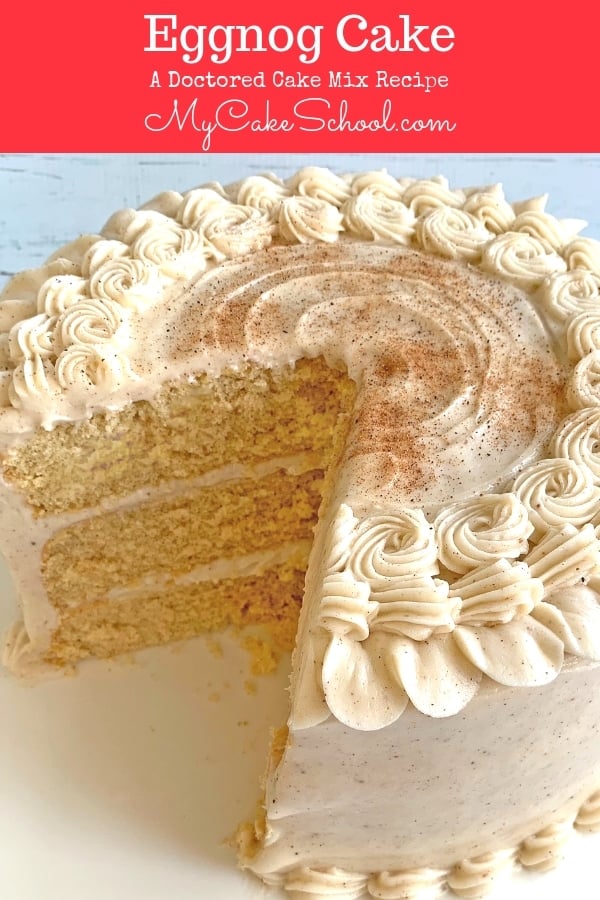 Eggnog is a rich and flavorful milk-based holiday drink that is made from milk, cream, sugar, whipped egg whites, and egg yolks, and spices. Sometimes, alcohol is added for a little extra cheer ;0)
Although you can find tons of homemade eggnog recipes online, grocery stores often keep their shelves stocked with cartons of ready-made eggnog beginning in late November through the holidays.
I never realized how much I loved eggnog until we tried it a couple of years ago in cake form! I just love the richness as well as the combination of spices. It's no wonder it is such a beloved Christmas tradition. One taste and you'll be hooked!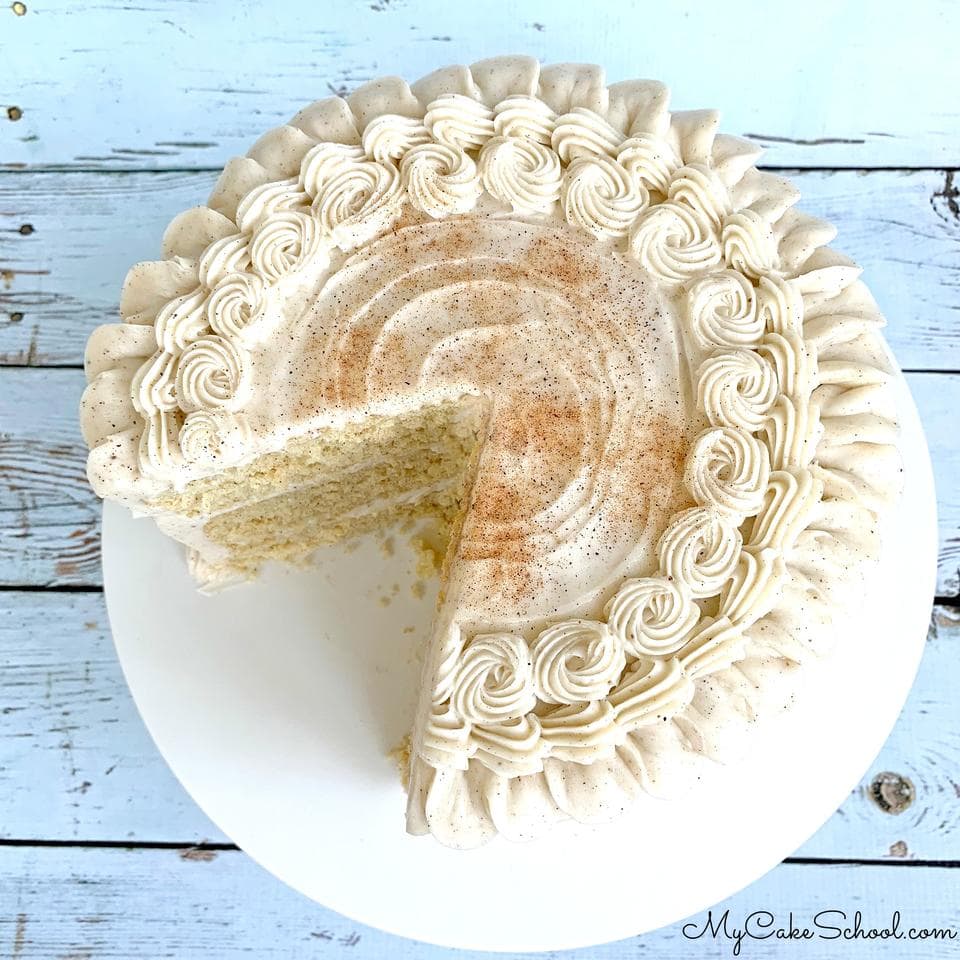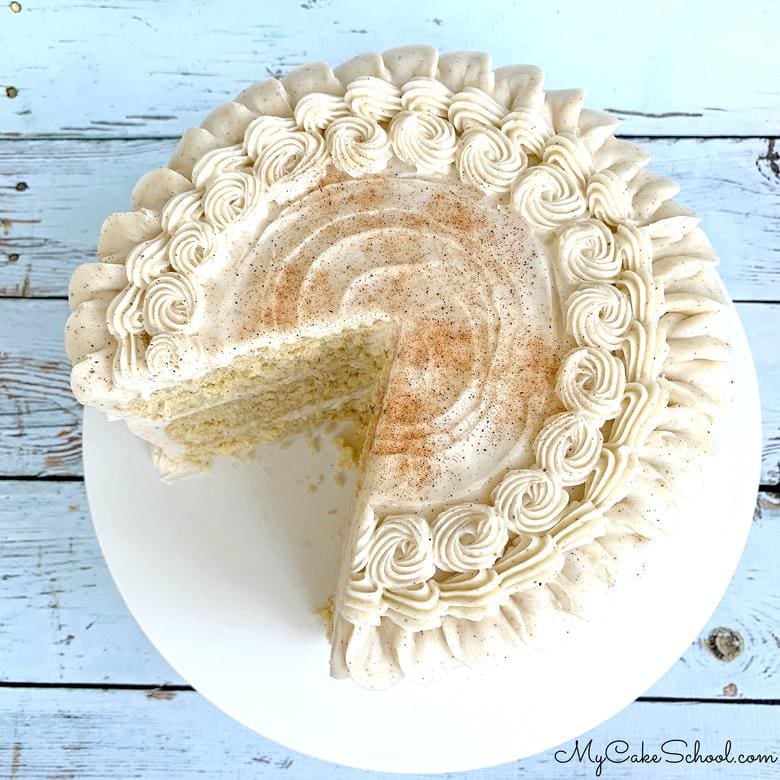 We're excited now to have a doctored cake mix version of this amazing eggnog cake. It's always a good idea to have quick go-to cake recipes for all occasions. Nothing is faster than a doctored cake mix, and we think that you will find the flavor to be pure heaven.
Additionally, we've whipped up a new eggnog frosting recipe– it's an eggnog cream cheese frosting which is much like our classic cream cheese frosting, but with the addition of nutmeg and cinnamon. YUM!
We love to pair cream cheese frostings with spiced cakes and this is no exception! However, as we mentioned above, if you'd rather have a frosting that can stay at room temperature longer, we have an amazing Eggnog Buttercream (listed in our scratch eggnog cake post) as well!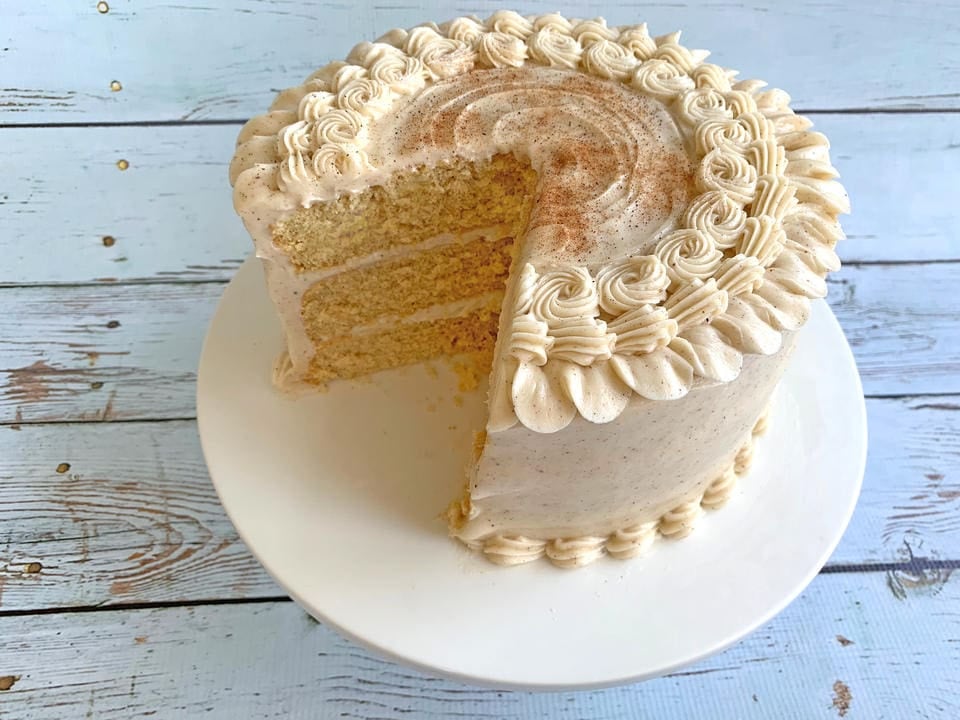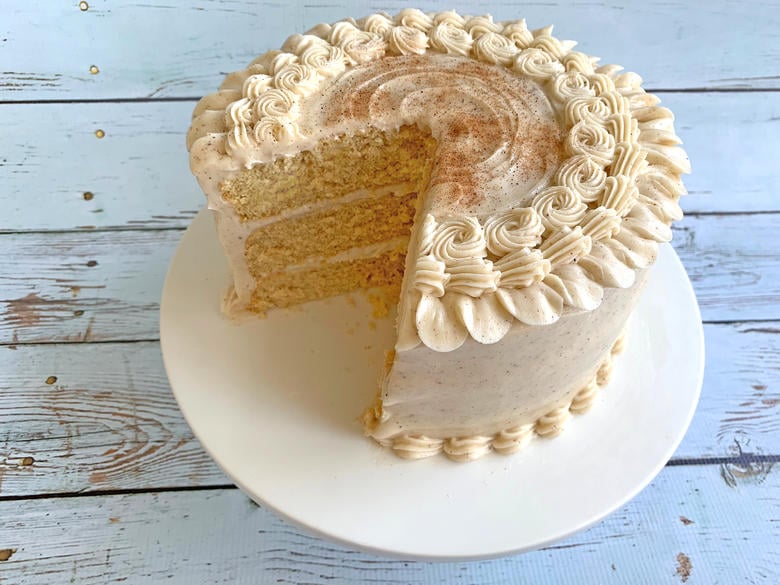 *Want to recreate the piping on this cake? After frosting my filled cake layers as usual (first with a crumb coat, then a second coat of frosting which I smoothed with a bench scraper while rotating on a turntable), I pulled out my petal an star piping tips. I used a petal tip 104 to pipe the outside ring of petals.
Next, I piped a row of shells, followed by a row of rosettes, all with a medium star tip 21. That's it! Very simple, but I love the elegant look.
*When working with a cream cheese frosting, it is best to pipe when the frosting is slightly chilled so that it can hold it's shape better and it won't soften as quickly from the heat of your hands. If it becomes too soft, just pop your piping bag as well as the bowl of frosting into the refrigerator for a few minutes.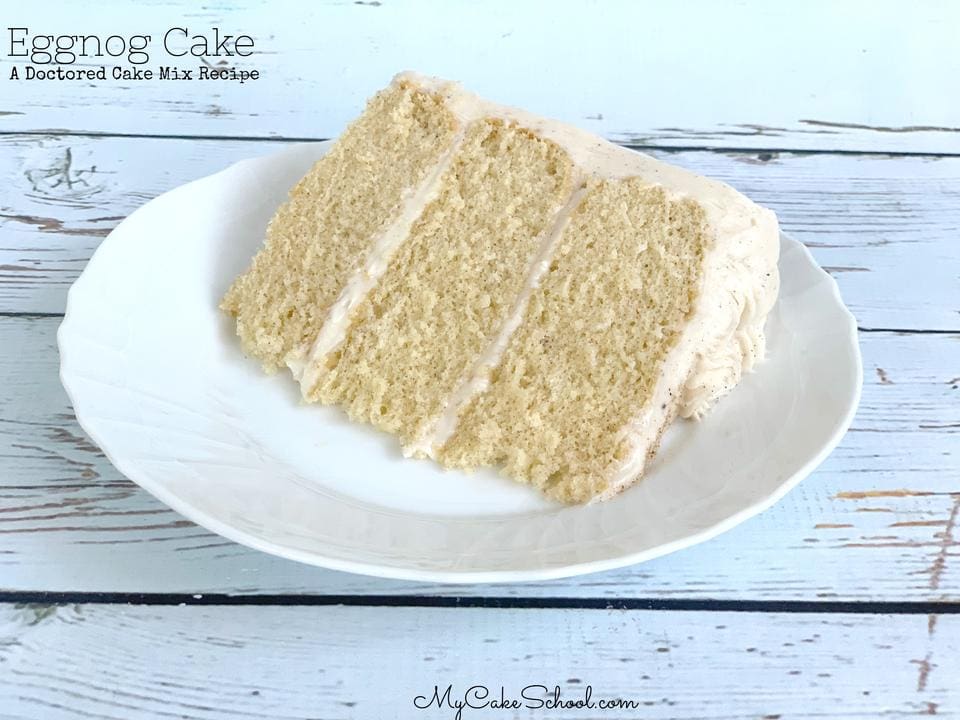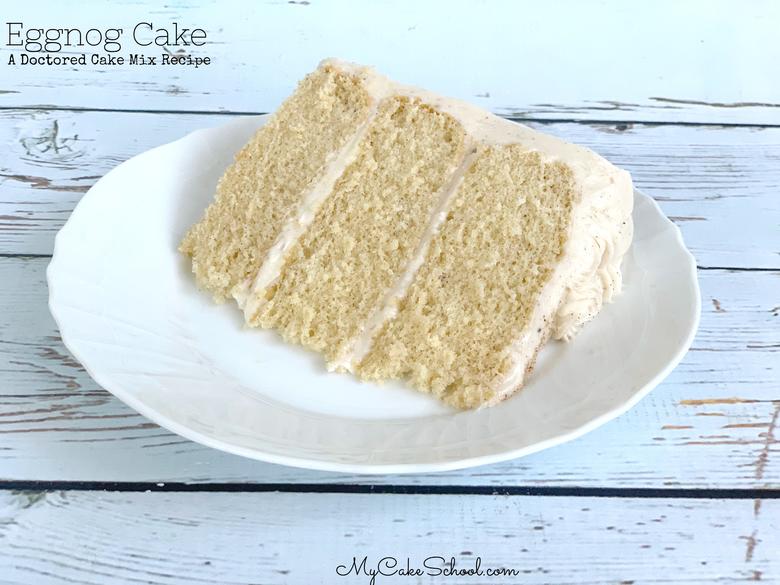 How to Doctor Up a Cake Mix for Eggnog Cake
First, grab your favorite brand of yellow cake mix (we prefer not use the ones that are labeled as having "pudding in the mix". We like to use Duncan Hines Classic Yellow.
Add flour, sugar, and whisk to blend. Some of our favorite doctored cake mix recipes call for additional flour. It not only gives us the bonus of more cake batter, but also lends a homemade quality and texture to the cake.
Next, add the sour cream, eggnog, water, eggs, and spices and mix at medium speed for one minute, scrape the bowl, and mix for a minute more. The addition of the sour cream creates a slightly thicker batter, and a cake that has a soft, velvety texture which is slightly denser than the usual box mix cake.
We hope that you'll keep this recipe in mind for your holiday baking! Also, if you haven't checked it out already, don't miss our full roundup of FAVORITE Christmas and winter cake recipes, tutorials, and ideas! If you make this recipe, we'd love to hear what you think! Make sure to leave a photo or comment below!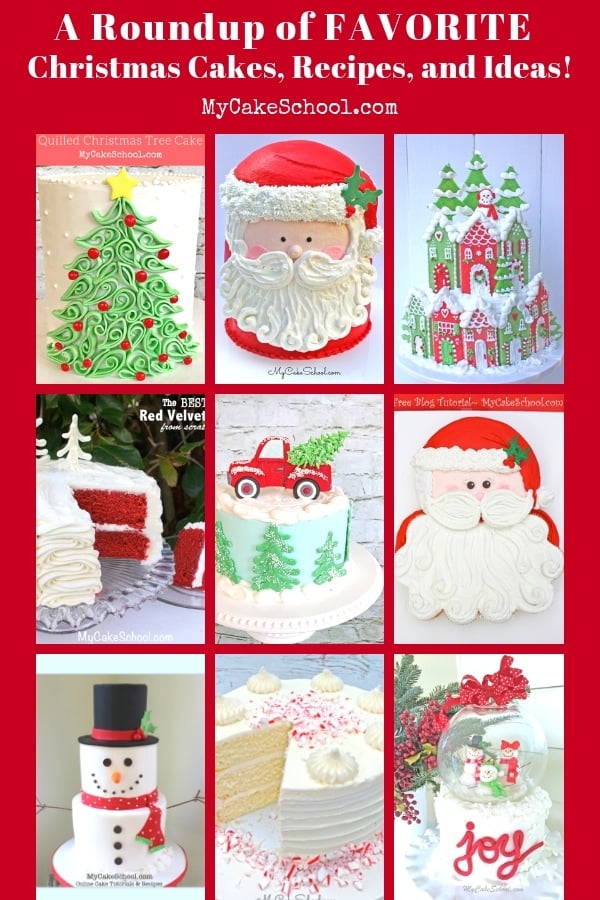 Thanks for stopping by! Don't miss our full collection of favorite cake and frosting recipes in our Recipes Section! These are guaranteed to please any crowd! Also, if you are interested in learning more about cake decorating, we have some really cute and helpful tutorials in our Free Tutorials Section.
If you would like to have full online access to every cake video tutorial that we've made (hundreds!) you should consider joining My Cake School! We would love to have you! You can find all of the details here: Learn Cake Decorating Online
*Having trouble printing the recipe? You can also find it here:Eggnog Cake-Doctored Cake Mix Recipe
Eggnog Cake- A Doctored Cake Mix Recipe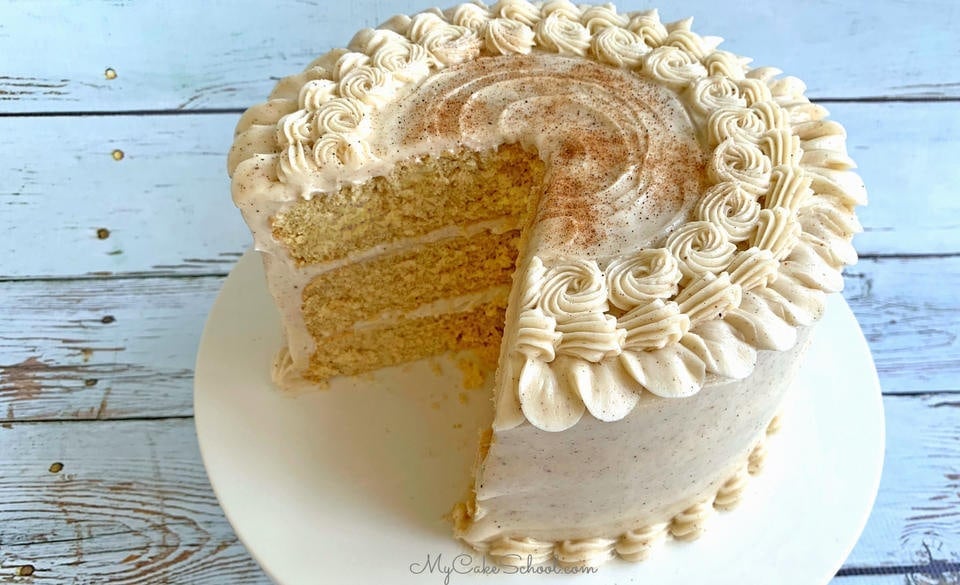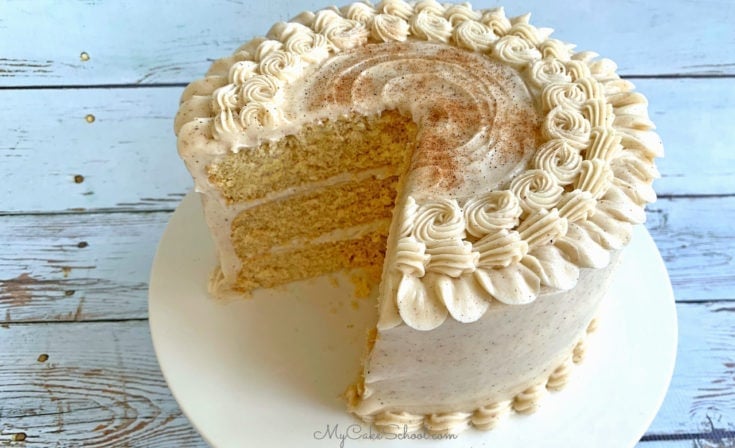 This moist and flavorful Eggnog Cake recipe is so easy and delicious, and it all starts with a simple cake mix!
Ingredients
For the Eggnog Cake
1 package (15.25) (432g) Betty Crocker Super Moist Yellow cake mix ( or your favorite brand without pudding in the mix)
1/2 cup (61g) all purpose flour
1/2 cup (100g) sugar
1/2 cup (121g) sour cream or plain yogurt
1cup  (250g) eggnog (from the dairy section)
1/4 cup (59g) water
3 eggs
1 teaspoon (2g) nutmeg
1 teaspoon (3g) cinnamon
1 teaspoon (4g) vanilla
For the Eggnog Cream Cheese Frosting
2 sticks (1 cup) (226g) unsalted butter, slightly softened
2 (8oz) packages cream cheese (total weight 452g) I use full fat cream cheese. Using reduced fat or the spreadable cream cheese will cause the frosting to be too soft. Soften very slightly.
2 teaspoons (8 g) vanilla extract
1/2 teaspoon salt (2g) optional - it will cut the sweetness, popcorn salt is best to use because it is fine and dissolves faster
1 teaspoon (2g) nutmeg
1/2 teaspoon (2g) cinnamon
6 to 6 1/2 cups (690g to 747g) powdered sugar
Instructions
For the Cake
Preheat the oven to 350 degrees. Grease and flour 3 eight inch round cake pans. Add a circle of wax or parchment paper to the bottom of each pan.
In the bowl of your mixer, add the cake mix, flour and sugar, whisk to blend.
Add the remaining ingredients and mix at medium speed for 1 minute, scrape the sides and bottom of the bowl and mix 1 minute more ( a bit longer if using a hand mixer).
Bake at 350 degrees for 20 to 22 minutes or until toothpick inserted in the center comes out clean. Let cool on a wire rack for 5 minutes, then turn out of the pans.
For the Eggnog Cream Cheese Frosting
Cut the butter into slices and add to the bowl of your mixer. Beat on low to medium speed until the butter is softened and smooth.
Cut the cold cream cheese into pieces and add to the butter, beating at low to medium speed until incorporated. If you are using a hand mixer you may need to soften the cream cheese a bit more.
Add the vanilla, nutmeg, and cinnamon. Gradually add the powdered sugar beating on low speed until blended. Cover the bowl with a towel to keep down the cloud of powdered sugar.
Increase mixing speed and beat until fluffy. Don't over beat or it will become too soft. If it becomes too soft, just refrigerate a short while to firm it up a bit.
This frosting will pipe best if used while still chilled. You can make it in advance, refrigerate and when ready to use let it soften slightly (do not microwave) and remix.
Will frost a 3 layer 8 or 9 inch cake.