Fairy House Tree Stump Cake Video
We're excited to share our Fairy House Tree Stump Cake with you! If you love fairy themes, this is such a sweet cake design to try!
In this cake decorating tutorial, we'll show you show to create a simple buttercream tree stump cake, which is perfect for woodland themes.
However, we've taken it a step further and transformed our simple tree stump cake into an adorable fairy house design.
We just love how it came out!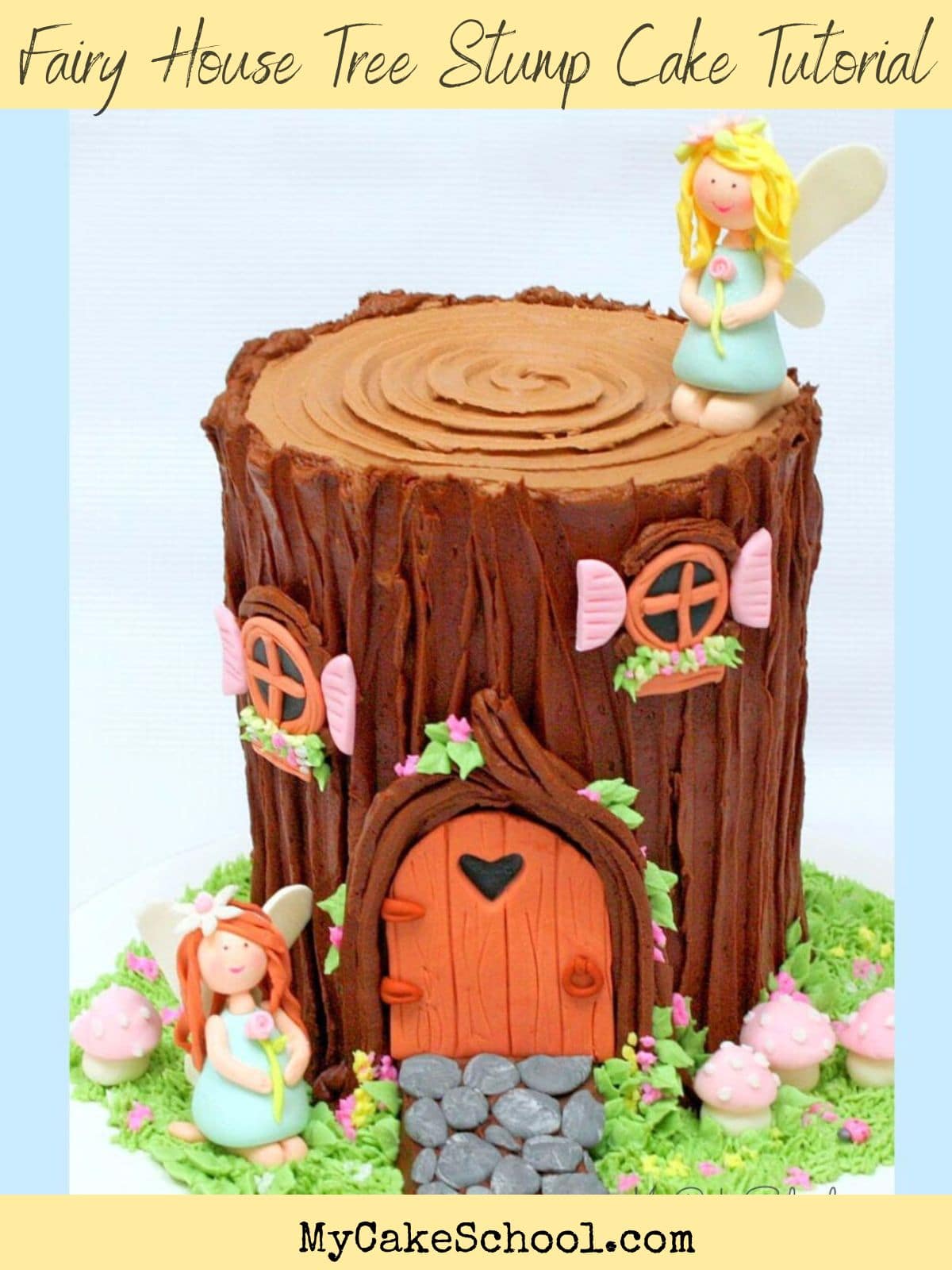 Sweet fairy garden cakes continue to be popular in cake decorating, and this simple tree stump design with its welcoming entrance and cute modeled fairies would make an adorable birthday cake.
Fairy Cake Materials:
For our tree stump, we used four 6 inch layers of our White Almond Sour Cream Cake (scratch) recipe.
We used 4 bubble tea straws for support in the bottom tier, two cake cardboards cut down to size, and the base was three 12 inch cake cardboards wrapped with a white plastic tablecloth pulled tightly and secured beneath.
Gum Paste (or fondant with tylose kneaded into it)
Classic Vanilla Buttercream (used for accent colors and to lighten the chocolate frosting for the top of the stump)
Templates for Fairy Wings and Door
Coloring Gels- Americolor Copper (skin tone), Warm Brown, Avocado Green+ Mint Green for grass & leaves, Lemon Yellow, Sky Blue, Deep Pink, Super Black
Food Coloring Pens- Black and Pink (If you don't have this, combine coloring gel with a touch of vodka or lemon extract to create a paint.)
Pink Petal Dust- Optional (for rosy cheeks)
Piping Gel for adhesive
Rice Cereal Treat to create incline for the stone walkway (we used one 22g. bar)
Miscellaneous: I used a bench scraper to smooth & remove excess frosting, a small angled spatula for creating texture in the buttercream, parchment
Wilton small daisy cutter (this was from a set), and small heart cutter for door.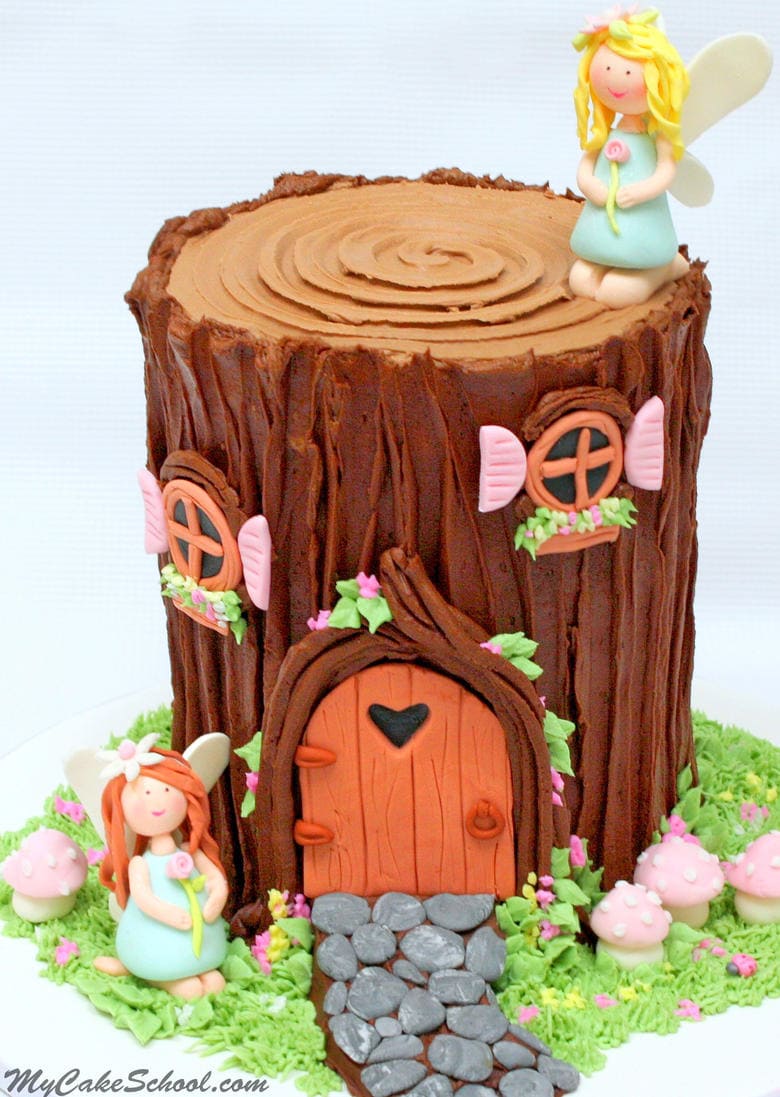 Notes about Figure Modeling
Here are a few helpful tips to keep in mind as you work on your fairy cake!
Gum Paste Dry Times Can Vary
Dry times can vary greatly depending on the humidity in your area, the brand or recipe of gum paste (or fondant) you are using, etc. We used Satin Ice brand gum paste and the fairy wings were firm enough to use after about 24 hours. If you are using fondant with tylose kneaded into it, it may take longer.
*Make an extra set of fairy wings just in case of breakage.
*For the fairy on top of the cake, you may want to make a hole in the bottom with a lollipop stick so that if you need an anchor for stability, you can easily slide one in.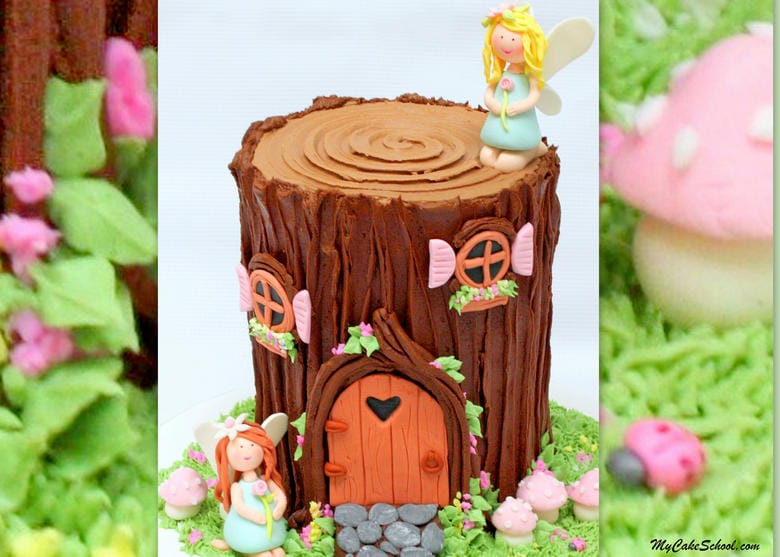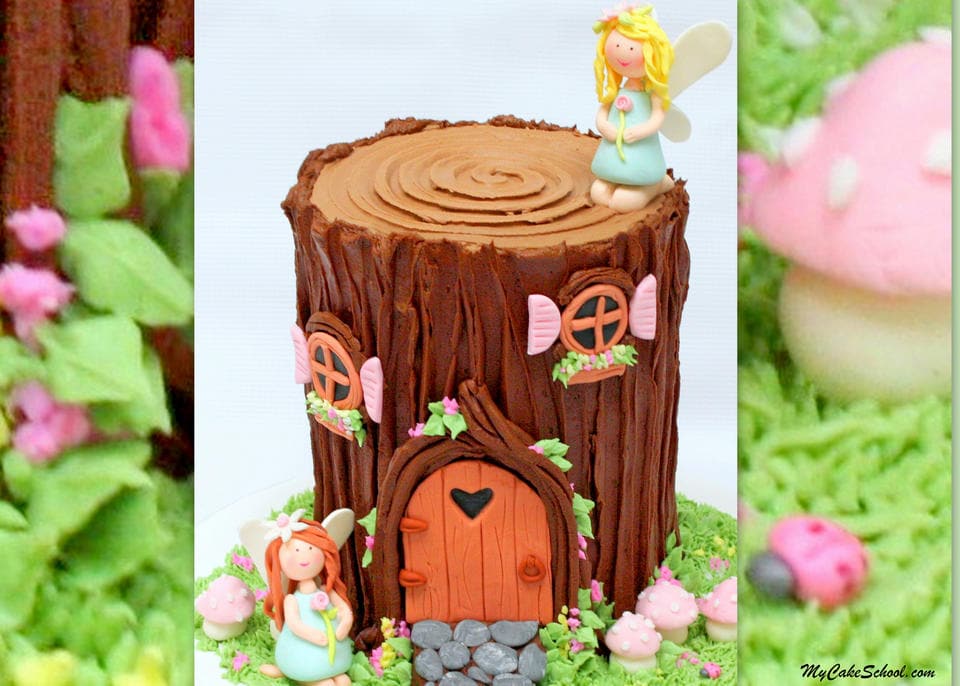 More Woodland Cakes
We have a couple more woodland cakes that feature tree stumps. You may like to experiment with these designs as well!
Woodland Cake in Buttercream (Blog Tutorial)
Sweet Woodland Owls Cake Video Tutorial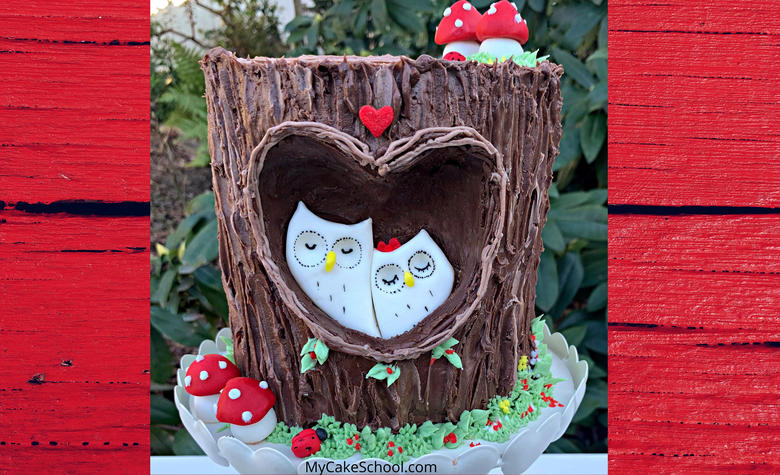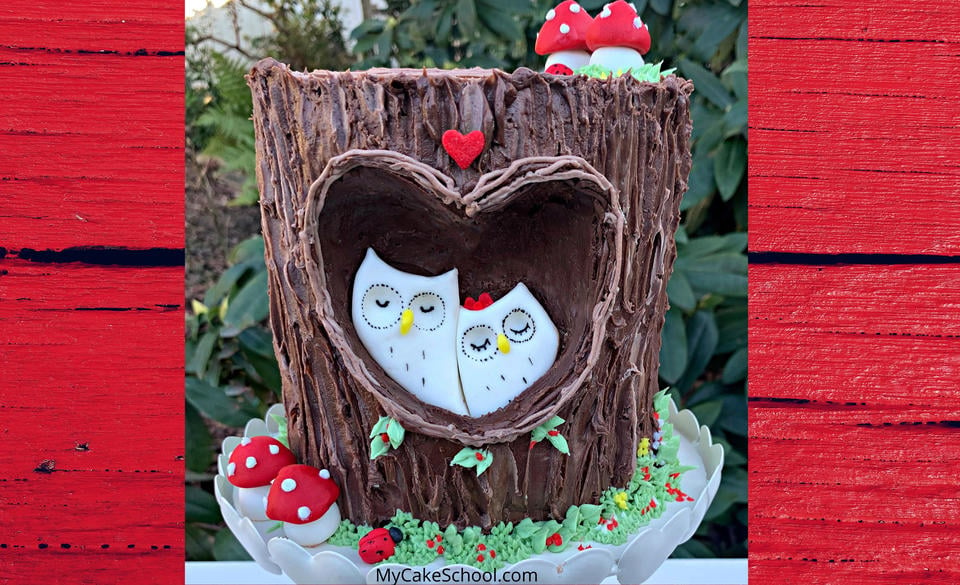 Enjoy the Video
Thanks so much for stopping by! We hope that you will give this sweet fairy cake a try. If you do, please leave a comment and photo below!
In Part One, we demonstrate how to build the tree stump and begin to add piped details.

In Part Two, we demonstrate how to model the fairies from gum paste, and also add finishing details to the fairy house tree stump.