Piping Chocolate Letters for your Cakes
If you are new to buttercream piping or just find the process of writing on cakes a little nerve racking, we have you covered! Piping letters in chocolate candy coating makes the process SO much easier!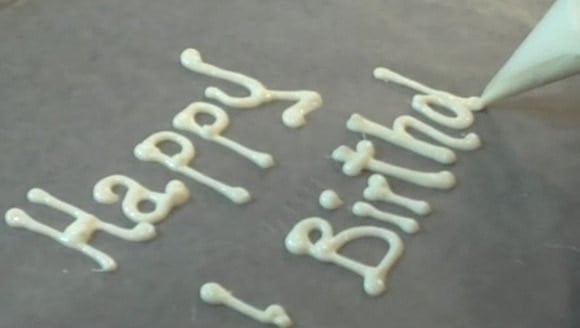 Why is Chocolate Candy Coating the Easiest Medium for piping messages onto Cakes?
Writing letters with melted candy coating is a great alternative to piping letters in buttercream, especially for those that are new to decorating.
This technique allows you to slide a template beneath your wax paper which you can trace (if you'd like)-- or you can simply pipe the letters that you need as many times as you like.
Then, chill the candy coating letters to firm them up, and pick and choose the best ones for your message. Place them right on the cake- that's it!
Working with Candy Coating
With this method (as with many of our chocolate accents) we prefer to work with chocolate candy coating. This is also known as compound chocolate, almond bark, candy melts, etc.
Candy coating is so easy to work with and doesn't require tempering. You simply heat the chocolate in the microwave in small increments, pipe your accents or letters, etc., chill, and apply to the cake!
Make sure to always chill your candy coating creations in the freezer for 5 minutes or so to firm them up before handling. It is also a good idea to pipe more than one of whatever you are creating, just in case of breakage.
If Decorating a Buttercream-Frosted Cake
If decorating a buttercream-frosted cake, it's a good idea to chill the cake first-- maybe 15 minutes or so in the freezer (or longer in the refrigerator) to firm up the buttercream.
This way, you can arrange the chocolate letters onto the chilled, buttercream-frosted cake and adjust the placement if needed with no worries of messing up the smooth finish of the frosting.
More Writing on Cakes
After experimenting with chocolate letters on cakes, you may decide that you'd like to try writing in buttercream. We have a tutorial for that also! You can find it here: How to Write in Buttercream on Cakes
More Cake Decorating Basics
We have several more cake decorating video tutorials that are extremely helpful if you are new to cake decorating!
Make sure to check out our tutorials on How to Use Star Piping Tips, How to Use Petal & Ruffle Tips, and How to Use Round Piping Tips! These videos will give you the basics on creating borders and simple accents that will take your cakes to another level!
Also, if you haven't checked it out yet, make sure to see our video on How to Make a Cake from Start to Finish! There's a lot of great information there! Let us know if you have any questions!! xo