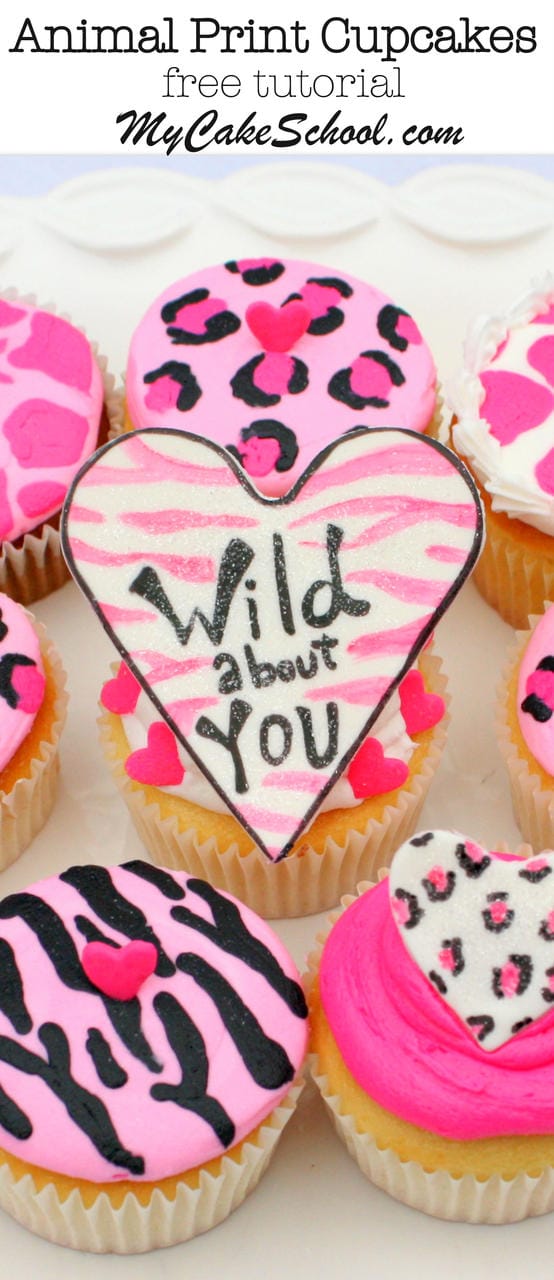 Hi everybody!  Well, it's officially Valentine's Day season…just under a month to go!
I feel like we could all use a dose of lovey dovey sweetness :0) –Especially if it involves….ANIMAL PRINT!
How I do love animal print :0) — And even more when we throw cupcakes into the mix.  Today's theme is "Wild About You".  Who are YOU wild about?  Your hubby, your kids…the mailman ;0) –Whoever they are, they are going to love these….
Here's What I used for today's project:
Cupcakes
Crusting Buttercream (important if you want a smooth finish).  I tinted mine with Wilton Pink, Americolor Electric Pink, & Americolor Super Black.
Viva brand paper towels
Piping Tips– Wilton Tip 2 (small round)  & Tip 12 (medium round)
Wilton Jumbo Heart Sprinkles (optional)
****
Okay, let's get started!
I started out by piping on my base coat of frosting with a tip 12 (a larger round tip is fine too.) –Once crusted, I smoothed with a Viva brand paper towel.  If you'd like to see more on this technique–click HERE.
Then, I used a piping tip 2 to pipe on zebra, giraffe, & leopard print patterns!  Since this is a Valentine's Day theme, I thought it would be fun to throw in a lot of pink ;0)
Once the patterns were piped onto the smooth buttercream, I allowed them to sit for about 5 minutes or so until the buttercream had crusted.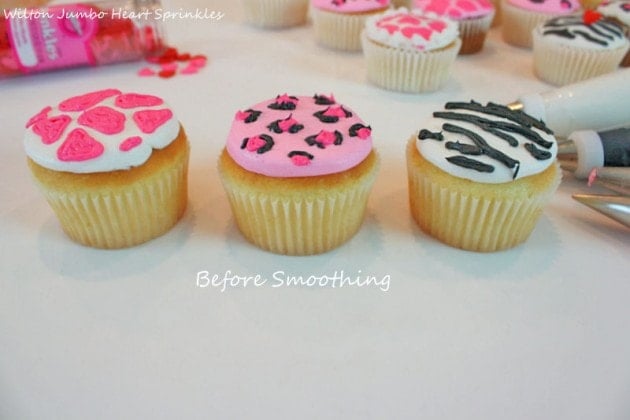 Time to smooth with a Viva paper towel (or any smooth napkin)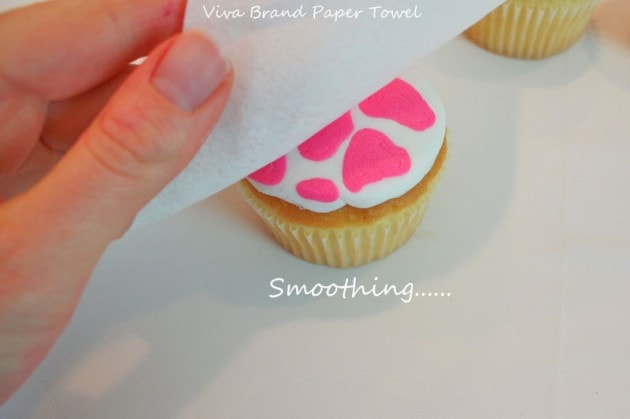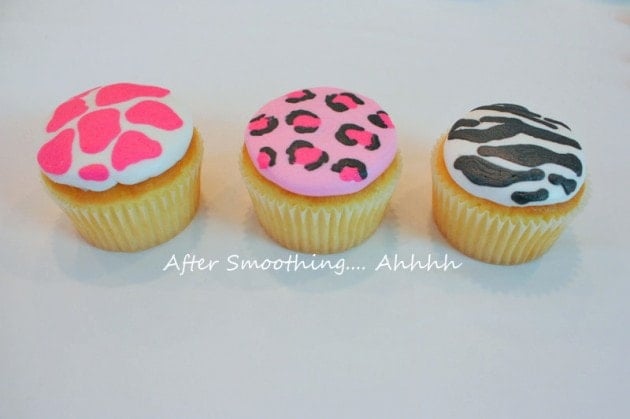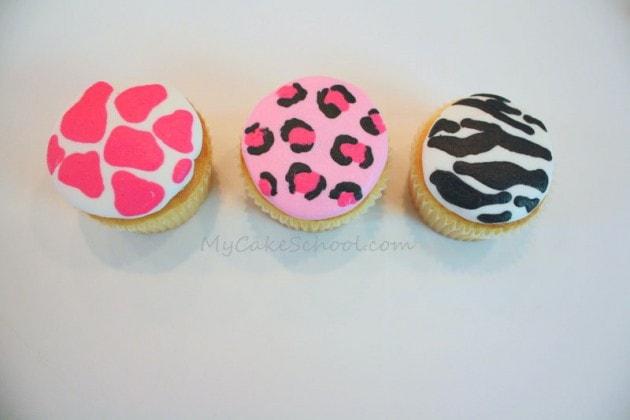 I thought it would be fun to make some animal print toppers also. I already had some fondant cut-outs from a previous project. To make these, just roll out some fondant (I like to knead in a little tylose) and then cut out your shapes. Allow to dry overnight.
Then, I painted some of my hearts with a "base coat" of pink paint. I made my paint by mixing pink coloring gel with a small amount of vodka. (Lemon extract works also)– The alcohol evaporates quickly, leaving the color behind.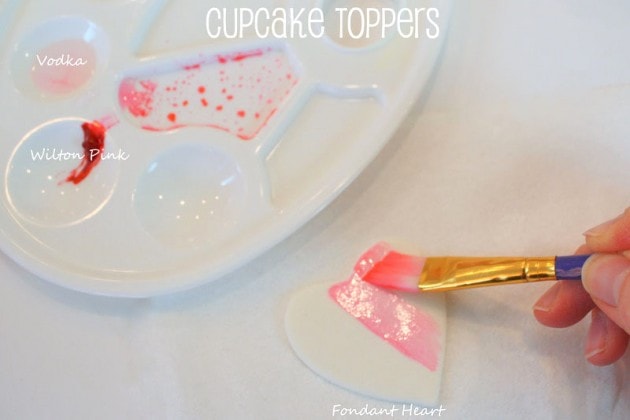 After about five minutes, the surface was dry and I was able to use my food coloring pen to draw on some zebra stripes! These are so cute resting on top of a swirl of buttercream.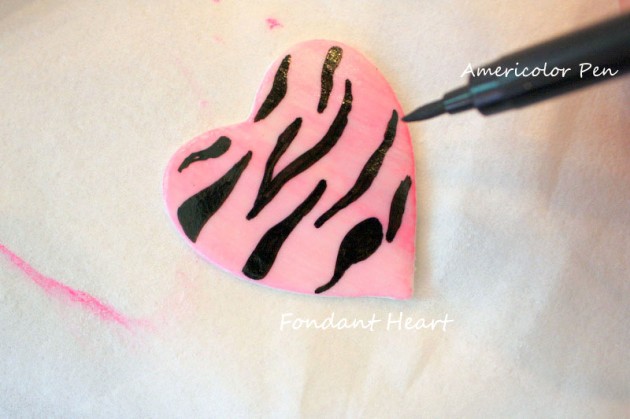 Here's a heart that I made in the same way. (Painted stripes with food coloring pen writing and accents.) –This one is larger because it holds the main theme of our display! ;0)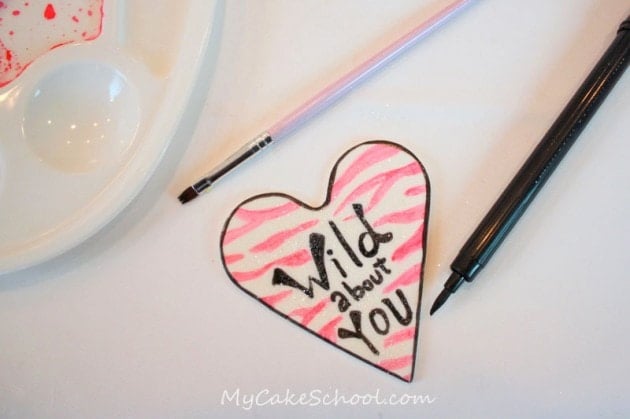 That's all that there is to it!
Now, time to gather all of these wild cupcakes together for a group shot~ ;0)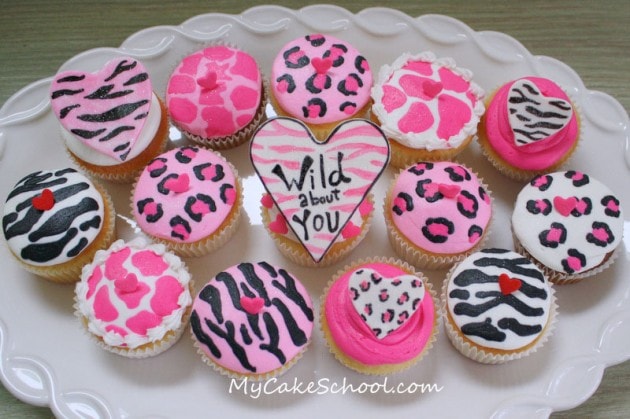 Hooray! I hope that you enjoyed these—now, go make them for someone you love! See you next time ;0)