Birdcage Cupcakes~ Cake Decorating Blog Tutorial
Today I'm going to show you how to make the cutest birdcage cupcakes!
Cupcake toppers add a high dose of cuteness to any cupcake project, and these adorable toppers are no exception. Whether you are making these for a birthday or bridal shower, these are sure to bring smiles!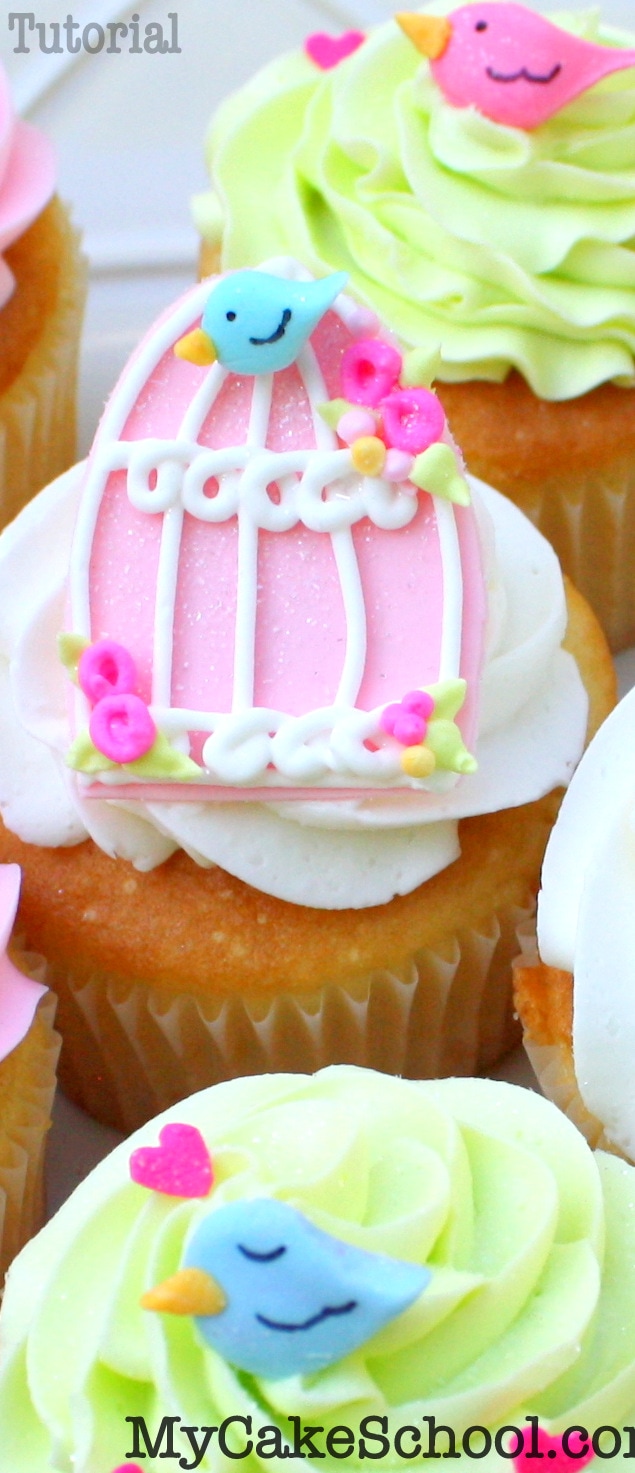 Last week we added a sweet little birdcage cake video tutorial to the site, and as it turns out--people LOVE birdcage cakes! Who knew? I think it was one of the biggest responses we've had to a cake on our Facebook page. I guess everyone is in the mood for springtime themes, and birds...lots of birds!
For today's cake decorating tutorial we decided to continue the cute bird theme just a little bit longer -- This time, we are working with cupcakes. These are so much fun!
Let's get started!
First, I rolled out some fondant (tinted Americolor Sky Blue). I kneaded in a little bit of tylose to help it dry more quickly and also so that I could roll it a little thinner.
Then, I took my oval cookie cutter and cut out birdcage shapes. You can see that there is no need to cut the entire oval...just enough to get the shape that you need.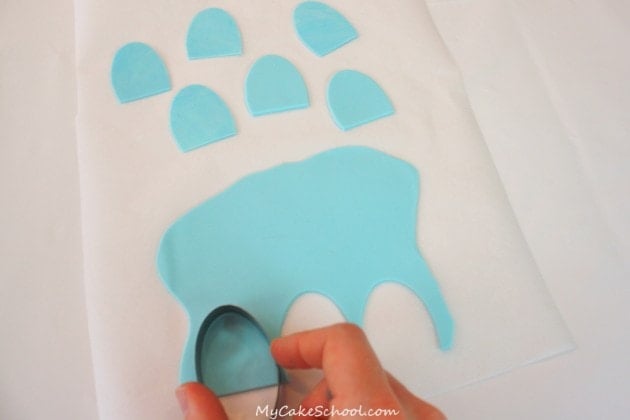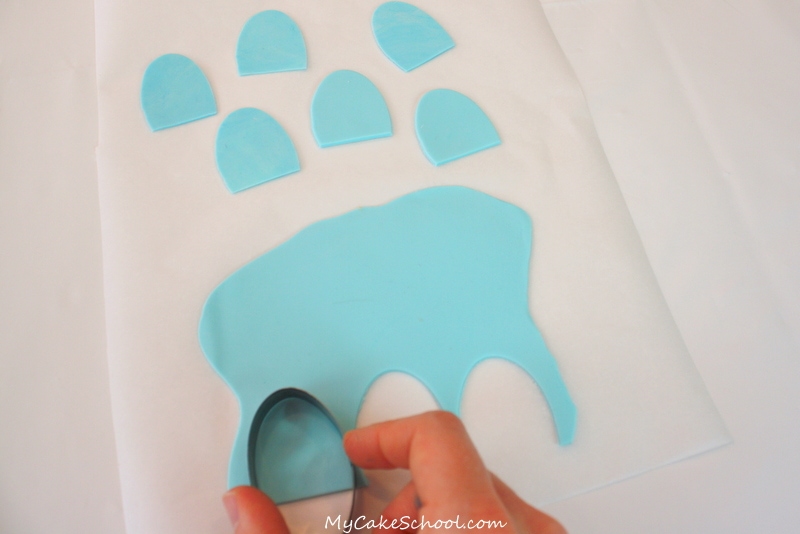 I cut out pink birdcages too (mine are tinted with Americolor Deep Pink). Then, I took some piping consistency royal icing and used a Wilton tip 2 to pipe on my birdcage. ** You could also use a crusting vanilla buttercream frosting! You just have to be very careful when applying your toppers not to smudge the crusted frosting.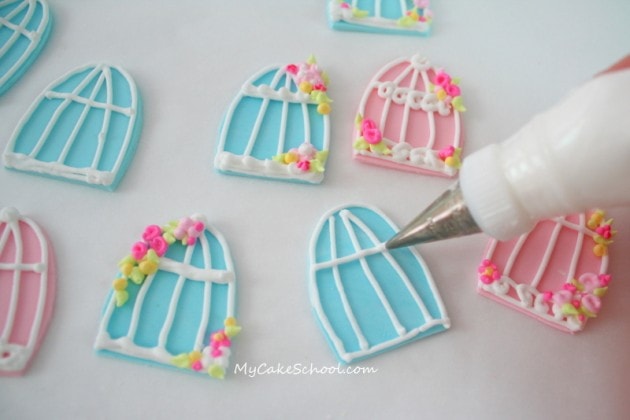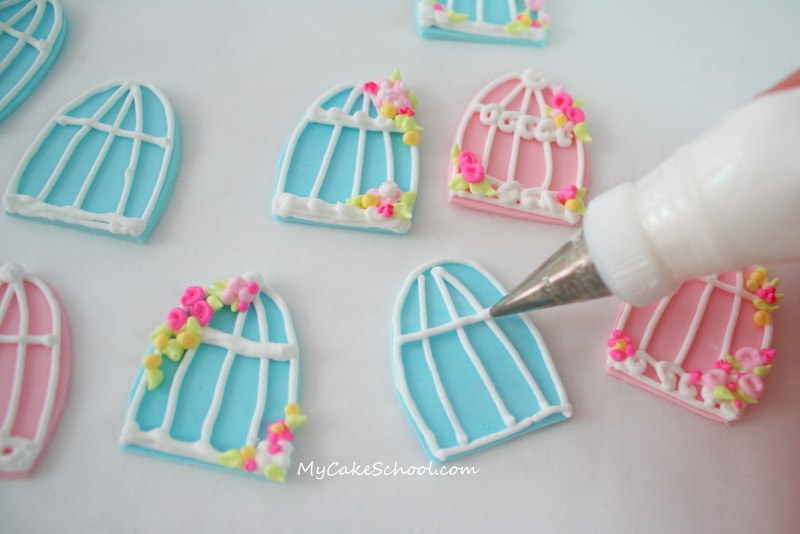 Once the royal had a chance to set (which only took about 15 minutes or so), I piped on royal icing flowers. You can see that these are all very simple--lots of little dots and swirlies and teadrop shaped leaves. (My royal icing leaves are tinted with Americolor Electric Green).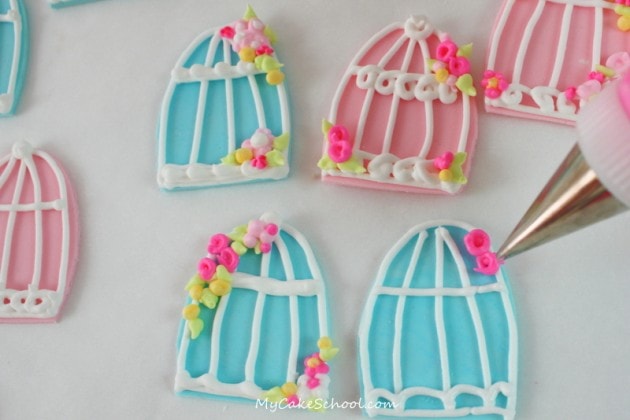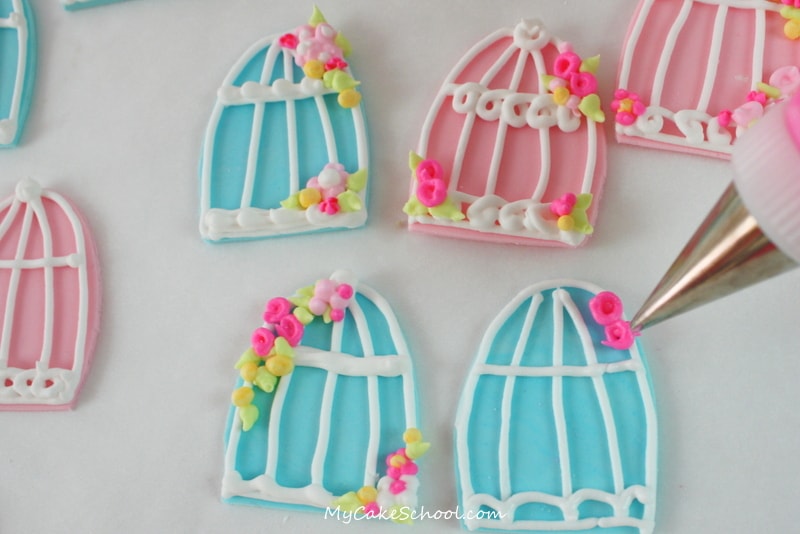 Next, we needed some little birds! To make them, I just flattened a small ball of fondant into a circle and then gave it a little pinch to form the tail. After a few minutes, the fondant had set enough that I could draw on an eye and wing with a food coloring pen-- I also pressed on a little tiny yellow fondant beak (but yellow royal would have worked well too) - I glued it to the cage with a dot of royal icing.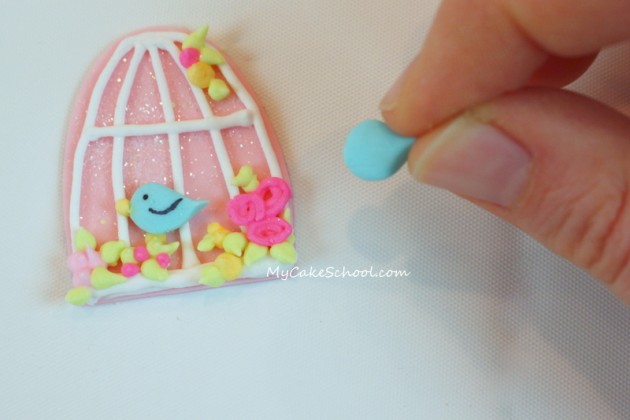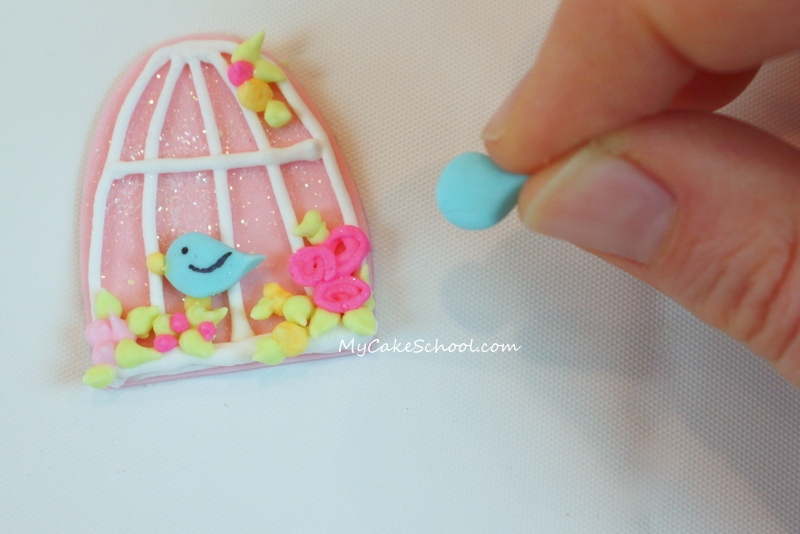 Here are some more birdies waiting in the wings. :0) --I wound up not needing all of them...but I used several. The larger ones are great all by themselves for cupcake toppers.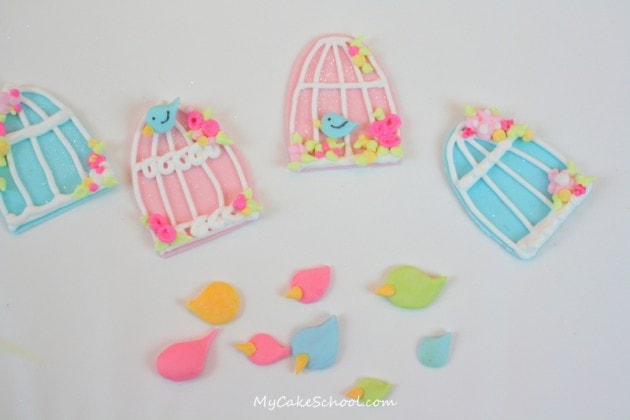 I also decided to mix it up a little bit for those of you who don't want fondant cupcake toppers---this simple design also goes nicely with our theme~
First, pipe on a swirl of crusting buttercream onto a cupcake (any medium to large round tip will work fine with this). We are using our Fluffy Vanilla Buttercream Frosting. (Our Classic Vanilla Buttercream Frosting is a good choice also if you prefer to use a frosting that does not contain shortening.)
After applying your frosting, wait a few minutes and then smooth with a Viva brand paper towel. I often pipe several at a time and then go back and smooth after a few minutes have passed. (Viva has no impressions or quilting). You'll hear this method often referred to as the "Viva Paper Towel Method" of smoothing.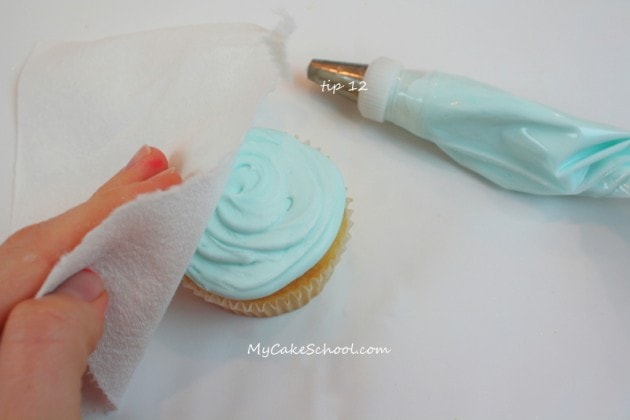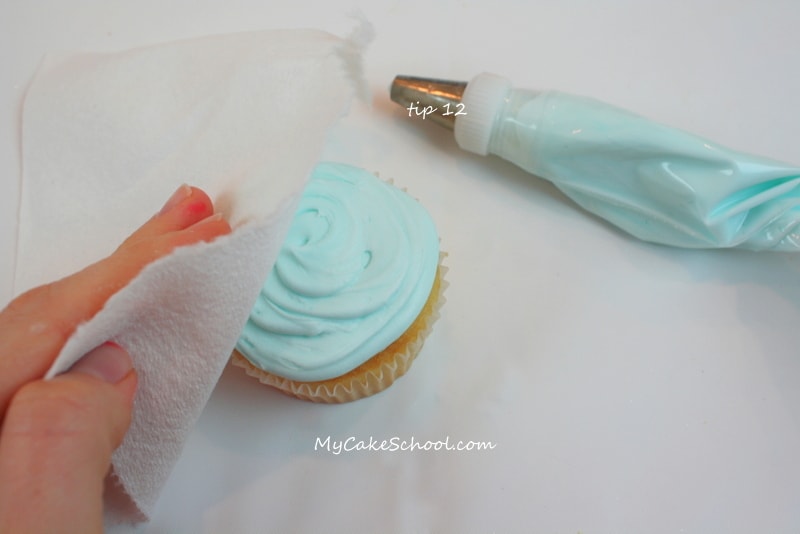 Next, I just piped intersecting lines of vanilla buttercream and embellished with a squiggle here and there--and small buttercream flowers on top. All of these accents were piped with a Wilton tip 2.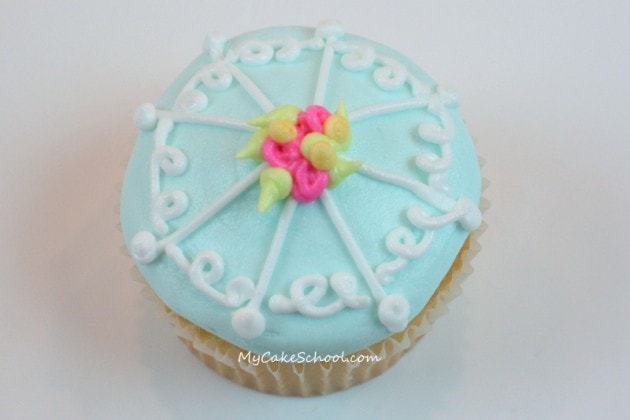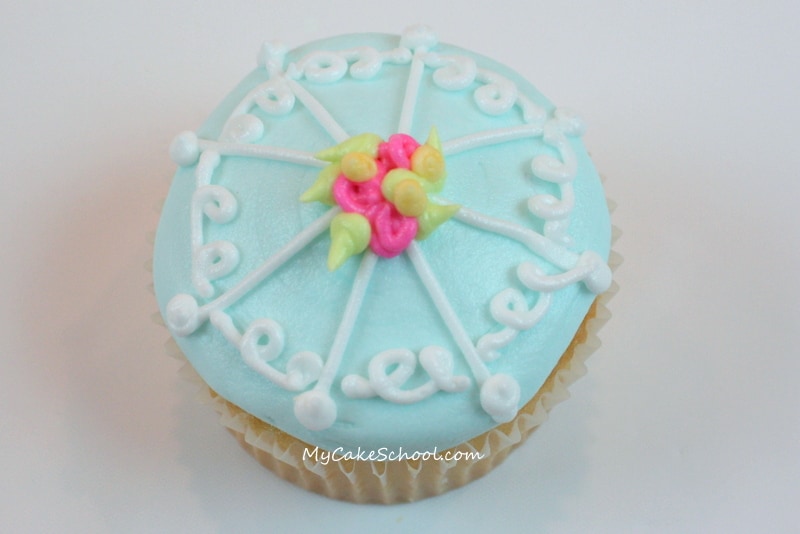 I hope you'll experiment with the designs above and make them your own! Also, as a little side note, a crusting buttercream could be used to pipe the birdcages if you would rather not make royal icing. Cookie birdcages would make sweet cake toppers too! Whatever you do, I know that your family and friends (and customers) will LOVE them!
Here's a group shot~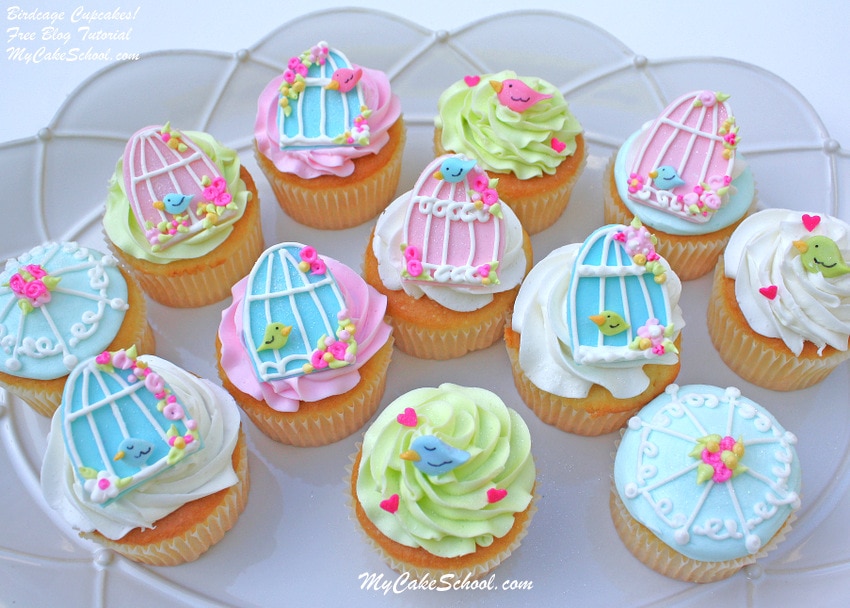 If you need a good white cupcake recipe, we love our White Almond Sour Cream Cupcake Recipe from scratch (this is the conventional mixing method version), as well as our White Cake (doctored cake mix) Recipe if you prefer working with cake mixes. Enjoy!!
As I mentioned above, we also have an adorable Birdcage Cake video tutorial in our tutorial section for our members! Sweet Birdcage Cake Tutorial. This is buttercream frosted cake with fondant accents. It's a great design for spring and matches these birdcage cupcakes perfectly!