Hot Air Balloon Cake Video
Today, I'm going to show you how to make an easy Hot Air Balloon Cake with a sweet teddy bear.
This would be perfect for all skill levels of cake decorating, and a great option for young birthdays and baby shower cakes!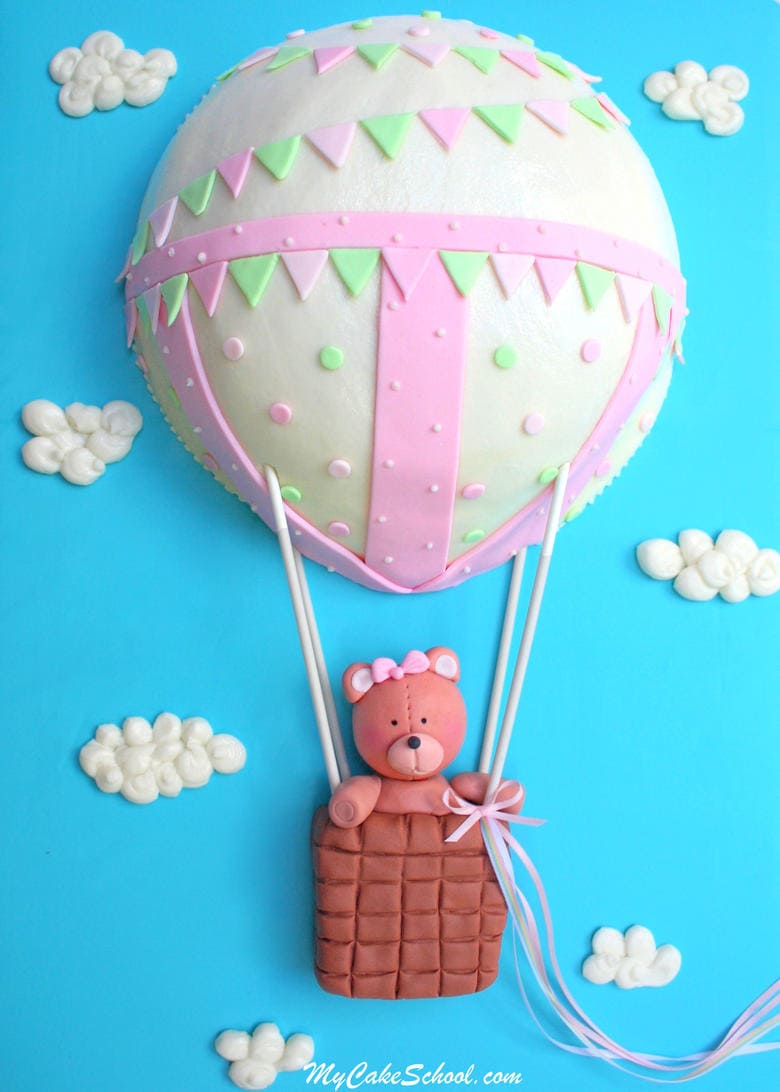 Materials for Hot Air Balloon Cake:
In this video, we used our scratch Yellow Cake recipe to fill a soccer ball cake pan -you will have some batter leftover. (* The Wilton soccer ball cake pan is different than the half ball pan that we often use. This soccer ball pan is 9 inches diameter.)
Fondant (We used Liz Marek's recipe, we also like Wilton or Satin Ice).
Tylose- optional. We like to knead a little tylose into our fondant so that it will dry more quickly
Gum Paste -optional for modeling bear. If you have tylose powder, you can get a very similar consistency by kneading it into fondant.
Coloring Gels: Wilton Rose (for light and dark pink flags), Mint Green, Chocolate Brown, Warm Brown
Toothpick, scriber needle, or your tool of choice
Small paint brush(es)
Piping Gel for adhesive
Pink Petal Dust (blush for bear) - optional
Black Coloring Gel Pen
Lollipop Sticks
Rice Cereal Treats (We used three 22g. bars for the basket)
Cake Cardboards- We used three 19x14 boards, taped together and covered with a blue plastic tablecloth (secured with staples on the other side). You can cover your cake base however you'd like!
More Teddy Bear Cakes
In addition to today's hot air balloon cake, we have lots of cake tutorials that feature teddy bears! Here are just a few of them:
Enjoy the Recipe!
We hope that you enjoy this fun cake tutorial! Make sure to check out our other Recipes and Cake Decorating tutorials in our Recipes & Tutorials Section!
If you give this cake a try, we would love for you to leave a comment or photo below!