Gold Drip on Watercolor Fondant- Video Tutorial
Today we're creating a beautiful gold drip effect on a watercolor fondant tier. I love the drama of gold drip cakes, and this is a gorgeous accent that can be applied to cakes for all occasions.
Whether you add lots of gold drips or just a few, you will find that the flash of gold adds something unique and special. Enjoy the tutorial, and make sure to see our notes beneath the video!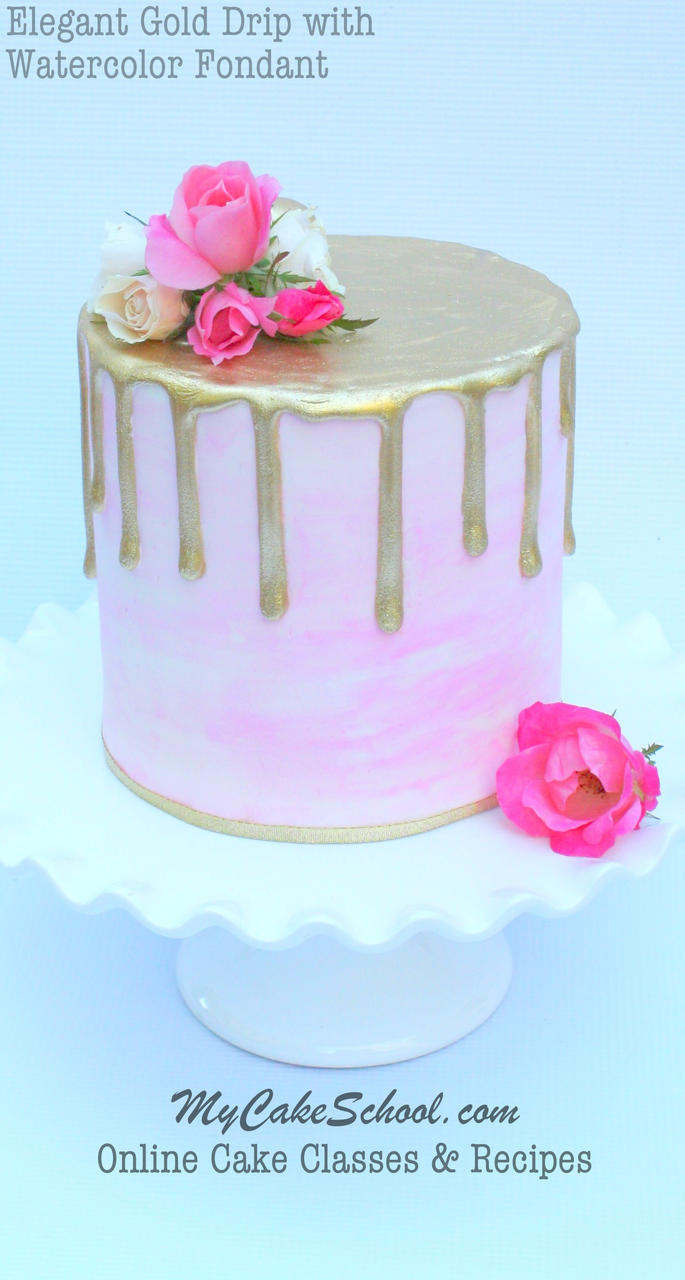 Materials:
For this video, we used a 6 inch double barrel cake covered in fondant (We used Liz Marek fondant).
Coloring Gels: I used Wilton Rose & Americolor Bright White
Vodka, Everclear, or Lemon Extract for your paint
Edible Gold Luster Dust (We used Rolkem Super Gold). We also used pearl dust on a white chocolate truffle as an optional decoration.
Royal Icing- We used the Royal Icing recipe in our Recipes section. You can half the recipe (and will likely still have leftover). Thin the icing with a teaspoon of water at a time until it is a looser consistency for the drip. We added probably about 3-5 teaspoons.
White Chocolate Truffles- Optional. We used Lindt Lindor truffles. I had some on hand so we used them as part of our topper to hide rose stems in back. We painted one with gold paint, the other with pearl dust and gold.
Roses- We used fresh roses with the stems short. See our notes on fresh flowers below.
Notes
*You may have seen our other gold drip cake tutorial, which features a Chocolate Gold Drip on a buttercream frosted cake as well as creating a double barrel cake. The royal icing gold drip that I am demonstrating today is not recommended for buttercream frosted cakes. So, we are working with fondant.
I found that the royal icing drip is easier to paint gold than the chocolate drip, and although I used the same gold dust for both, the royal icing drip had a more metallic sheen. However, royal icing is a bit trickier as it doesn't do well with buttercream, or refrigeration.
Fresh Flowers:
We used fresh roses on our cake. Roses are safe to place on cakes but not all flowers are. Make sure to research which flowers are safe. We trimmed our stems short.
You can wash the stems with soap and water or vegetable wash. Your florist should be able to tell you if the roses have been in contact with pesticides, but if they are unsure, you can place a barrier beneath them(such as a small circle of waxed paper or parchment).
We did not use a water source for our roses and they still looked good 6 hours later. Some were from the backyard, others from the florist. However, to be sure, you can do a little test with one rose in advance. We discuss using water picks and floral/oasis foam in our Tier Separations & Fresh Flowers video if you would like more information on this.