Tier Separations and Fresh Flowers--Video
Hi everyone! We've received requests for working with fresh flowers, for creating separations between tiers, and also for piping a vertical reverse shell pattern (as I did in a recent blog post) -- so, this video will cover all three of these requests--hooray!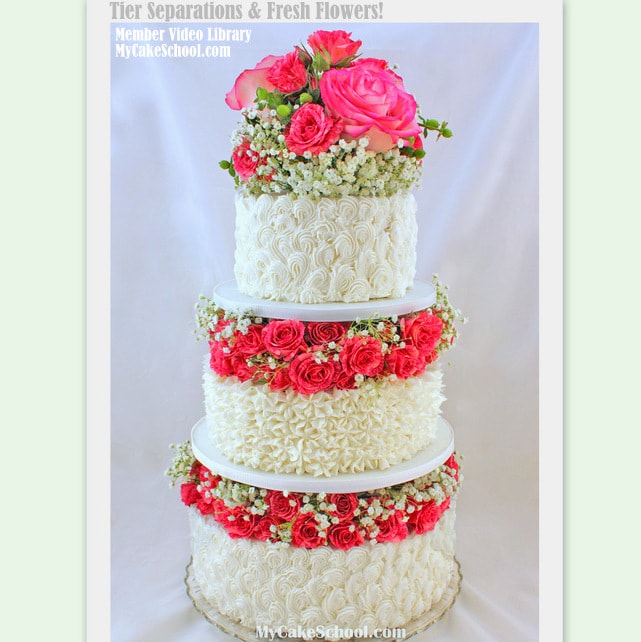 In this video tutorial, you will learn how to make a cake with separations between the tiers, as well as how to decorate a cake using fresh flowers. In addition, I will demonstrate piping a vertical reverse shell pattern around the sides of the cake (and also a fun piped "ruffled star" look for my middle tier) --
In the video, I am using SPS plates and columns to construct my tier separations. (Global Sugar Arts, Bakery Crafts, and Oasis Supply sell these). I'm using no plate beneath the largest (10") tier. I'm using an 8" plate beneath the 10" cake board that it holding up my 8" tier, and I'm using a 6" plate beneath my 8" cake board that is holding up my 6" tier. (This will all make much more sense when you watch the video!) -- I'm also using SPS columns in my construction-- Mine are labeled GC-1050 and are clear, 9" columns with notches for easier cutting. Each cake base/board is made up of two cardboard cake circles that are glued together, covered with fondant (trimmed off around the sides), and wrapped with ribbon.
Piping Tips: I used a Wilton Tip 21 for my Reverse Shell pattern, and a Wilton 2D tip for the "Ruffled star" effect on the middle tier.
Flowers: We used approx 1 ½ dozen stems that each had clusters of small roses on the end. We used 3 standard sized roses for our topper, and filled in with baby's breath. The amount that you will need will vary depending on the opening between your tiers, the size of the blossoms, etc. We used a 4" small clear plastic tray with a little circle of oasis foam cut down to size for our topper, with a barrier of parchment beneath it. Let me know if you have any questions!!