Vintage Pearl Cake in Buttercream- Video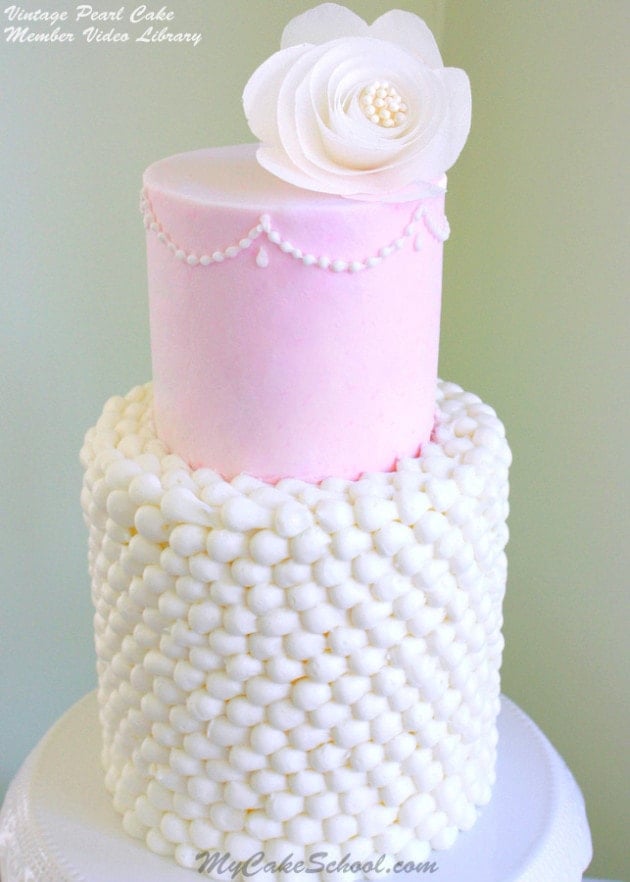 In this cake decorating video tutorial, learn to create a beautiful vintage pearl design with buttercream! If you've ever piped bead borders in buttercream, you will have no trouble achieving this look! For those that are new to decorating, you can find the basics of piping bead borders in THIS tutorial.
I love the look of the "chunky" piped pearls that cover the bottom double-barrel tier, and the more delicate pearl swags of the top tier are the perfect compliment. This cake is elegant, and feels on trend with the vintage cakes that continue to be popular in the cake world! ;0) I hope that you enjoy the tutorial!
Materials
*The cakes used in this tutorial are a double-barrel 6" tier on the bottom, and a 4" tier on top. They have been frosted with our fluffy vanilla buttercream recipe (but any buttercream recipe would work well!).
Piping Tips: Wilton 12 for the chunky pearls of the bottom tier, Wilton tip 4 for the pearl swags
Coloring Gel: Americolor Deep Pink for tinting the buttercream of the top tier
Wafer Paper Flower topper or your topper of choice- We used the one created in Part 2 (9 minute mark) of THIS tutorial.
Sugar Pearls (optional, used for flower center)
Cake Boards-One beneath each tier, plus 1 within our double barrel cake, halfway up.
Dowels/supports of choice- Within the double barrel cake we used 7 bubble tea straws. (4 to support the top half of the cake, and 3 beneath the 4" tier.)