Decorating with Gold Leaf and Wafer Paper~Cake Decorating Video Tutorial
Incorporating metallics into cake designs is a trend that I love, and one that I think is here to stay.
As cake decorators, there are a few ways that we can bring metallics to our designs... from the more muted shimmer of luster dusts, to glittering disco-dusted accents, dragees, hand painted designs, and a new favorite of mine~ gold leaf.
Though a bit on the pricey side, gold and silver leaf are great options for decorating because of their eye-catching metallic shine, & also because they are edible. Hooray for edible options!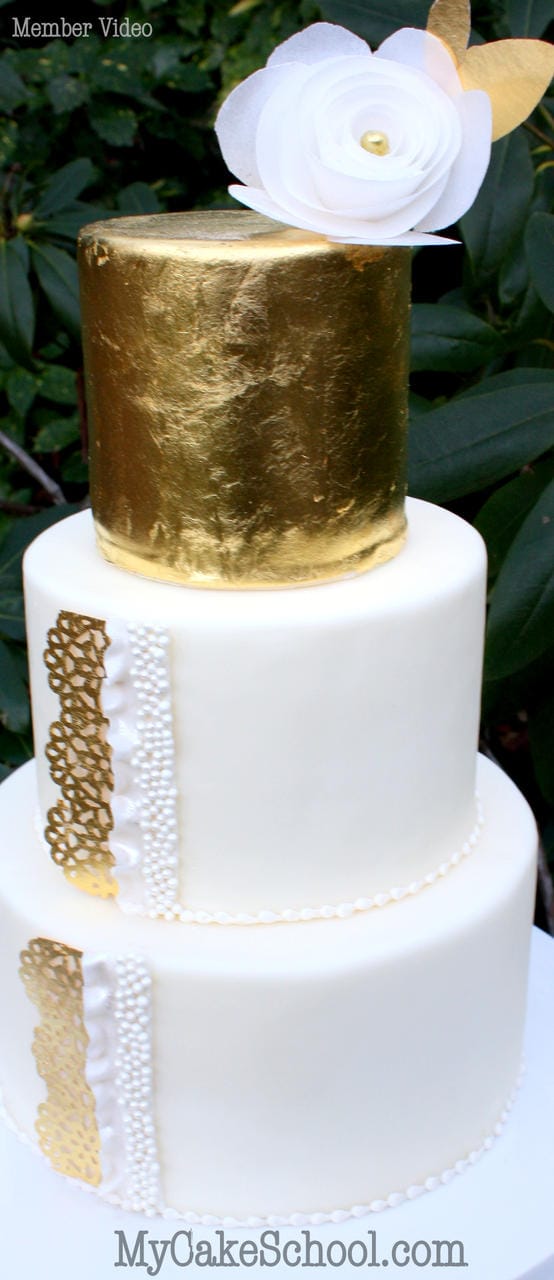 Materials:
(The tier sizes for my cake were 4 inch/6 inch/8 inch. My tiers were covered with Liz Marek fondant)
Gold Leaf- (aff. link) *Make sure to purchase gold leaf that is on transfer sheets rather than loose. You can find gold and silver leaf online...and you may be able to find less expensive vendors.
Wafer Paper~ I found mine here.
Paper Punch~ I used a Martha Stewart lace punch
Piping Gel
Vegetable Shortening
Scissors
Small Paintbrushes
Sugar Pearls
Fondant with tylose or gum paste (for ruffle)
Cel Pad & Ball Tool (Used for creating fondant ruffle)
Bubble Tea Straws or your supports of choice for tiered cakes
Miscellaneous: Scissors, paint brushes, cake board for each tier plus cake pedestal/cake base
Notes:
We will be working more with gold and silver leaf in a follow up video tutorial where we explore the use of these on buttercream.
As we mentioned in the video, gold and silver leaf are pricey. For a 25 sheet pack of gold leaf (approx 3x3 inches) the cost is usually around $45-$50. Silver leaf is closer to $30 for a 25 sheet pack. This is why cakes often feature the gold or silver leaf as accents rather than covering an entire tier.
Beautiful borders can be made also by cutting strips of wafer paper that has been covered in gold & silver.
My favorite method for applying silver or gold leaf to buttercream is to chill the buttercream in the freezer for 5-10 minutes (or longer in the refrigerator)...just until the frosting is firm.
The firm icing makes the process simpler because the icing is less likely to be dented/nicked in the process, and the slight bit of moisture on the surface of the frosting helps with attaching the silver leaf. If you do not have the freezer or fridge space, I would lightly mist the crusted buttercream with water. Enjoy the video!
Part One:
Learn to cover a tier with gold leaf, and how to transfer gold leaf to wafer paper. This is a wonderfully versatile technique which enables us to cut our gold leaf decorations freehand, or with paper punches. The options are endless!
Part Two:
We decorate the cake with our gold lace accents, add a fondant ruffle and pearls, & top off our look with a lovely wafer paper rose.
Here is a follow-up video using Silver Leaf on Buttercream!