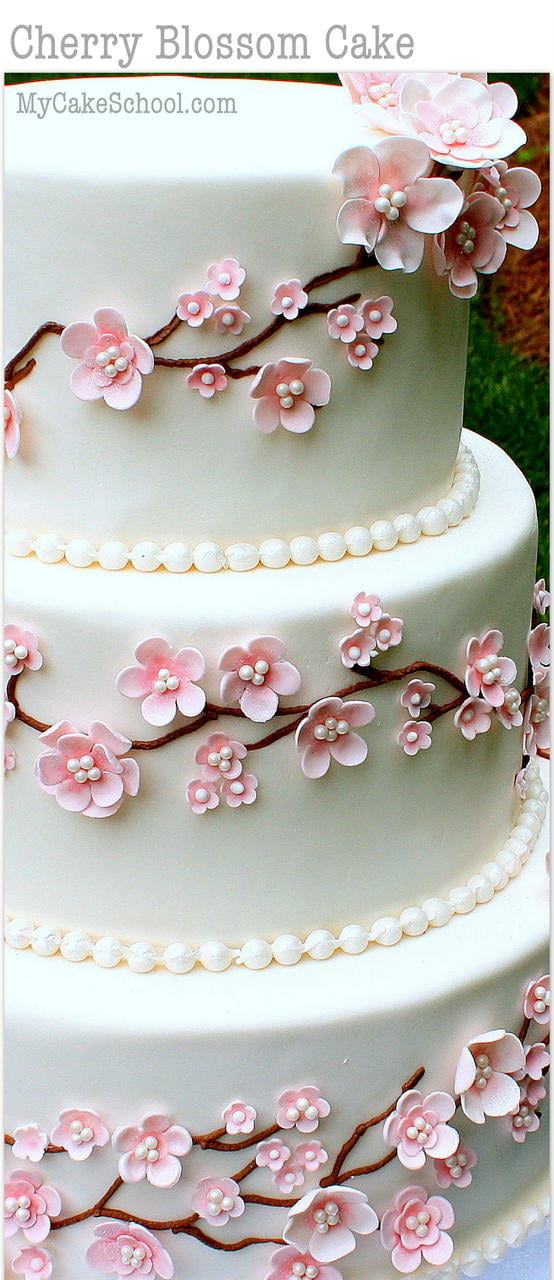 I love the elegance cherry blossoms, and after many requests, I am so happy to demonstrate a beautiful Cherry Blossom Cake design! Cherry Blossom themes continue to be a popular theme for wedding cakes, but these techniques could be applied to any cake that calls for something special. Our cherry blossoms with their sugar pearl centers are extremely easy to create, and make for a gorgeous design when applied to delicately piped branches.
I hope that you enjoy the tutorial!
**We also have a tutorial for a Cherry Blossom Cake Design in Buttercream! Find the link below!
Supplies/Materials Used~
Cake Tiers- I am using 10"/8"/6" tiers which have been covered in Satin Ice fondant.
Cake Boards beneath each tier & preferred support method (dowels, plastic hollow dowels, support system, etc...)
Gum Paste- I used gum paste for my flowers, however you could also use fondant, (especially for the smaller ones). For the larger
flowers, if not using gum paste, I would use fondant with tylose kneaded into it.
Cutters- 5 petal blossom cutters. I used a total of 5 different cutters, but 1 or 2 would be fine also. Here are links to the Small & Larger cutters.
Cel Pad- Some sort of cel pad or foam pad for thinning your petals.
Ball Tool- For thinning/frilling petals
Preferred mold/palette/former for drying flowers (I used wells from my artist palette & chocolate molds)
Royal Icing- I used for the branches & for the tiny blossom centers. (Medium consistency). I also used royal to glue the flowers to the cake.
If your cake is frosted in buttercream, your branches should be piped in buttercream or they should be fondant (but not royal).
Tips- Wilton tip 4 (or similar size) for the branches
Silicone Bead Former- (Optional) - Used for border. You could also just pipe a royal icing border for fondant covered cakes or a buttercream
border for buttercream cakes.
Dusts- I used a mixture of Watermelon Petal Dust & White Petal Dust for the flower centers. I used Pearl dust for the pearls. I used a little
White Disco Dust on the blossoms.
Wilton Sugar Beads- Used for the centers of the flowers. You could also pipe royal icing dots instead.
Misc: Small paint brushes, tylose/sugar glue (¼ tsp. tylose combined with 2 T warm water)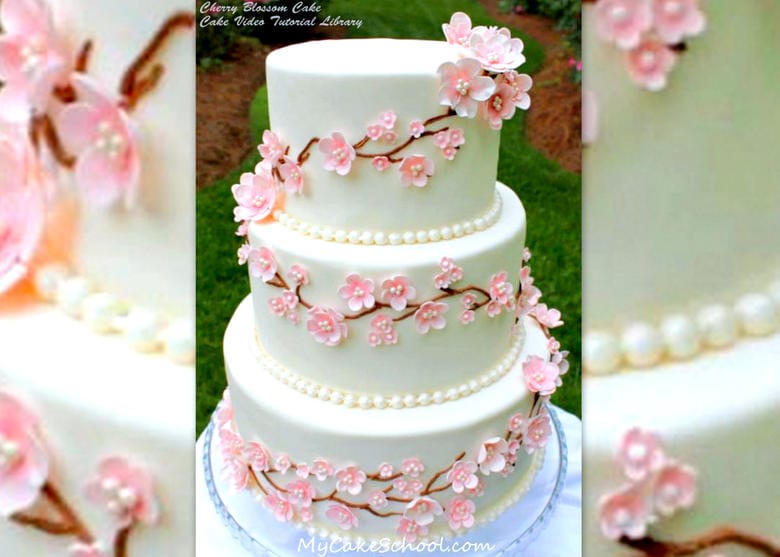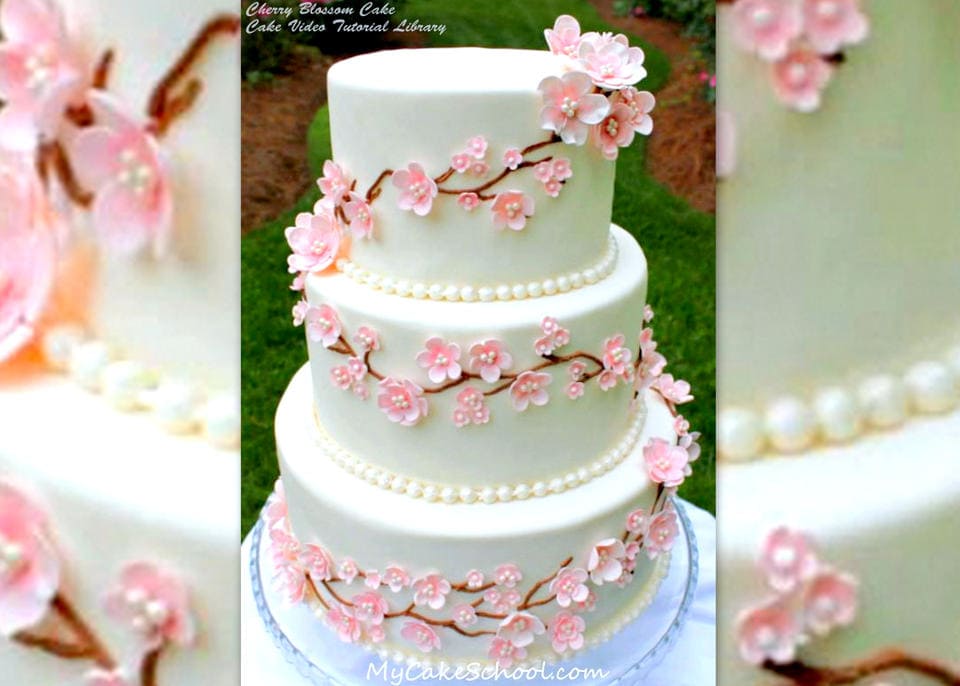 Interested in a buttercream Cherry Blossom Cake tutorial? We have one just for you! Hop on over to see! Buttercream Cherry Blossom Cake Tutorial