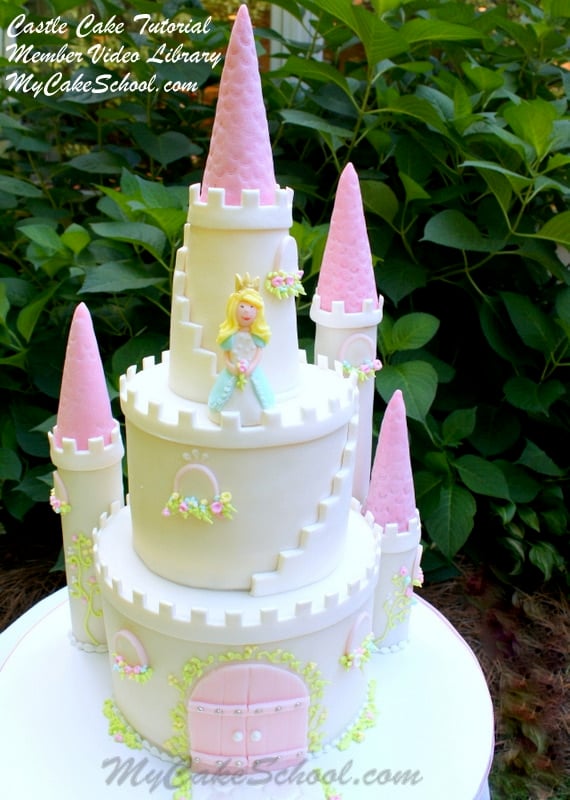 Hi everyone! In this video tutorial, we are going to share how to make a beautiful castle cake. This is a highly requested tutorial that I have wanted to offer on our site for a long time. Today is the day!
Our castle cake will have a fairytale feel, complete with a little princess ;0) --Of course, you can take what you learn today and apply it to a dramatically different castle of your own. Just by making a few color and even texture changes, you will have the tools to make a castle cake that would be perfect for both boys and girls (and maybe even some adults too ;0) !
Materials (This is a comprehensive list for both Part 1 & Part 2 of the video)
In this video, we are using a basic two tiered, stacked cake construction. We have one 8" tier and one 6", baked with our White Almond Sour Cream Recipe, filled with our Fluffy Vanilla Buttercream Recipe, ganached with white chocolate ganache, and covered with Elizabeth Marek's Fondant.
Ganache Amounts (chocolate/cream): 44 ounces white chocolate ( I used Ghirardelli white baking chips) to 14 ounces heavy cream
We used 38 ounces white fondant for the 8" tier, and 26 oz. white fondant for the 6" tier.
Americolor Coloring Gels Used: Deep Pink, Sky Blue, Lemon Yellow, Electric Green, Copper (princess' skin tone)
Cake Boards: 8"/6" rounds for beneath each tier, and four 16" rounds for the base.
Supports: I used 5 bubble tea straws total. (4 beneath the top tier, and 1 to support the topper.)
Turret Supplies: 3 Paper Towel Rolls, 1 plastic cup
Sugar Cones
Disco/Pixie Dust- I used on the turrets for sparkle.
Sharpened Dowels for supporting turrets
Rice Cereal Treats- for pushing into the paper towel rolls (I used one square per turret)
Chocolate Candy Coating- Makes a nice glue for the turrets.
Fondant Smoother- For smoothing fondant, but I also used as a template for the front door
Royal Icing- As seen in our Recipes section, thickened to a good piping consistency
Piping Tips: Misc. small round tips. I used a Tip 5 to pipe our royal icing border on the bottom tier. 2 & 3 tips for piping flowers. Use what you have on hand.
FMM Multi Ribbon Cutter (aff.)- Helpful, not essential
FMM Straight Frill Cutter Set- (Used in creating the castle-like top border)
Gum Paste (or tylose/fondant) - I used with the frill cutter and my princess
Toothpick/pasta- Helps to support our princess's head
Pink Petal Dust- Optional--Rosy Cheeks for Princess
Cobblestone Impression Mat- Optional-- I used at the end for a small pathway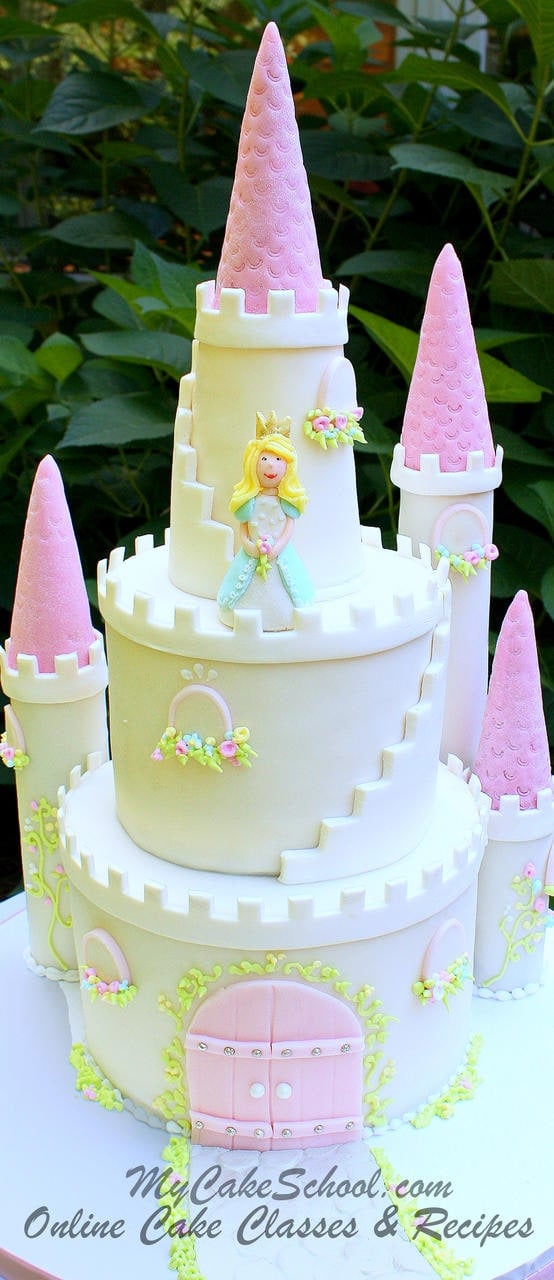 Part One of this video tutorial touches on ganaching your tiers, covering in fondant, creating the turrets, and a few extra details.
Part Two: Watch as I join the turrets to the castle, create the princess, and add details (windows, door, flowers, etc.) to the exterior.