In today's cake video, we'll show you how to create a CUTE Santa's Clothesline Cake!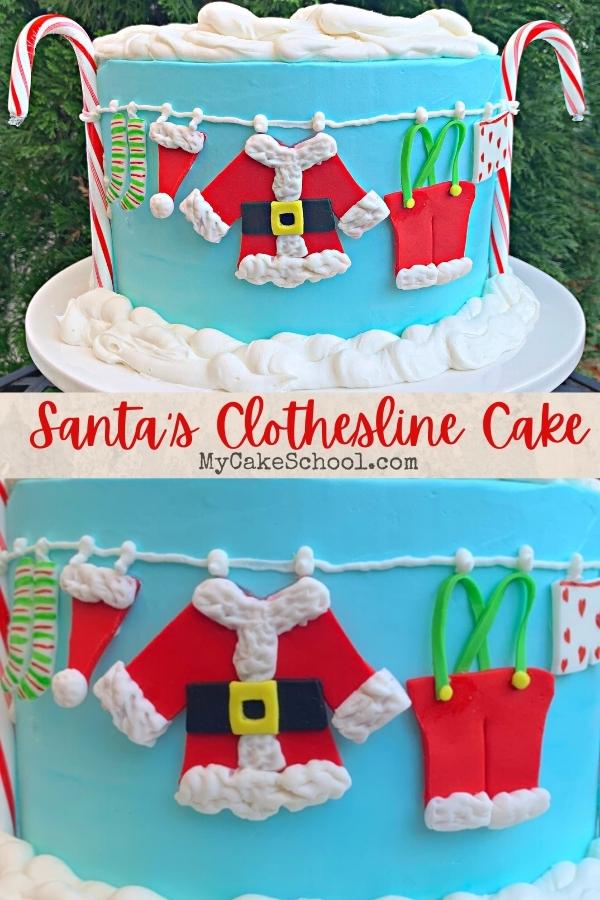 This Santa themed cake design is such a fun twist on the clothesline cakes we've made in the past. For example, our baby shower clothesline cake. Only this time, it's Santa's clothes on the clothesline! ;0)
Keep this fun cake in mind for your Christmas gatherings! You can find all of the additional details and templates in the notes beneath the video.
We hope that you enjoy the tutorial! If you give this cake a try, we'd love for you to post it in the comments below. Merry Christmas!
Materials for Santa's Clothesline Cake
In this video tutorial, we are decorating an 8 inch tier frosted in our Fluffy Vanilla Frosting (our Classic Vanilla Buttercream is a good option too!)
Coloring Gels: Americolor Super Red, Wilton Leaf Green, Americolor Black, Lemon Yellow
Fondant- We used Wilton Fondant tinted with the colors mentioned above. I kneaded a little tylose powder into my fondant for faster drying- this is optional.
Piping Tips: I used a tip 12 for snow, Tip 3 for clothesline
Piping gel or edible glue of choice
Two Candy Canes
Food coloring pens or Vodka+a touch of coloring gel are great for decorating clothes as we did with the striped socks & Santa's boxer shorts ;0)
Miscellaneous: Disposable piping bags, small paint bush
Additional Notes
As I mentioned in the video, if you do not want to pipe the clothesline in buttercream, you can also extrude a strand of fondant (I would knead a little tylose into it) using a clay/fondant extruder. Apply to a chilled, frosted cake (to firm up the buttercream) so that you can adjust the clothesline & clothes as needed without worry of messing up the frosting.
There are so many options for clothes- if you're working with a sheet cake or larger cake, you can also add elves clothes, as well as mittens, scarves, and more ;0)
We kept the candy canes wrapped so that the moisture from the frosting wouldn't cause bleeding.
It's a good idea to make the clothes nice and thin so that they will not be too heavy! The fondant clothes are more likely to absorb moisture from the frosting if you are not working with a crusting buttercream.
The fondant clothes can be applied while still soft, but I applied mine after they had set up for several hours so that they would stand slightly away from the cake.