We just LOVE this new White Chocolate Raspberry Cake recipe! Light and flavorful cakes with fruit are always a popular choice no matter what the occasion.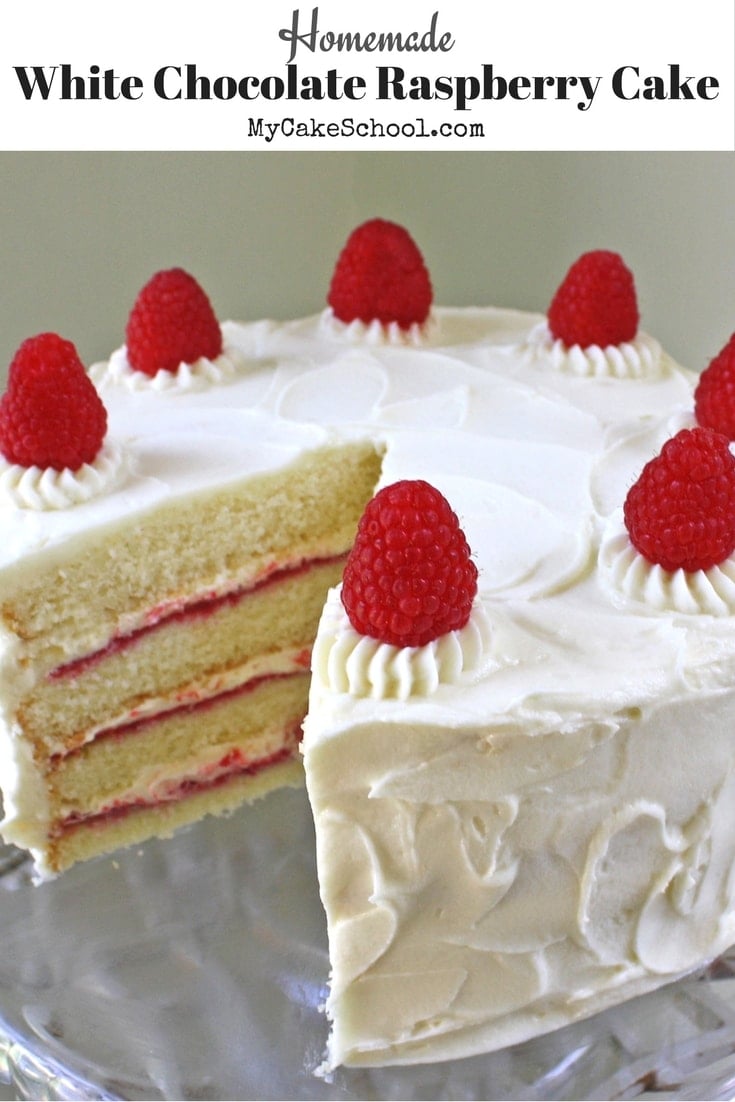 White Chocolate & Raspberries: The Perfect Combination!
White Chocolate and raspberries are a match made in heaven. Until now, we haven't had a cake on our site to really showcase this delicious combination.
We think that you'll find this homemade white chocolate raspberry cake to be as flavorful as it is elegant.
White Chocolate Cake Layers- Oh So Good!
We have fallen in love with this white chocolate cake! The inclusion of white chocolate in the cake batter lends a subtle white chocolate flavor to the baked layers while also giving the cake a wonderful velvety texture.
The cake is very moist but is firm enough to withstand the weight of fondant. If you're looking for a tried and true white chocolate cake recipe, this is the one!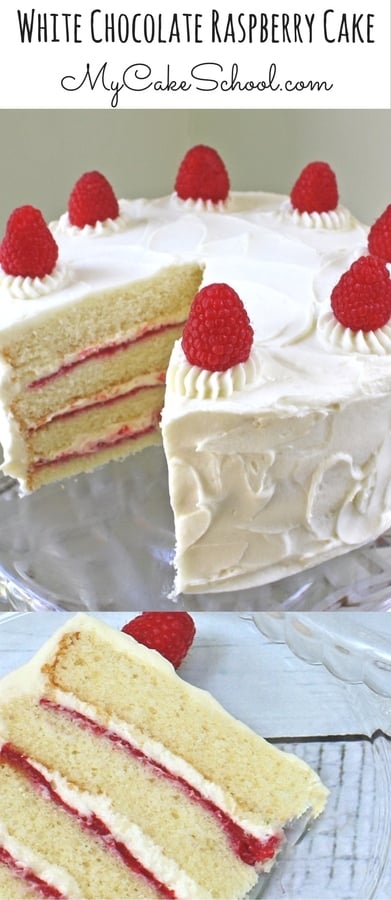 White Chocolate Buttercream
Not only are the white chocolate cake layers and raspberry filling important to this dessert, but the White Chocolate Buttercream adds a delightful boost of white chocolate flavor to the cake, making it a necessary (not to mention delicious) addition to this cake recipe!
In fact, it is a fantastic recipe to pair with all sorts of cake flavors, from lemon cake to chocolate cake and more!
Key players in our white chocolate cake
Let's meet two of our key players in this white chocolate raspberry cake recipe: Here's a closeup of the Raspberry Filling… ahhhh..
Keep this recipe in mind for your cake and cupcake recipes! Raspberry Filling tastes amazing with so many cakes, including chocolate, white, and lemon.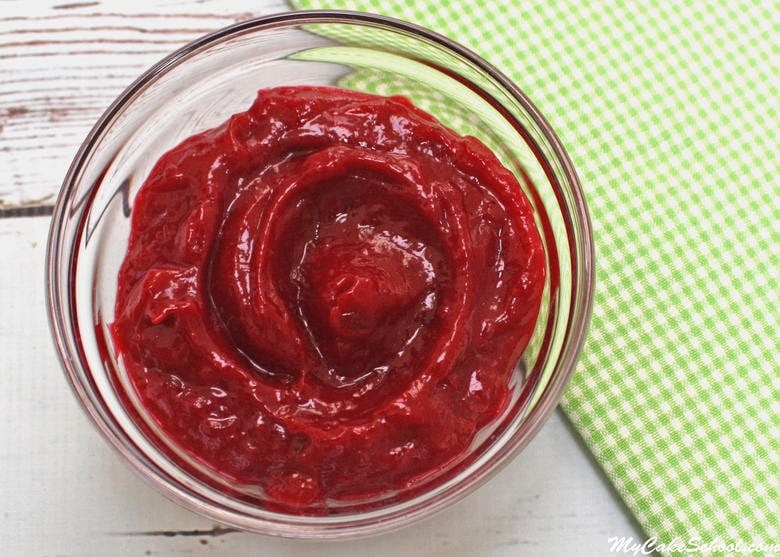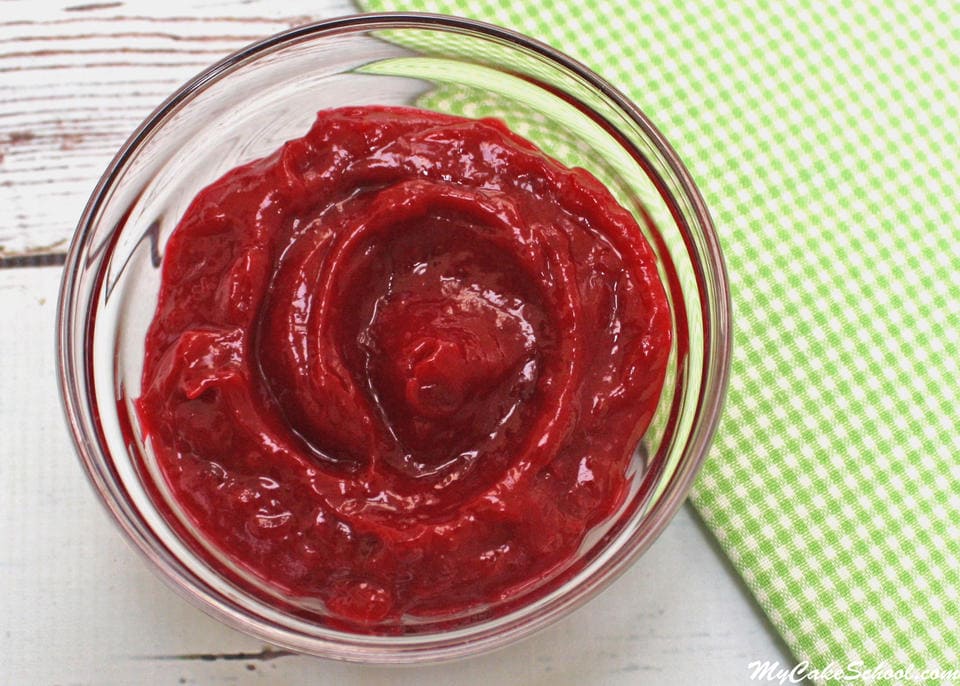 And then the White Chocolate Buttercream Frosting….
I love the consistency of this frosting, and the white chocolate flavor is PERFECT!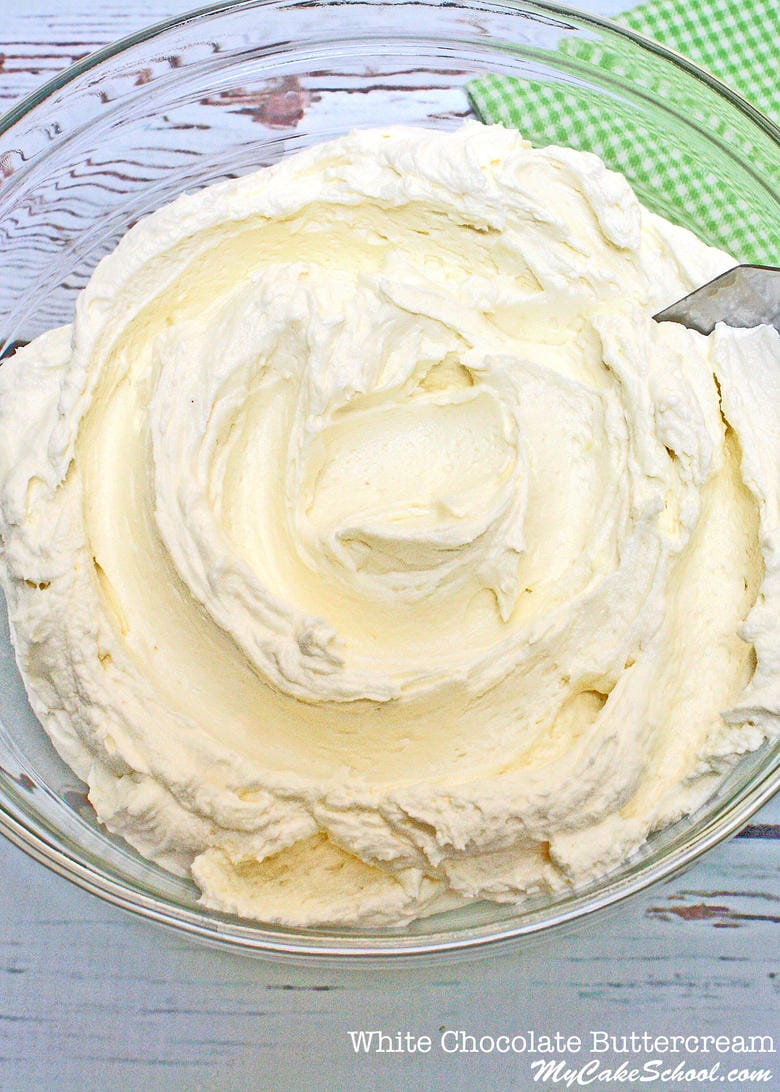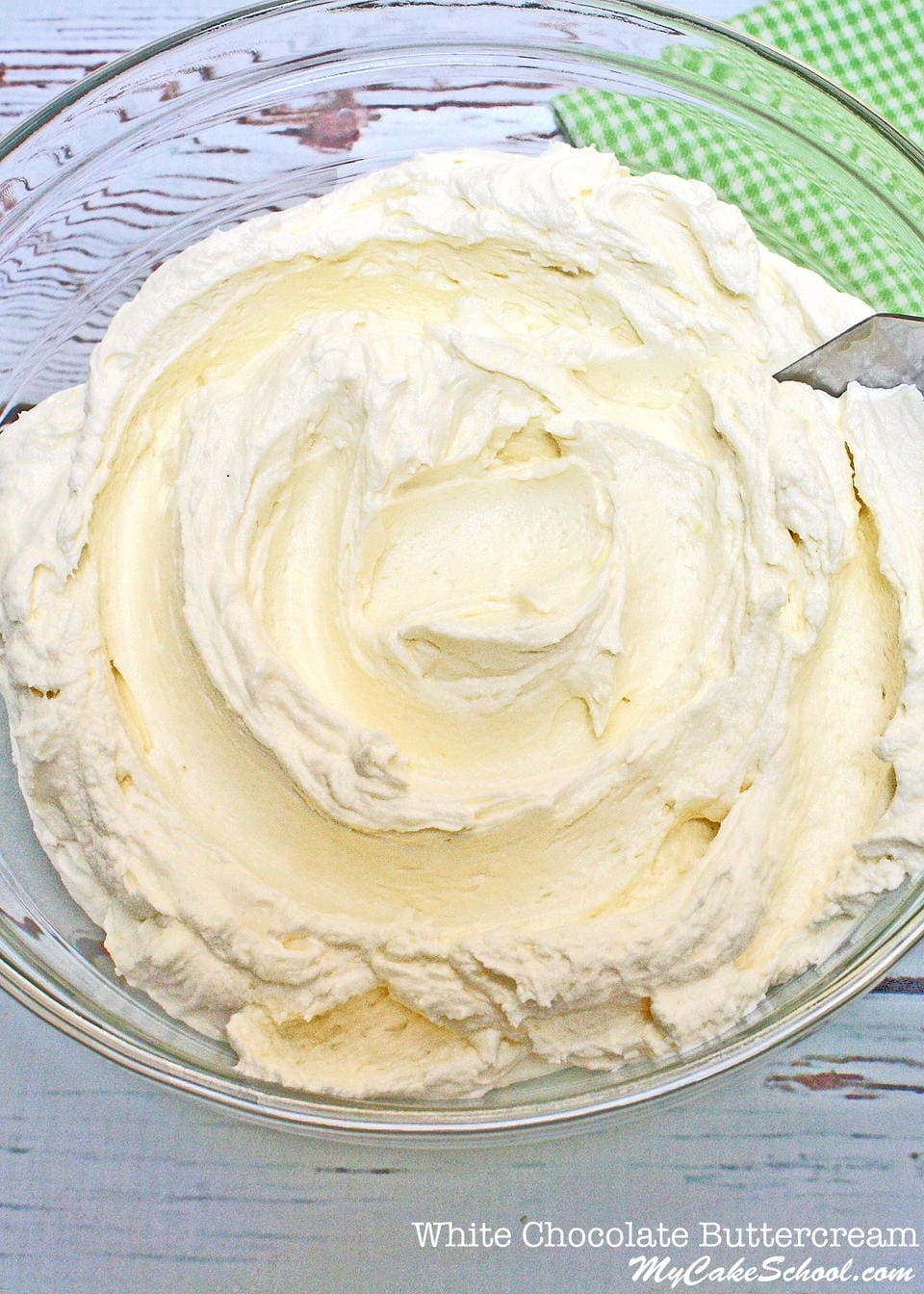 How to Make a White Chocolate Raspberry Cake
To assemble the cake, we first split the two thick white chocolate cake layers so that we would have four layers and therefore more layers of filling in each slice!
Next, we spread our white chocolate cake layers with a thin layer of the homemade raspberry filling, followed by a layer of white chocolate buttercream frosting.
As you can see in the photo, I didn't pipe a buttercream ring/dam around the edge of the cake although you could. Instead, I spread on my filling without bringing it all the way to the edge of the cake layer.
Leaving that bit of space around the edge ensures that you won't have issues with the raspberry filling spilling out once the layers are stacked.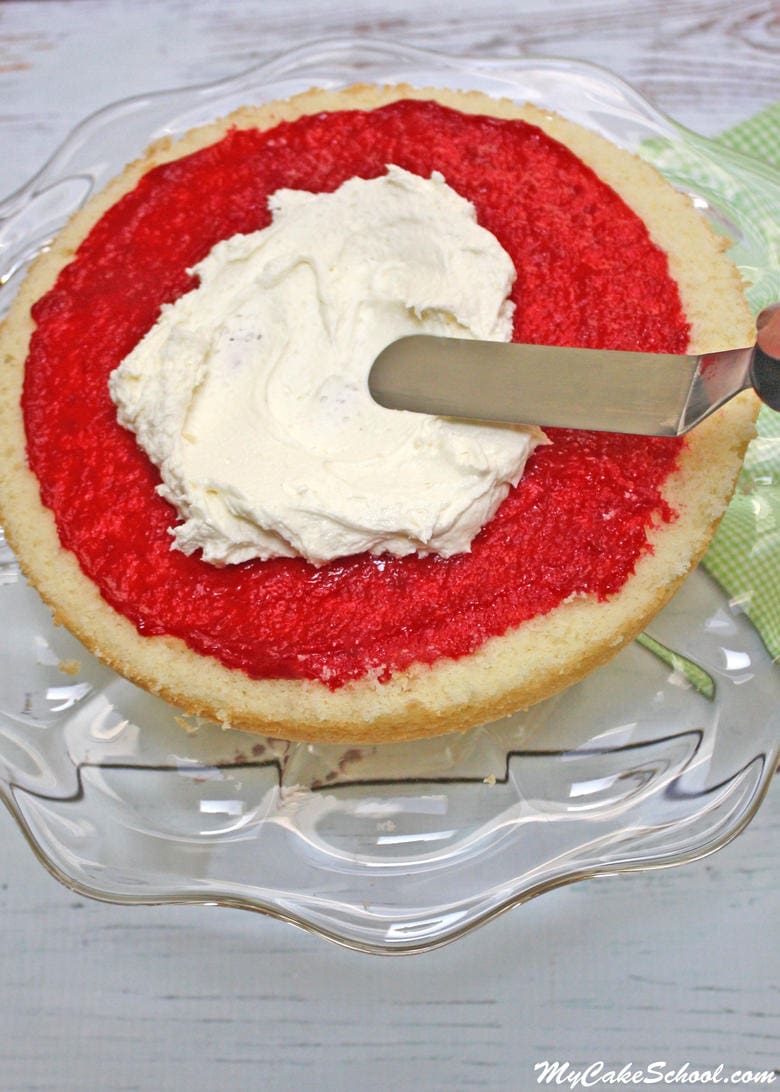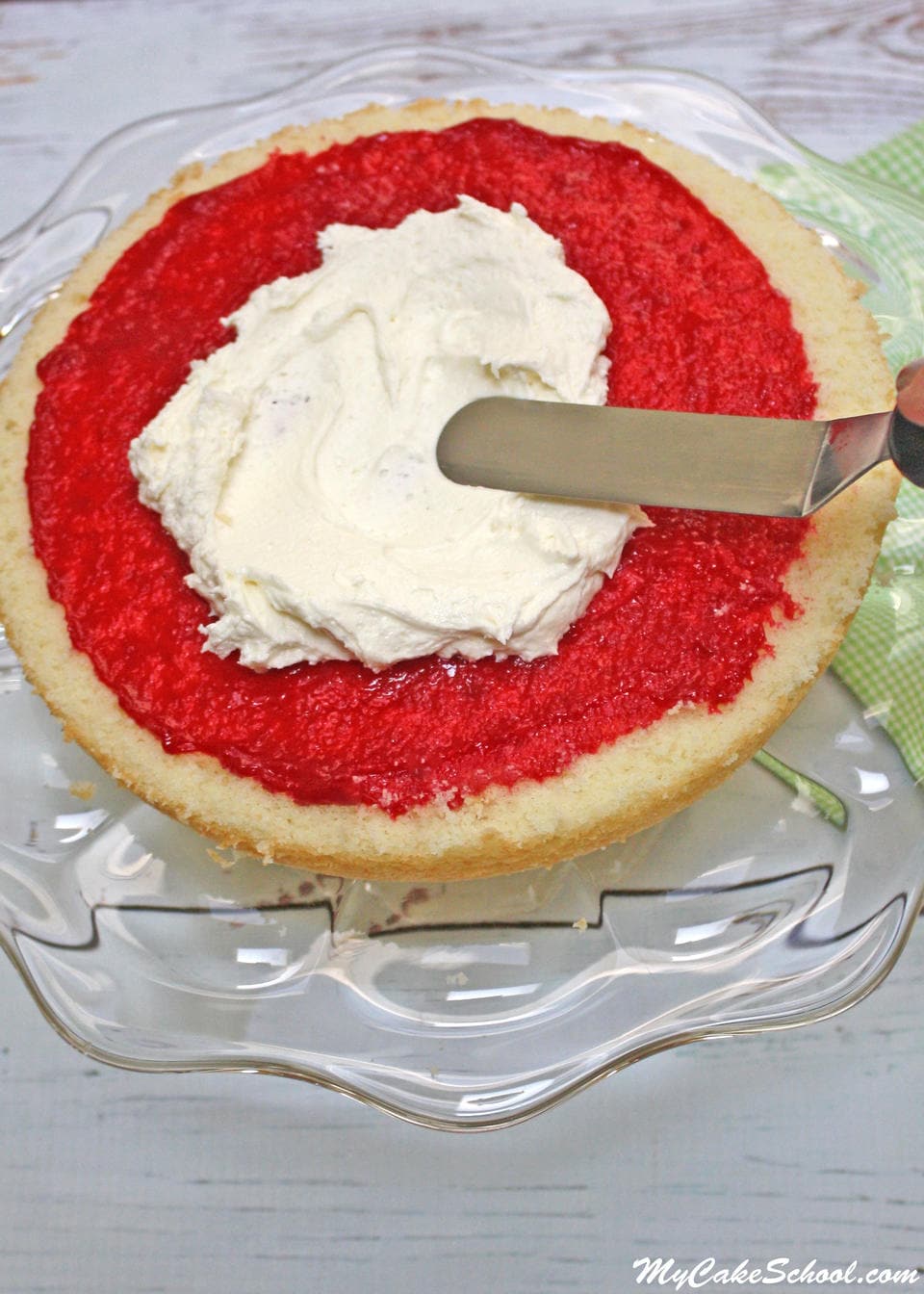 After assembling the layers, I crumb coated my cake with a thin crumb coat layer of the white chocolate buttercream, chilled it in the freezer until firm (about 15 minutes), and then followed with a thicker layer of the white chocolate frosting. We're going for a rustic look and so I didn't worry with smoothing ;0)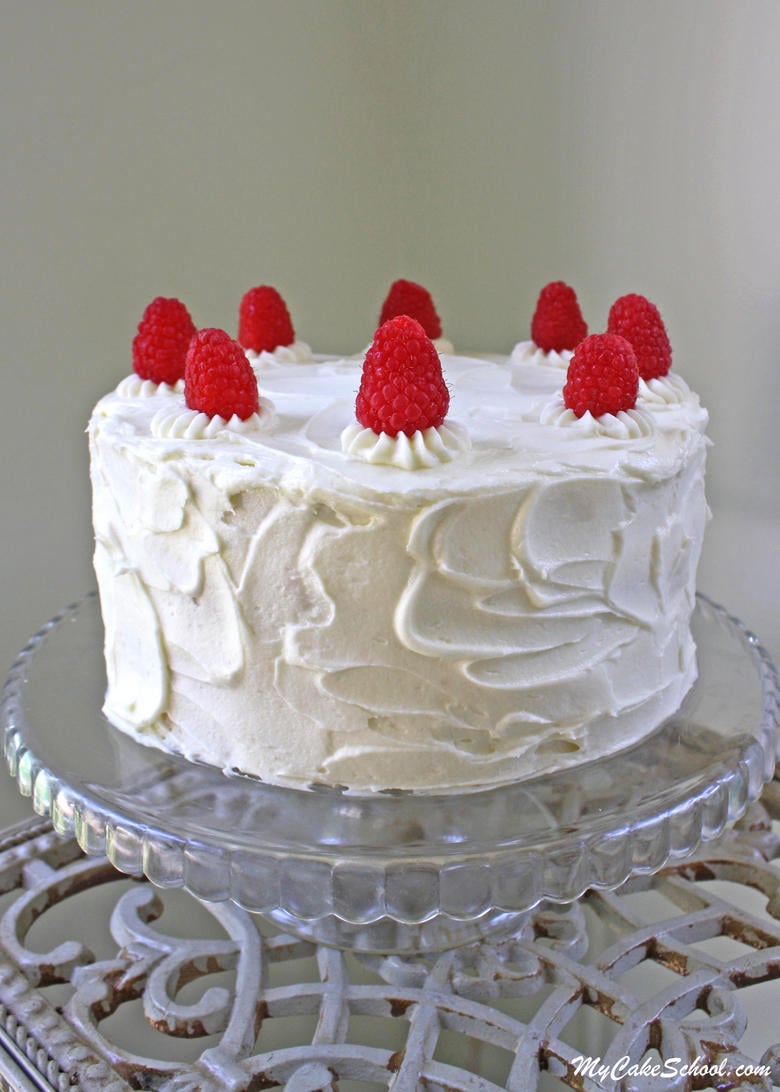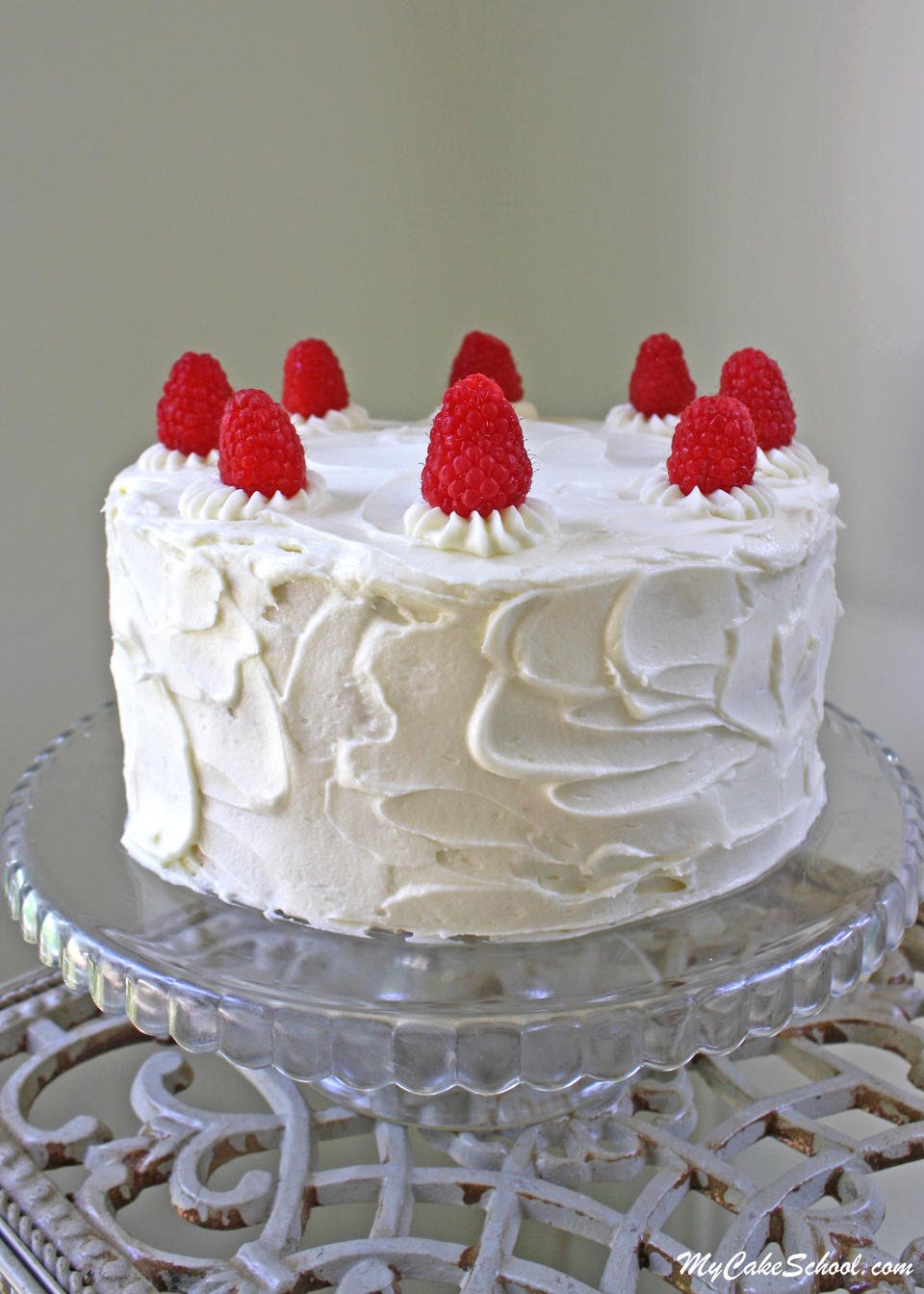 I also applied several stars with a french piping tip (Ateco 863), and garnished with fresh raspberries. The finished cake stands just under 4 inches.
That's all there is to it! We hope that you enjoy this recipe as much as we have! It would be perfect for any number of special occasions including bridal and baby showers, birthdays, and weddings!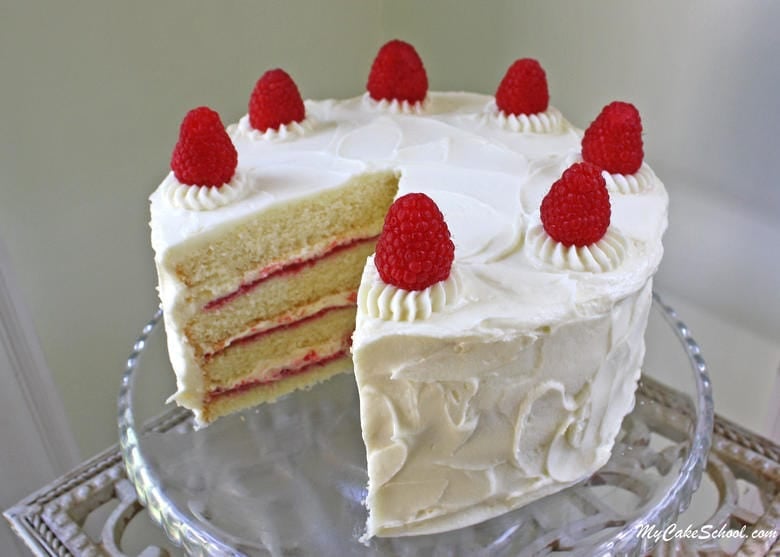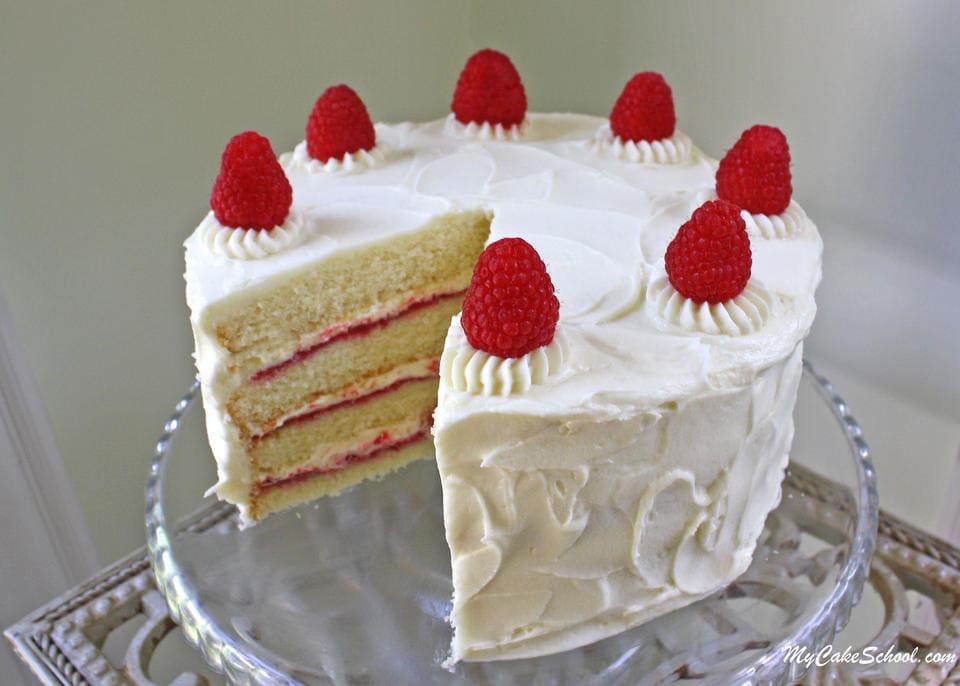 Love White Chocolate? Don't miss these other favorite recipes!
White Chocolate Raspberry Cake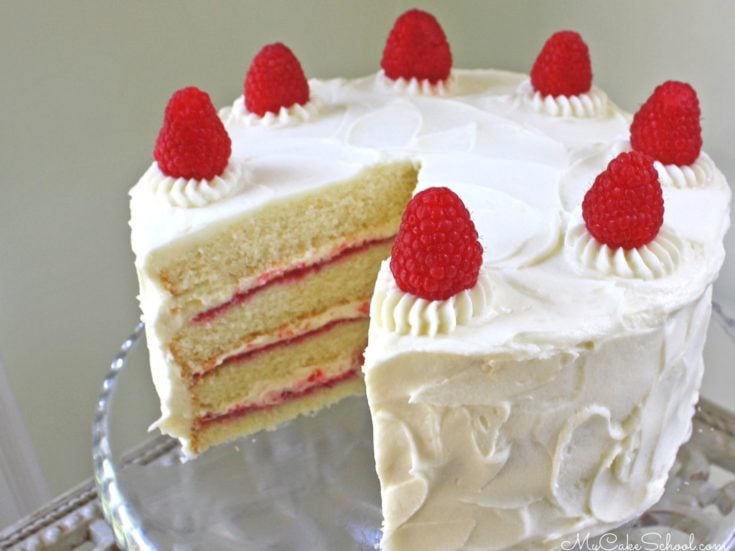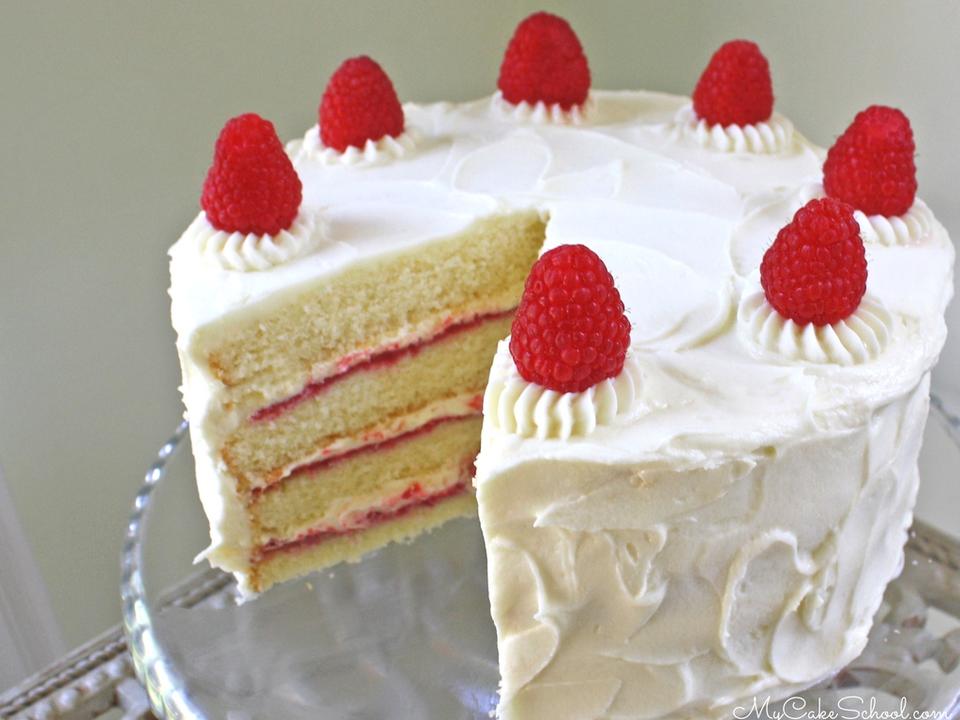 Delicious scratch White Chocolate Raspberry Cake Recipe- this layer cake is so moist and has wonderful flavor!
Ingredients
Ingredients for the Cake
4 ounces (113.5g) white baking chocolate (I used Ghirardelli Premium Baking Bar and Bakers Premium Baking Bar to test the recipe)
2 1/2 cups (285g) cake flour * if you do not have cake flour see Note below for substitution
2 1/2 teaspoons (10g) baking powder
1/2 teaspoon (3g) salt
1 1/2 sticks (170g) unsalted butter, slightly softened (do not soften in the microwave)
1 1/2 cups (300g) sugar
2 large eggs, room temperature ( if in a hurry you can warm the eggs in a bowl of hot (not boiling) water for 5 minutes)
2 teaspoons (8g) vanilla extract
1 1/3 cup (314g) milk
For the Raspberry Filling
12 ounce (340g) package frozen raspberries
1/2 cup (100g) sugar
3 Tablespoons (26g) cornstarch
1 teaspoon (4g) lemon juice
2 teaspoons (8g) raspberry extract (optional)
For the White Chocolate Buttercream Frosting
3 sticks (339g) unsalted butter, softened (do not soften in the microwave)
8 ounces (227g) white baking chocolate (I used 2 Ghirardelli Premium Baking Bars)
4 1/2 cups (518g) powdered sugar
1 teaspoon (4g) vanilla extract
4 tablespoons (42 g) milk or cream
Instructions
For the White Chocolate Cake
Preheat the oven to 350 degrees
Grease and flour two 8 x 2 inch pans
IMPORTANT: for this recipe you will need to add a circle of wax paper or parchment paper to the bottom of the cake pans to prevent sticking
Heat the milk in the microwave or on the stove top, do not let it boil. Add the white chocolate that has been cut into very small pieces. Let it sit for a couple of minutes to soften, then stir until melted and smooth. Let this cool down before using.
Combine the flour, baking powder and salt, whisk for 30 seconds to blend and set aside.
In the bowl of your mixer, mix the butter until smooth. Slowly add the sugar and mix on medium speed 4 to 5 minutes, until the mixture lightens in color and becomes fluffy
Add the eggs one at a time, mixing after each until the yellow is blended in.
Add the vanilla.
Alternately add the flour mixture and the milk/chocolate mixture, beginning and ending with the flour (3 additions of flour and 2 of milk mixture).
Mix until just combined, do not over mix and do not mix above medium speed.
Pour batter into prepared pans and bake at 350 degrees for 30 to 35 minutes. When a toothpick inserted in the center comes out clean or with just a few crumbs attached, it is done. Let cool 10 minutes in the pans and turn out.
Works well for cupcakes
Makes 6 cups cake batter
For the Raspberry Filling
Completely thaw the frozen raspberries. If in a hurry, and your raspberries are in a plastic bag you can thaw them more quickly by placing the bag in a bowl of hot water. Once thawed, puree the raspberries in a blender.
Place a fine wire strainer over a bowl. Pour the pureed raspberries into the strainer and let the juice drain into the bowl. Using the back of a spoon, press the raspberries into the strainer to force the raspberry pulp into the bowl. It will take several minutes of pressing the raspberries. When finished be sure to scrape off raspberry pulp that will be clinging to the bottom of the strainer into the bowl. Discard the remaining seeds and pulp that would not go through the strainer. You should get from 1/2 to 3/4 cup of juice and pulp. Add enough water to this to make 1 1/4 cups.
In a small saucepan, combine the raspberry juice, sugar, lemon juice and cornstarch. Whisk to blend. Cook over medium heat whisking constantly until the mixture thickens.
Remove from the heat and add the raspberry extract. Stir well and allow to cool. Can be refrigerated in a covered container for a week.
Makes 1 1/4 cups
For the White Chocolate Buttercream
Cut/chop the white chocolate into very small pieces, put into a microwave safe bowl and add 4 Tablespoons milk or cream.
Microwave for 15 seconds let sit for a minute or two, stir and microwave again 15 seconds letting it sit a minute to soften further, stir. Be careful not to over heat the chocolate. The chocolate will continue to melt as it is stirred. Let the chocolate cool down before using.
Mix the butter until softened and smooth, add the powdered sugar 1 cup at a time. Add the white chocolate and milk mixture. Add vanilla. Add another Tablespoon milk if needed. Beat on medium speed for 3 to 4 minutes and it will become smooth and creamy.
Makes 5 cups frosting. Makes enough to frost a 2 or 3 layer eight inch cake. If you will be doing a lot of decorative piping, you will need additional frosting.
**No Cake Flour? Here's a Substitution
If you do not have cake flour, you can use all purpose flour and the following substitution: for each cup of flour in the recipe, remove 2 Tablespoons and replace with 2 Tablespoons cornstarch. For this recipe measure out 2 1/2 cups all purpose flour, remove 5 Tablespoons and replace with 5 Tablespoons cornstarch. Whisk to blend.
Cake Assembly
Spread your layers with a thin layer of the raspberry filling. The raspberry filling is fairly thick and so piping a buttercream ring/dam around the filling isn't essential, although you should frost all the way to the edge. (See photo)
Next, spread over the raspberry filling with a layer of White Chocolate Buttercream frosting.
Frost the cake as usual. Enjoy!
Recommended Products
As an Amazon Associate and member of other affiliate programs, I earn from qualifying purchases.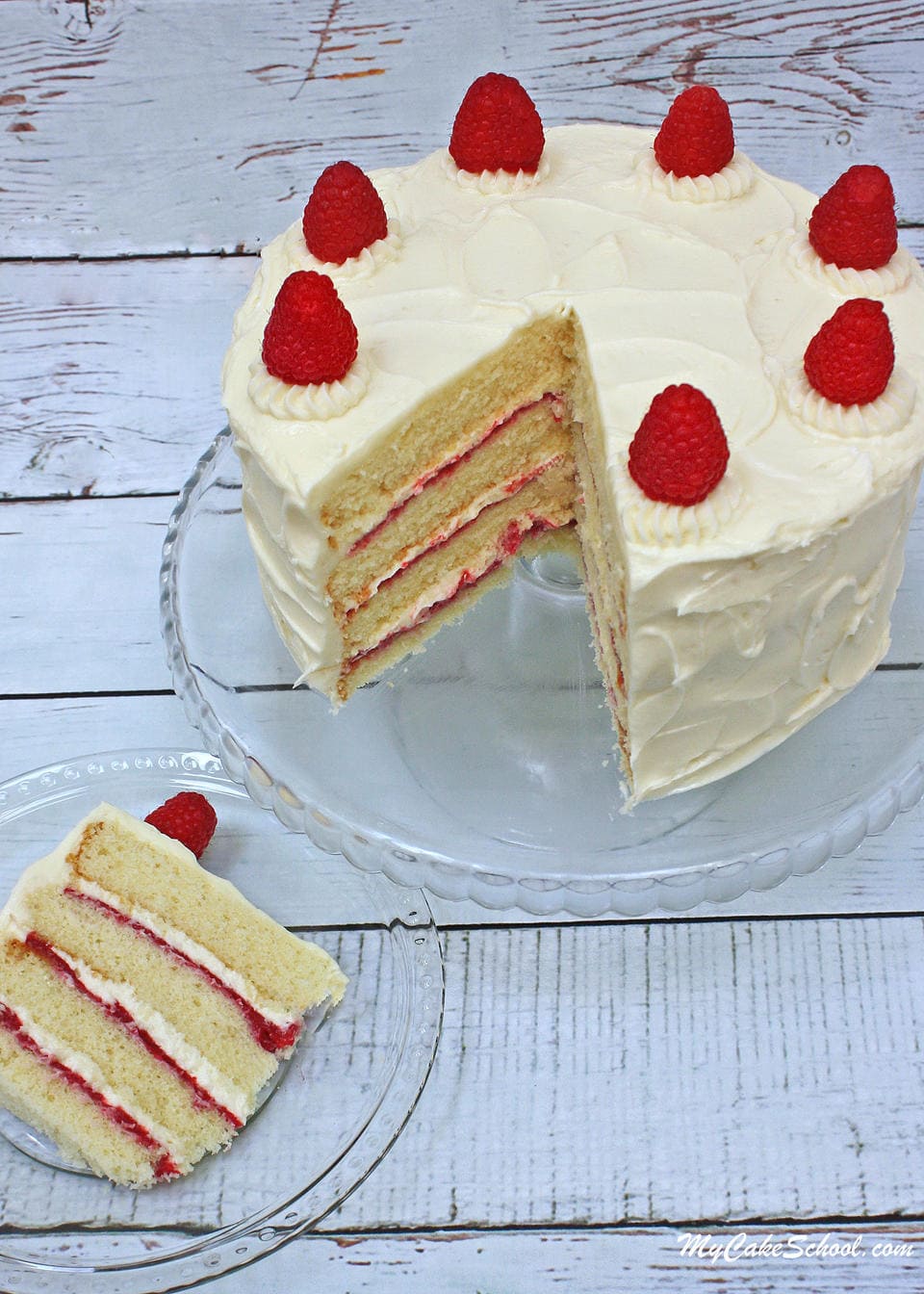 Online Cake Tutorials, the best cake recipes, and more!
Thanks for stopping by! Don't miss our full collection of FAVORITE tried and true cake and frosting recipes in our Recipes Section! We also have a growing collection of free cake tutorials in our Free Tutorial Section.
Finally, if you are interested in learning even more about cake decorating, we would love for you to join us as a member! Members of MyCakeSchool.com have full online access to our entire library of cake decorating video tutorials for as long as they are a member.
We would love to have you! Find all of the details here: Membership information for MyCakeSchool.com