Love You Bunches! Elephant Cake Tutorial
Today I'm sharing an ADORABLE Elephant Cake Tutorial which would be perfect for a number of occasions!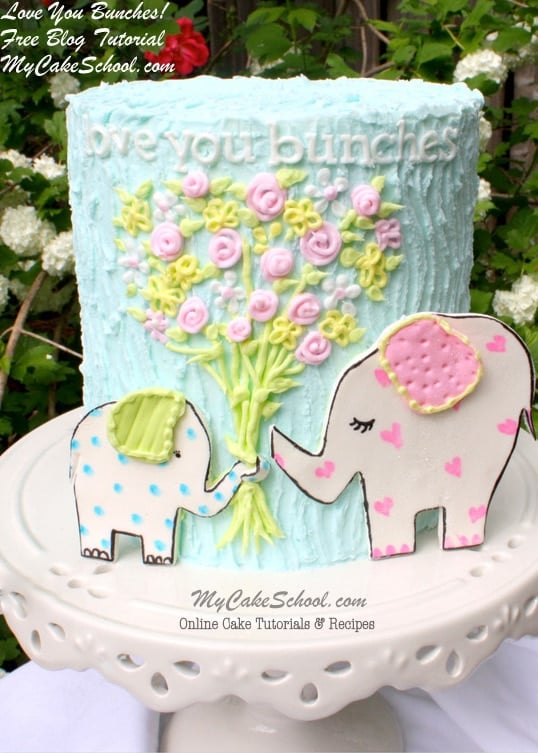 This sweet cake has a "Love You Bunches" theme, with a sweet little elephant handing a bouquet to a mama elephant. This is perfect for a Mother's Day Cake or Father's Day Cake (with a bit of a color change)!
You could also make two large elephants with our provided templates if you'd like to do an anniversary theme! So many possibilities. We hope that you enjoy this simple and sweet tutorial!
How to Make the Cake
I started with a tall 6 inch cake (double barrel-- 4 cake layers with cake board after the first two, and doweled beneath.) -
Then, I frosted the cake with our crusting Classic Vanilla Buttercream tinted with Americolor Sky Blue. We textured it with a small tapered spatula. Any frosting would work fine with this very forgiving decorating style. I am all about textured buttercream whenever possible! ;0)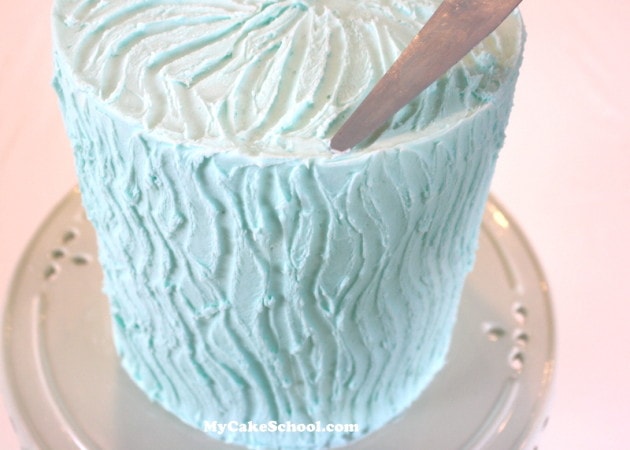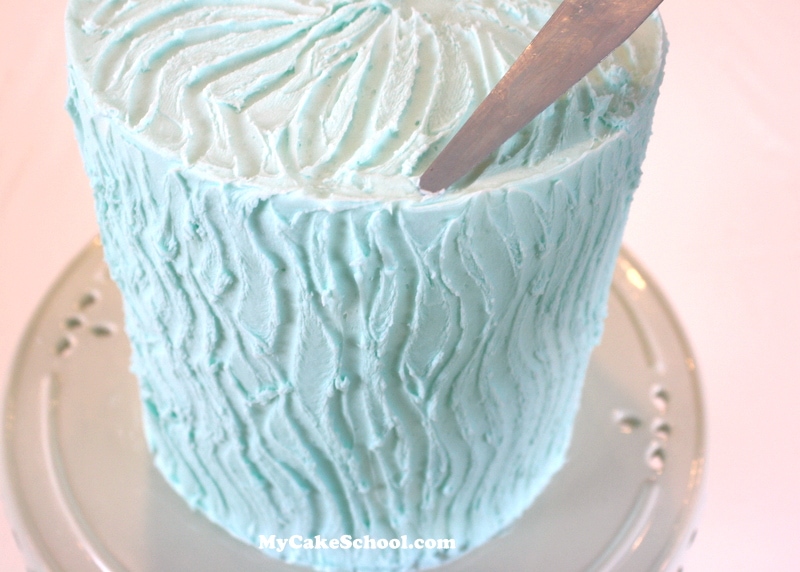 Next, I rolled out my Satin Ice gum paste to approx ⅛ inch and used my two elephant templates to cut out the shapes. If you do not have gum paste, you could use fondant which is edible and softer than gum paste. I used gum paste because I wanted my elephants to dry firm.
CLICK HERE for the link to my elephant templates!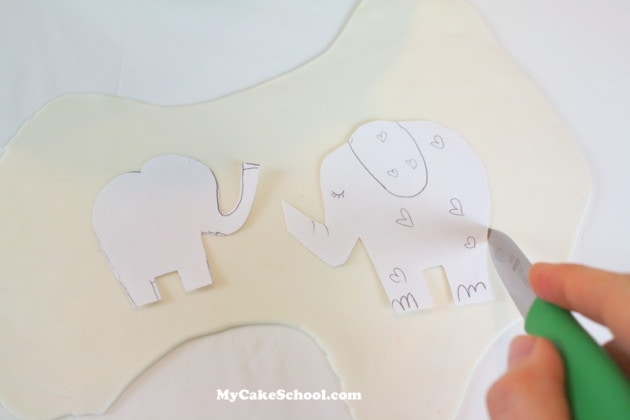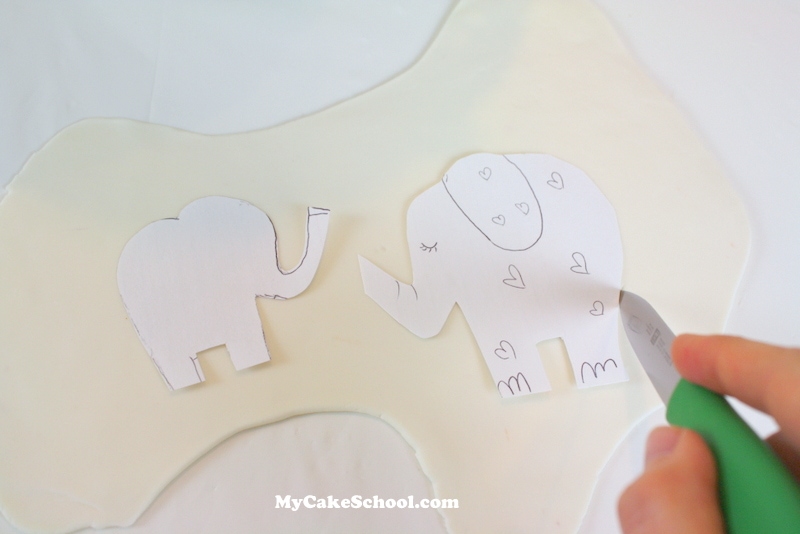 My elephants need tails, so rather than layering them on, I just made a cut at an angle in back ;0)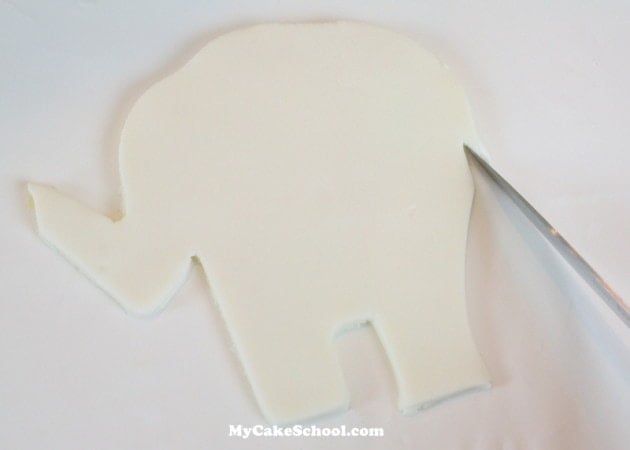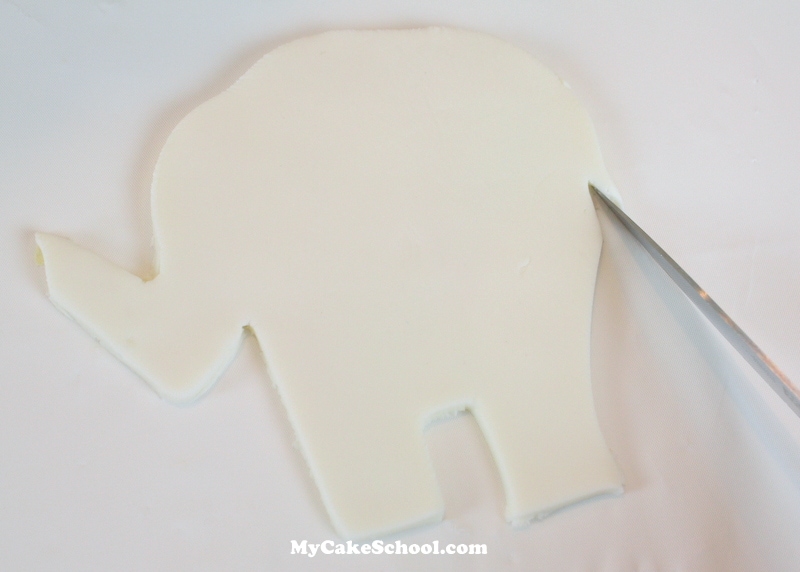 My smaller elephant is going to hold a bouquet, so while the cut-out was still nice and soft, I curled the end of his trunk.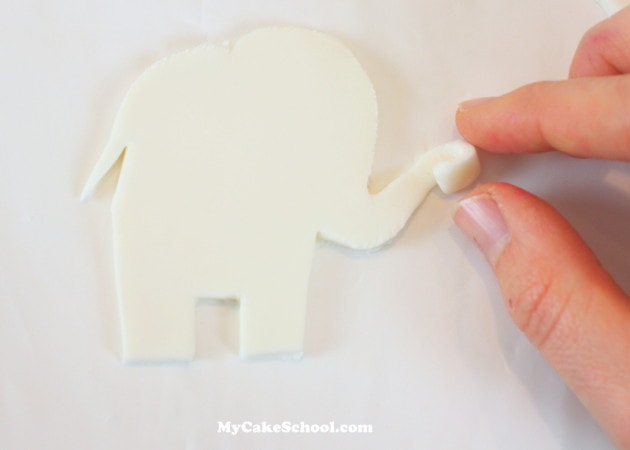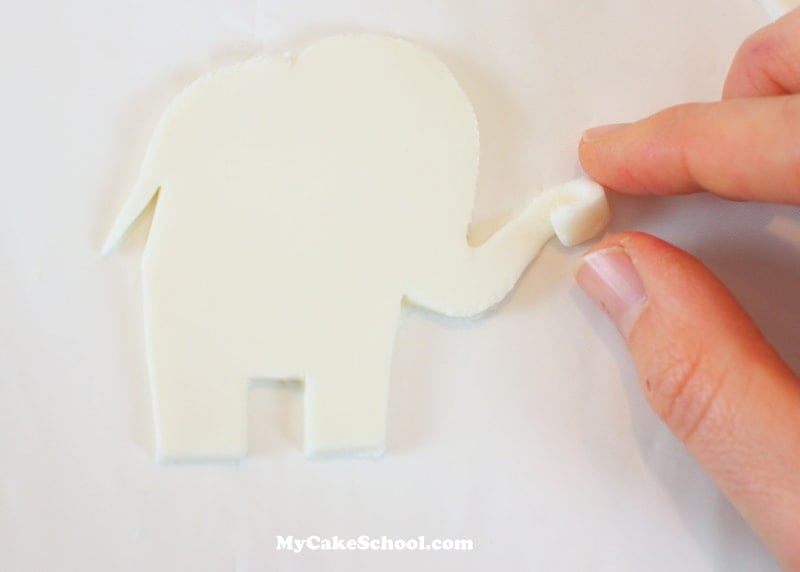 I like to let my gum paste pieces dry on parchment. It breathes a little better than waxed paper. After the elephants were dry on the surface, I knew it was safe to outline them with my Americolor black coloring pen. I painted on designs with a "paint" made from coloring gel & a little vodka. If you don't want to use vodka, you can substitute lemon extract. * The colors that I used for my paint were Americolor Sky Blue, Americolor Deep Pink, and Americolor Bright White to lighten my shades a bit.
If you don't want to make a "paint", you could pipe on your designs with a crusting buttercream.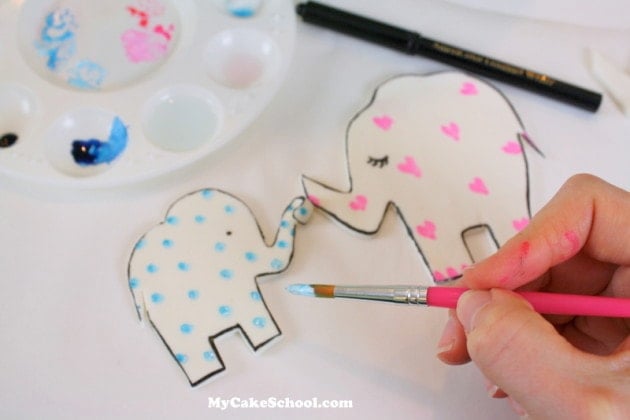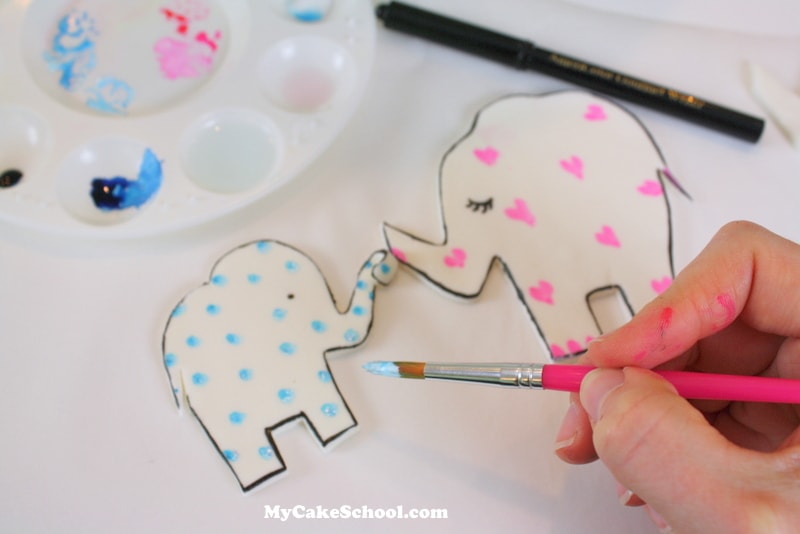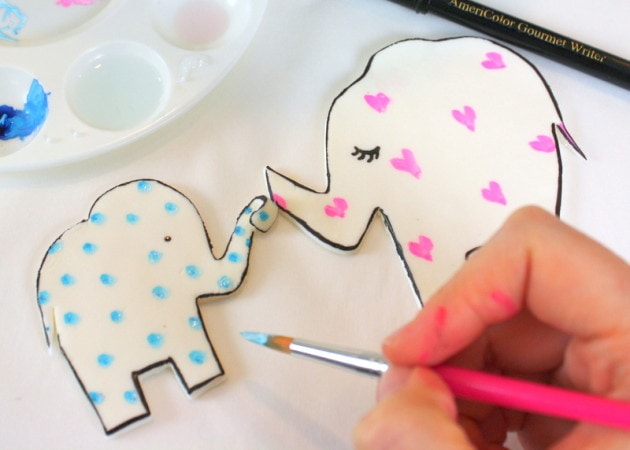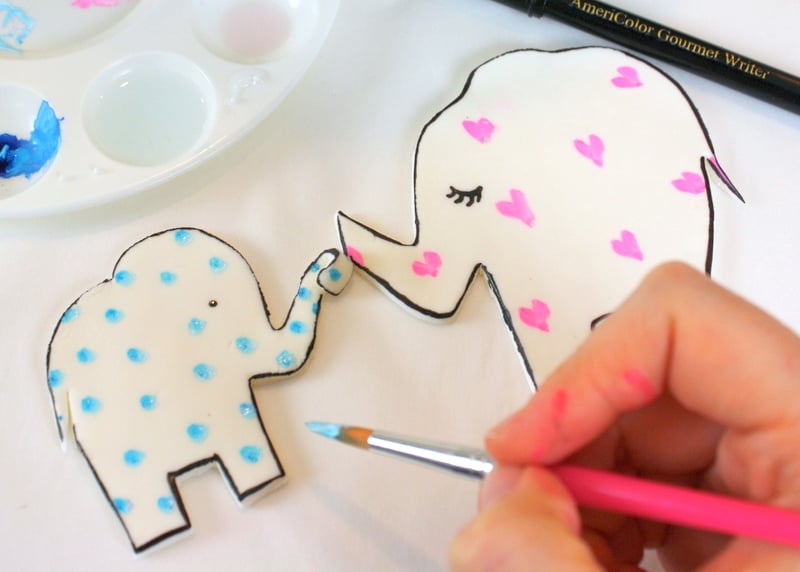 I also made some gum paste ears for my elephants. I textured them with a paintbrush handle and attached them with a little piping gel.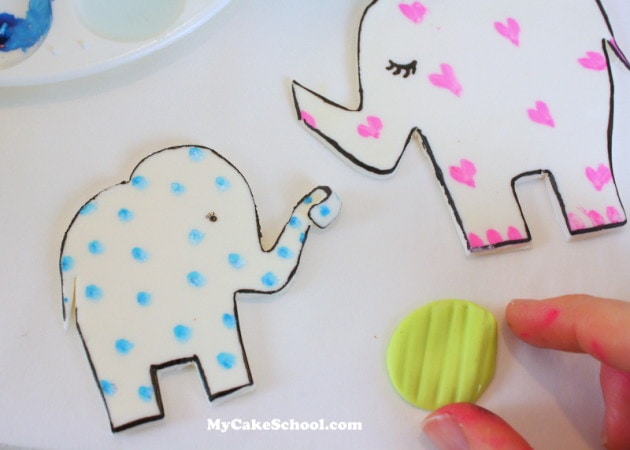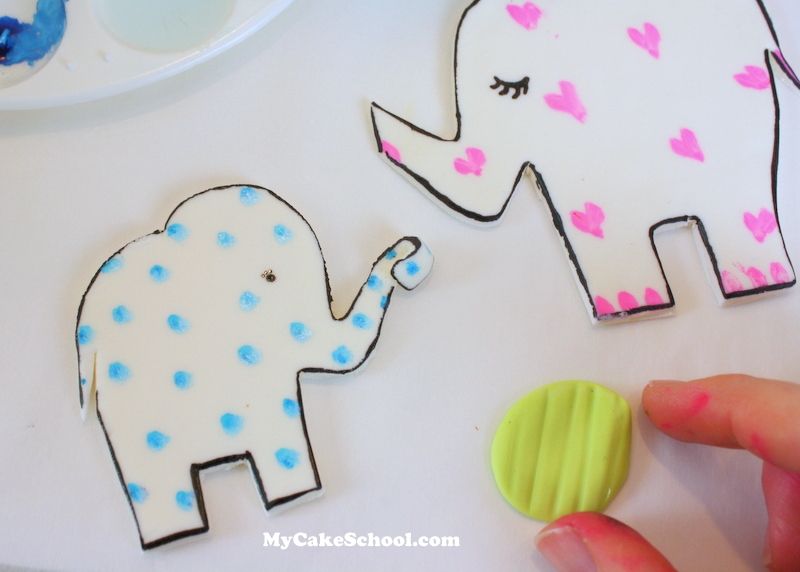 After a couple of hours, my gum paste elephants were not dry through and through but were dry enough that they could lean against the cake but still stand up partially on their own. (You'll notice that their backside is not pressed against the cake.) -- I glued them to the cake with some freshly piped buttercream.
However, if you want the elephants to curve right along with the cake, you can apply them right after you cut them out and while they are still soft. No need to dry!
Here, I used my tip 4 piping tip to pipe a little green buttercream border around the ears of my elephants. I also piped the stems of my flowers so that they appeared to be tucked into the baby elephants curled trunk. The green used in this tutorial is Americolor Electric green.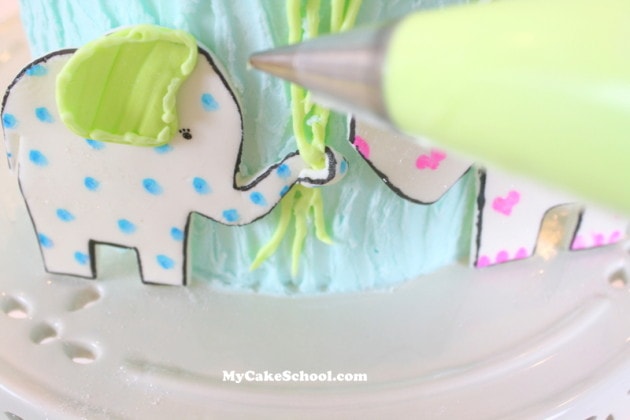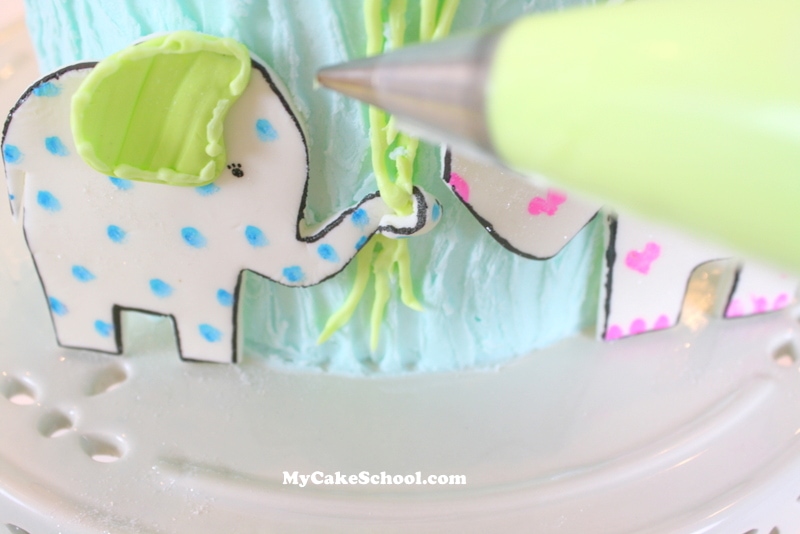 I loved piping these swirled roses because they are so cute and fast!! Just pipe a strand of buttercream (mine is tinted with Americolor Deep Pink through a Wilton piping tip 4) around and around until you are happy with the look. ;0)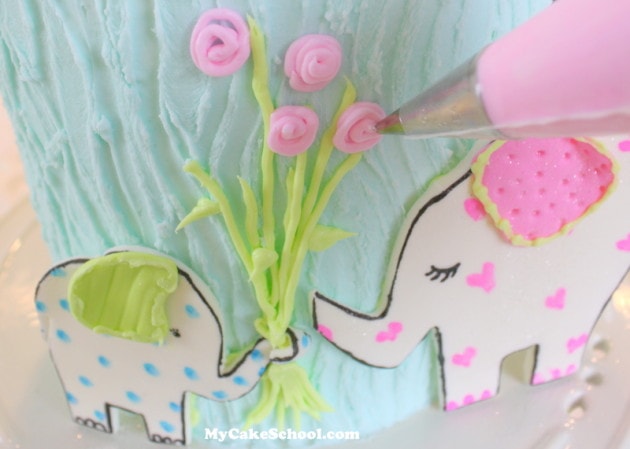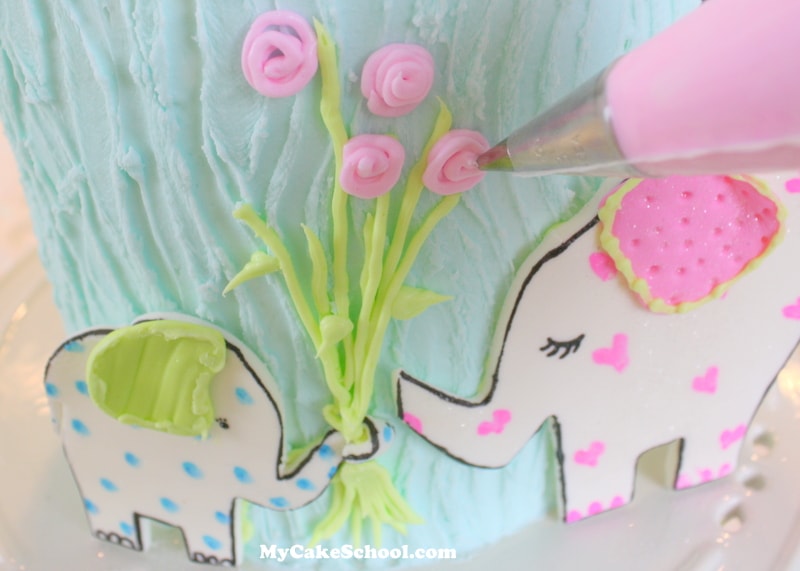 I added a few miscellaneous flowers, all done with Wilton 3 & 4 tips, which I use interchangeably for things like this. My yellow is Americolor Lemon Yellow. You'll notice I piped a lot of teardrop shapes, daisy shapes and spirals ;0)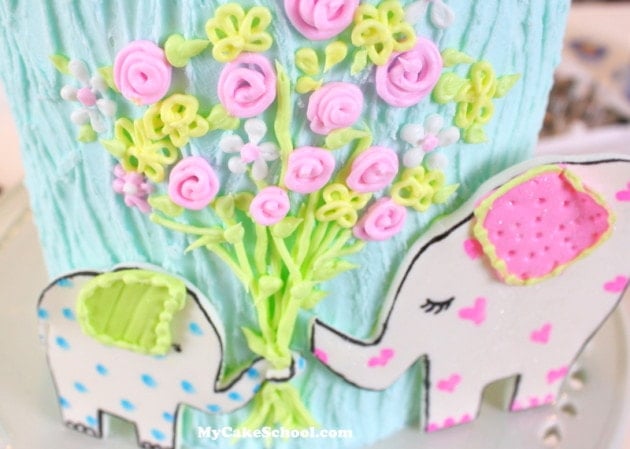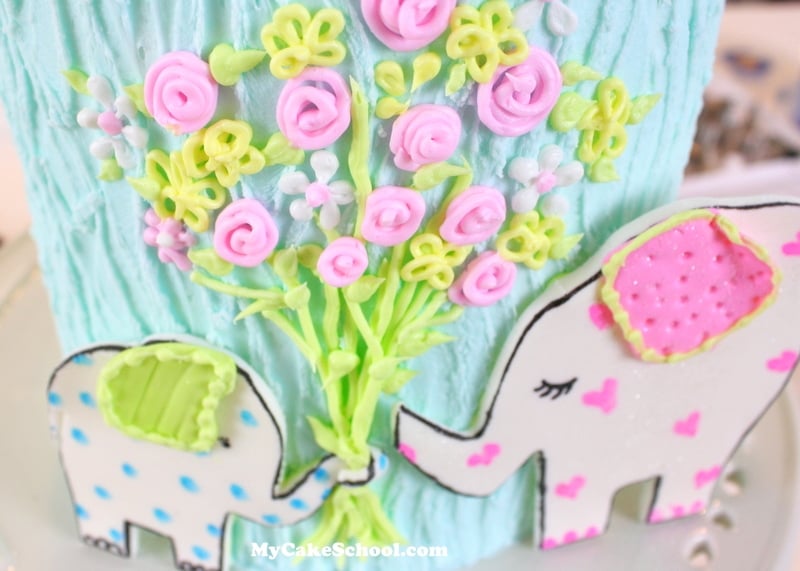 At this point, I could have been finished, but I wanted to add a little saying. LOVE YOU BUNCHES seemed to be perfect for this little cake, and so I used my FMM Lower Case Block Alphabet Tappit Set to punch out the letters ! I punched them from thinly rolled gum paste strips after the gum paste had set up for several minutes.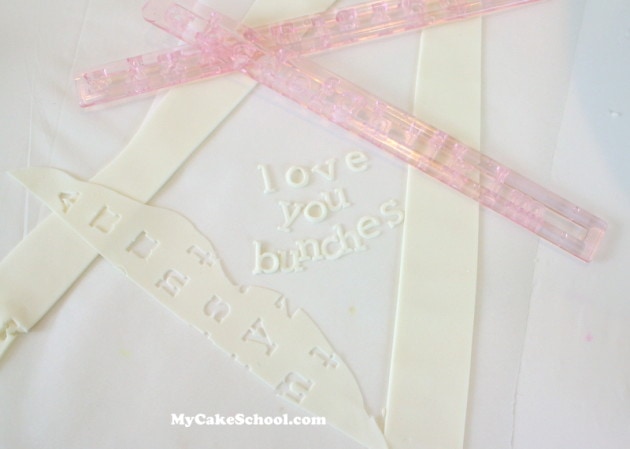 I attached my letters with a little piping gel and here we are! ~ Sweet baby elephant offering a huge bouquet to his sweet mama on Mother's Day! ;0) -- Awwww...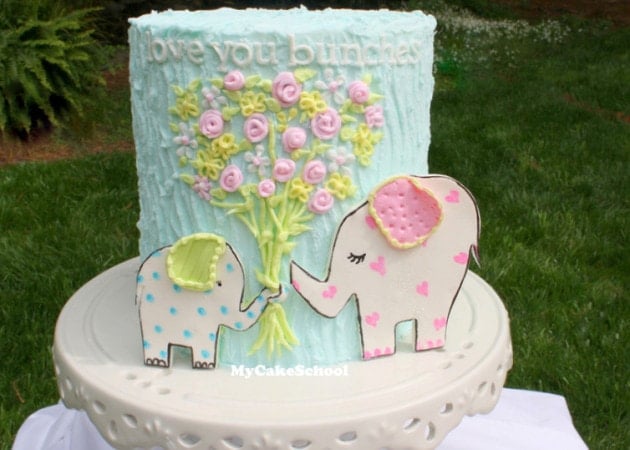 This design would work great not only for Mother's day, but also for baby showers. You could also make two big elephants instead & have a sweet anniversary or Valentine's cake too! Thanks for stopping by-- hope to decorate with you again soon! ;0)
More Elephant Cakes
If you love elephant themes, don't miss our other cake tutorials!
Here is an adorable Elephant Sheet Cake (free tutorial), perfect for young birthdays!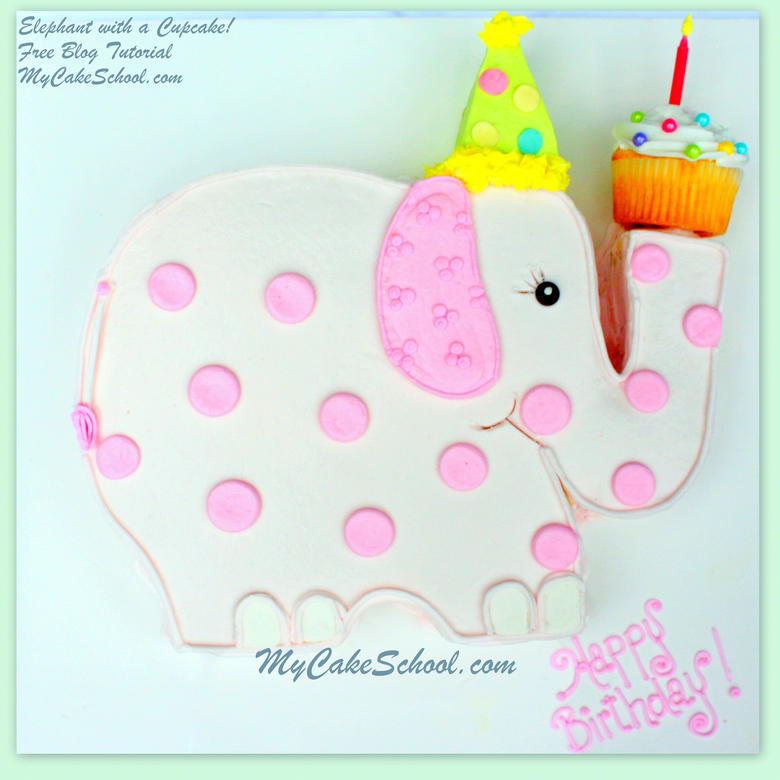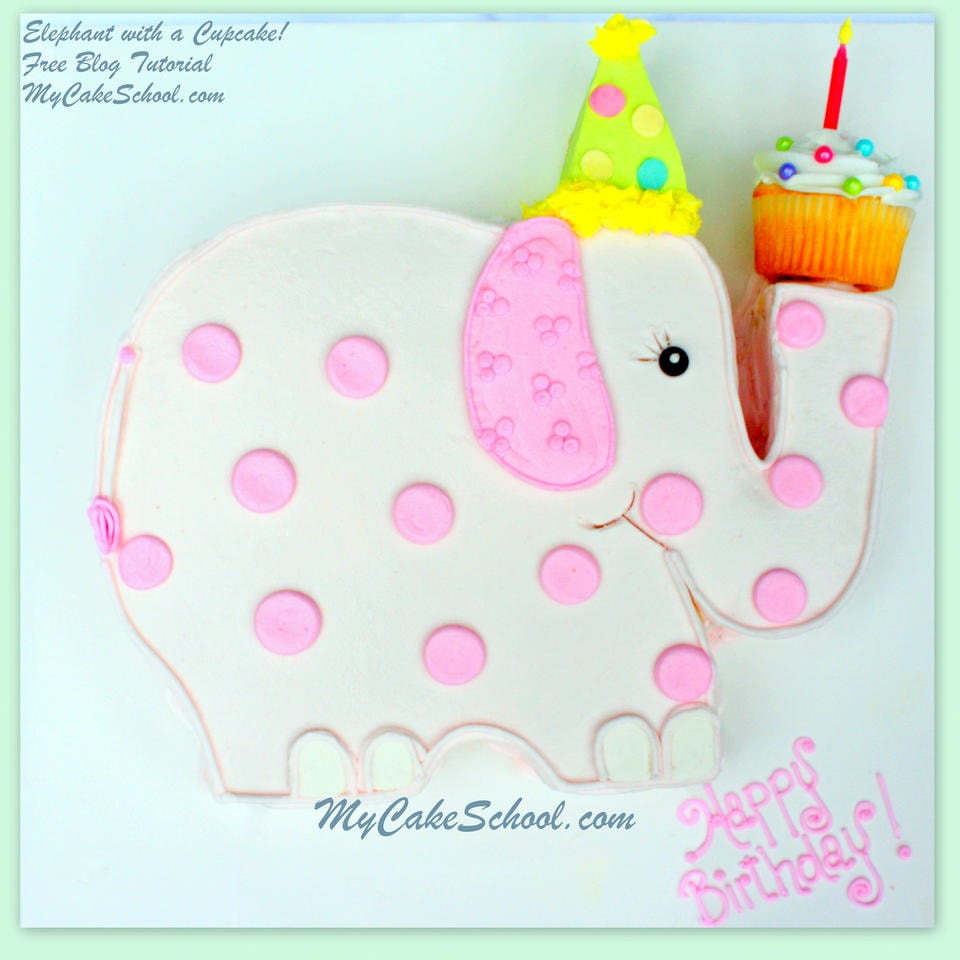 We also have an adorable Elephant and Wagon Cake Topper tutorial!