Leopard Print (pattern on the inside) Cupcakes!~ Baby Shower- Video Tutorial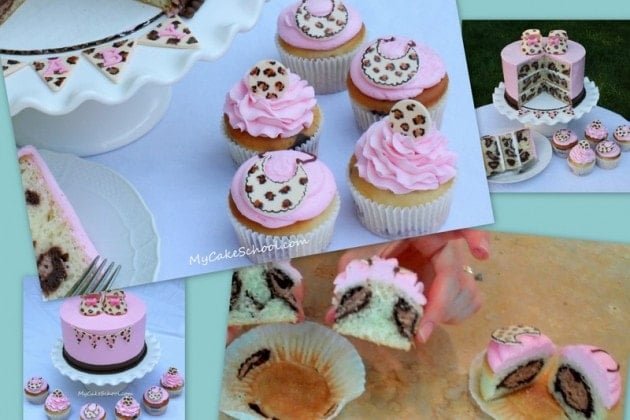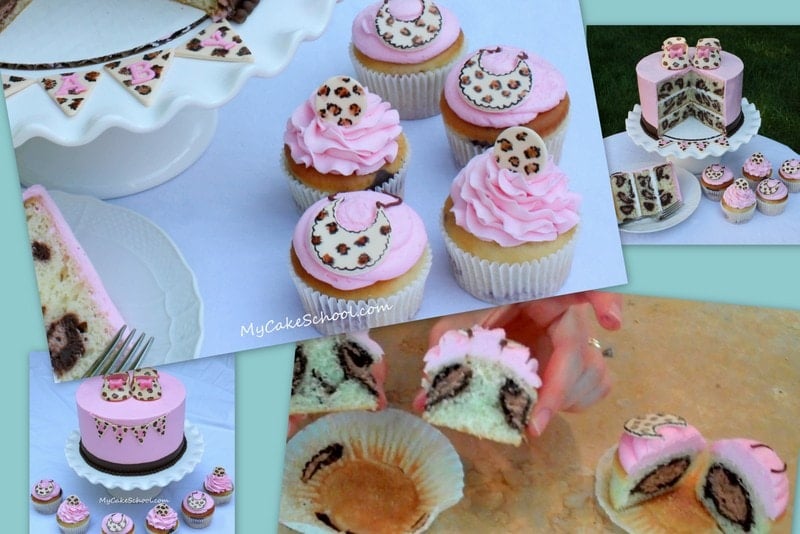 In this video, you will learn how to carry a leopard print pattern to the inside of your cupcakes!
I love anything with a surprise inside, and the cupcakes are perfect for fun, funky themes, animal themes, or in this case, baby showers!
These cupcakes are meant to go along with the leopard print baby shower cake that we made in another video tutorial. However, the technique that we used to make the pattern is slightly different for our cupcakes than for our cake.
Please see below for additional details--I hope that you enjoy the tutorial! *CLICK HERE to see the matching leopard print baby shower cake video!
Supplies/Notes
In this video, we are using our White Almond Sour Cream recipe from the Recipes section
White Fondant (we used Satin Ice) for accents
Coloring Gels--We used Americolor Ivory to tint the bibs and circles, Americolor Super Black, and Americolor Chocolate Brown (but whatever brand you prefer is fine). The frosting is tinted with Americolor Soft Pink
Vodka/Lemon Extract- We used vodka to mix with our coloring gels to create the "paint" that we decorated our accents with.
Buttercream- We used our Fluffy Vanilla Buttercream recipe
Cocoa powder for tinting batter (optional, you could simply use coloring gel)
Piping Bags-We used 3 plastic/disposable piping bags to hold our batter. One bag with white, one bag with dark brown, one with medium brown batter
Piping Tips/Cutters- Two Round cutters for creating the bib--one large one small (I used an Ateco 847- this makes a 1 ¼ inch circle) and a standard piping tip for the small circle (I used a Wilton tip 12)-- Wilton tip 2 for piping accents, Wilton 2D, Ateco 808. 2D and 808 are optional, but are what I chose to frost my cupcake swirls of buttercream with.
Miscellaneous
Artist's Palette (A plate would be fine!)
Paint Brushes
Americolor Black Coloring Pen (optional)--I used the pen as an alternative to the brush, as well as for a design on the bib
Parchment Paper - to dry the fondant pieces on
Tylose Powder- I like to knead in a small amount of tylose into my fondant. This is optional, but makes them a little easier to work with, firmer, and they dry more quickly.
Notes
We used the White Almond Sour Cream recipe. I tinted part of the batter dark brown, and part light brown.
For the cupcakes, you do not need to tint much of the batter. For instance, if you are making a single batch of the WASC recipe, you should be fine to reserve in separate bowls about ¾ to 1 cup of the batter to tint dark brown, and ½ cup to tint light brown.
In my leopard print cake video, you can see how I tint what will become my bowl of darker batter with 1 Tablespoon cocoa powder per cup of batter, plus a couple of drops of black and brown coloring gel.
To make the lighter shade of brown, I use a little of my darker batter, plus a little chocolate brown coloring gel.
(*We originally planned that our cupcakes would be a part of our leopard cake video, which is why we don't show this process in the cupcake video also.)
You'll prepare three bags--one light brown, one dark brown, and one plain white batter. Then, the fun begins! ;0)
This "layering of dots" technique is what I prefer for cupcakes. Since cupcakes are so small, you are sure to have spots exposed with every bite. However, with cakes, I prefer a different technique that ensures that each slice of cake will have spots. I demonstrate this in the cake video linked above.
{Alternative Video Format}

Interested in creating Buttercream Leopard Print? We'll show you how in this free blog and video tutorial! Leopard Print Buttercream