Funfetti Cake Recipe from Scratch
There are few recipes as cheerful as a delicious funfetti cake, speckled with all of the colors of the rainbow! There's happiness in every slice.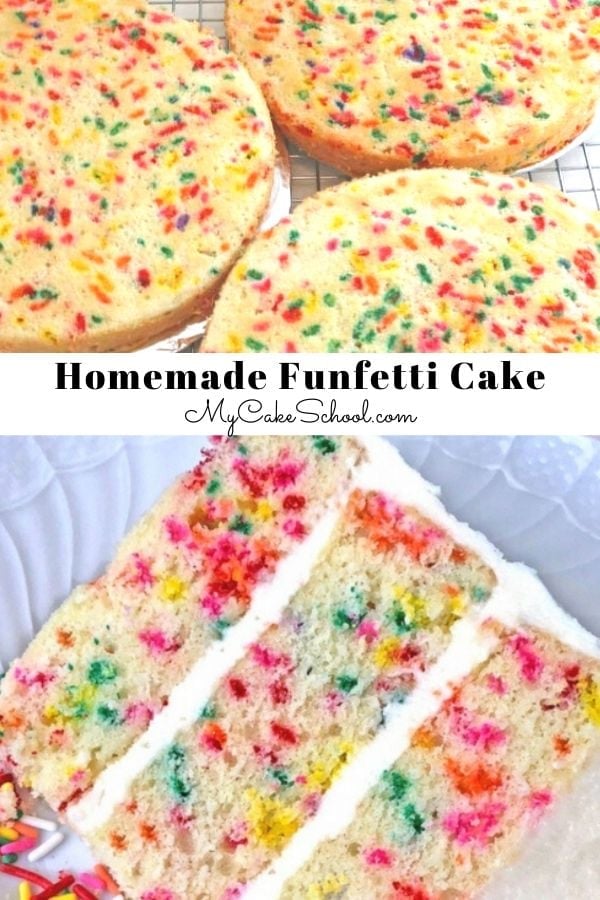 You can find funfetti cake mixes at the grocery store, but we love to make it from scratch.
Every delicious funfetti (or confetti) cake recipe has two things in common... you need a delicious white or yellow cake recipe, and lots of colorful sprinkles.
Rainbow jimmies have never let me down for this recipe (or ever, haha). They can easily be folded and distributed throughout the batter without a lot of color bleeding.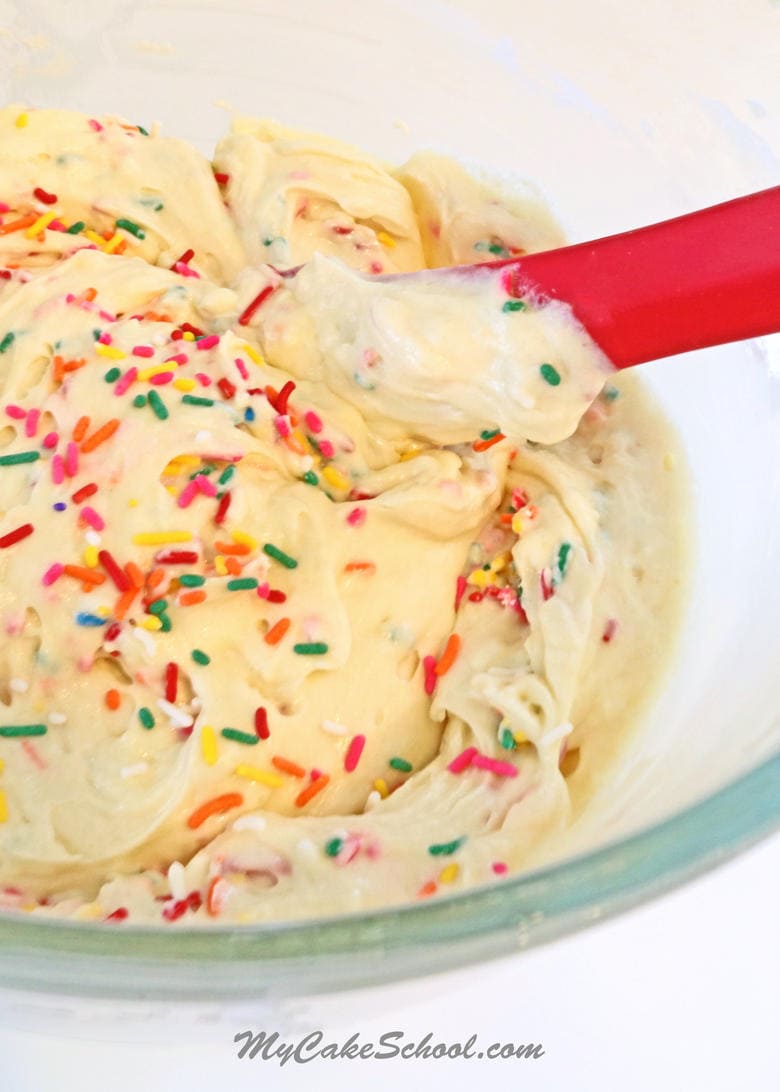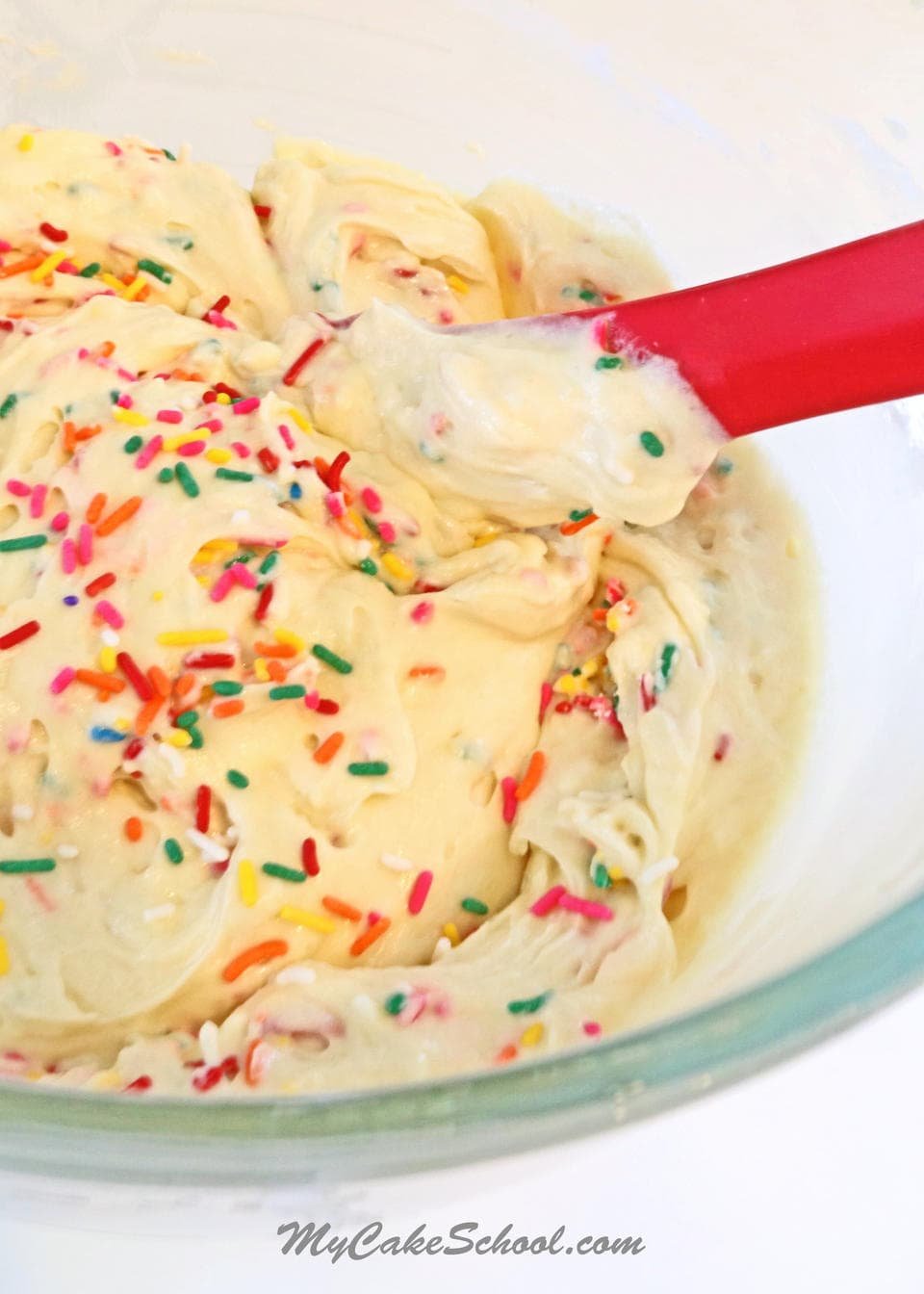 A Quick History of Funfetti Cake
Funfetti Cakes were first introduced in the late 1980's as a Pillsbury Cake mix.
While it's often thought of as a kids cake, I'm here to tell you that funfetti-loving kids grow into funfetti-loving adults!
This cake is popular with my whole family. A scoop of sprinkles has a way of making any dessert more festive!
Let's Make Funfetti Cake!
Today's funfetti cake recipe is based on our White Almond Sour Cream Cake....minus the almond.
As you'll see in our recipe, we're using the conventional method of mixing (rather than the reverse creaming) for nice, fluffy layers. This recipe works great for cupcakes also!
After folding our sprinkles into our cake batter, we divided the batter between three greased and floured pans (lined with parchment).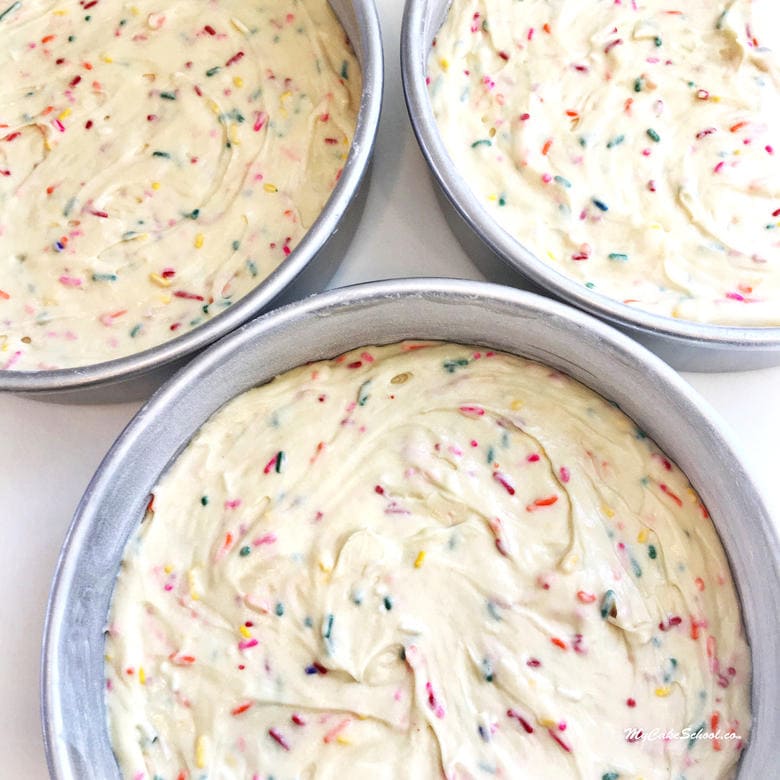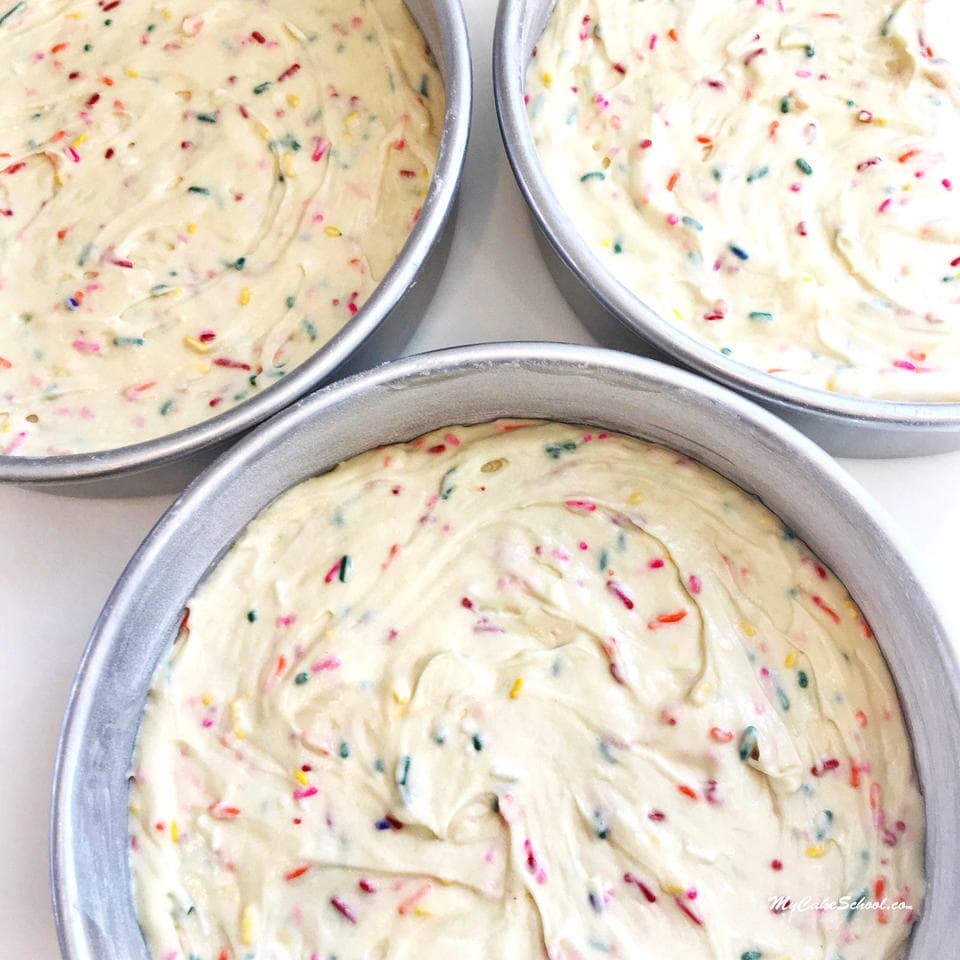 Freshly baked! I love that this cake makes three layers. After baking, I allow the cake layers to cool (still in their pans) for about 5 minutes before flipping them out.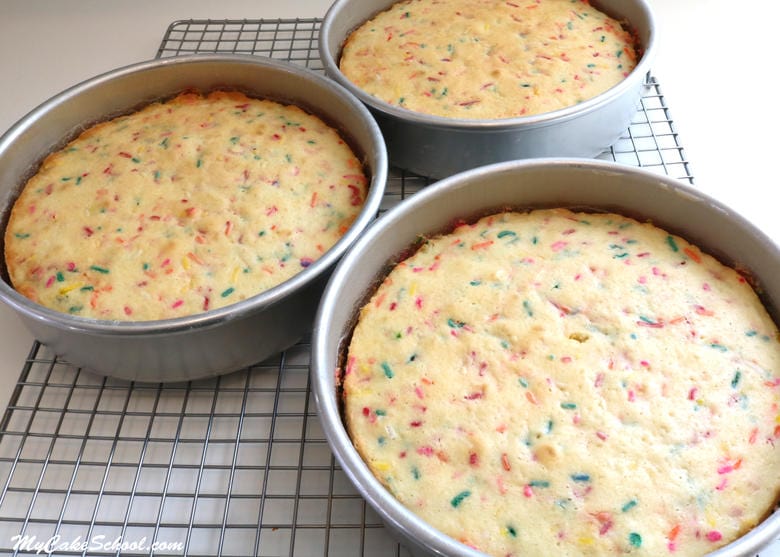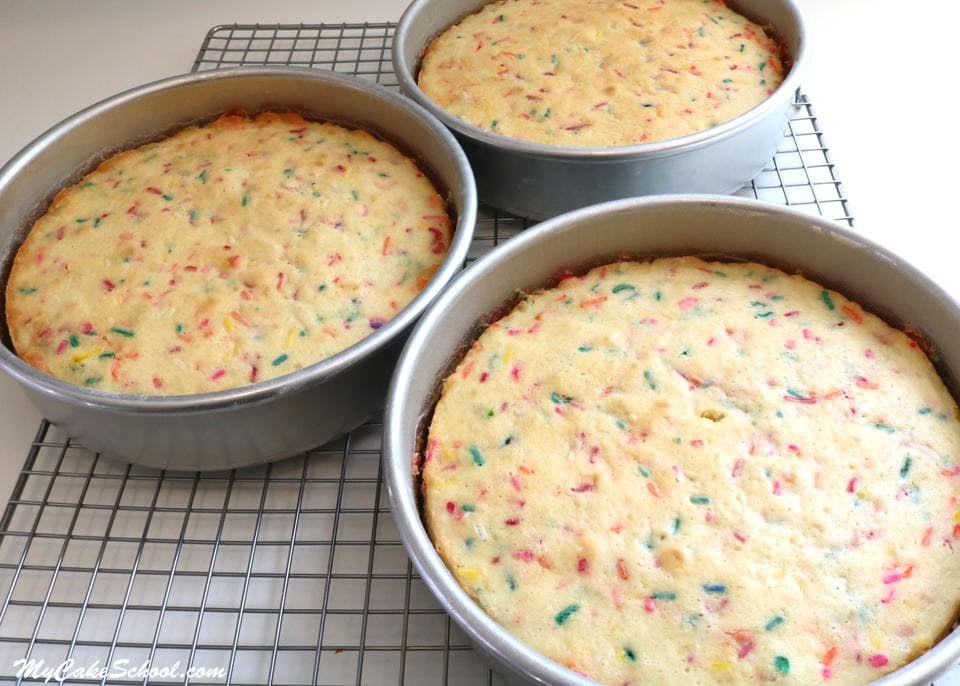 You can see in the photo that I flipped each cake layer onto its own (wrapped) cake board. This is optional, but I like to freeze my cake layers individually, wrapping the layers while still warm in a layer of plastic wrap followed by foil.
I then pop them into the freezer. Freezing is optional, but we do find that it makes the cakes even more moist!(I wrap the cake boards in foil so that they can be unwrapped and reused)!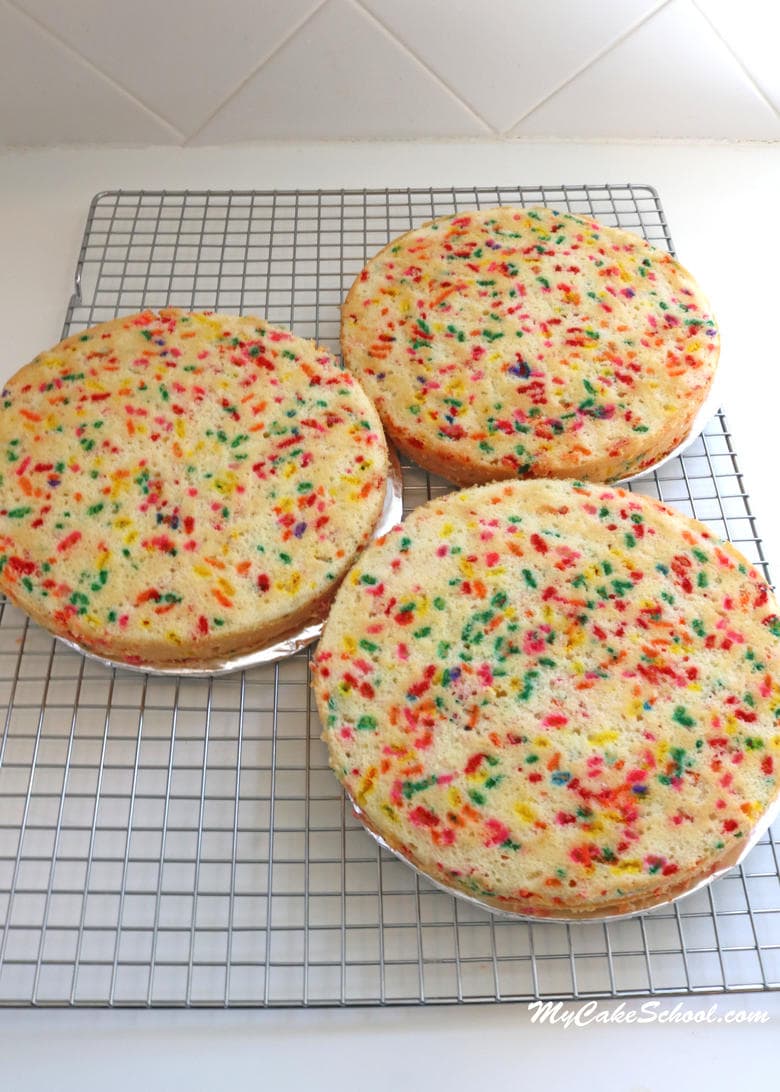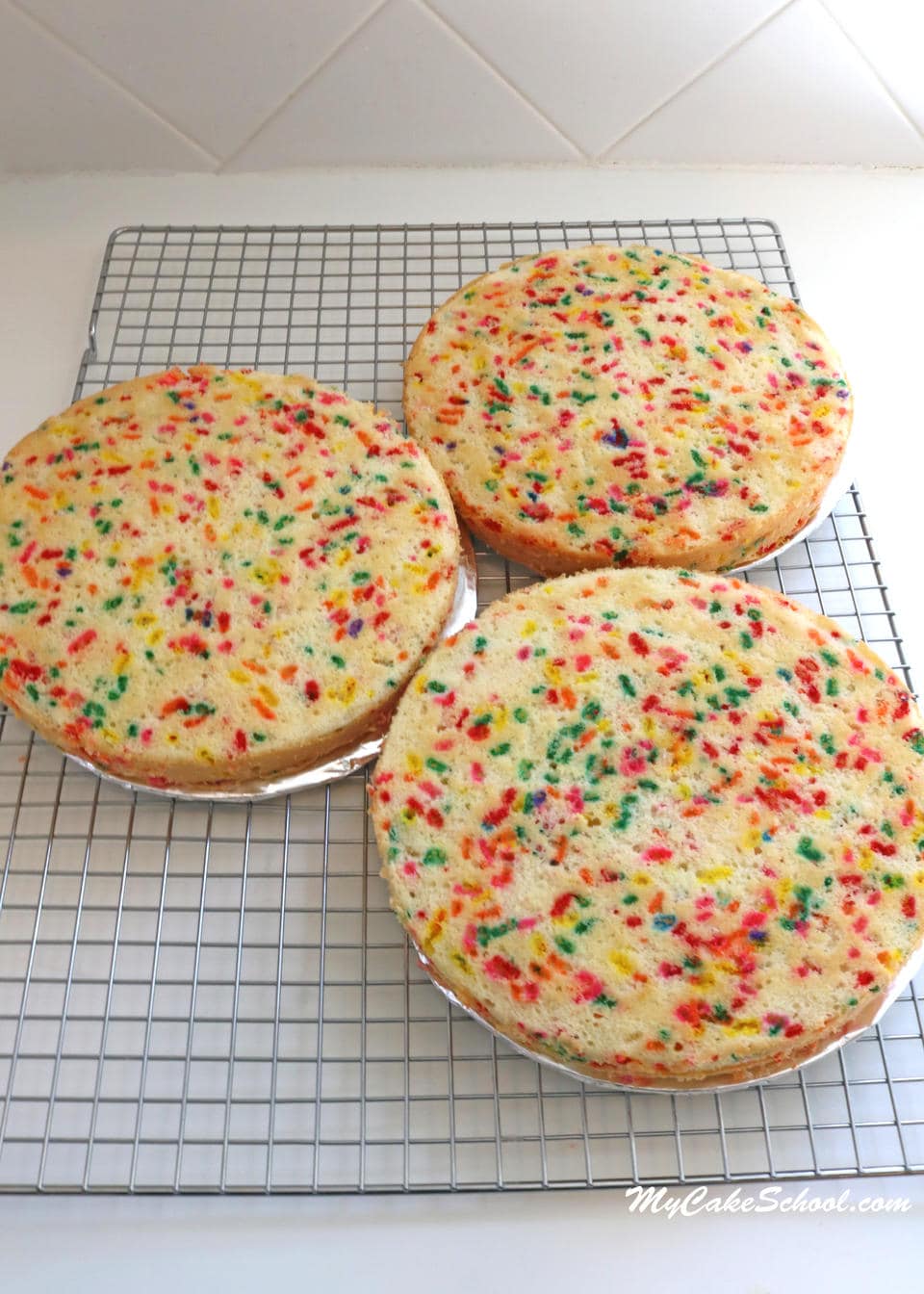 Funfetti Unicorn Cake!
I recently made a funfetti cake for our free Unicorn Cake Topper Video Tutorial from our Free Cake Video Tutorials section. Unicorn cakes call for a little extra color!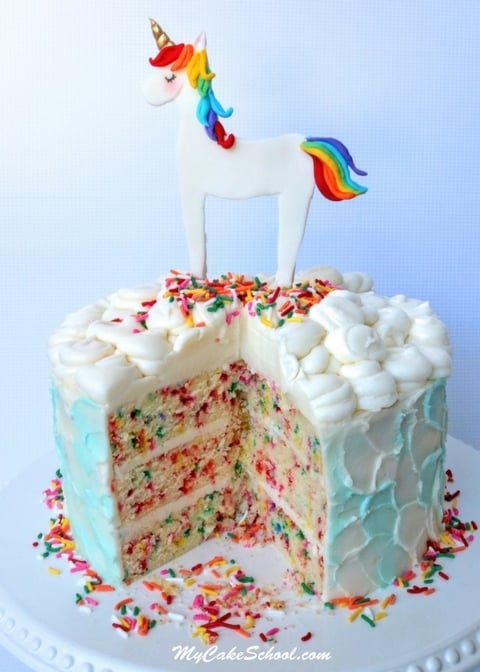 Ahhh...the Perfect Slice of Sprinkle Goodness
And here is a closeup of our slice in all of it's speckled funfetti glory!
I like using the colorful jimmies as our sprinkles because they leave nice, large dots of color after baking. This is such a cheerful slice of cake!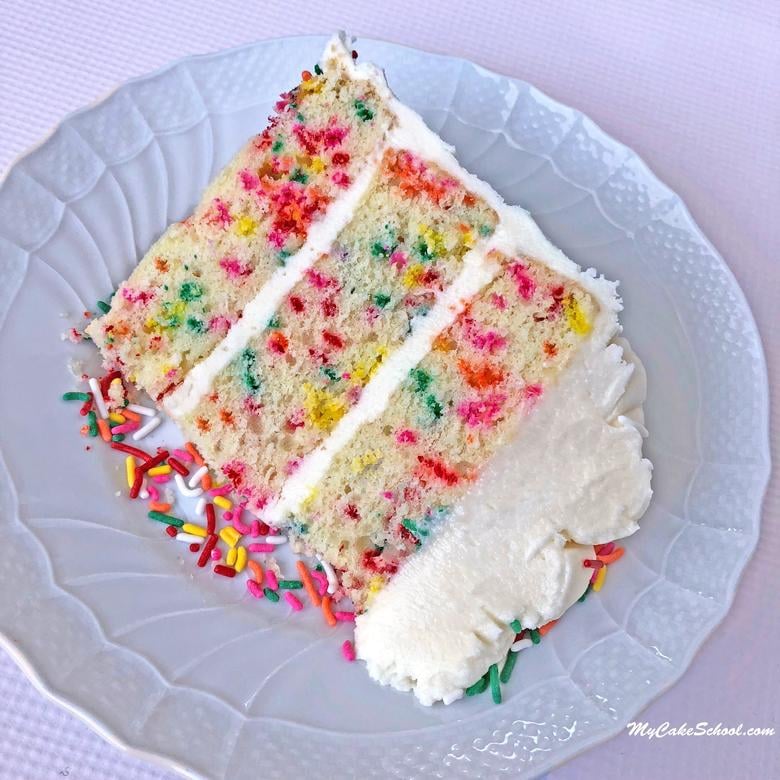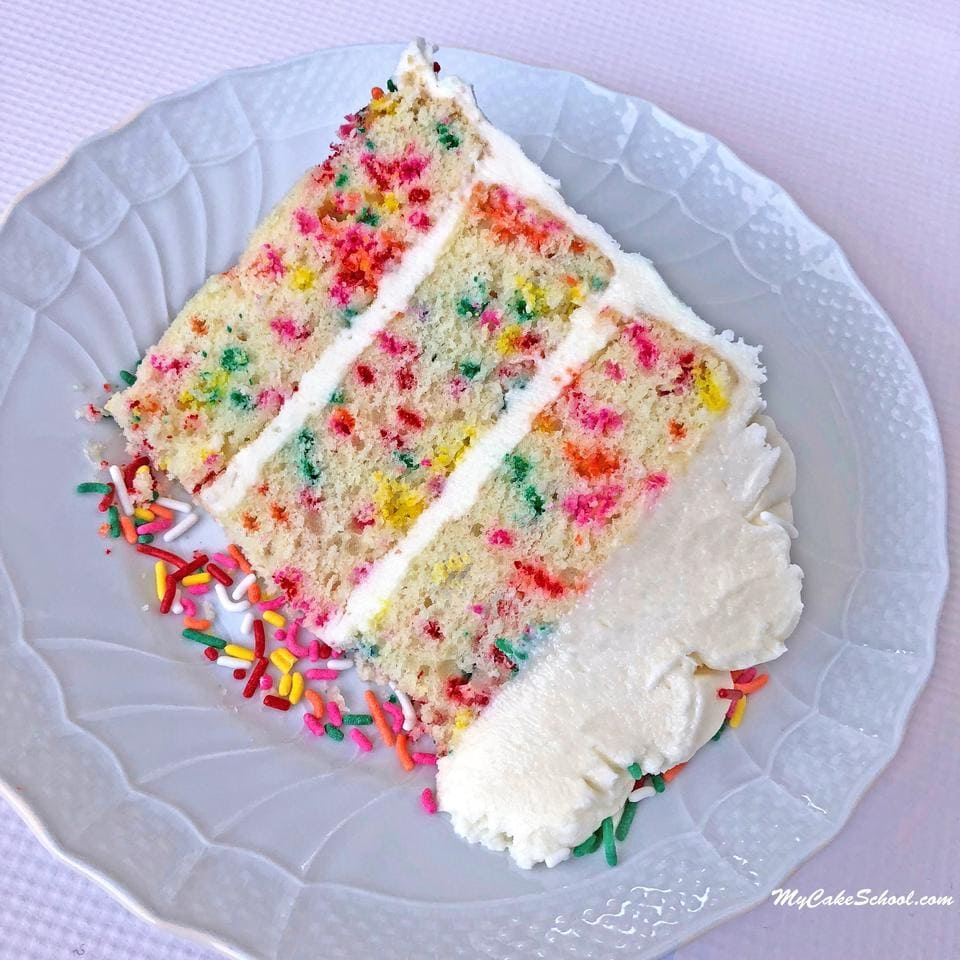 Enjoy the Recipe!
We hope that you enjoy this delicious Funfetti Cake! If you give it a try, we would love for you to leave a comment and photo below!
Don't miss our full collection of tried and true favorite cake and frosting recipes in our Recipes Section! There are so many wonderful recipes to try!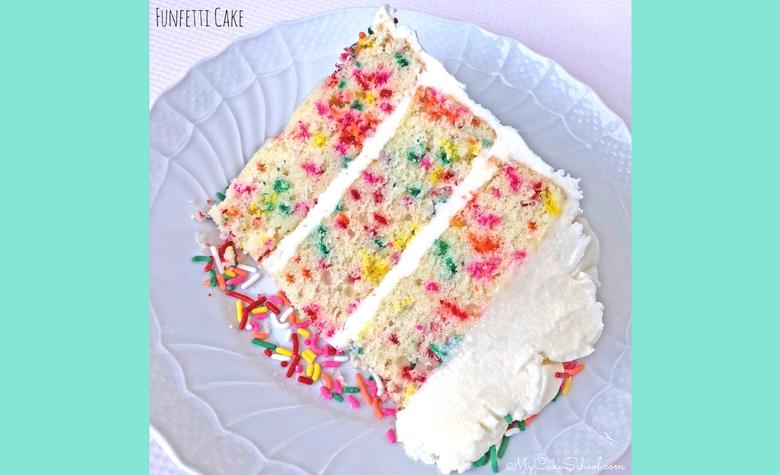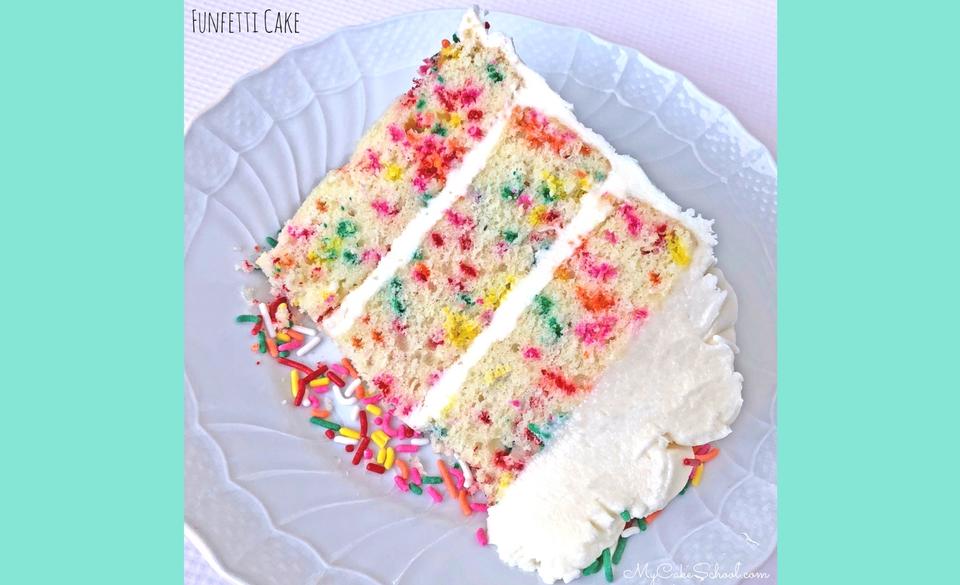 Funfetti Cake Recipe from Scratch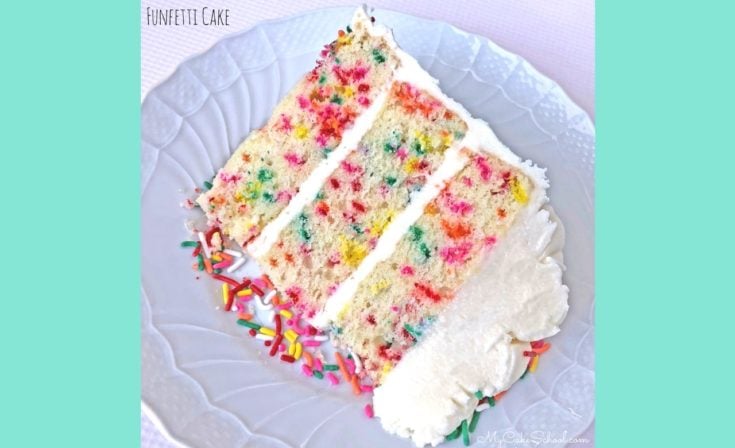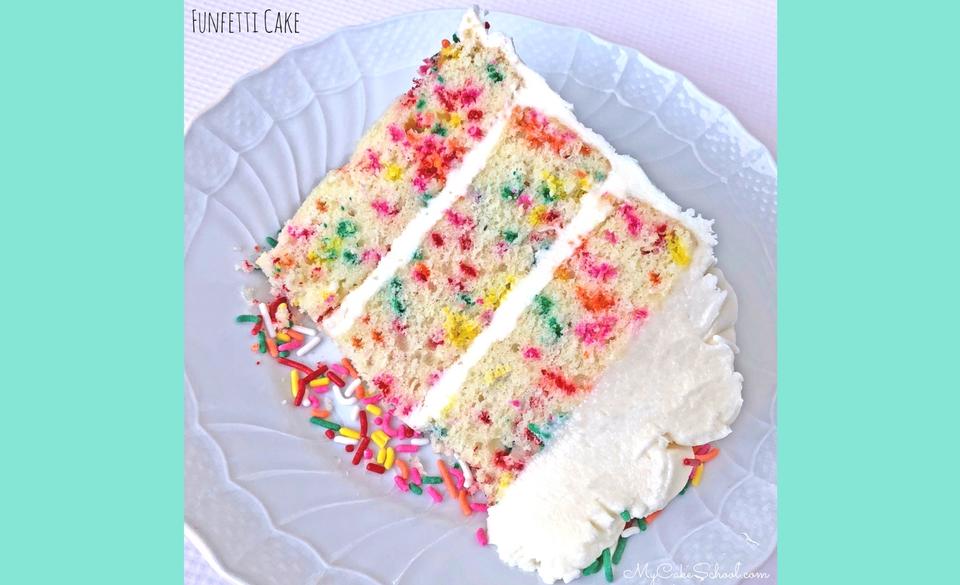 This homemade Funfetti Cake is moist, delicious and so colorful!
Ingredients
1 ½ sticks (12 T) (170g) unsalted butter, slightly softened
1 ½ c (300g) granulated sugar
3 Large eggs
2 tsp. (8g) vanilla extract
⅓ c (73g) milk
1 cup (242g) sour cream
2 ½ c (285g) cake flour
2 ½ teaspoons (12g) baking powder
½ teaspoon (3g) salt
1 cup (or less if you prefer) Rainbow Colored Jimmies
Instructions
Preheat oven to 350 degrees Grease and flour three 8 inch round baking pans
In medium bowl whisk for 30 seconds the flour, baking powder and salt. Set aside
In a separate bowl, combine milk, sour cream, vanilla. Stir with a fork to blend. Set Aside
In the bowl of your mixer, beat the butter until softened. Add the sugar and beat 3 to 4 minutes until lightened in color and fluffy. Scrape the bottom and sides of bowl midway through.
Add the eggs one at a time, beating after each one until yellow streaks disappear.
Add dry ingredients alternately with wet ingredients, mixing until dry ingredients are blended in. Begin and end with dry ingredients (3 additions of dry and 2 of wet).
Fold in sprinkles just until evenly distributed.
Bake at 350 degrees for 30 to 35 minutes or until a toothpick inserted in the center comes out clean or with only a few crumbs attached. Let cool in pans 10 - 15 minutes then turn out. Makes 7 cups batter Will hold up to fondant. Works well for cupcakes - cupcakes bake without dome