Today I'm going to show you how to make the CUTEST Cookout Cupcakes!
This tutorial is so simple, and would make any cookout even more festive and fun! These sweet cupcake toppers are simple enough for little ones to make too. Okay, so who wants to invite me to a cookout? I'm ready!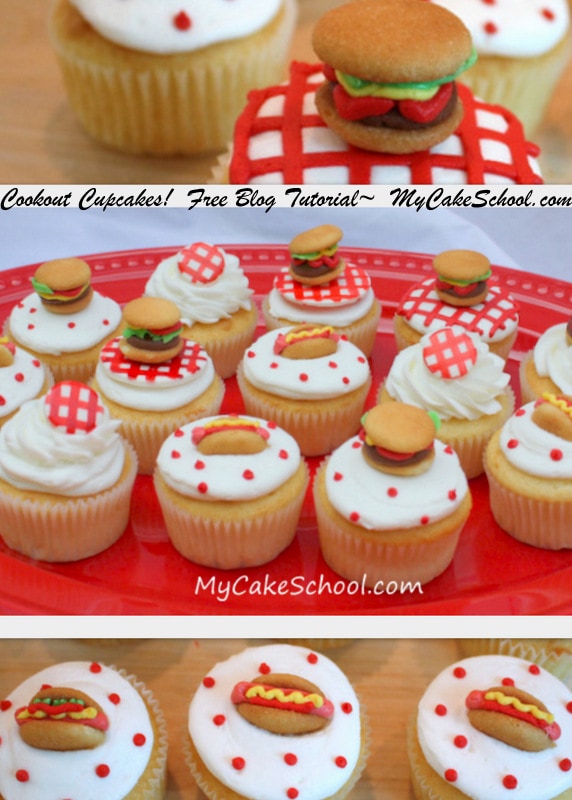 How to Make Easy Cookout Cupcakes
Here's what we did:
First, I knew that I wanted to have a checked pattern somewhere (besides on my apron)-- so I decided to do a little painting....
I cut out fondant circles and let them sit out to set up a bit. Next, I painted them with coloring gel mixed with a bit of vodka. (You can also use lemon extract).
Combining the color with vodka or lemon extract helps the "paint" to dry quickly.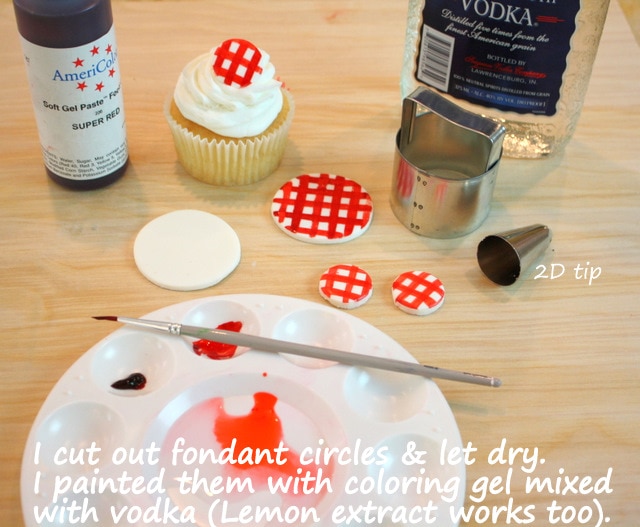 Now for the burger cupcake toppers!
You can see the progression in the photo below-- We used mini Vanilla Wafers for the buns, and used tinted buttercream for the burger and toppings. Use small round tips (or just tip the end of your piping bag away) for all but the lettuce. For the lettuce, we used a tip 104 (any small petal tip works!)
Next, I'll show you how to make hot dog cupcake toppers!
Again, we used mini Vanilla Wafers. Simply saw them in half with a serrated knife to create the two sides of the hot dog bun.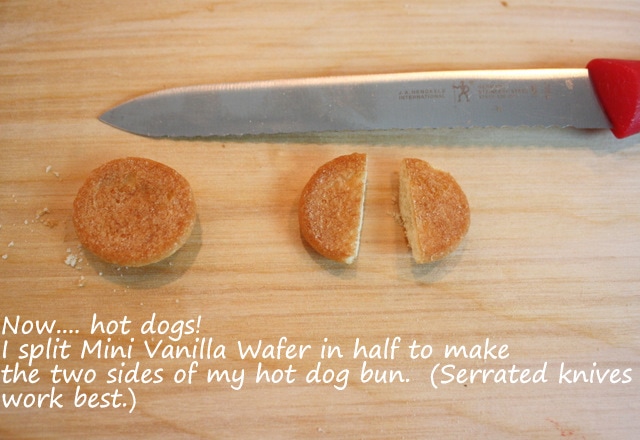 Did I mention that I love Mini Vanilla Wafers?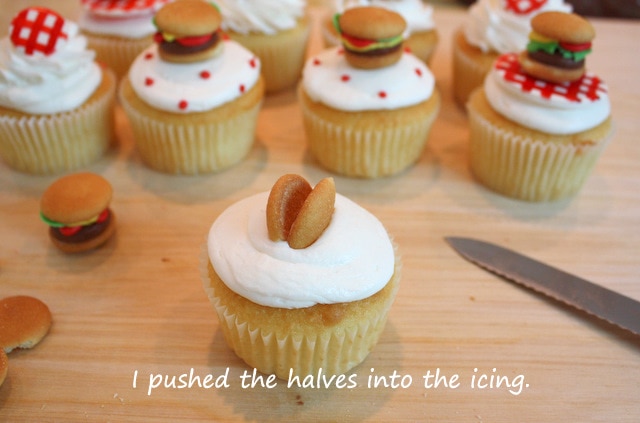 Place the two wafer halves into the buttercream frosting, and the fill with tinted buttercream to create the hot dog!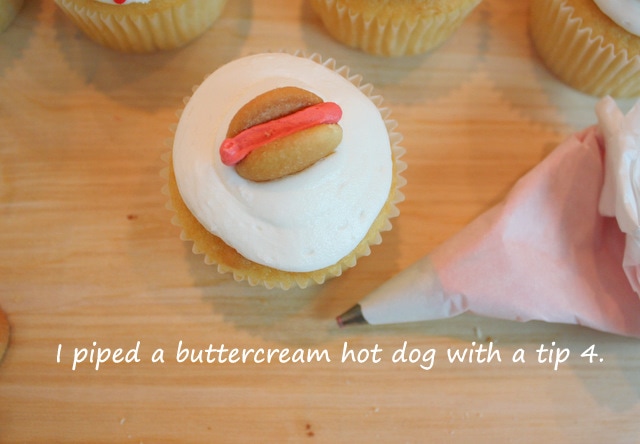 Add extras if you'd like! I'll take mine with mustard and ketchup please....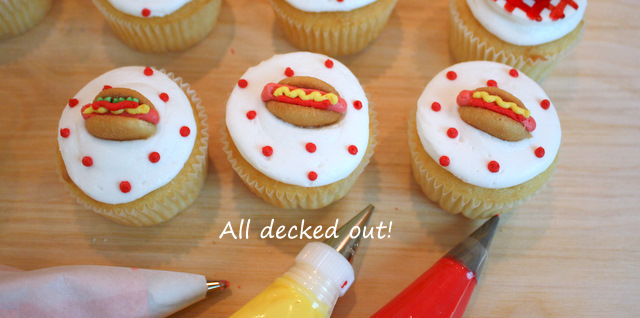 If you don't like fondant...this next cupcake is for you! I piped intersecting lines of red buttercream with my tip 3.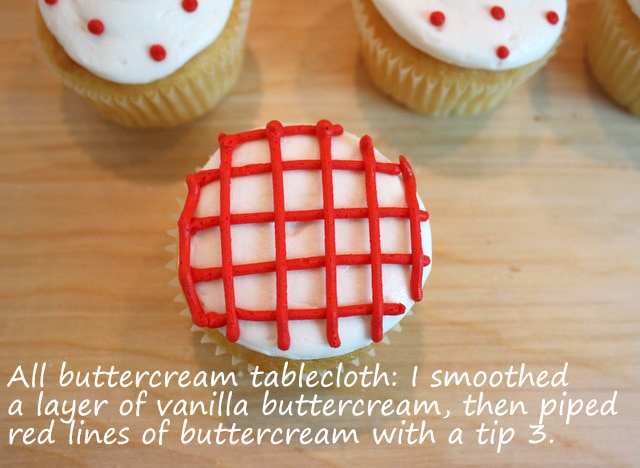 As an optional step, you can gently smooth the checked lines with a Viva paper towel (Viva paper towels have no impressions) once the frosting has crusted.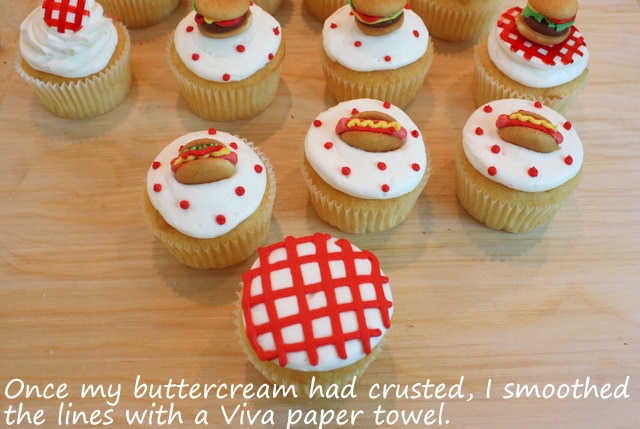 Top with your little hamburgers and hot dogs! SO cute!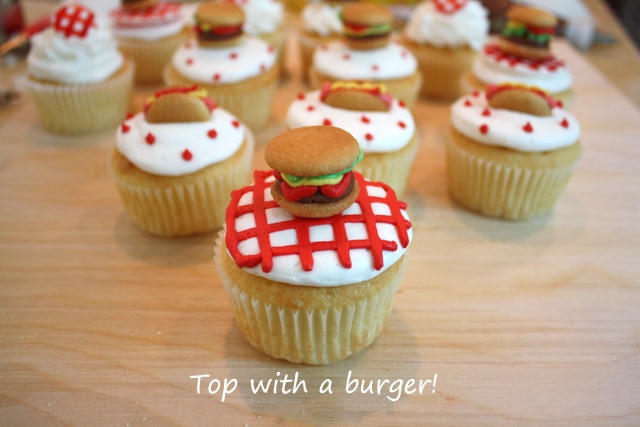 We're finished! Look at this cuteness!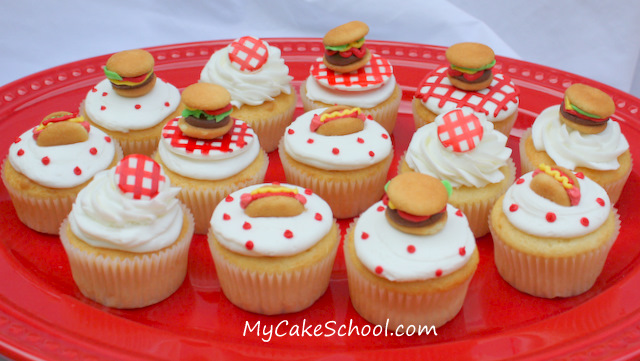 **For our cupcakes, we used our delicious Classic Vanilla Buttercream. Don't miss our full collection of tried and true cake, cupcake, and frosting recipes in our Recipes Section! These are our FAVORITES!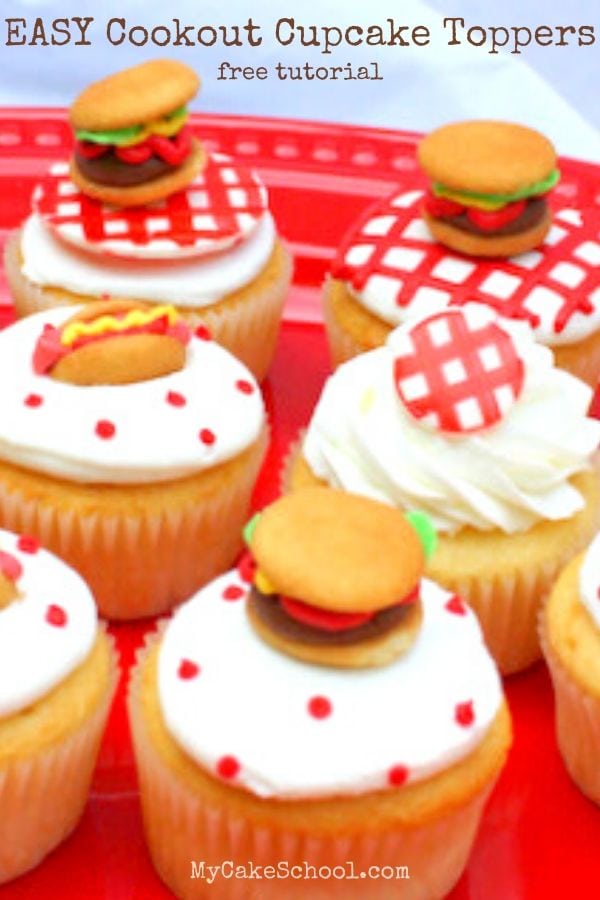 More Cookout Fun- Here's an Easy Cheeseburger Cake!
If you're looking for the perfect cake to go along with your cookout cupcakes, we have just the one!
Check out this CUTE and easy Cheeseburger Cake in our free video tutorial! How to Make an Easy Cheeseburger Cake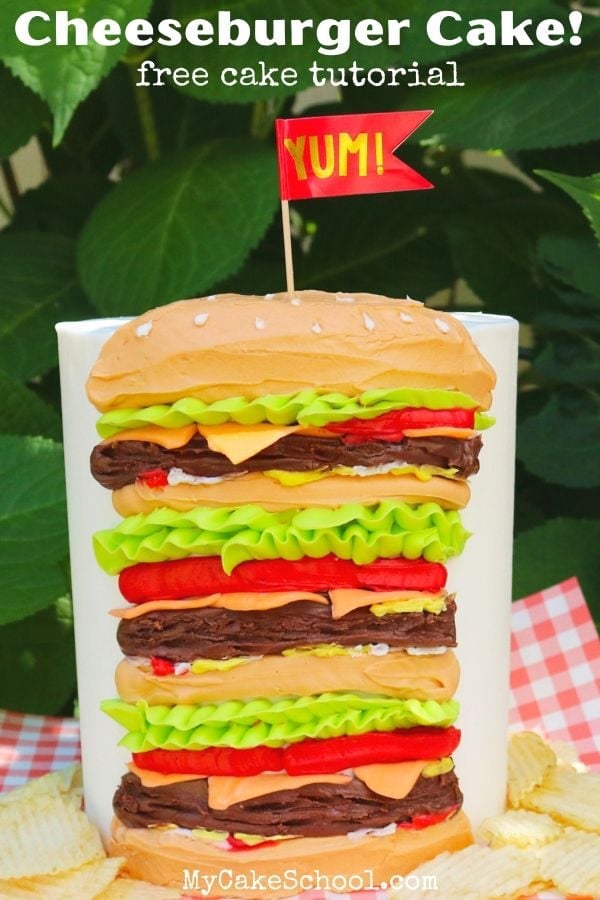 Cookout Cupcakes Tutorial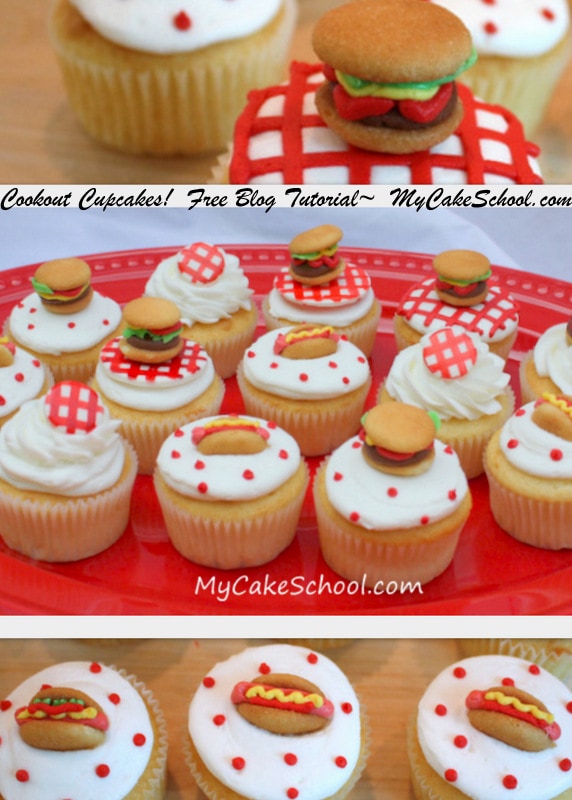 These adorable cookout cupcakes are so easy to make! Keep them in mind for your summertime celebrations!
Ingredients
Use your cupcakes of choice with Vanilla Buttercream (we used our Classic Vanilla Buttercream Recipe)
White Fondant- optional for white checked circle toppers
Mini Vanilla Wafers
Coloring Gel- Red, Green, Yellow, brown
Vodka or Lemon Extract (for painting)
Piping Tips - 104, 3
Instructions
Frost your cupcakes.
To make hamburger cupcake toppers, use mini vanilla wafers for the buns and tinted frosting to create the hamburger & toppings. We used a 104 tip for the lettuce, and small round tip for everything else.
For the hotdog cupcake toppers, use mini vanilla wafers (halved) for each side of the hot dog buns and fill with buttercream tinted for hot dog & toppings.
If you would like to pipe a checkered design on top of a smooth frosting cupcake, pipe intersecting red lines of buttercream using a tip 3. If using a crusting buttercream, you can gently smooth over the design with a Viva paper towel after the frosting has crusted.