With Christmas just around the corner, we thought it would be fun to create a festive Red Truck Cake Topper tutorial for you, complete with a Christmas Tree!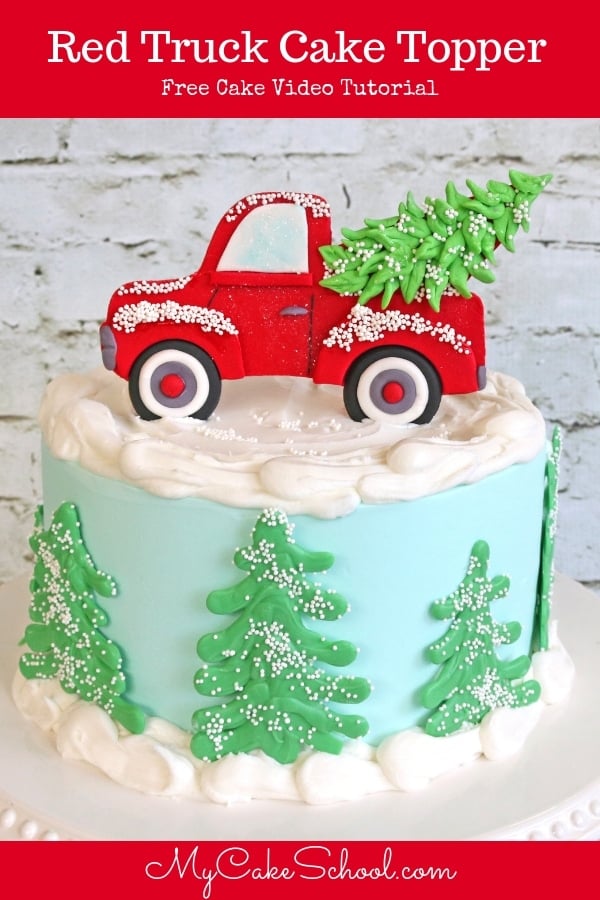 This adorable design is SO simple to make, and we love how it turned out! Have you noticed that there seems to be a surge in Christmas decorations that feature red pickup trucks lately?
They are everywhere! From pillows and ornaments to Christmas Cards and wrapping paper- and of course, in Hallmark movies which I'm watching constantly these days!
In this fun little cake tutorial, we'll show you how to make a truck cake topper quickly and easily!
How to Make a Pickup Truck Cake Topper:
Gum paste is always my preferred medium whenever I make 2D cake toppers that are simply cut-outs with anchors attached. The reason is that gum paste dries very firm, making it much less fragile. Gum paste is food safe but not edible- I love it because it allows us to create all sorts of fun or personalized cake toppers that you just cannot find in a cake shop.
Sometimes you have to change fondant into gum paste (or at least something very close) by kneading in tylose powder. With our pickup truck cake topper, this is exactly what I did. I wanted a deep red truck, and I had pre-colored red fondant on hand. (Tinting white fondant or gum paste a deep shade of red takes A LOT of coloring gel and is time consuming, so whenever I need to create red or black, I usually go with pre-colored if possible.)
When kneading tylose powder into fondant, I usually just add the powder bit by bit until I notice a change in consistency. A very general rule of thumb for creating "gum paste" from fondant is to add one rounded tablespoon per pound of fondant. You can estimate up or down from there based on how much fondant you need.
Roll your fondant/gum paste to a thickness of about 1/4 inch. A very thin cake topper would be more fragile. Next, cut out your shape, in our case, the pickup truck!
Allow to dry on a parchment line cookie sheet. (Parchment breathes more than waxed paper). Allow at least a couple of days to dry to be on the safe side. My truck was dry after 24 hours, but dry times can vary depending on your location, humidity levels, the type of gum paste or fondant you are working with, etc.
Once the gum paste truck is dry, flip it over and attach anchors (we used lollipop sticks) with very lightly dampened strips of gum paste. Allow to dry. Flip over and lay on shredded paper towels to give it support as you layer on your remaining details like the window, wheels, fenders, and tree.
*If you're looking for an alternative to gum paste, you could also create a truck from a cookie– you can use our truck template with the rolled cookie dough!
We hope that you enjoy the video! If you make a cute truck cake topper of your own, we would love to see!
We have More Christmas Cake Ideas to Share!
Looking for more ideas for Christmas cake designs and recipes, make sure to check out our Roundup of Favorite Christmas and Winter cake recipes, designs and inspiration!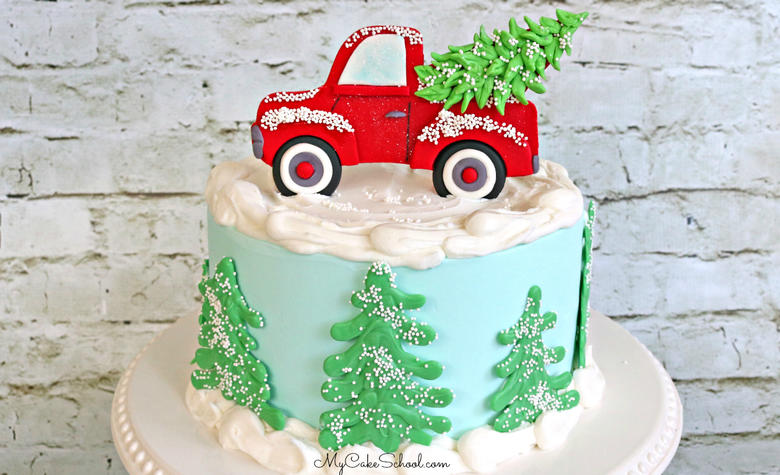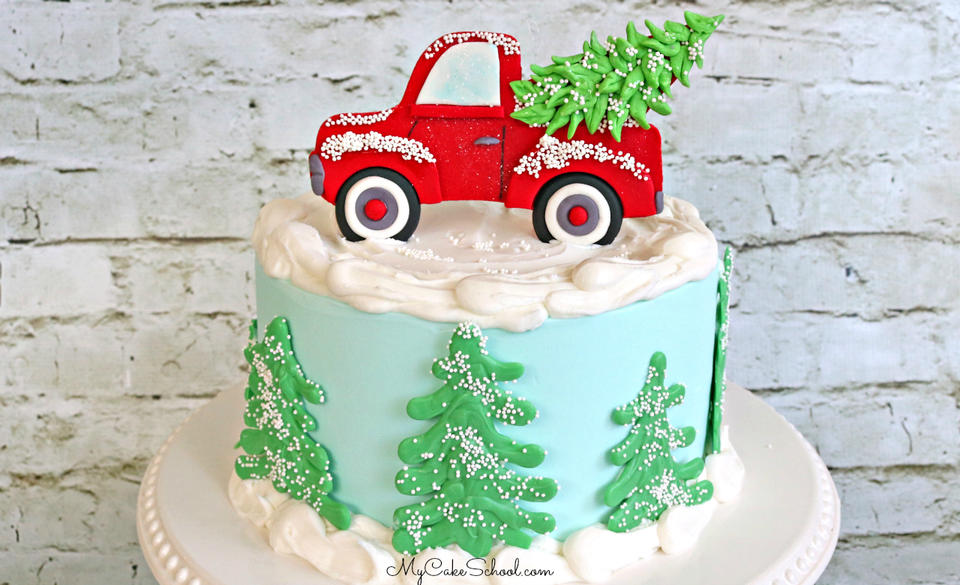 Alternate Video Format

nbsp;
Materials:
Red-Truck-Cake-Topper-Template and Tree Templates.
In this tutorial, we decorated an 8 inch cake frosting in tinted buttercream (our fluffy vanilla buttercream recipe). Our blue frosting was tinted with Americolor Sky Blue.
Gum Paste or Fondant with Tylose Powder Kneaded into it.
Coloring Gels: Red (if not using pre-colored fondant), Sky Blue, Leaf Green
*Candy Coloring: I used Americolor Candy Coloring in Green to tint my candy coating. You could also use pre-colored candy coating if you'd rather.
Candy Coating- We used CandiQuick (3 blocks)
2 Lollipop Sticks for anchors
Piping Gel or your food-safe adhesive of choice
White Sprinkles for snow on truck & trees
Miscellaneous: Toothpick or scriber needle for making impressions, piping bags, turntable (helpful but optional), small paintbrush