In today's tutorial, I'm going to show you how to make the most adorable fondant birdhouse cake toppers! These are the perfect accent for your springtime cakes (or if you are like me and love anything bird-related, they are perfect all year round)!
I started with a round ball of fondant approximately 1 inch wide. If your fondant seems very soft, knead in a little tylose (or you can use gum paste). I kept the birdhouses nice & small so that they wouldn't be overly top-heavy.
I rolled the fondant into a ball until nice and smooth, and then rolled it into more of a cylinder.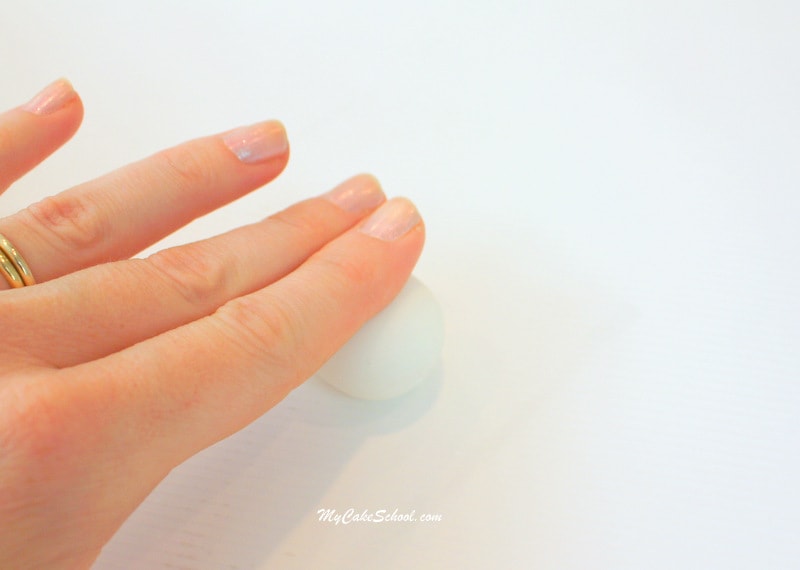 I flattened both ends...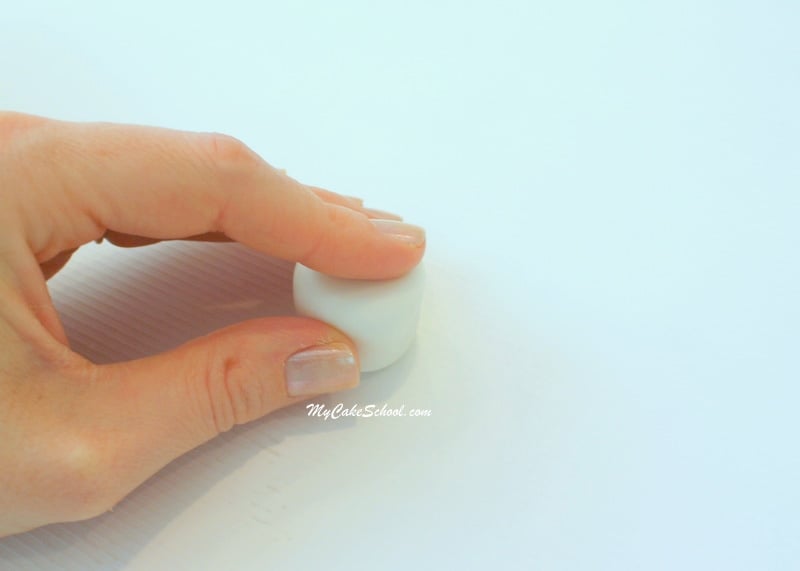 ...and then added creases with my knife for an added detail.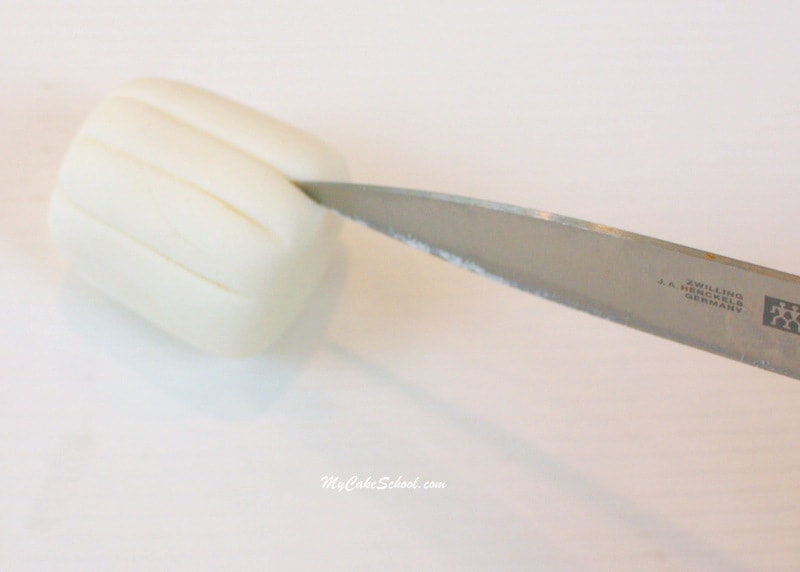 Next, while the fondant was still soft, I twisted a long lollipop stick into the bottom of the birdhouse (just far enough to be secure.)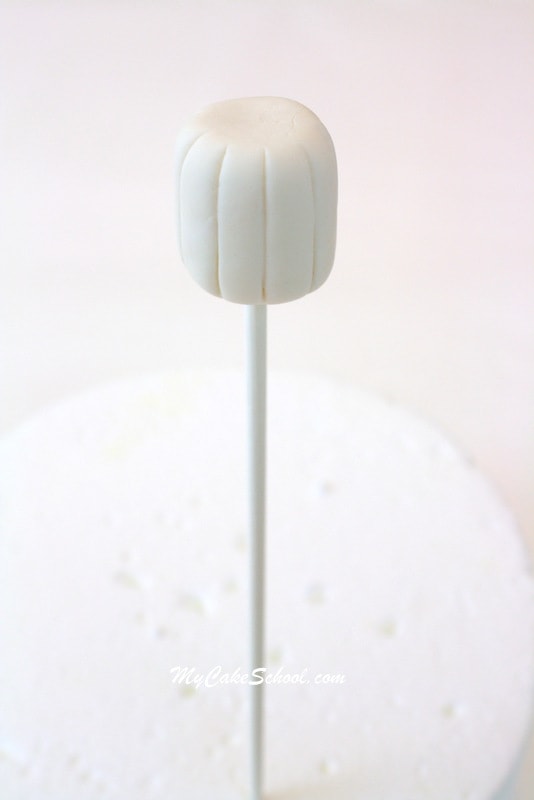 To form our roof, I used a piece of fondant about half the size of the "body" of the birdhouse & rolled into a ball (approx .5 inches in width.) -- Then, I flattened the bottom and shaped into a wide cone, approximately the width of the cylinder that we made in the previous step.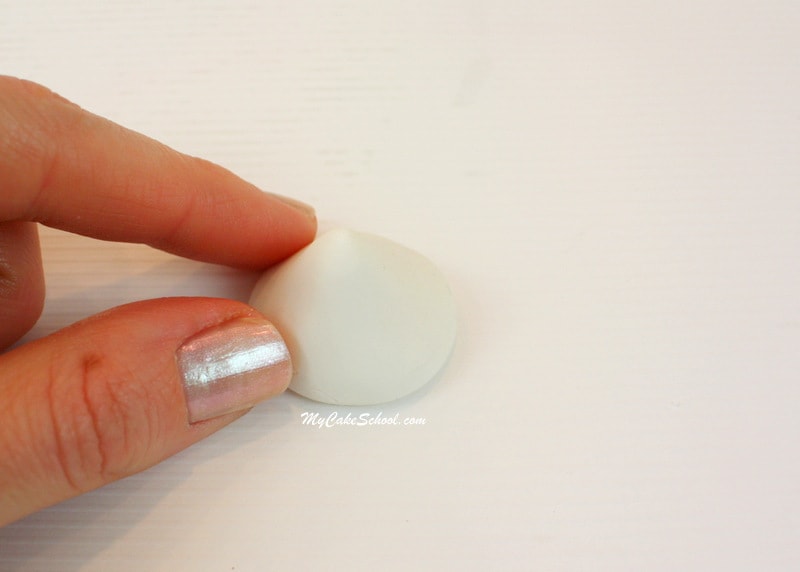 I used a toothpick to add lines to our roof, and then added additional pressure at the base of each line to give the edge of the roof a scalloped look.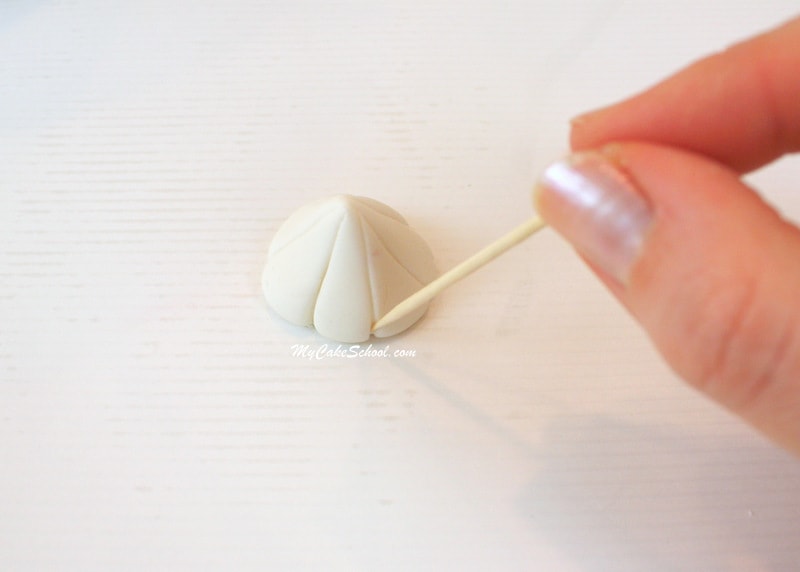 I added the roof and used a bit of piping gel as my glue. Then, I created a hole with my paintbrush handle.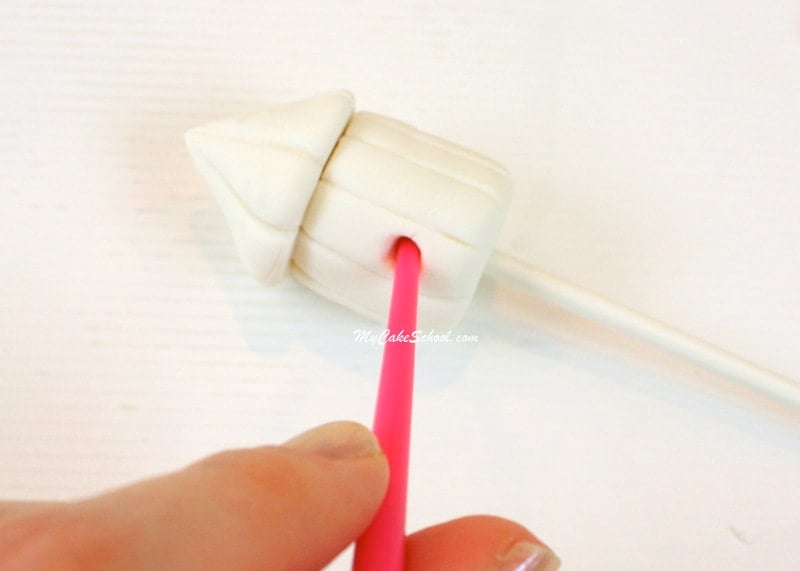 The first birdhouse can dry a bit while you work on your next birdhouses. I usually just poke my stick & birdhouse into a block of syrofoam. If your fondant birdhouse is very soft, and you are afraid that it will slide down the stick, just lay it on a bed of shredded paper towels, pillow filler or your "fluff" of choice.
Now for our next birdhouse...
The basic idea is the same, but this time I trimmed my flattened ball of fondant into a square.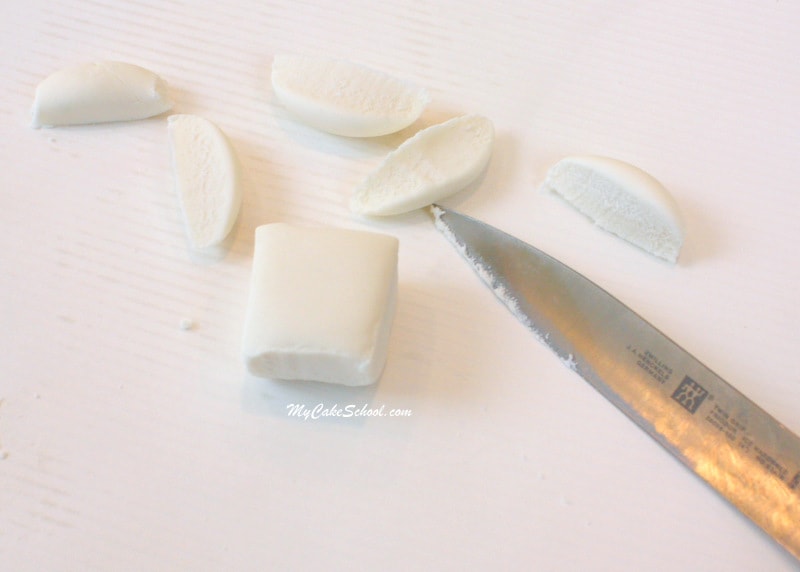 I added details with a toothpick, a triangle of fondant for a roof, created the hole & inserted the stick just as before.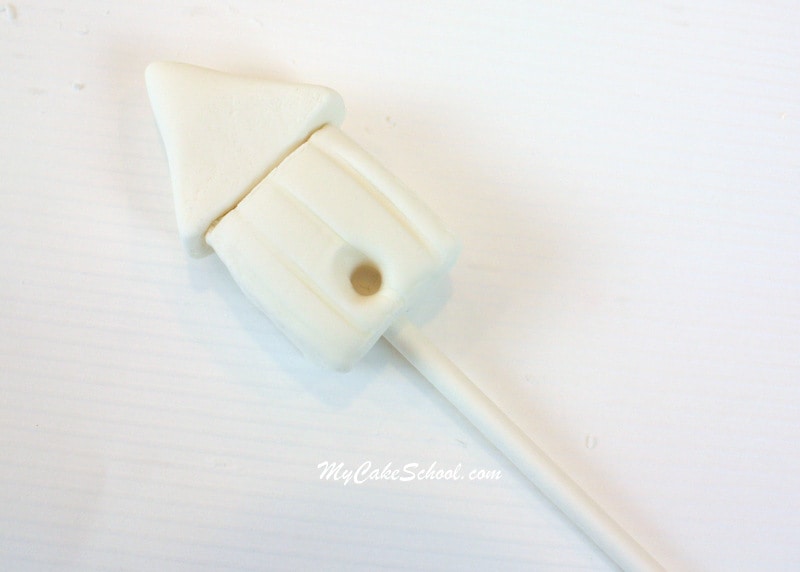 My next birdhouse is a pentagon shape..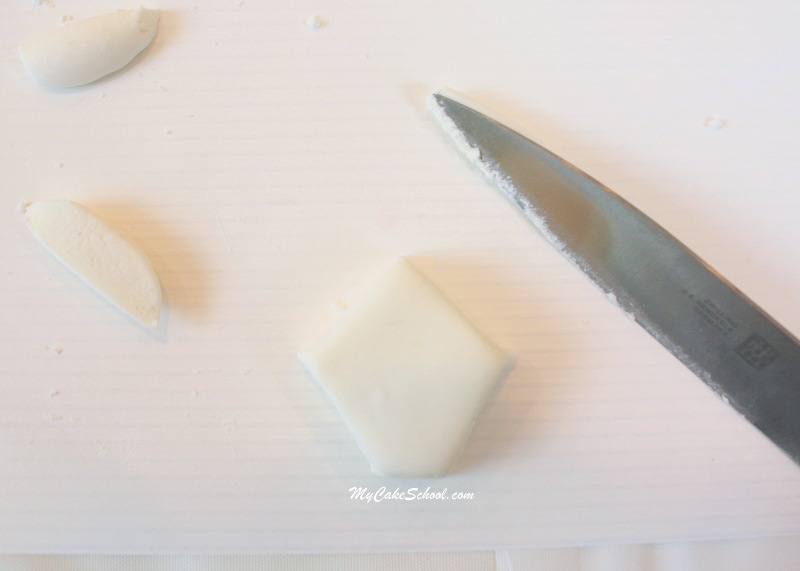 Next, I painted my white birdhouses with a "paint" of coloring gel mixed with a small amount of vodka. The vodka allows the paint to dry very quickly. (You can substitute an alcohol based flavoring like lemon extract in place of the vodka.)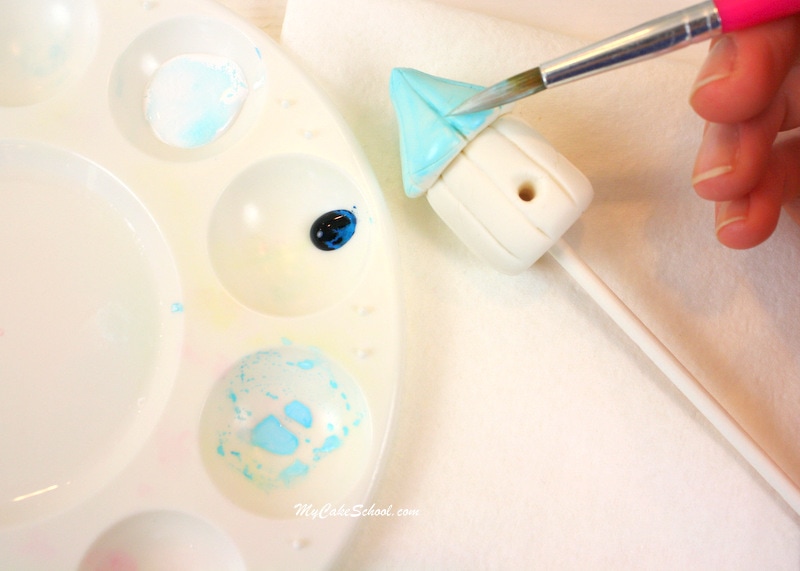 Painting is my favorite part! Design however you'd like. I used the following colors: Americolor Electric Green, Deep Pink, Lemon Yellow, Sky Blue, & Bright White.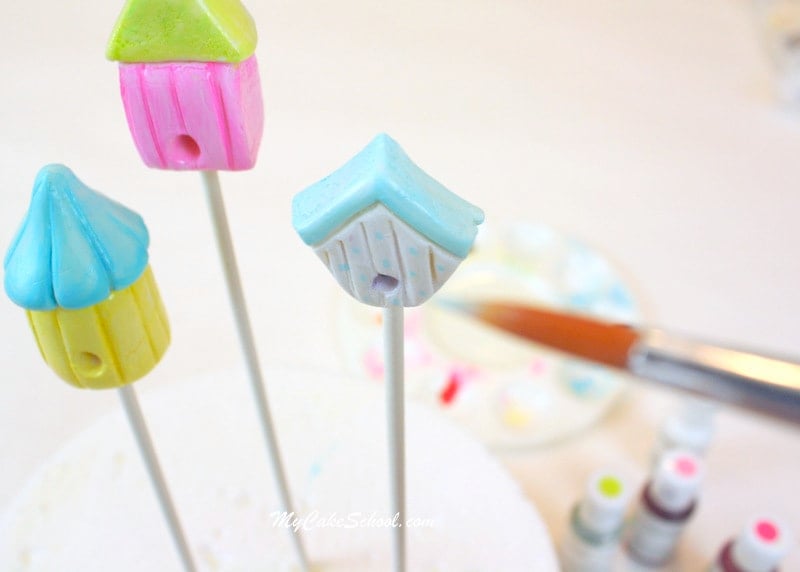 I used sprinkles & a food coloring pen for added details, & a bit of pixie dust for sparkle. My wide, flat round sprinkles are Wilton confetti sprinkles. As an optional step, I used one of these pink sprinkles as a "perch" on my pink birdhouse & secured with piping gel. ;0)
I added a little detail to the edge of our green roof using a bead border of buttercream piped from a Wilton 2 tip.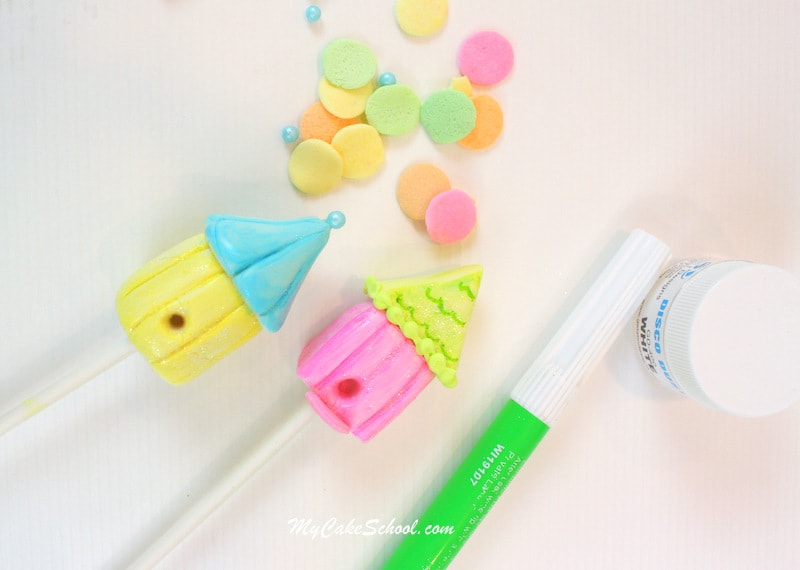 Next, I wrapped a 32 gauge piece of white floral wire (painted with our "paint" of green coloring gel & vodka), around the lollipop stick of our yellow birdhouse. I spiraled the extra with a paintbrush handle.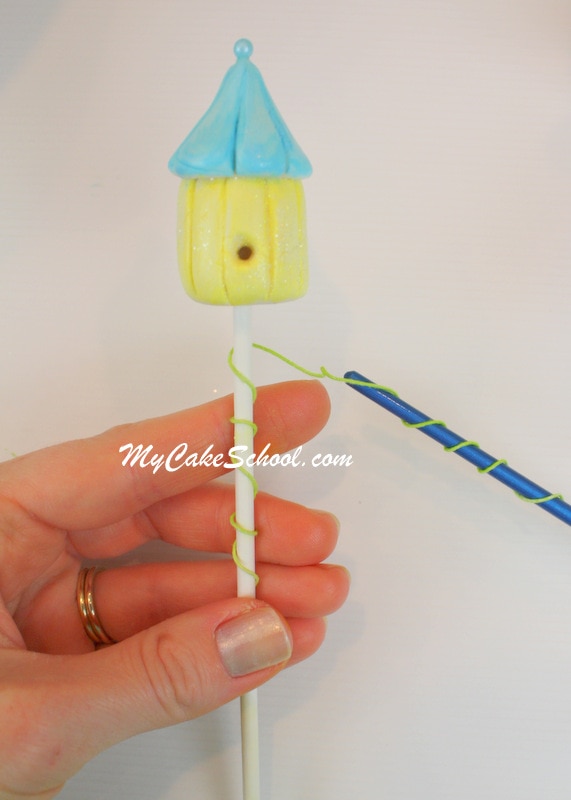 Next, I made our birds! Teardrop shapes of fondant with fondant beaks & food coloring pen accents.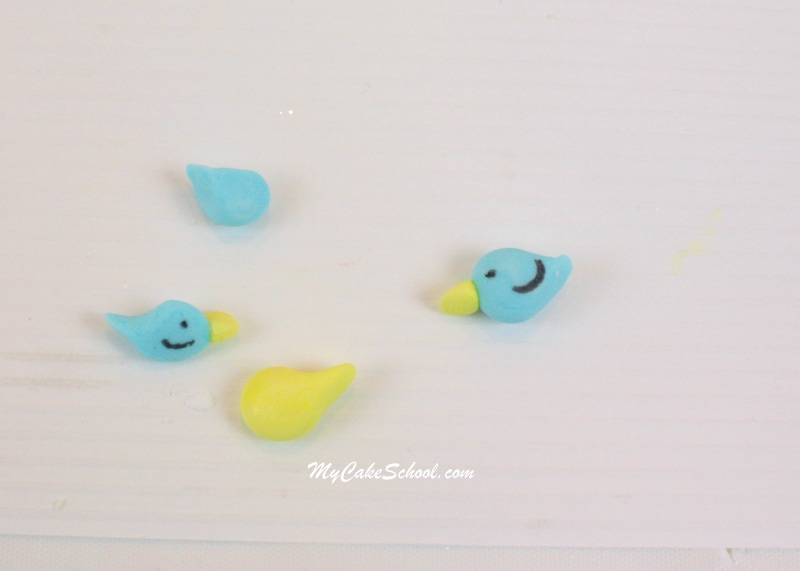 Now for the cake decorating!
My cake is an 8" (3 layer) cake, frosted with a crusting vanilla buttercream. (Two favorite crusting vanilla buttercream frosting recipes from our Recipes section are: Fluffy Vanilla Buttercream & Classic Vanilla Buttercream.) My frosting is tinted with Americolor Electric Green & Deep Pink.
Using a piping bag fitted with a small round tip (Wilton 2), I piped scrollwork around the sides. If you are not comfortable with scrollwork or would like another design, polka dots or a scattering of piped daisies would work nicely too!
The scrollwork represents vines...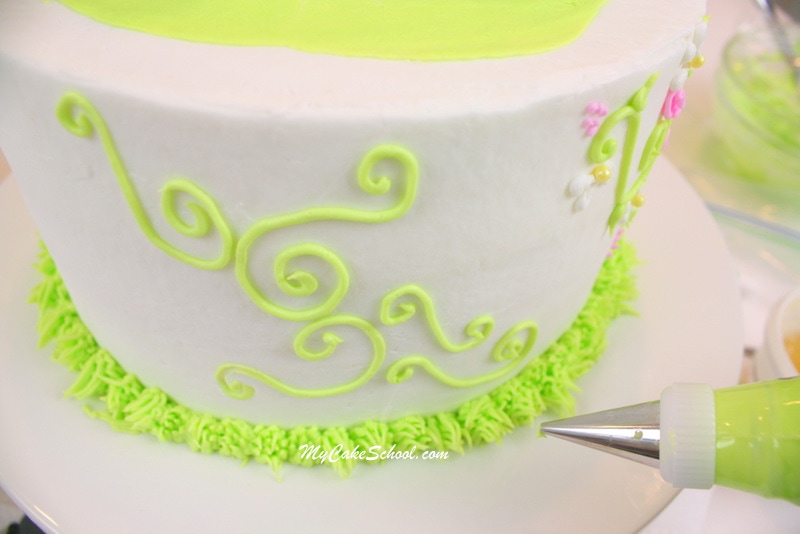 ...then, I added leaves (still with our Wilton tip 2).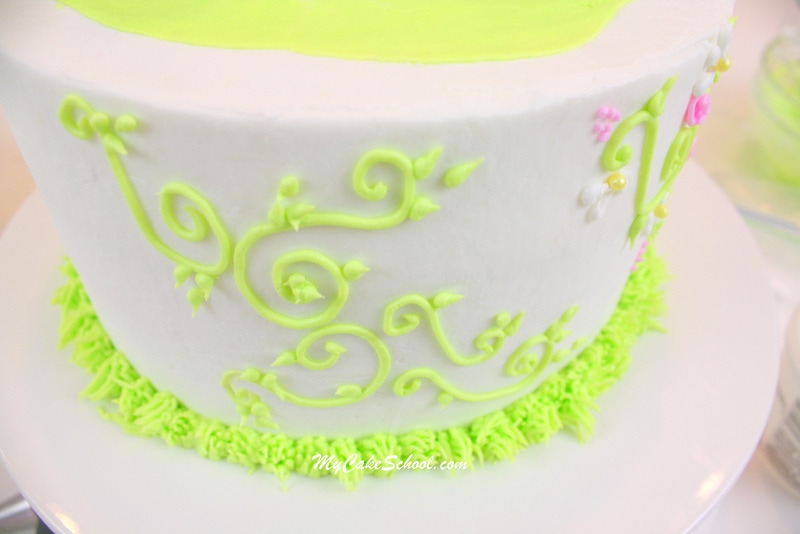 Next, I added various simple flowers. (Daisy centers are added later in the form of yellow sugar pearls.)
I also added a border using my grass tip (#233).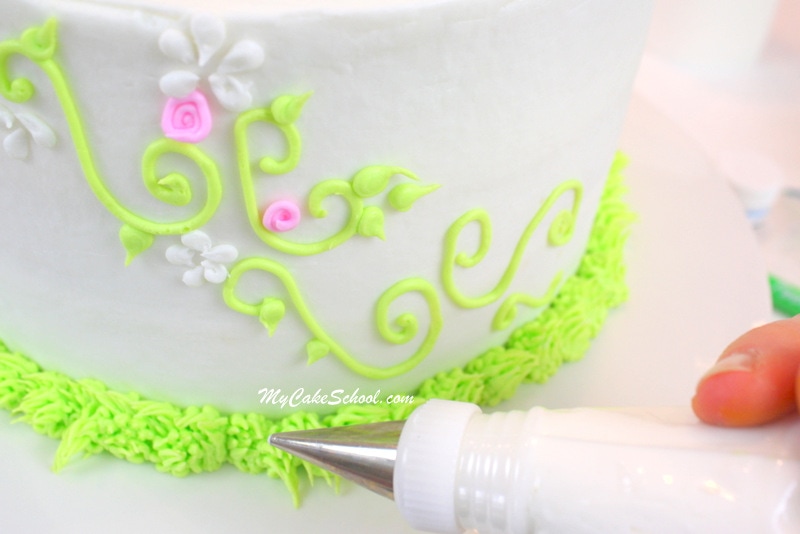 Here is a closeup of our finished scrollwork/floral design. You can see that the flowers are very simple, but the look is elegant!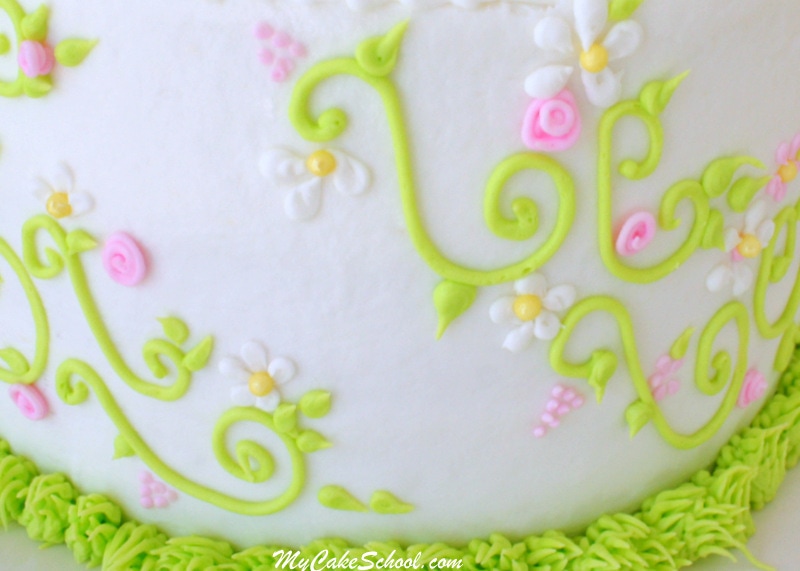 I pushed our birdhouses into the top of the cake, added a few birds here and there (& attached a couple to the birdhouses with piping gel.) Cuteness!!
I also added a small bead border around the top of our cake using a Wilton tip 2.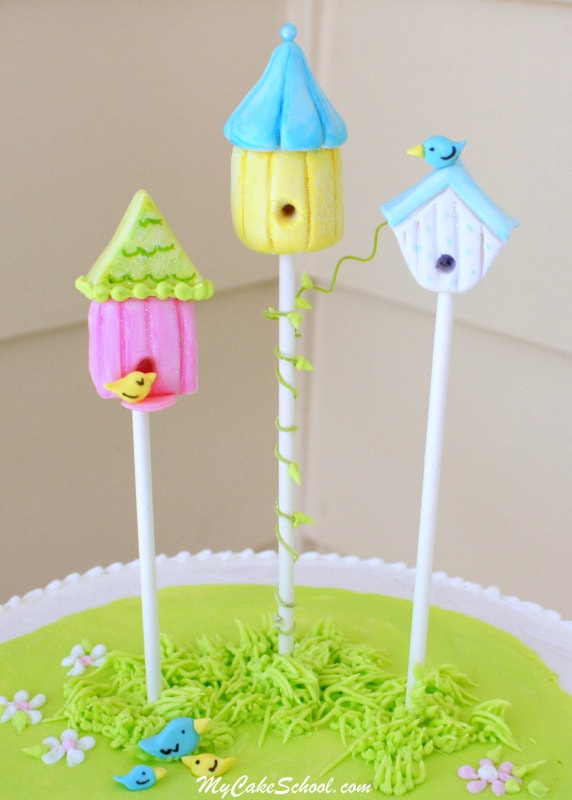 Now, our cake is finished!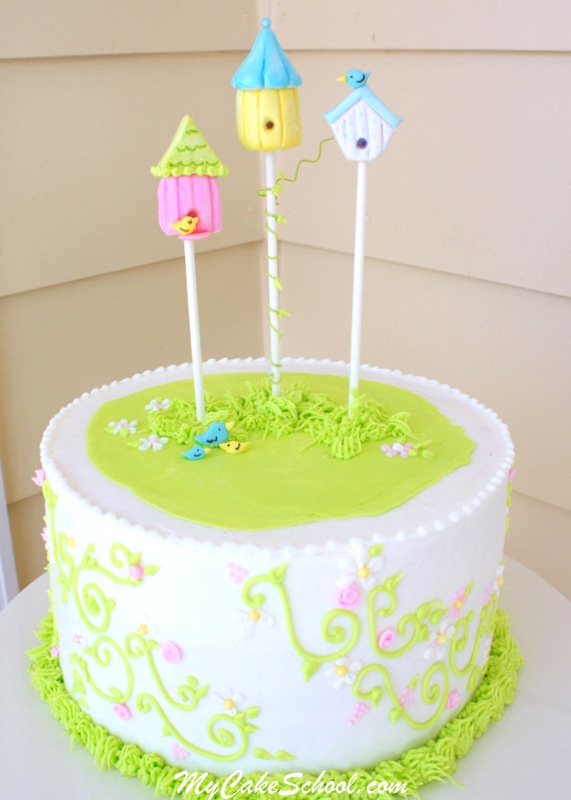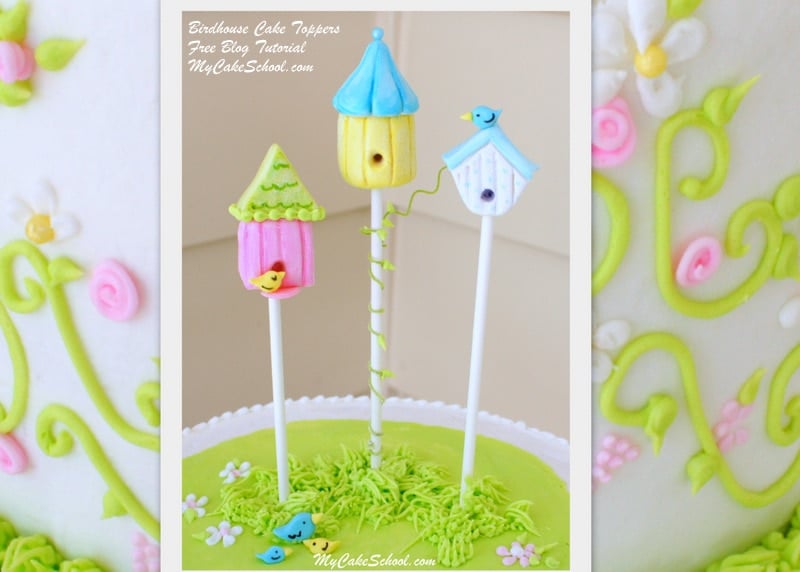 I hope that you enjoyed this tutorial! The birdhouses are so simple & cute, & no matter if you have one or several, they instantly add a dose of charm & personality!
*I think that it is best to add the birdhouses just before your event, especially if transporting the cake. Since the toppers are top heavy, it just makes things simpler!
If you give these a try, I hope that you will let us know! We would love to see. Thank you for stopping by, and come back again soon! xo