I LOVE the flavors that go hand-in-hand with autumn baking.  Apples and cinnamon, caramel, and pumpkin…ahhhh.  This is my favorite season.  ;0) –  We have a few fall favorites in our recipes section, but this delicious Pumpkin Cake tops the list.  It's the perfect blend of spices & pumpkin…it is tender and flavorful, and with our spiced cream cheese frosting, there is just nothing better!
If you've been searching for a wonderful pumpkin cake recipe–I'm happy to tell you that this is the one!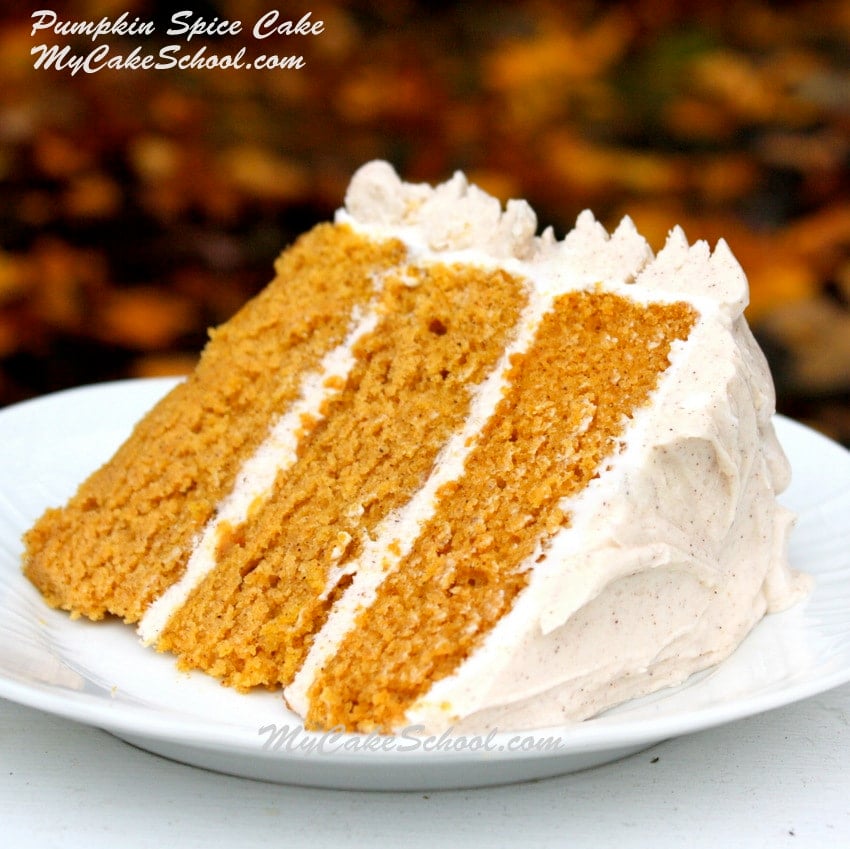 Pumpkin Cake
2 3/4 cups (360g.) all-purpose flour (we use bleached)
1 Tablespoon (15 g) baking powder
1 teaspoon (5 g) baking soda
2 teaspoons (6 g) cinnamon
1 teaspoons (2 g) nutmeg
1/2 teaspoon ginger
2 cups (400 g) granulated sugar
1/2 teaspoon ( 3 g) salt
1 1/2 sticks (12 tablespoons) (170 g) unsalted butter – softened, do not soften in the microwave – I cut mine into 1/4 inch slices onto waxed paper so it will soften more quickly
4 large eggs
1/4 cup vegetable oil (54 g)
1 can (15oz) (425 g) pumpkin ( not pumpkin pie filling)
1/2 cup (121 g) milk
1 teaspoons (6 g) vanilla extract
Preheat oven to 350 degrees, grease and flour three 8 x 2 inch pans
(THIS RECIPE USES THE REVERSE CREAMING METHOD)
In your mixing bowl add the dry ingredients (flour and the next seven ingredients). Mix the dry ingredients for 30 seconds so all will be well blended. Slowly add the butter a few slices at a time. Beat for approximately 1 – 1 1/2 minutes until the dry ingredients are moistened by the butter. Scrape the sides and bottom of the bowl.
In another bowl combine eggs, oil, pumpkin, milk and vanilla. Whisk until well blended, set aside.
Gradually add approximately 1/2 of the egg mixture beating at medium speed for 1 1/2 minutes. Scrape bottom and sides of the bowl. Add the remaining egg mixture in 2 pourings and beating 20 seconds each.
Bake at 350 degrees 30 – 35 minutes, let cool in pans 10 minutes then turn out.
Spiced Cream Cheese Frosting
1 1/2 cups (3 sticks) (382 g) unsalted butter, softened
1 1/2 packages (339 g) cream cheese, softened
1 1/2 teaspoons (4 g) cinnamon
1/2 teaspoon (1 g) nutmeg
1/4 teaspoon ginger
1 teaspoon vanilla
6 – 6 1/2 cups confectioners' sugar, sifted
Using your mixer beat the butter and cream cheese until well blended. Add the vanilla and spices. With the mixer on low speed gradually add the confectioners' sugar and mix until it is a good piping consistency.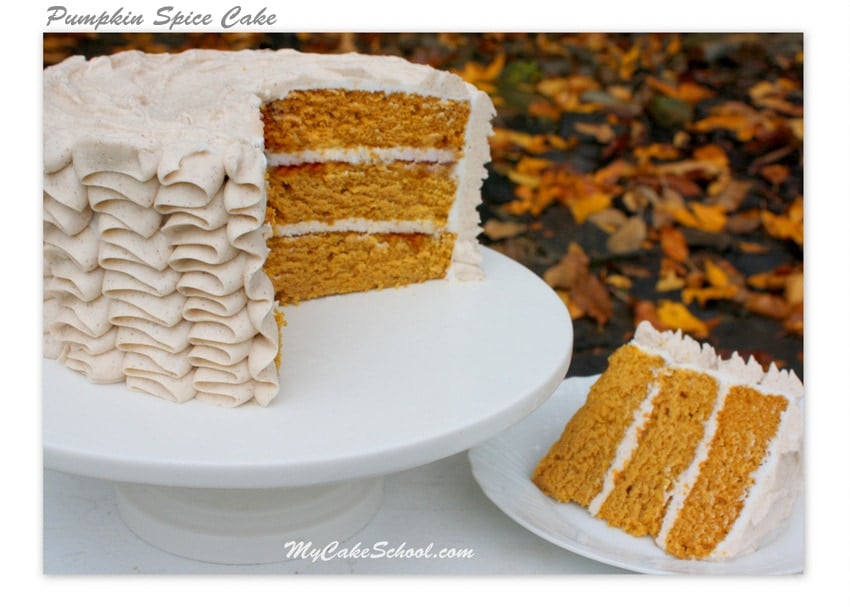 Leave a Comment