Where did the summer go?!  I cannot believe that it is already time to post a Back-to-School tutorial, but there's nothing like a little cake to make that first day a little easier for students & teachers! ;0) –
In this quick tutorial, you will learn how to make a realistic chalkboard & a CUTE apple (and worm) topper too!
Start with whatever size cake you'd like.  I used a six-inch tier (3 layer cake, approx 5 inches tall).   If this were for a class, you could use the cake as the centerpiece & then supplement with cupcakes, or you could place the chalkboard and topper on top of a sheet cake.
Here I am making the chalkboard!  I rolled out a bit of pre-colored black fondant and used a folded large index card as my guide for cutting.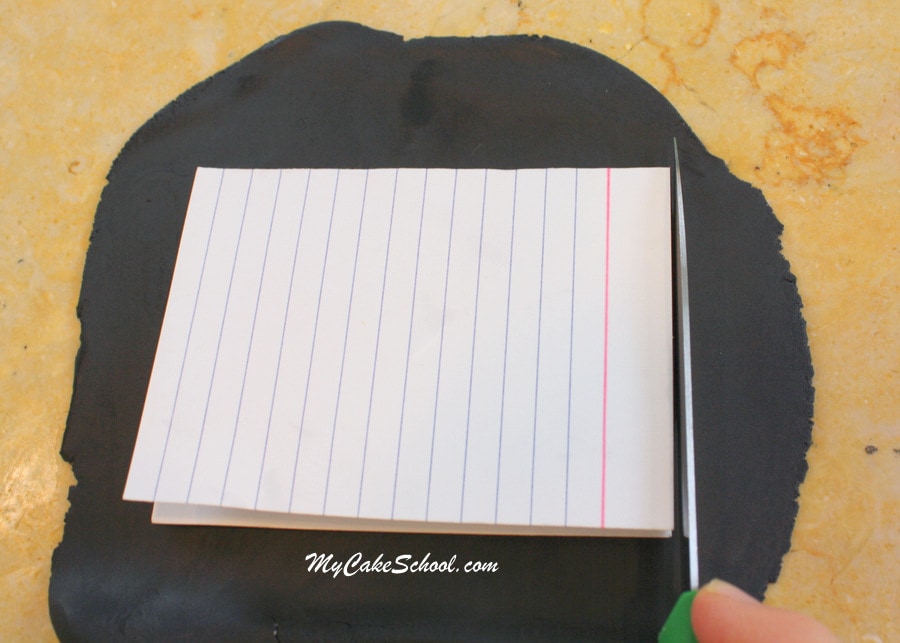 Next, it's time to write a message.  While you could create a "paint" from white petal dust & vodka, I found it easiest to inscribe the letters into my fondant with a thin paint brush handle.  (As a side note, stone stamp embossers would be great for this project, but I didn't have any that would be an appropriate font.) –
Try to create letters that are nice and deep..you may find it easiest to hold your handle vertically and use an up and down motion to create each letter.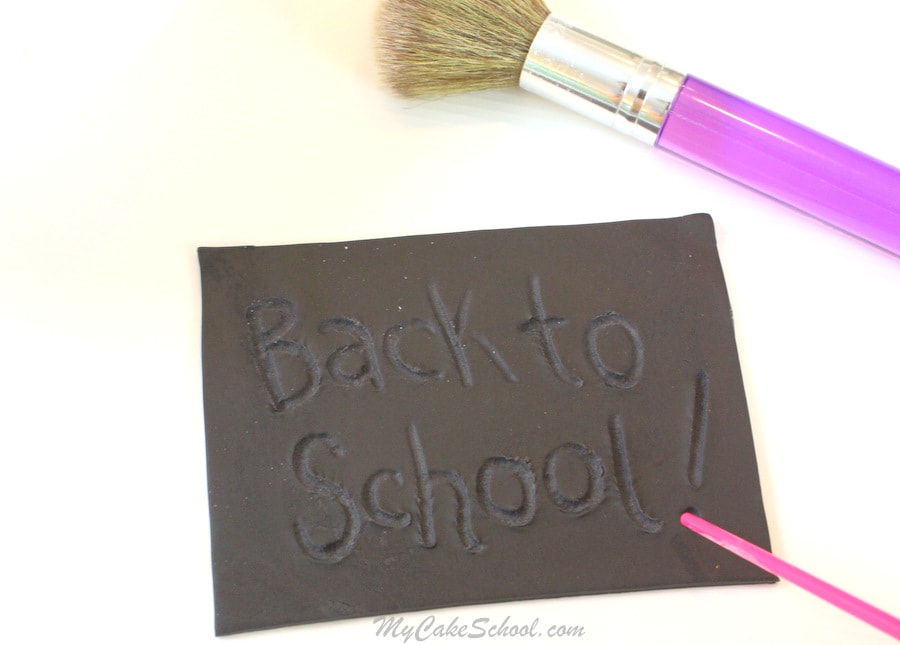 Next, I covered the black fondant with powdered sugar with a light tapping motion.  Try to fill those letter grooves all the way.  This is the fun part!
(My friend, Norene of PartyPinching.com used a similar technique with Chocolate Bars!! –You can find her tutorial HERE!) –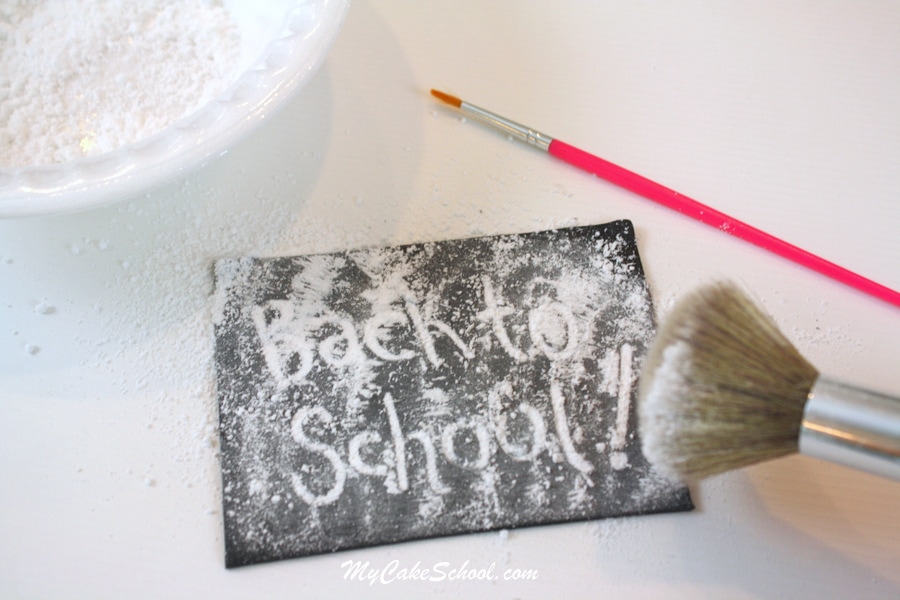 After your message really stands out, you can use your brush to lightly brush away the excess. (Any stubborn areas can be cleaned with a piece of paper towel or Q-tip lightly dampened with water.)  I wouldn't worry too much though as chalkboards have a bit of a chalk dusted look anyway! ;0)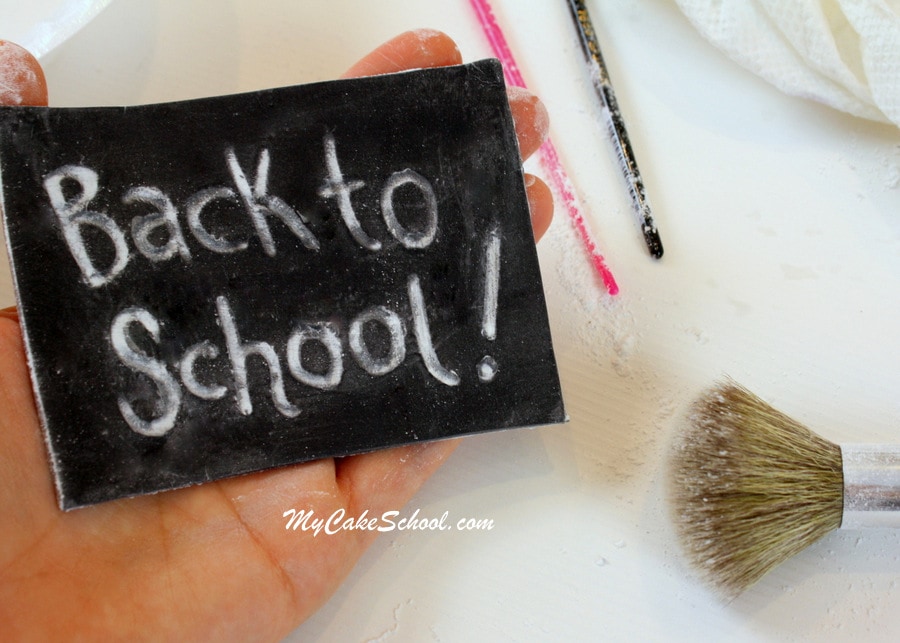 I attached my chalkboard with some dots of buttercream and then made a ledge for our chalkboard from a thin strip of (tinted) brown fondant.  I attached the strip with dots of buttercream.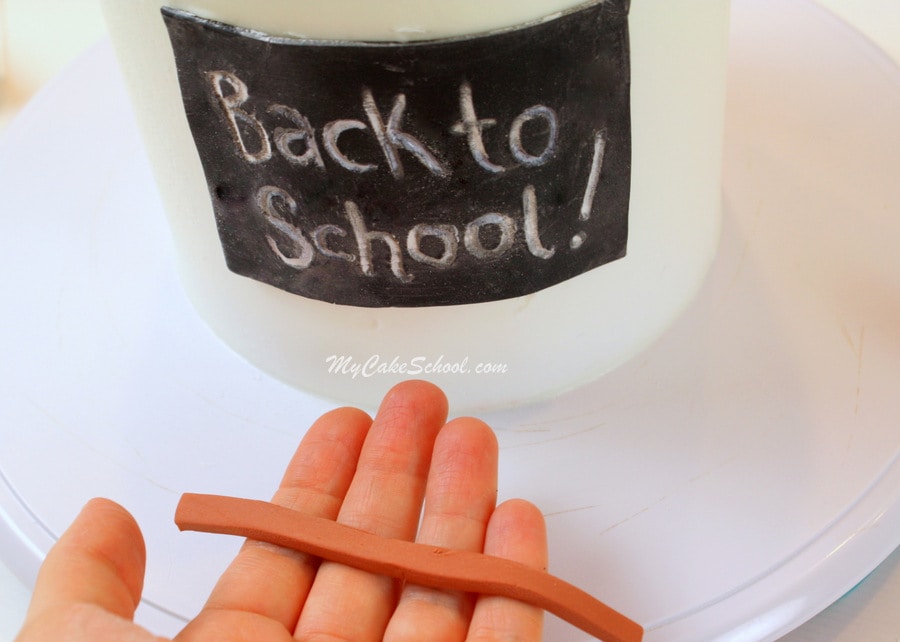 My cake was frosted with a crusting vanilla buttercream.  After attaching the chalkboard, I pressed vertical rows of red Candy Melts (Wilton) onto the cake. (If your buttercream has crusted, you can "glue" on the candy melts with dots of buttercream).  I let my Candy Melts face forward, but for a flatter look, just flip them over!  These will soon become apples.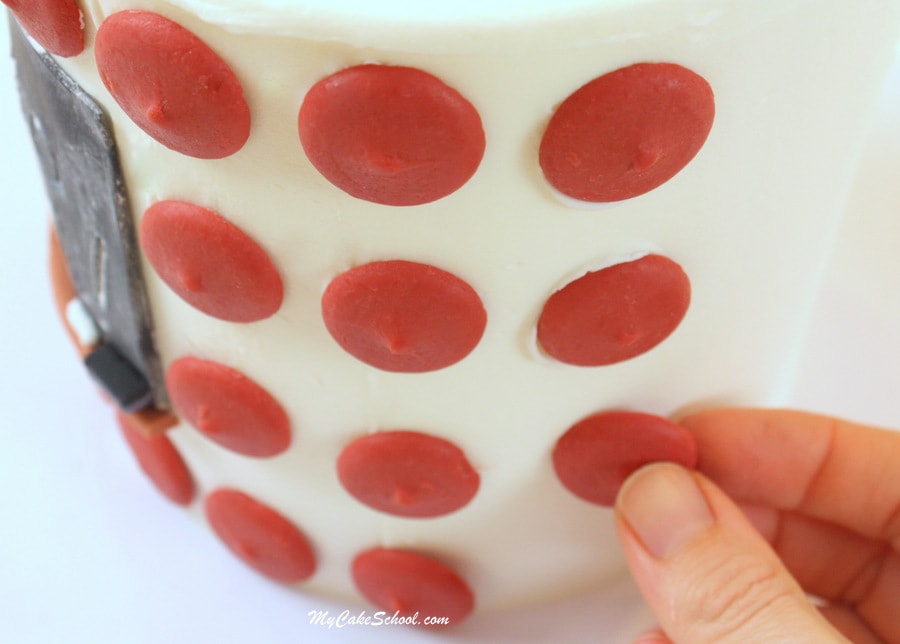 Using a Wilton 2 small round piping tip, I  piped on tiny leaves of buttercream (tinted Leaf Green) and then pressed on chocolate sprinkles for stems.  You could also simply pipe on brown buttercream stems and it would go much faster! ;0)  In this shot, you can also see the small fondant eraser that I made for the chalkboard from grey and black fondant.  For chalk, I simply piped a small line of white buttercream.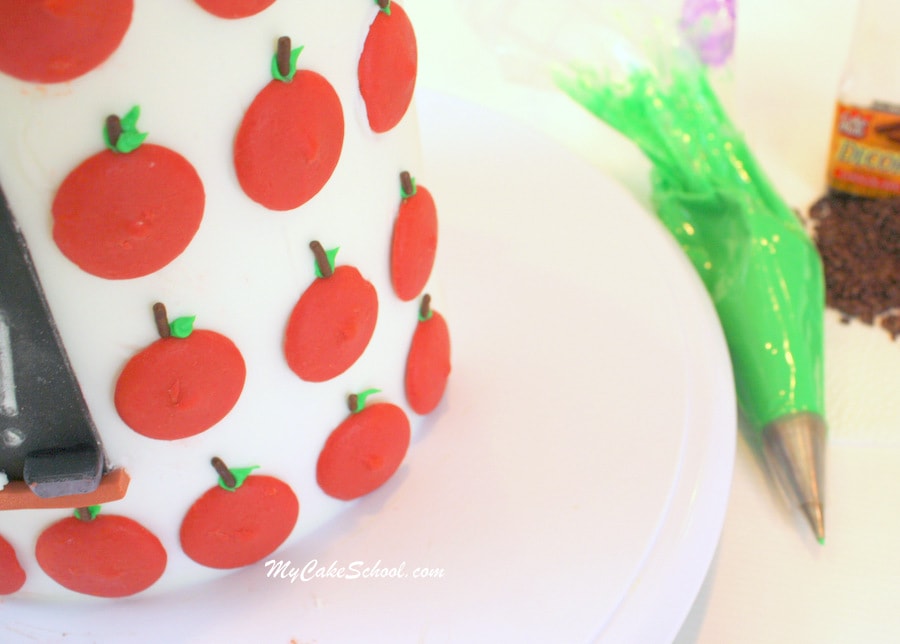 Now for our topper!  I love a good cake topper, and this back-to-school topper is quick and easy.  It would make a great centerpiece for a platter of back-to-school cupcakes too!
I used 3 packaged (22g.) rice cereal treat bars to mash and mold into the apple shape that you see here.  I really like to tightly press the treats together to reduce the bumpiness.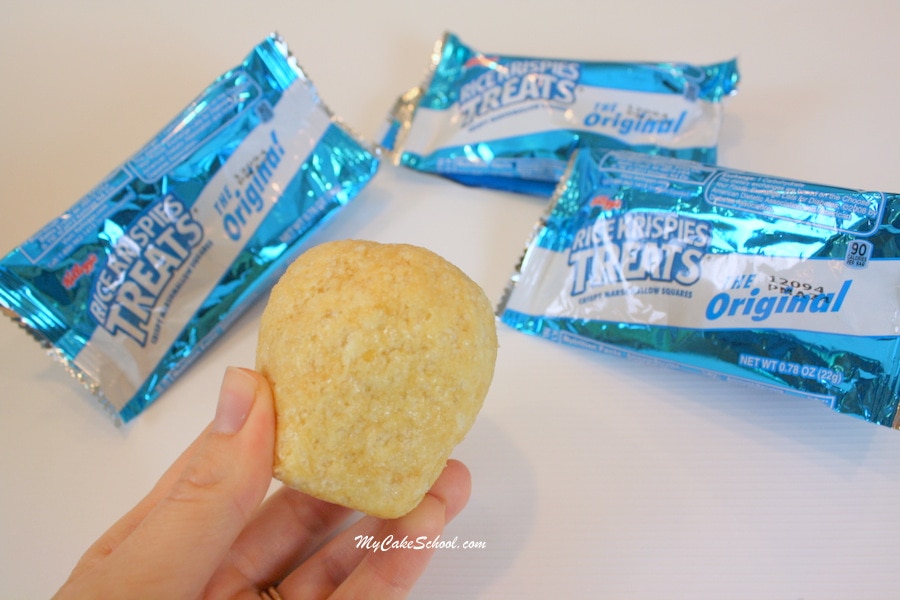 Next, I rubbed a thin coating of vegetable shortening over the cereal treat and then draped it with a piece of red fondant.  ** A special note about the fondant– I used pre-colored red, but the red was MUCH brighter than my red candy melts.  So that they would be a better match, I had to knead in a little brown coloring gel before rolling it out.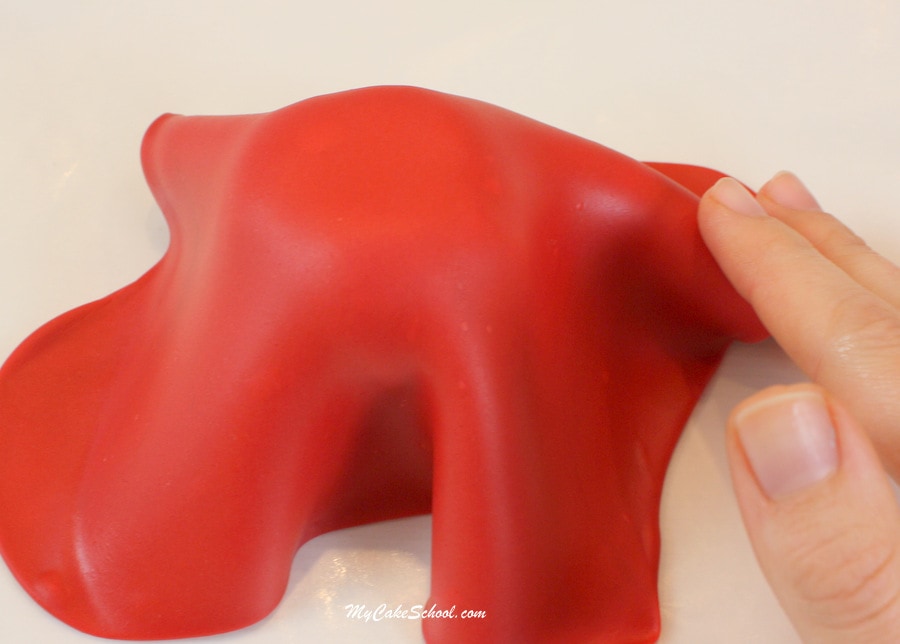 I smoothed the fondant over my apple and trimmed away the excess.  If your apple seems too bumpy, you can always apply an additional layer of fondant.
In this photo, you can see that I created a hole in my apple.  I did this by first inserting a toothpick to create the hole, and then used a lollipop stick to widen it a bit.  This hole is going to anchor our worm.
To create the worm, I broke a lollipop stick approximately in half and bent it to give it a slight curve.  Then, I wrapped a bit of tinted (Americolor Electric Green) fondant around it, leaving just enough exposed for me to latter attach a round ball of green fondant for the head.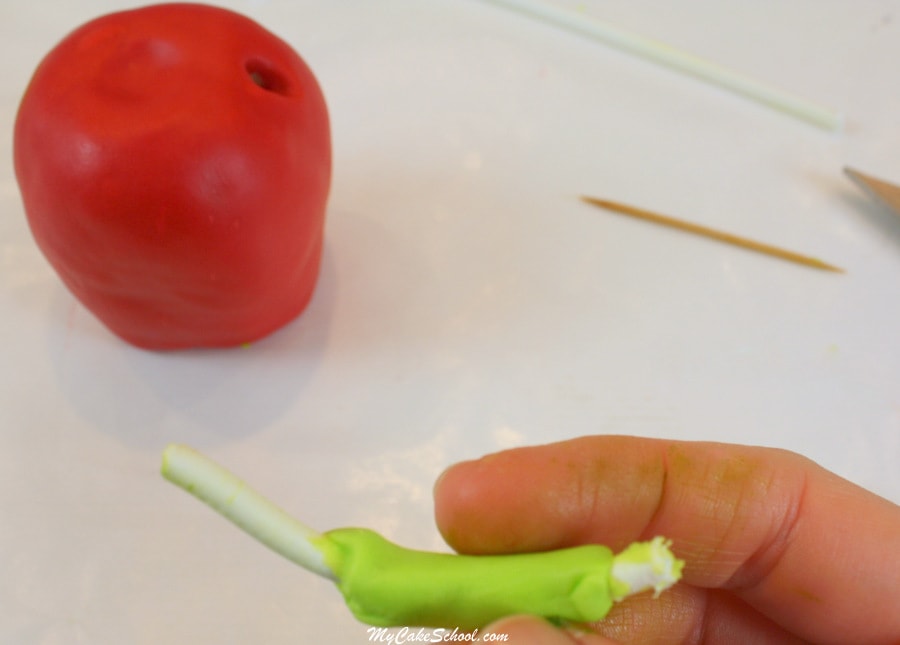 Here's a better look.  I've used part of a lollipop stick (painted with brown coloring gel) for my apple stem, and a bit of green fondant for my leaf.
I gave my worm's body a segmented look by making impressions with a toothpick.  The  head is just a ball of fondant that was pushed onto the end of the lollipop stick.  I waited a few minutes for it to set up a little before drawing on the eyes, glasses, & smile with a food coloring pen.  (You don't want to try to draw on fondant that is still very soft/sticky.)  I also gave my worm some rosy cheeks with pink petal dust…because every worm needs a little bit of blush ;0)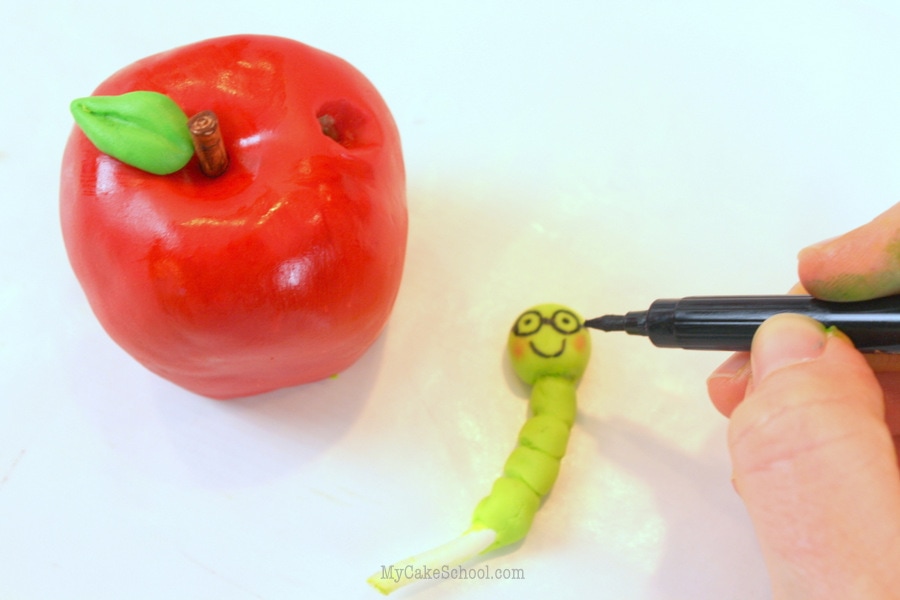 Next, I pushed the worm into the apple and inserted a fat (bubble tea) straw cut to the height of the cake into the center of the cake before placing on the topper.  The dowel/support straw is optional but guarantees that your topper won't sink if it seems a little heavy.
I LOVE how it came out, I hope that you like it too!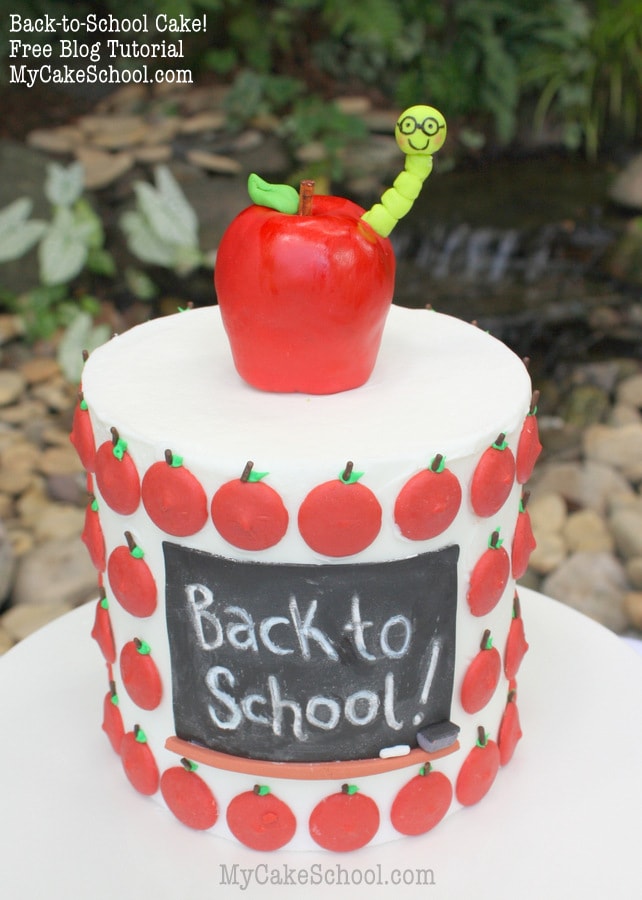 Need more Back-to-School ideas?  Check out our sheet cake school bus & chalkboard & apple cupcakes HERE!  Thanks for stopping by!
Leave a Comment