Hi everyone! In this video tutorial, you will learn to make an elegant wedding dress cake. As I researched for my design, I found several beautiful wedding dress cakes online. I also considered lots of possible styles for the dress form.
I was inspired by the vintage forms that I found online, which had decorative metal pieces for a more whimsical feel. I really enjoyed putting my own spin on this fun, yet impressive bridal shower cake! Please see below the video for details on materials, notes, etc. Enjoy the video!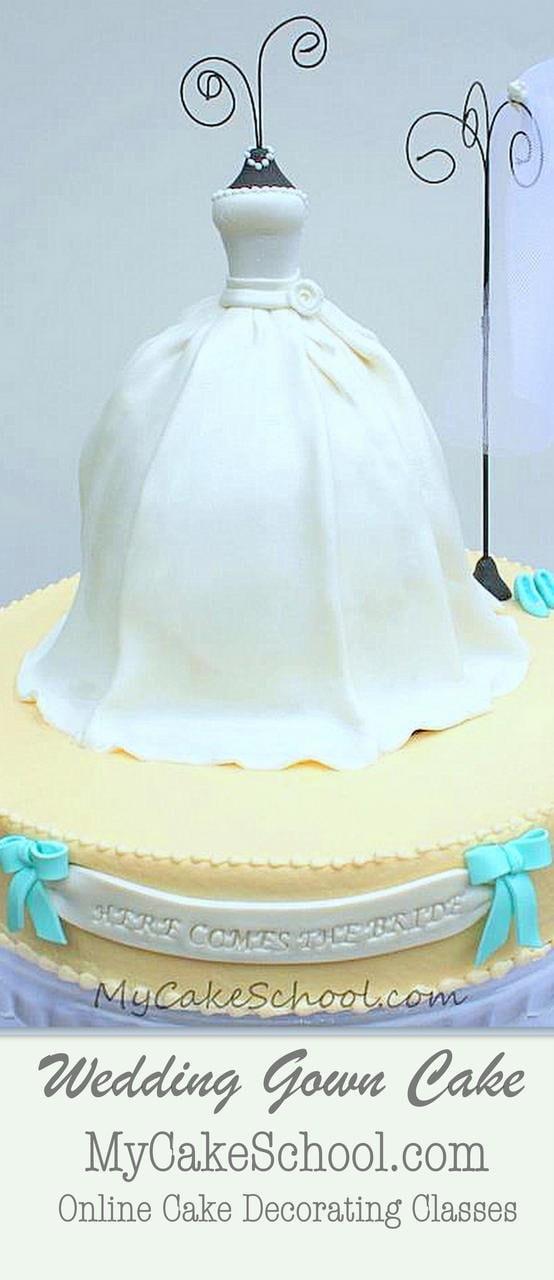 Materials
6 inch cake (I used White Almond Sour Cream), three two inch layers to form the skirt of the dress.
12 inch cake layer (I used a single 2" layer for this)
Fluffy Vanilla Buttercream
Cardboard Cake Circles (for beneath dress and beneath 12" round.)
Wilton Tip 2- For small bead border around cake Fondant with tylose kneaded into it. (I use Satin Ice)
White Chocolate Ganache (Optional. This is what I used beneath my fondant layer)
Black Fondant (I used pre-colored Satin Ice black with tylose kneaded into it) for the dress form
Royal Icing-- Optional. I used this for the pearl necklace and details on the fondant.
Colors Used: I used Americolor Super Black, Americolor Teal, Americolor Chocolate Brown, Americolor Ivory
Floral Wire- I used 20 gauge, paper covered wire. Any gauge that can be bent/curled, yet hold it's shape is good.
Vodka- Optional. I used this to create "paint" to color my floral wire.
Paint Brushes-- For painting the floral wire. I also use the handles as a modeling tool.
Tylose Sugar/Tylose Glue (¼ teaspoon warm water plus 2 Tablespoons tylose)
Stir Straw- Good if you'd like a barrier between the floral wire and the cake (referring to the anchor for the coat stand)
Bubble Tea Straws- (or your preferred method of support) - placed beneath the dress cake.
Lollipop Sticks (Anchor the form)
Fondant Rolling Pin
Disco Dust/Pixie Dust Pearl Dust
Tulle- For wedding veil
Alphabet Clay Embossing Set--Optional (Used to stamp "Here Comes the Bride" in fondant)--
A Few Notes~ You may have noticed that in rolling out/cutting the fondant sections for the skirt of the dress, I did not measure at all. The sections were not necessarily the same width, and it really doesn't matter because once the folds are created, it flows nicely and appears to be all one piece. For the length, I cut off the excess fondant when I was finished applying sections of fondant around the cake. You may have noticed all of this from our video but I wanted to make sure that I explained this! ;0)
*If you are interested in making a larger version of this cake, you can easily adjust to larger cake layers. If you'd like to see a demonstration, check out our Barbie cake video. Also, just as with our Barbie cake, you can frost the Wedding Dress cake with buttercream rather than using fondant. I would still use fondant for the top portion of the dress.
*** My wedding dress cake (top tier) is not a difficult cake to make, and you will be so proud of the results! I did want to emphasize that the carved down 6" tier is not going to yield many servings. For me, it is more of a focal point--it may serve approx 6 and is meant to go on top of another tier when made that small. If you'd like to see how I carve a larger version of the skirt, you can check out my Barbie Cake video! I think that's all for now, but please let me know if you have any questions. Thanks so much for your support-- have a great day!