Today, I'm going to show you how to make a beautiful semi-naked cake design as well as how to create a chocolate sail for the top of the cake. We love the drama and height that it adds!
Elegant cakes with a rustic feel are still very popular for all sorts of occasions from birthdays to weddings!
Not only are these cakes gorgeous, often decorated with fruit and flowers, but they are really very simple to create!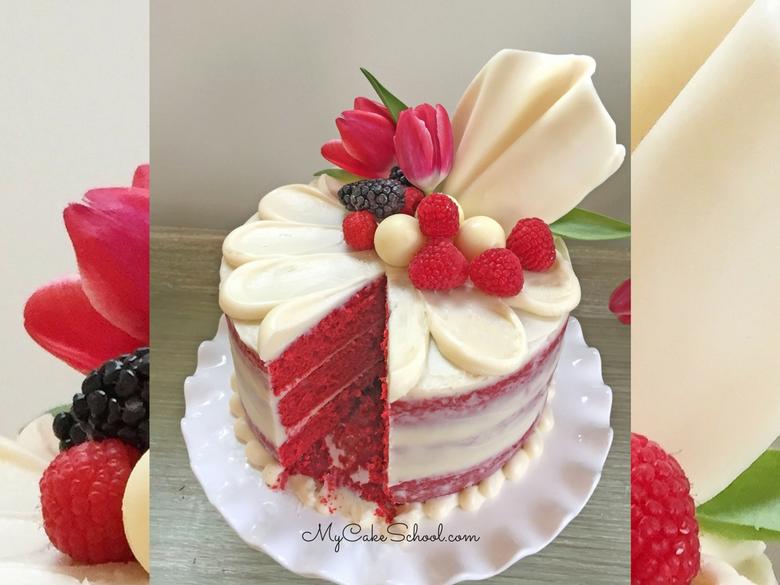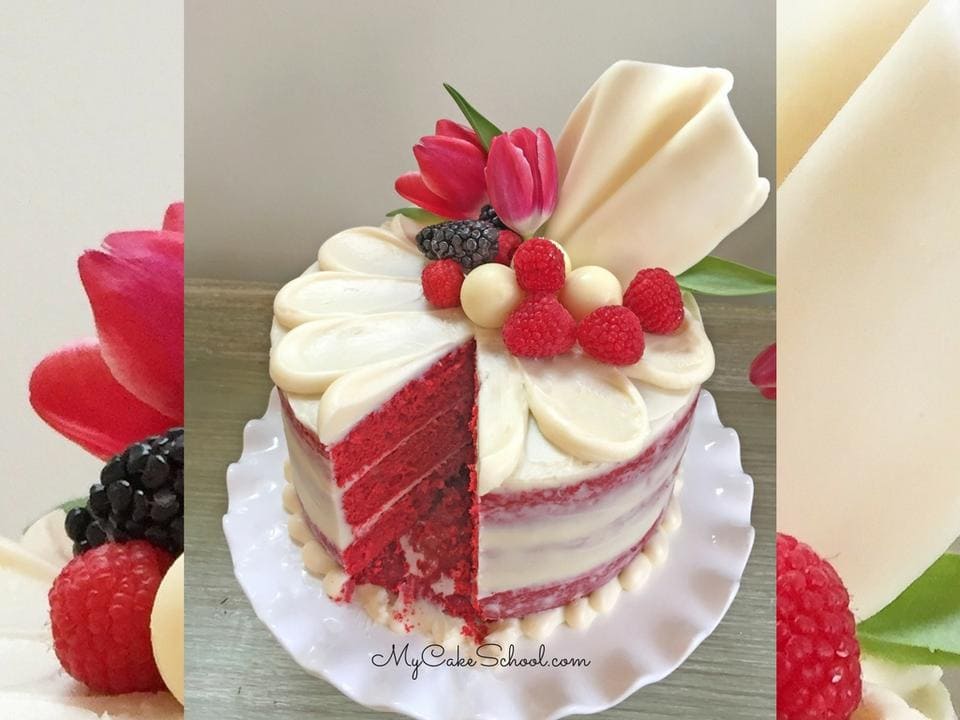 The semi naked cake is probably the simplest and most forgiving design of all, but the final result is every bit as impressive.
In today's tutorial, we decided to use our homemade Red Velvet Cake recipe for an added pop of color! For me, red velvet cake isn't red velvet cake without a generous slathering of cream cheese frosting.
Since we skimped on the outer frosting for the sake of our semi-naked design, I made up for it with the filling as well as thick piping on top of the cake. We couldn't wait to dive in after the final photos were taken ;0) -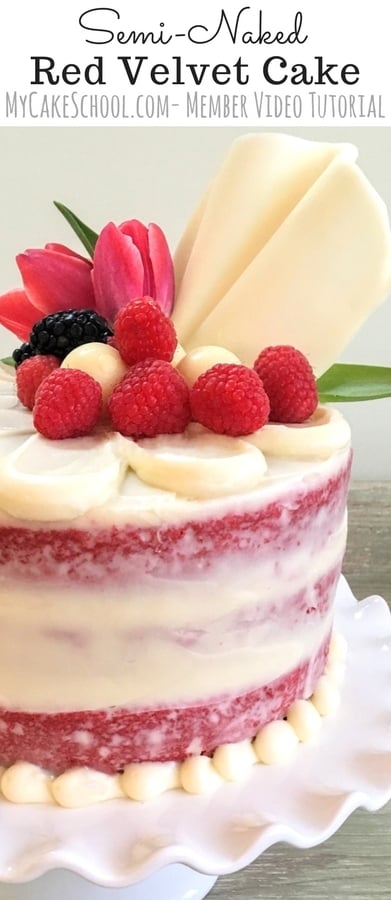 We hope that you enjoy the video! This would have made a gorgeous tiered cake too. Fingers crossed that semi-naked cakes remain popular for years and years, it was SO easy!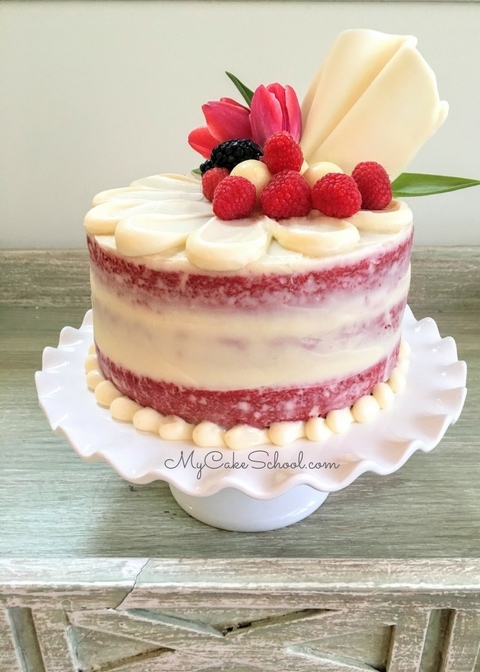 Materials:
We used three 8 inch cake layers of our scratch Red Velvet Cake recipe, and frosted and filling the cake with this Cream Cheese Frosting recipe (one batch was just enough).
Ateo 806 or your piping tip of choice for the top of the cake
Tip 12 for bottom bead border
White Candy Coating of choice (we used CandiQuik).
Parchment paper
I used a long rounded spatula for creating "petals" of frosting on top.
Cake cardboard cut down to just smaller than the size of the cake will help with transferring to your cake pedestal or cake base.
Fruit/Flowers/Chocolate of choice: We used strawberries, blackberries, white chocolate truffles (Lindor), and a couple of tulips. *You can google the toxicity of the flowers that you would like to use on your cake. If it should not come into contact with the cake, you can let it rest on the other decorations to be removed later, place a small barrier like waxed paper beneath, or simply go with another flower or silk/gum paste version.
**The tulips on our cake still looked good the next day, probably because the cake was refrigerated!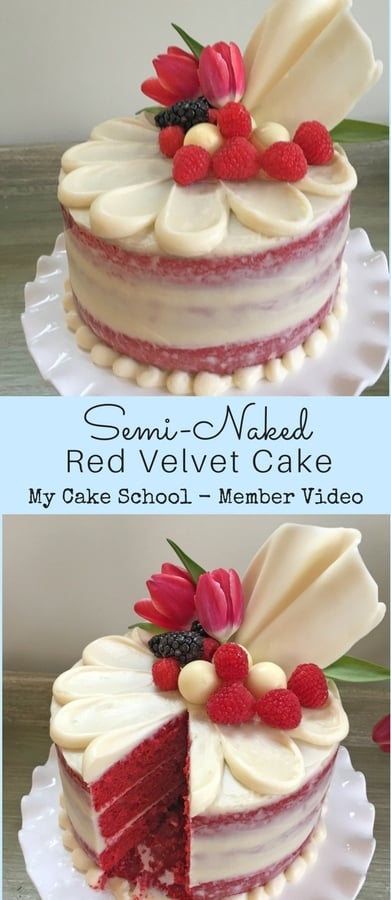 Notes:
You'll want to make sure that your cake layers are coated with at least a thin layer frosting so that the layers will not dry out. We have a semi-dressed naked cake from a few years ago where the layers were exposed, but we coated them with a clear edible glaze so that they would be sealed.
I didn't have any trouble with pushing in and securing my decorative chocolate accent to the cake (Mine was about 5 inches tall).
For larger chocolate accents, I think a lollipop stick anchor could be easily incorporated as the chocolate-coated parchment is being gathered and clipped before freezing. Or, if you realize afterwards that an anchor is needed, just flip over the chilled chocolate piece, attach a lollipop stick with melted chocolate, and chill until firm.
If you're interested in another version of naked cake, check out our Semi-Dressed Naked Cake that is covered in scrollwork!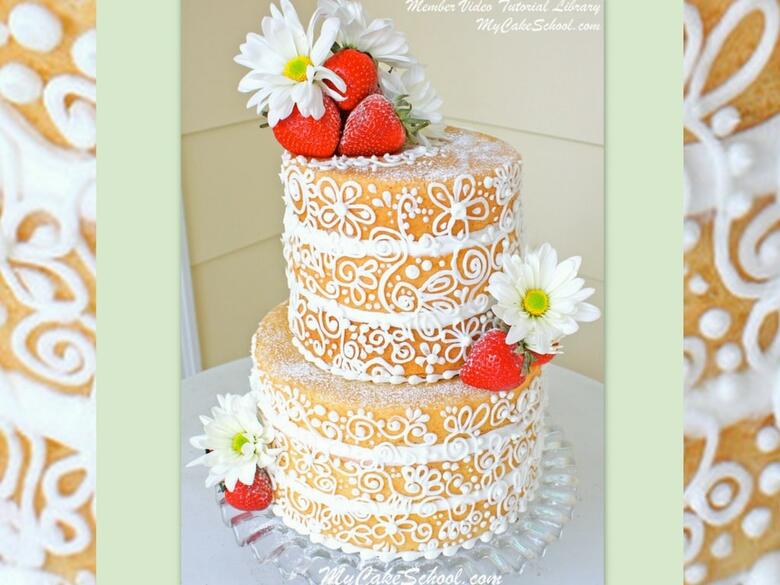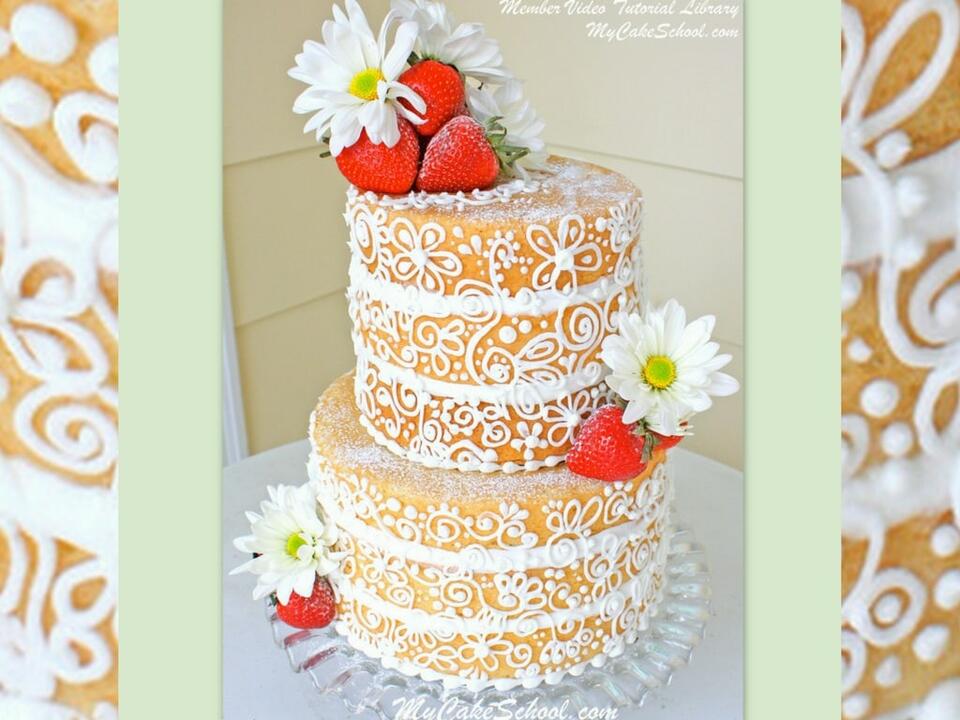 Thanks for stopping by!