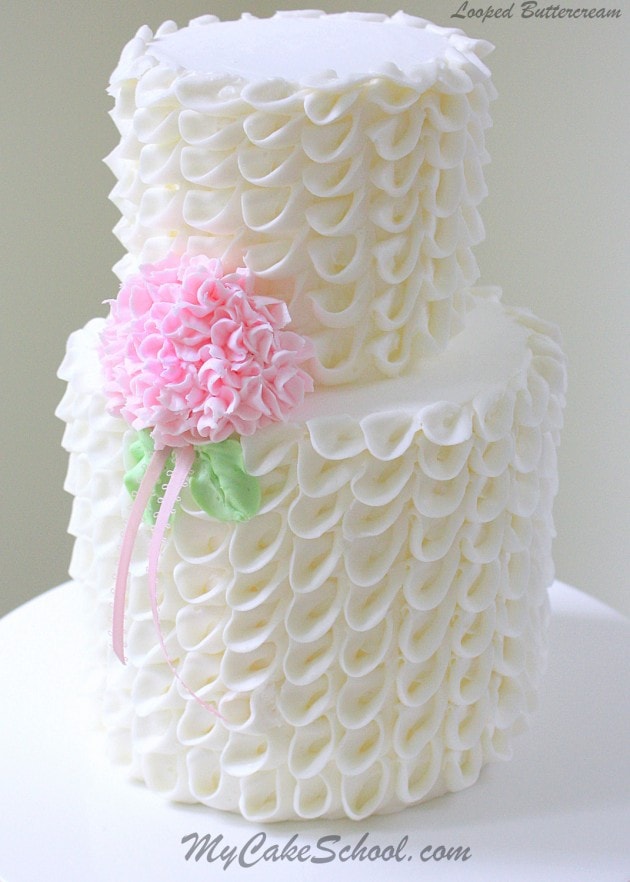 Hi everyone! Today we're giving you one more reason to love your petal tips! In this video tutorial, you will learn an elegant, yet surprisingly simple way to decorate your cakes in ribbons of buttercream.
As a finishing touch, we've added a simple buttercream hydrangea. We hope that you enjoy the tutorial!
Materials:
(Our tiers are a double barrel 6" topped with a 4". We've used our fluffy vanilla buttercream recipe from the Recipes section. If you are new to double barrel cakes or tier stacking, we have a tutorial for both techniques in our video section.)
Medium Consistency Buttercream (we used our crusting "Fluffy Vanilla Buttercream" recipe from the Recipes section.
Petal tips: We used a Wilton 104 for the looped buttercream, and a Wilton 2D for the hydrangea.
Coloring Gel: Americolor Deep Pink, Avocado Green & Leaf Green
Ribbon (lightly greased with vegetable shortening) - optional
Misc.: As always, you'll need cake boards for each tier and one within the double barrel, bubble tea straws for support within the double barrel and beneath the 4" tier.
Notes:
I would recommend settling your filled, unfrosted cake tiers (wrapped in plastic wrap) before crumb coating. Then, when you are ready to begin, crumb coat the cake and start your piping. Piping on the freshly crumb coated cake will just give another layer of insurance that the piping will easily adhere.
The larger petal tip 125 works well with this technique also. For this cake, we wanted to go with the more delicate look of the 104.